The Burgundy Lion is a modern take on a traditional British Pub with fancier grubs and an impressive whiskey list. Located close to downtown in the Little Burgundy neighborhood, the ambiance is loungey and more relax than your typical pub – a classic Montreal feel.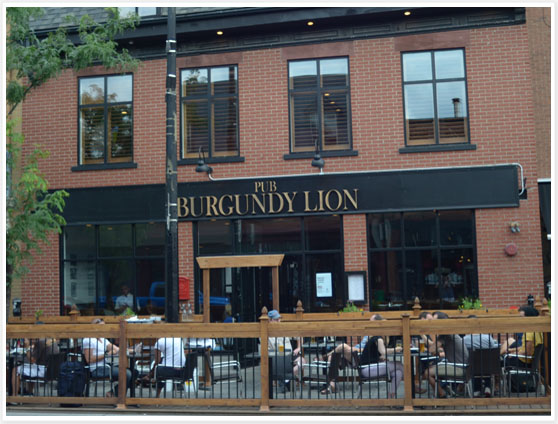 A large terrace greets you at the entrance in the summer but we opted for the smaller, cozier terrace inside. To help soak up the alcohol they offer a familiar and hearty menu of fish and chips, bangers and mash, burgers, and a few more original items such as Manchester curry, samosas, chicken tikka masala, roast beef poutine (obviously!), and cucumber and tuna sandwiches.
We only stopped there for a few drinks and appetizers so I can't speak for the main dishes but the starters were what you'd expect from this kind of establishment – decent in size, OK in taste, just some good honest food to get you drinking more…! We shared the scotch eggs, vegetarian samosas and Oxfordshire green salad (lettuce, pears, walnuts, stilton) with a few Pimm's Cups and pints of their own Burgundy Lion Ale.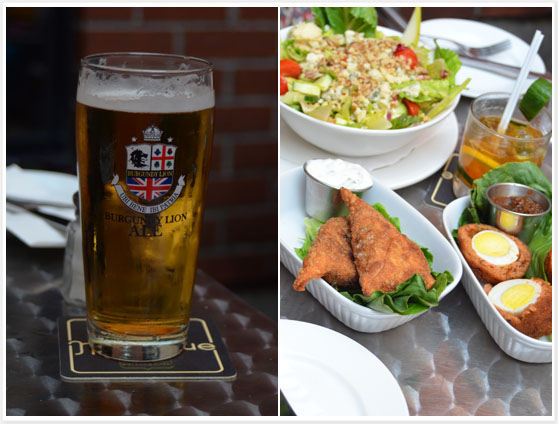 The place gets busy though with the additional terraces in the summer there's more than enough space for everyone. Overall a good stop for casual drinks with friends and the occasional soccer/hockey game watching in good company.
Burgundy Lion
2496 rue Notre-Dame Ouest
Montreal, Quebec
Telephone: 514-934-0888
map