There seems to be a craze recently for self-serve frozen yogurt places as witnessed by the multiplication of them in New York city, and it looks like Montreal has caught on it as well with the opening of SwUrl on Crescent street.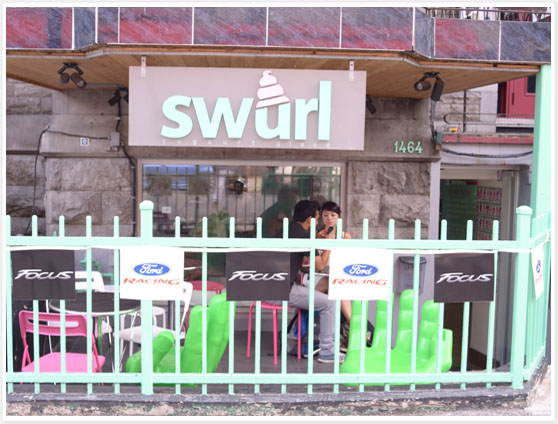 The concept is simple – you grab a bowl, fill it up with your frozen yogurt flavors of choice, load on your favorite toppings, weigh it, and pay! There are always 8 flavors being served,  four traditional and four flavors of the week. The traditional flavors are plain, vanilla, chocolate, and pomegranate. When I visited the flavors of the week were green tea, taro, lychee, and raspberry. They have served up some pretty original flavors in the past such as bacon, lucky charms, and sriracha hot sauce so if I'd live nearby I'd make sure to pay a regular visit!
The toppings include the traditional stuff like candies, chocolates, and fresh fruits,  as well as a few surprises like wasabi and ruffles chips! I ate a trio of the pomegranate, lychee and green tea flavors with a sprinkle of crushed sugar cones and fresh raspberries and it was deliciously satisfying for such a healthy treat! The lychee particularly was so fresh and tasty I could have had a second serving.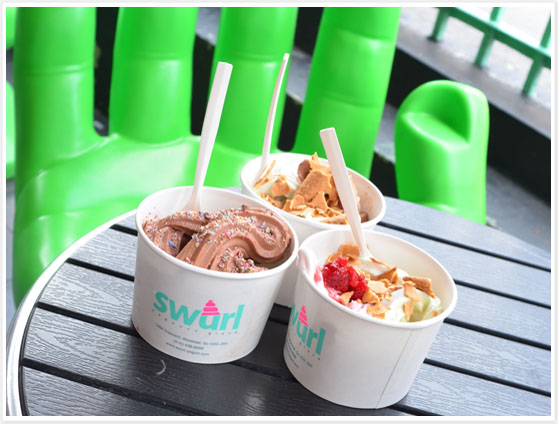 Located in one of the busiest areas of the city, this place is sure to attract its fair share of attention and I'd recommend anyone visiting Montreal to check it out – it's a lot of fun!
SwUrl Frozen Yogurt
1464 rue Crescent
Montreal, Quebec, Canada
Telephone: 514-439-8096