La Distillerie is one of my favorite cocktail bars in Montreal – great atmosphere, fresh ingredients and a gigantic menu! Having made the Mason jar its signature, you can expect alcohol in great quantity as well as loads of originality to fill in these giant jars of goodness.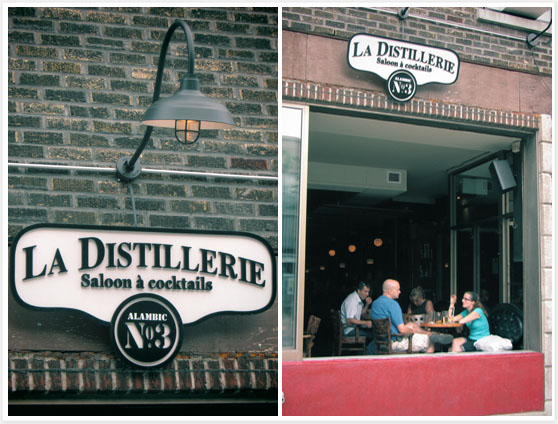 Now with three different locations, we chose the latest installment (N°3) on rue Masson, in the slowly gentrifying neighborhood of Rosemont/Petite-Patrie.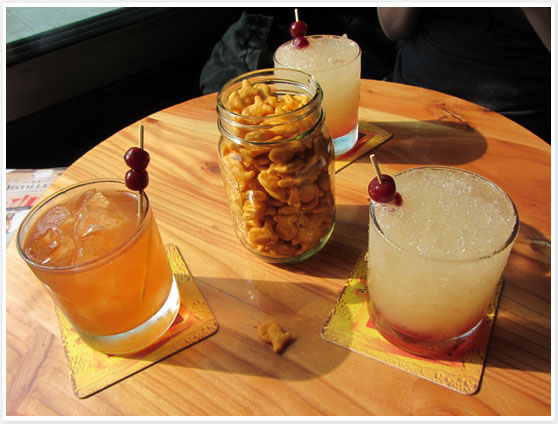 Our first round – would have been the first of many if we didn't have dinner plans! Here you have two of the Illegal Alien (Cazadores Blanco 100% Agave, Benedictine, lemon juice, pear puree, homemade hibiscus cordial) and a Mad Man (Maker's Mark, Sailor Jerry, Courvoisier VS, oranges, Regan's bitters, Peychaud's bitters, Angostura bitters, simple syrup, brandied cherry).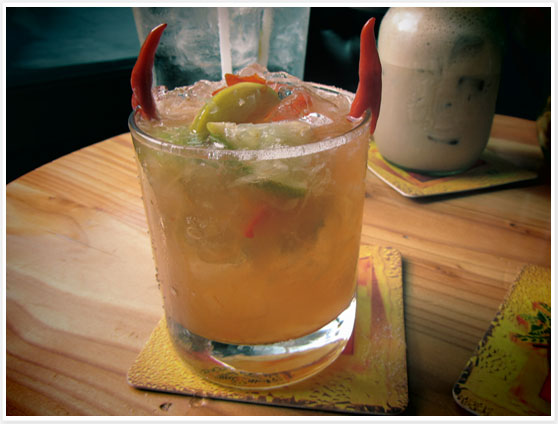 Burning Margharita: Hornitos Plata, Triple Sec, angostura flambéed limes, agave nectar, hot chile… tastes as devilish as it looks!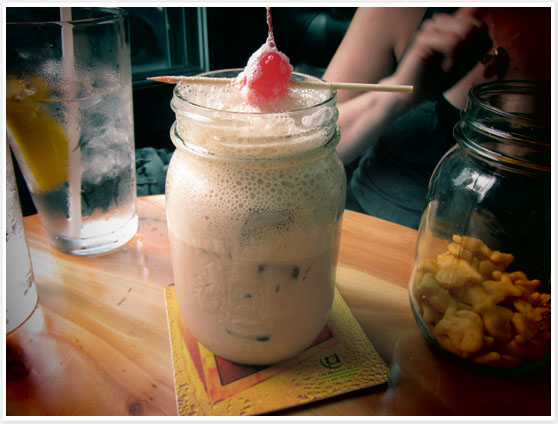 Rock'A'Rula: Amarula, Angostura, egg white, root beer…so good I'd put that in my cereals.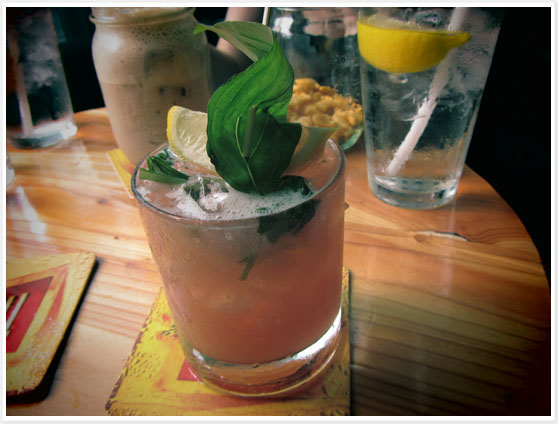 Chasse et Pêche: Canadian Club Premium, Triple Sec, fresh basil, white peach puree, lemon juice, simple syrup… fresh and perfectly balanced.
I hear there's a bit of a wait on weekends, especially at N°1 which is the smallest, so plan ahead…or do like us and show up when they open at 4pm! 😉
La Distillerie N°3
2656 rue Masson
Montréal, Qc H1Y 1W2
(514)  528-9846  
La Distillerie N°2
2047 av. Mont-Royal
Montréal, QC H2H 1J7 (514) 523-8166  
La Distillerie N°1
300 rue Ontario Est
Montréal, Qc H2X 1H6 (514) 288-7915
map