Arancini means 'little oranges' in Italian, though these guys aren't quite as healthy as a piece of citrus! A national Sicilian emblem, these utterly addicting fried rice balls can be filled with everything from meat ragout, vegetables, cheese, or even something sweet for the non-purists. They're an excellent way to use leftover risotto or even plain white rice and make for a fun party snack or delectable appetizer.
As it's still summer and I tend to like my Italian fare on the simple side, I opted for the typical arancini with a cube of mozzarella in the middle. Not what I would call an easy recipe, but believe me when I say the results outweighs the efforts and time put in!
Arancini (adapted from 'Cooking at Home' from the Culinary Institute of America)

3 c leftover cooked risotto
½ c grated Parmesan
2 tbsp heavy cream
2 tbsp minced fresh parsley, chives, oregano, or basil
1 large egg yolk
Salt and freshly ground black pepper
5 oz mozzarella 
Flour for dredging
Egg wash: 1 large egg whisked with 2 tbsp cold milk or water
1 c bread crumbs
Vegetable oil for deep-frying
2 c tomato sauce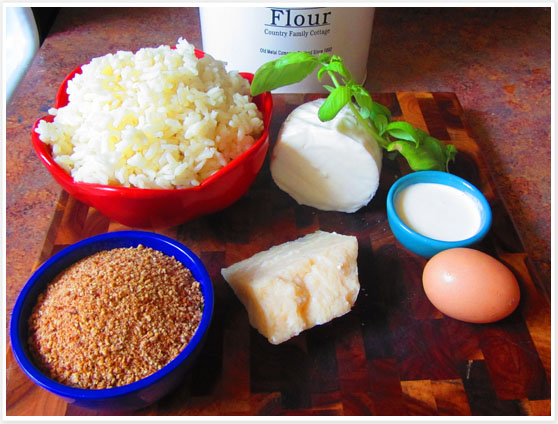 In a large bowl, combine the risotto with the Parmesan, cream, herbs, and egg yolk. Season with salt and pepper.
Cut the mozzarella into 16 cubes. After moistening your hands with tepid water, scoop up about 3 tbsp of the risotto mixture and pack it around a cube of cheese to make a ball about the size of a Ping-Pong ball. Repeat to form 16 balls.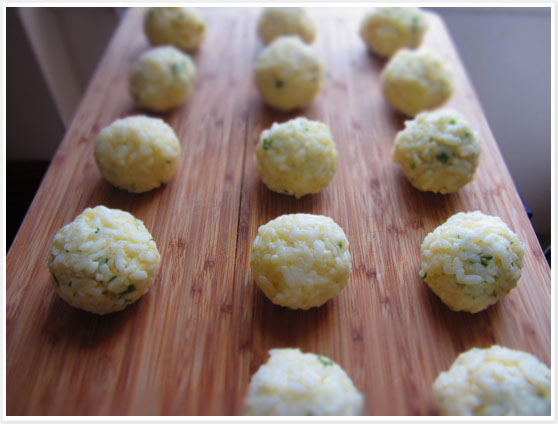 Put the flour, egg wash, and bread crumbs in 3 separate bowls. Dredge the risotto balls in the flour, dip in the egg wash, and roll in the bread crumbs. Chill thoroughly, 2-24 hours.
Pour oil into a tall pot to a depth of 5 inches. Heat the oil over medium-high heat until it registers 375°F on a deep-frying thermometer. Deep-fry the risotto balls in batches, without crowding, until they are evenly browned, 4-5 minutes. Using a slotted spoon, transfer to paper towels to drain briefly.
Serve on a pool of warmed tomato sauce and don't waste time biting into them…you'll be rewarded with a delicious, gooey filling!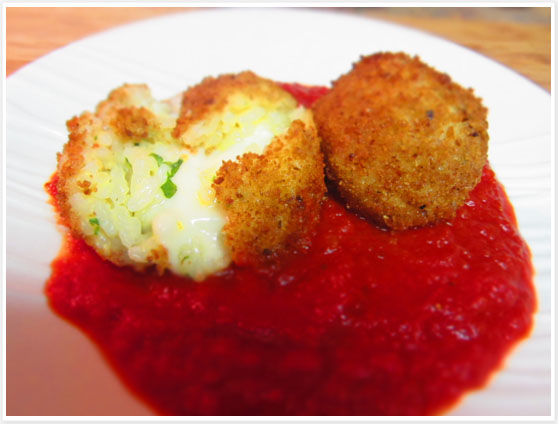 Print This Post