Now celebrating its one year anniversary, the massive Italian food hall that is Eataly is still going strong.  The masses that filled the 50,000-square-foot space even months after its opening had scared me off queuing in line to eat in one of the five sit-down restaurants. I decided to pay another visit recently at lunchtime as my office is nearby and was pleasantly surprised to find the craziness had subsided (or it might be that everyone's gone on holidays this time of year!).
I opted to start my exploration of Eataly's infatuation with a lunch at veggie-centric Le Verdure – the least visited, though most creative offering.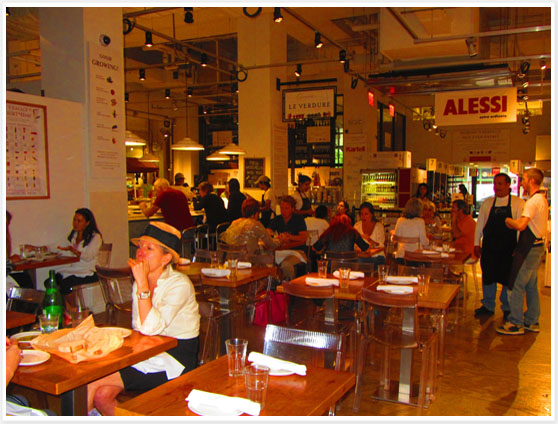 A few empty tables made for a more peaceful lunch, though you still can't shake the feeling that you are in some sort of busy mall (albeit one I would get lost in everyday if I could)! We got seated immediately for the start of a very pleasant meal…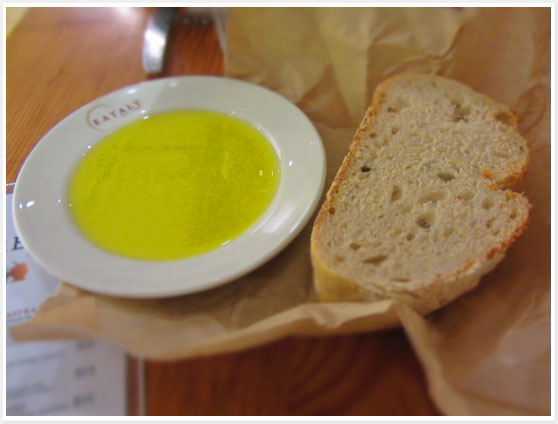 The bread came wrapped in brown butcher paper and they quickly brought us a dipping bowl filled with olive oil. The bread was dense and moist, perfect snack as I was starving right about then!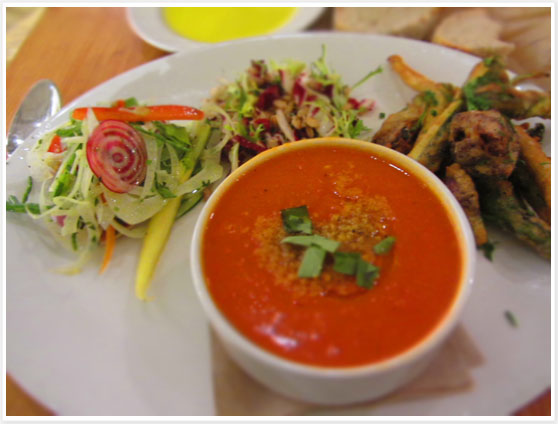 I ordered  the Piatto Misto which is a sampling of various menu items: here the soup of the day (tomato and bread), the Pinzimonio (raw vegetable salad with lemon vinaigrette and sea salt), a farro salad, and the Fritto Misto (crisp, tempura-like seasonal vegetables fried in extra virgin olive oil). Both the Fritto Misto and Pinzimonio were fantastic; so simple and yet the quality of the ingredients made them some of the most flavorful side dishes I've had. I was slightly disappointed by the soup, which although very tasty was overtly salty – such a shame when the motto of the place is to let the vegetables shine!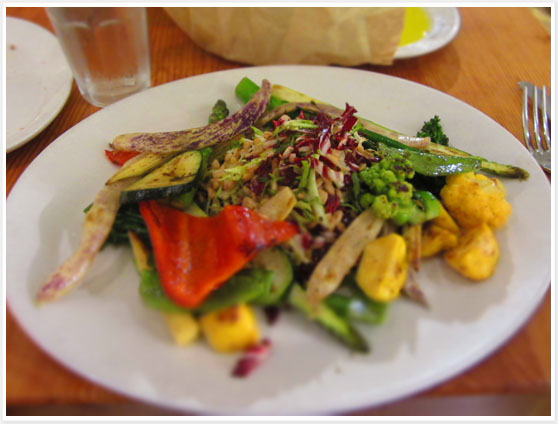 Grilled warm summer vegetables were served with a light, delicious farro salad in a dish called Verdure alla Piastra. The colors and variety of vegetables (think cranberry beans, radicchio, asparagus, radishes, baby zucchini, sweet peppers, and about every color of cauliflower I know of) cooked to perfection make this a must try.
This is refreshing, filling food that makes you feel healthy and wish you could grow such tasty veggies on your New York windowsill. We were surprisingly full after lunch and despite having to walk past many temptations on our way out (Gelateria, Pasticceria, etc.) we went straight back to work with a satisfied smile on our face… we knew we'd be back for more!
Le Verdure (Eataly)
200 Fifth Avenue (near 23rd)
212-229-2560