No visit of mine to the Bay area would have been complete without a meal at one of Thomas Keller's (of French Laundry) delightful restaurants so I was thrilled to learn my friend had booked us a table at his latest 'Ad Hoc' on Saturday night.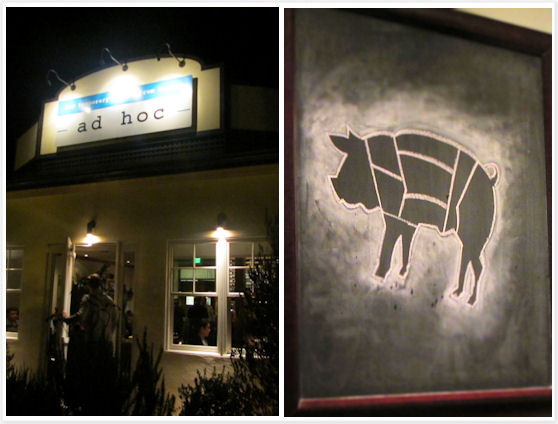 After a day of hiking in the valley and a light wine tasting session at a charming vintners collective (see 'Ma(i)sonry – Napa Valley' post), we were ready for a filling and comforting meal Mr. Keller is famous for.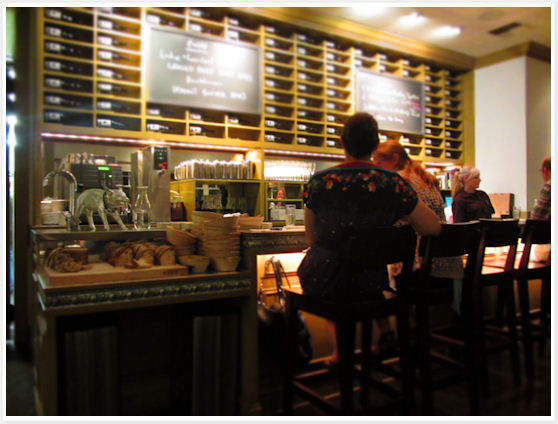 The experience was fantastic, especially for someone who thrills on surprises like I do! At Ad Hoc, you don't get to order. Instead, you're served a 4 course family style menu that changes every day, accompanied by a small, accessible wine list in a casual setting, much like at home – convivial and oh so enjoyable!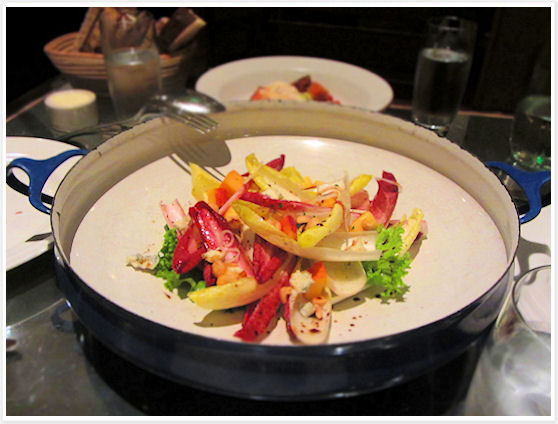 Endive and green leaves salad – yellow peaches, gorgonzola crumbles, toasted hazelnuts, shaved cipollini onions, tondo balsamic vinaigrette. Simple yet still pretty tasty, it left us hungry for more!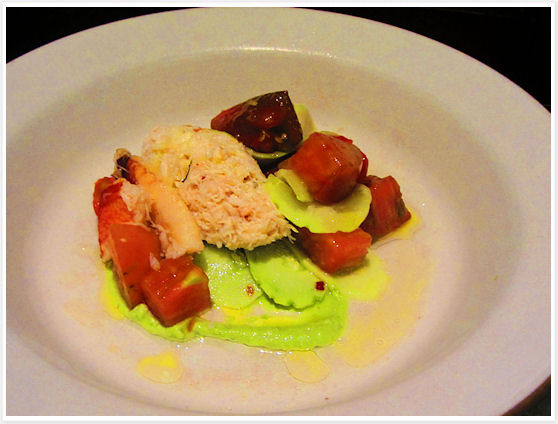 Heirloom tomato salad – dungeness crab, marinated cucumbers, avocado mousse. Great combo, I still remember the exquisite taste of the crab mixed with the avocado mousse, light but unctuous at the same time…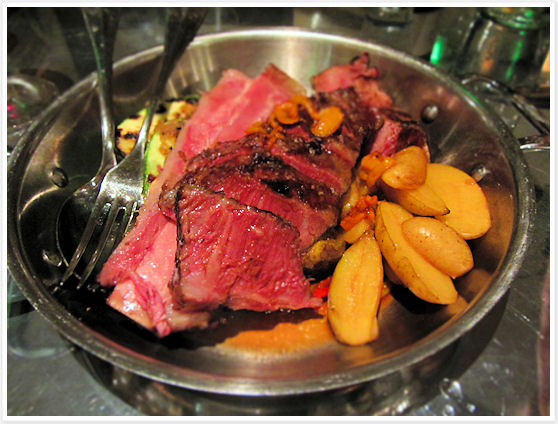 Grilled beef short ribs – garden squash, charred sweet onions, fingerling potatoes, peppered beef jus. Oh…dear…I think everyone at the table rolled their eyes in ecstasy when we took our first bite into the ribs, realizing with delight the multitude of fat layers melting into our mouth. These have got to be the best tasting ribs I've ever had! For this reason, I can't even speak of the side vegetables, not remembering if I've had any in this blurry memory of meat heaven…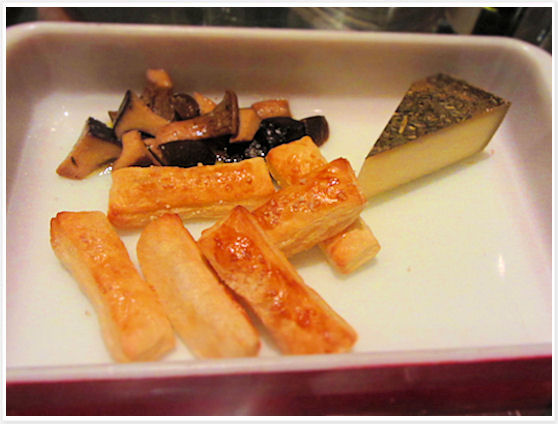 Heublumen – mushroom conserva, puff pastry. I was still salivating on the ribs, and pretty full by then, so this cheese plate went a bit unnoticed… I did quite enjoy the perfectly grilled mushrooms but the puff pastry was a bit too much at this stage.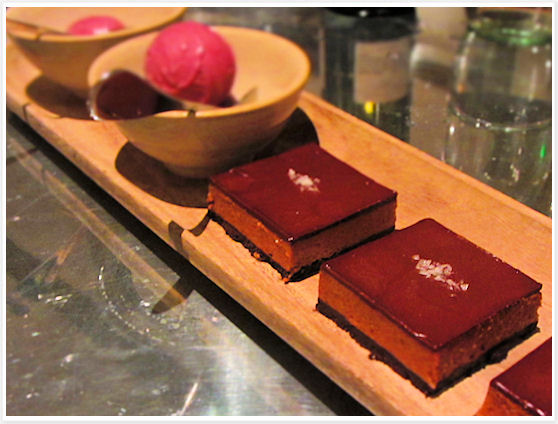 Peanut Butter Bars – concord grape sorbet. How else would you end such an Americana family style meal then with Keller's take on a homemade peanut butter cup? My only regret is to have not been able to start the meal with it, as my full belly could barely fit one tiny bite of this uber-rich dessert at the end of the meal. Portions were a tad too big, who can actually ingest such a quantity of peanut butter, which tasted so good it must have been whipped with even more butter and salt?…I know, a lot of you apparently!
Ad Hoc is comfort food at its finest in a warm and casual atmosphere…definitely makes it into my 'go-to' places in the Bay Area. Plus, knowing you'll never be served the same thing twice means I'll surely be revisiting…they do serve brunch also, fyi!
Ad Hoc
  6476 Washington Street
Yountville, CA 94599-1294 T: (707) 944-2487