Very few things are as comforting as a great burger, especially when cooked on a backyard BBQ on a sunny summer afternoon, a keg of beer standing by. For city dwellers, there are Gastropubs offering a decent alternative and coming quite close with top-notch meat and inventive toppings. But when none of these options are available and all you want is a good burger cooked at home on your stovetop, I always go with a jazzed up version with lots of flavor such as this asian-style turkey burger.

This burger reminds me of my trips to Asia, where somehow I often tend to gravitate towards Vietnamese food due to its clean yet bold taste and the abondance of fresh herbs used as garnish. It packs a punch and is soooo juicy, it'll remind you of summer any day of the year.
Southeast Asian Turkey Burgers
(adapted from Gourmet Magazine)

2 fresh lemongrass stalks, root ends trimmed and 1 or 2 tough outer leaves
discarded from each
2 garlic cloves, chopped
3 tablespoons chopped shallot
1 tablespoon finely chopped peeled ginger
1 (3-inch) fresh serrano or jalapeño chile, finely chopped, including seeds
1 teaspoon water
4 teaspoons Asian fish sauce, divided
1 1/2 pounds ground turkey (dark meat only)
1/4 cup fresh lime juice
1/4 cup vegetable oil
1/2 teaspoon sugar
1/2 teaspoon dried hot red-pepper flakes
4 kaiser rolls, split and grilled
2 cups mixed fresh mint, basil, and cilantro leaves
Thinly slice bottom 6 inches of lemongrass (1/4 cup), discarding remainder. Finely grind lemongrass, garlic, shallot, ginger, and chile with water and 2 teaspoons fish sauce in a mini food processor (if you don't have one no worries, just finely chop the ingredients and mash them to a paste using a mortar and pestle), scraping down side frequently, until a paste forms.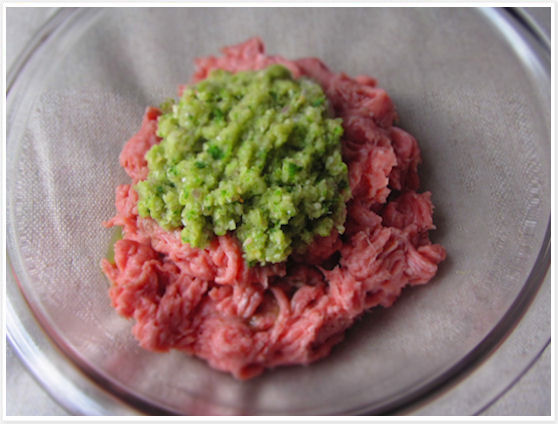 Mix paste and turkey with your hands until just combined (do not overmix) and form into 4 (3/4-inch-thick) patties. Chill patties, covered with plastic wrap, 1 hour (to allow flavors to develop).
Whisk together lime juice, oil, sugar, red-pepper flakes, 1/8 teaspoon salt, and remaining 2 teaspoons fish sauce until sugar is dissolved. Prepare grill for direct-heat cooking over medium-hot charcoal (medium heat for gas). If you aren't able to grill outdoors, patties can be cooked in an oiled large (2-burner) ridged grill pan over medium-high heat. Oil grill rack, then grill patties, covered only if using a gas grill, turning over once, until just cooked through, 10 to 12 minutes total.
Whisk lime-juice sauce, then drizzle cut side of a bottom bun evenly with 1 tablespoon sauce. Top with a patty and 1/2 cup mixed herbs. Drizzle herbs with 1 tablespoon sauce and top with bun.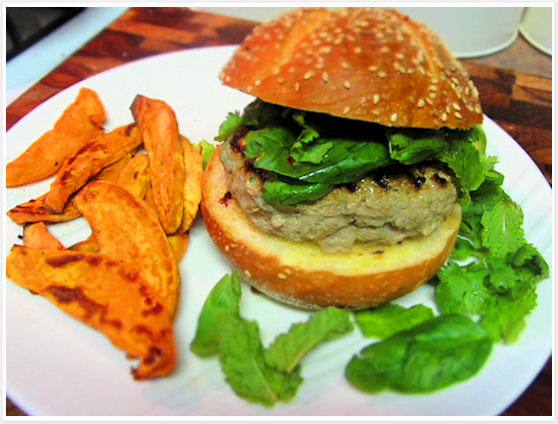 Print This Post