The secret of Italian home cooking is said to resides within the ingredients themselves and the cook's ability to draw out and develop their flavors. Italians call it 'insaporire' and it is a crucial step in the making of most Italian dishes. It's all about cooking something in hot fat until it acquires a warm hue (garlic, onion, etc.), then adding the following ingredient, usually a vegetable, raising the heat, stirring and coating it well until it opens up to and swells with the savors of the onion or garlic or both…insaporire. It's cooking with your eyes, your nose, and it doesn't forgive distractions!
Controlling the heat is exceedingly important to achieve fully developed flavors and this veal pasta sauce recipe is a true way to experience Italian cooking at home. The veal here is cooked separately and combined later with the peppers to preserve its juiciness. Bright colored bell peppers are almost always available and when coupled with ground veal, tomatoes and garlic make an excellent pasta sauce you'll want to make again and again.
Veal Pasta Sauce with Red, Green, and Yellow Peppers
A recipe from Marcella Hazan 

Makes 6 servings

6 meaty bell peppers, 2 red, 2 green, and 2 yellow
1/4 cup extra-virgin olive oil
6 or 7 whole cloves garlic, peeled
Fine sea salt
4 fresh, ripe, firm plum tomatoes
2 tbsp. vegetable oil
2 tbsp. butter
1/2 cup very finely chopped onion
1/2 lb. ground veal
Black pepper ground fresh from the mill
1 lb. fresh fettuccine or pappardelle,
  or 10 oz. dried fettucine, or 1 lb. penne
1/4 cup freshly grated parmigiano-reggiano cheese
Cut each pepper lengthwise along the creases, remove the stem, seeds, and pithy core, then peel with a swivel-blade vegetable peeler. Cut the peppers into strips slightly less than 1″ wide.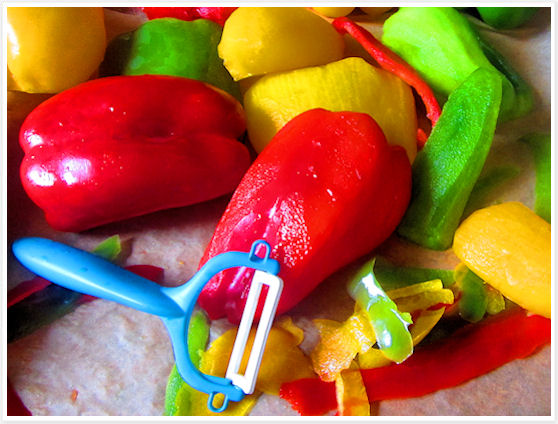 Pour the olive oil into a 12″ skillet, preferably nonstick. Add the garlic cloves, turn the heat on to medium-high, and cook the garlic, turning it from time to time, until it becomes colored a light nut brown. Remove from the pan and discard. Add the peppers with a pinch or two of salt and turn the heat down to medium.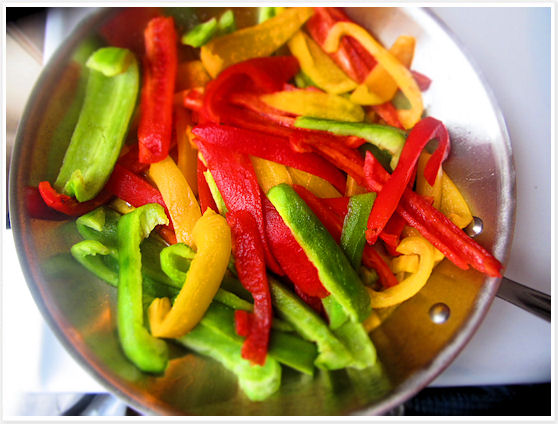 Cook the peppers, turning them over from time to time, until they are quite tender. It should take about 45 minutes, and they will be wilted and considerably diminished in bulk.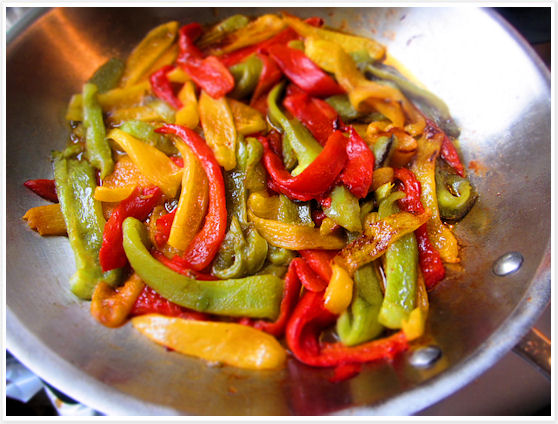 While the peppers are cooking, skin the tomatoes using the swivel-blade vegetable peeler. (Don't skin them by scalding them in hot water, because you want them to be very firm.) Chop them coarsely.
Pour the vegetable oil into a 10″ skillet and add the butter and chopped onion. Turn the heat on to medium-high and cook the onion, stirring from time to time, until it becomes colored a pale gold.
Add the ground veal with some salt and liberal grindings of black pepper and turn the heat down to medium. Cook the meat, turning it once or twice, until it has completely lost its raw color. Add the tomatoes with any of their juice, then turn the heat down some more to cook at a gentle simmer for about 20 minutes.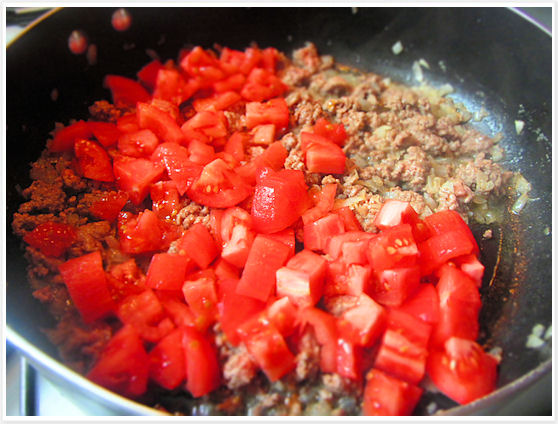 When the peppers are done, transfer the contents of the skillet with the veal to the pan with the peppers, turning all the ingredients over two or three times to coat them well. Cook at a gentle simmer for 15 minutes, stirring from time to time. Taste and correct with salt.
Cook the pasta in 4 quarts of rapidly boiling salted water. The instant it is done al dente, tender yet firm to the bite, drain it and transfer it to a warm serving platter or bowl. Pour the sauce over it. Toss quickly and thouroughly, add grated parmesan, and toss again. Serve at once.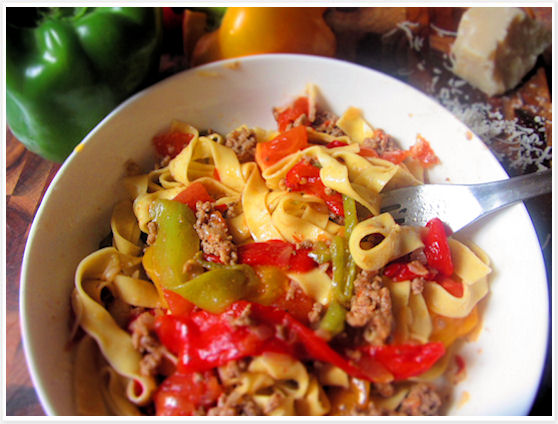 Print This Post