Fall's bounty of apples and crisp temperatures always call for sweet dessert recipes like pies or cobblers. As I always like to add a touch of Frenchness to liven up traditions, I opted for beignets instead (French-style doughnuts).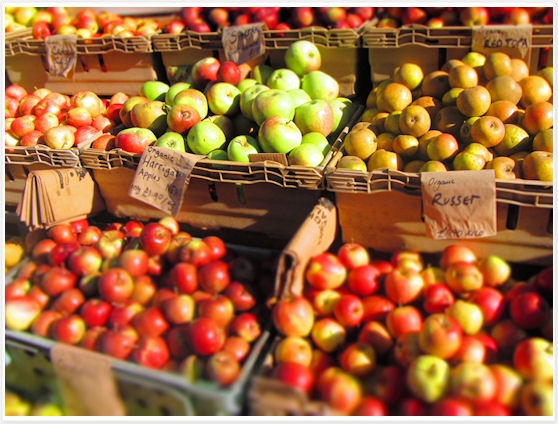 Popularized in New Orleans, beignets are an addictive treat and very few people can resist their deep fried goodness. The recipe below takes full advantage of adding the season's fresh apples to the mix. Freshly sliced apple rings dipped into a sparkling apple cider batter, fried and dusted with confectioner's sugar. Oh, and the caramel sauce… indulgence should be enjoyed fully!  The sparkling cider, instead of sugar, gives the batter a touch of sweetness and adds to the beignets' lovely golden hue. Make them for a dinner party – instant hit I assure you!
Apple Cider Beignets with Butter-Rum Caramel Sauce 
adapted from Gourmet Magazine 
4 to 6 servings

For sauce:
1 cup sugar
3 tablespoons unsalted butter, cut into pieces
1/3 cup water
1/4 cup dark rum
1/2 teaspoon cider vinegar
1/4 cup heavy cream

For beignets:
About 8 cups vegetable oil, divided
2 Golden Delicious apples
1 3/4 cups self-rising cake flour*, divided
1 large egg
3/4 cup sparkling apple cider
Confectioners sugar for dusting

Equipment:
a deep-fat thermometer; a 1-inch round cookie cutter or a melon-ball cutter

*If you can't find self-rising cake flour, you can substitute self-rising
all-purpose. Use 1 cup in the batter and 1/2 cup for dredging. Increase
cider to 1 cup and follow recipe as directed.
Make sauce:
Heat sugar in a 12-inch heavy skillet over medium heat, stirring with a fork to heat sugar evenly, until it starts to melt, then stop stirring and cook, swirling skillet occasionally so sugar melts evenly, until it is dark amber. Stir in butter, water, rum, vinegar, and a pinch of salt (caramel will harden and steam vigorously) and cook over low heat, stirring occasionally, until caramel has dissolved. Add cream and bring to a boil, stirring, then remove from heat. Cool to warm.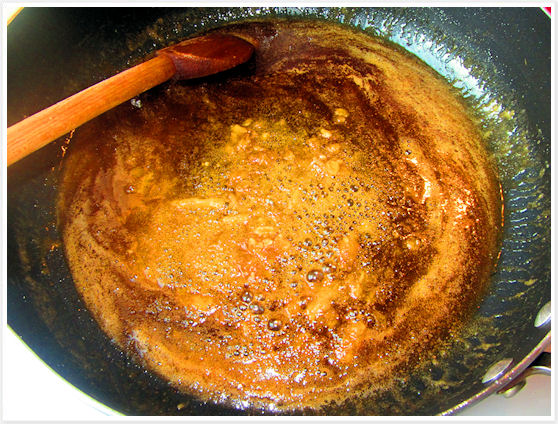 Make beignets:
Preheat oven to 250°F with rack in middle. Set a cooling rack in a large shallow baking pan.
Heat 2 inches oil in a 5- to 6-quart heavy pot over medium-high heat to 375°F.
Meanwhile, peel apples and cut crosswise into 1/4-inch-thick slices. Cut out core with cutter, then pat apple rings dry.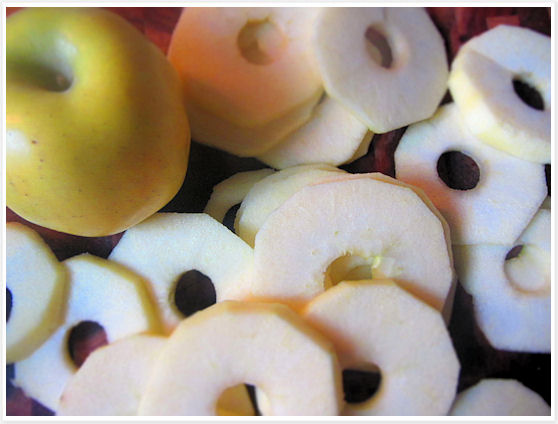 Put 1 1/4 cups flour in a large shallow bowl and make a well in center. Beat egg in a small bowl with a fork, then stir in cider and 1 tablespoon oil and pour into well.
Stir with fork until a lumpy batter forms.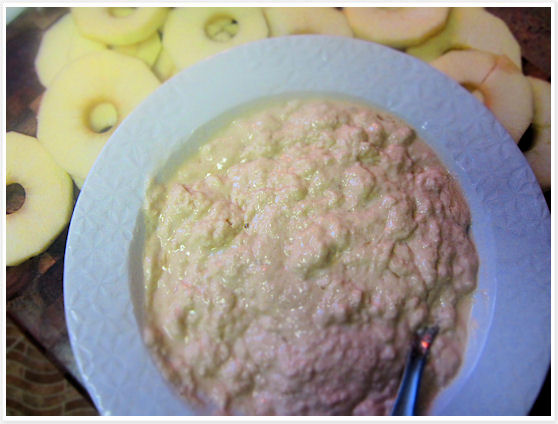 Working in batches of 3 or 4, dredge apple rings in remaining 1/2 cup flour, shaking off excess, then dip in batter to coat, letting excess drip off, and fry, gently turning over once with a slotted spoon, until golden brown on both sides, about 2 minutes total per batch.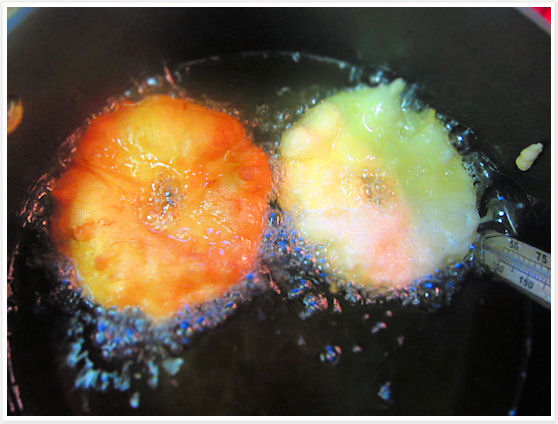 Transfer to rack and keep warm in oven. Return oil to 375°F between batches.
Just before serving, dust warm beignets with confectioners sugar. Stir sauce, then serve on the side.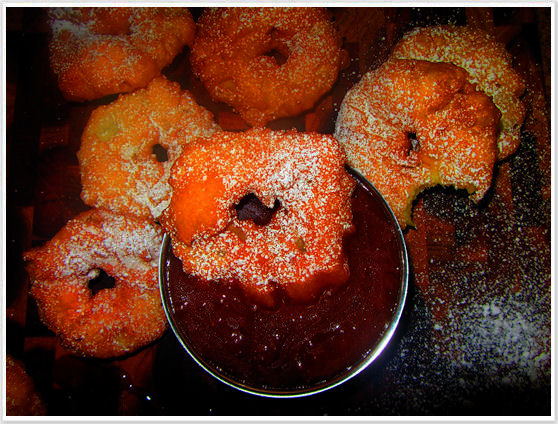 Tips: Sauce can be made 3 days ahead and chilled, covered. Warm before serving.
Beignets are best freshly made but can be fried 2 hours ahead and kept, loosely covered, at room temperature. Reheat beignets (they should not touch) on a rack set in a large shallow baking pan, uncovered, in a 325°F oven until hot, 15 to 20 minutes.

Print This Post