Celeriac, to my chagrin, is still a stranger in most people's kitchen, a misunderstood ugly duckling of the vegetable world. Its unattractive and knotty exterior gives little as to the wonderfully earthy and delicious ivory flesh that hides underneath.  Once peeled, celeriac (or celery root) resembles a turnip and tastes like a subtle blend of celery and parsley. It's a tasty non-starch substitute for potatoes and can be prepared in similar ways (boiled, mashed, french fried).
In need of recognition, it's lucky that some chefs are creatively showcasing its full potential these days. I'm a huge fan of Yotam Ottolenghi from the Ottolenghi delis in London who's always been a master at making vegetables the star of his dishes. My copy of his most recent cookbook Plenty contains not one but two celeriac recipes. The variety of textures and amazing tastes in the below celeriac and lentils salad create a standout of a dish that keeps getting better as it marinates in the fridge…so don't be scared of leftovers!
 Celeriac and lentils with hazelnuts and mint
 adapted from Plenty by Yotam Ottolenghi

 1/3 c. whole hazelnuts
 1 c. Puy lentils
 3 c. water
 2 bay leaves
 4 sprigs fresh thyme
 1 small celeriac (1.5 lbs), peeled and cut into 3/8-inch chips
 Salt and pepper
 4 tbsp olive oil
 3 tbsp hazelnut oil
 3 tbsp red wine vinegar
 4 tbsp chopped fresh mint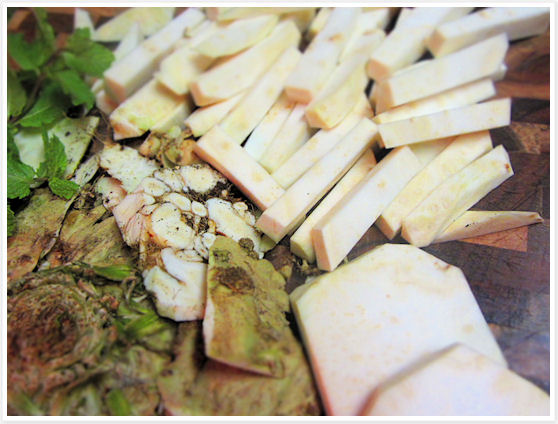 Preheat the oven to 275F. Scatter the hazelnuts over a baking tray and roast in the oven for 15 minutes. Remove from the oven, set aside to cool down, then chop roughly.
Put the lentils, water, bay leaves and thyme sprigs in a small saucepan.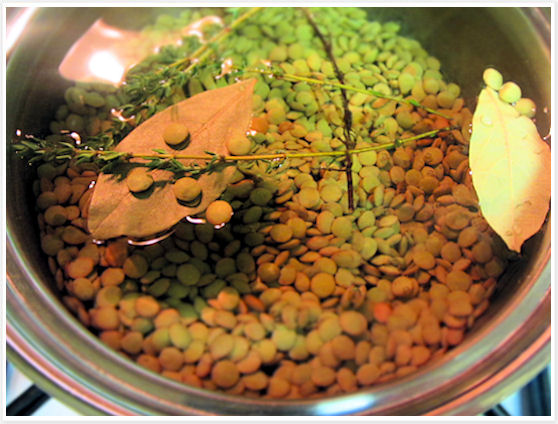 Bring to a boil, then simmer for 15-20 minutes, or until the lentils are al dente. Drain in a sieve. Remove and discard the bay leaves and the woody sprigs.
Meanwhile, in a seperate saucepan, cook the celeriac in plenty of boiling salted water for 8 to 12 minutes or until just tender. Drain.
In a large bowl, mix the hot lentils (make sure they don't cool down – lentils soak up flavours much better when they're piping hot) with the olive oil, two tablespoons of the hazelnut oil, the vinegar, a few grinds of black pepper and plenty of salt. Add the celeriac, stir, taste and adjust the seasoning as necessary.
If you're serving this straight away, stir in half the mint and the hazelnuts, then pile in a big heap on to a suitable serving dish. Drizzle the remaining hazelnut oil over the top, then garnish with the rest of the mint and nuts.
If you're planning on serving it cold, wait for the lentil and celeriac mixture to cool down, taste again, then make a final adjustment to the seasoning. Add the rest of the hazelnut oil, the mint and the nuts just as you do when serving it hot.

Print This Post