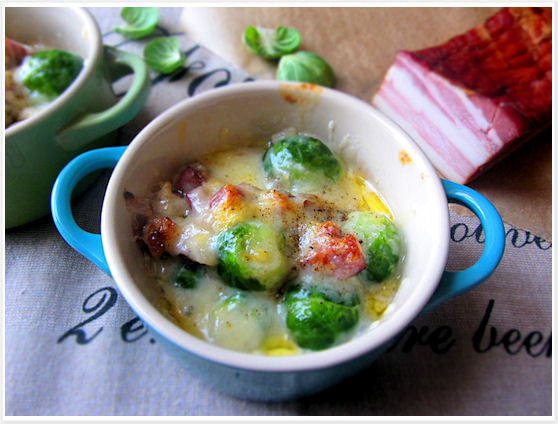 I challenge all the brussels sprouts haters out there to try this recipe and not completely fall for this cheesy dish! For this holiday season, or any other occasion in the colder months, brussels sprouts gratin is a winner on any table, transforming these cruciferous veggies into decadent bliss.  I know a lot of people who'd even say that the addition of bacon would elevate anything to greatness (!), which is sort of true here, but it's the combination of it with the creamy cheese sauce that truly makes this dish a winner. For the bacon I used a big slab of apple-wood smoked bacon chopped into cubes as lardons are much easier to find in Europe. I would even think that a good smoked ham could do quite well here…have fun experimenting!
Brussels sprouts, cheese and smoked bacon gratin
Adapted from Food and Travel
Serves 4 as a side

300g Brussels sprouts
1 tbsp olive oil
3 large shallots, finely chopped
150g smoked lardons or bacon, cut up in little cubes
250ml heavy cream
1/2 tsp Tabasco
100g gruyere cheese, grated

Equipment: 4 shallow gratin dish
Cook the sprouts in boiling salted water for 5 minutes, drain and refresh under cool running water. Drain well and set aside.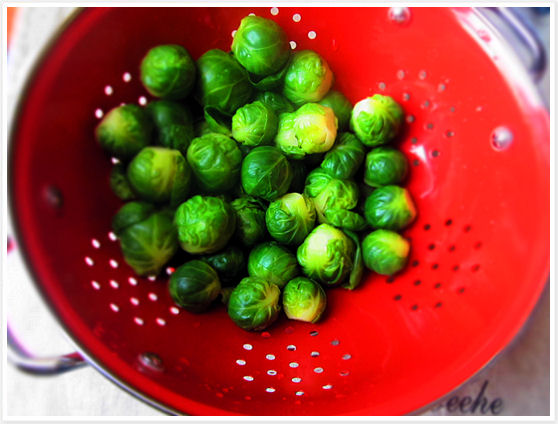 Preheat the grill to high. Heat the oil in a frying pan and gently fry the shallots, without letting them color, for about six minutes. Transfer to a bowl.
Fry the bacon in the same oil until just beginning to brown, then add to the bowl of shallots.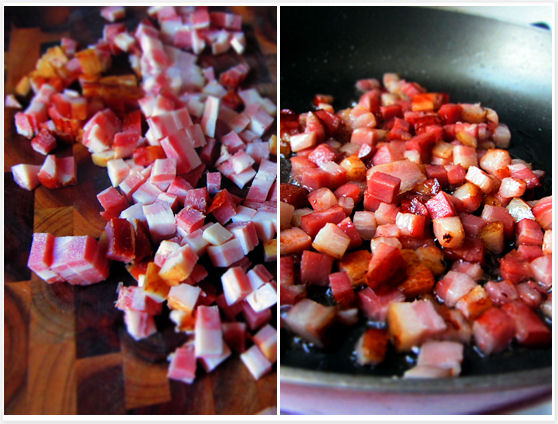 Place the cream in the frying pan and boil for a few minutes until reduced and thickened a little.
Take the frying pan off the heat and add the shallots and bacon to the cream.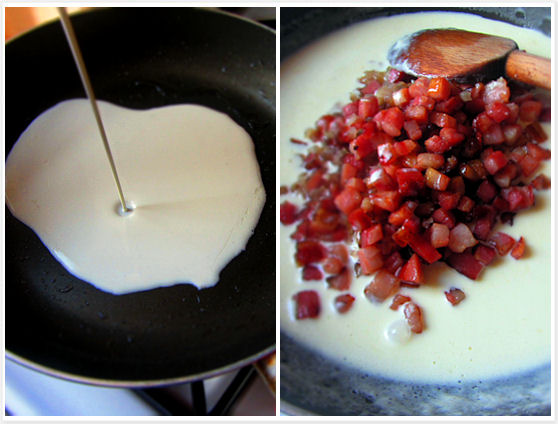 Cut the sprouts in half if large, keeping the small ones whole, and add them to the pan along with the Tabasco and stir well.
Divide the mixture between 4 gratin dishes and sprinkle with the grated cheese and a grinding of pepper.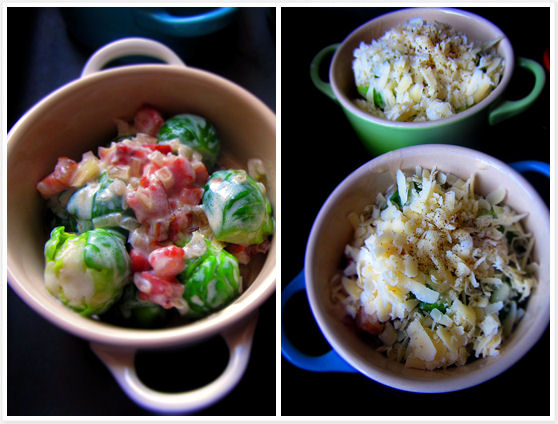 Place under the grill for about 4 minutes until bubbling and golden.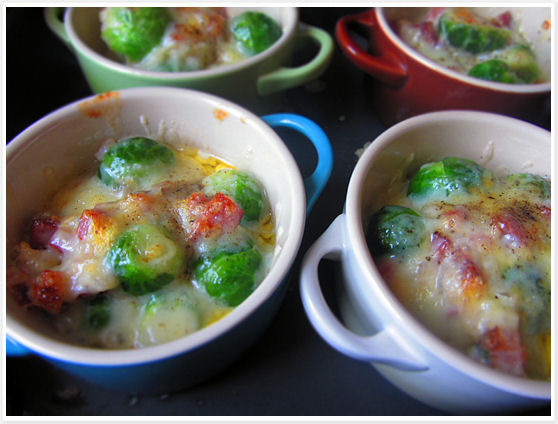 Print This Post