Health experts have been advising us for decades to eat more fish for a healthier (and longer) life and with 2012 resolutions kicking in, I thought I'd help out a few of you here! I have never had any trouble adding fish to my weekly diet as I love every single one of them, almost as much as swimming with and photographing them (!). It's not the case for everyone though and that's why I'm always thrilled when I find an easy and tasty fish recipe that I know would please the hard core carnivores.
This recipe is adapted from a popular dish at Laurent Tourondel's BLT Fish in New York where he serves a delightful Alaskan Black Cod with Acacia Honey. This 'melt in your mouth' recipe would transform any fish into earthy, sweet heaven. I picked up some nice fillets of cod at my fishmonger but I reckon that it would be as lovely with sole, halibut, and countless other types of fish. After marinating the cod in Acacia honey and vinegar, you roast it in the oven where it achieves a delicious caramelized exterior, coating the luscious, juicy pieces that flakes with no effort.
Cod with Acacia Honey
Adapted from Laurent Tourondel for BLT Fish
6 servings

6 (7-ounce) cod fillet pieces

Marinade:
2 cups acacia or other strongly flavored honey
3/4 cup grape seed oil
1 cup light soy sauce
3/4 cup white wine vinegar

Sauteed Spinach:
1/2 pound spinach, thoroughly washed
1 clove garlic, chopped
Grated nutmeg
1 tablespoon butter
Salt and black pepper 
To prepare the marinade: Combine honey, grape seed oil, soy sauce, and white wine vinegar. Cover the fish with the marinade, cover and refrigerate for 24 hours.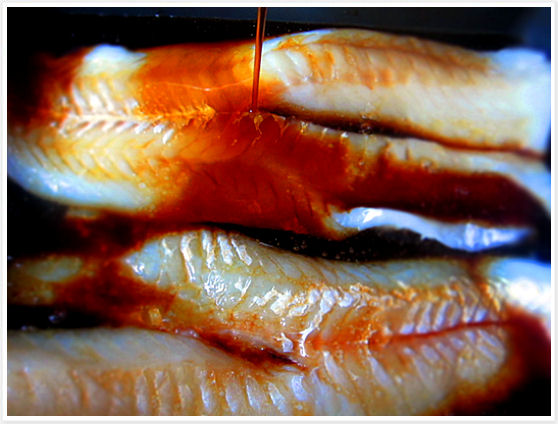 Remove the fish and place in a pan. Caramelize the fish under the broiler and finish in a preheated 400 degree F oven until the fish reaches medium. Reserve some of the marinade to use for sauce.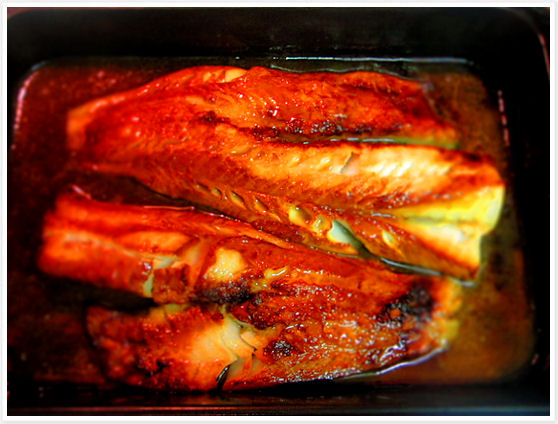 To prepare the spinach: Heat the butter in a hot saute pan. When the butter begins to brown, add the garlic. Add the spinach. Cook until tender. Season with nutmeg, salt, and pepper, to taste. Set aside.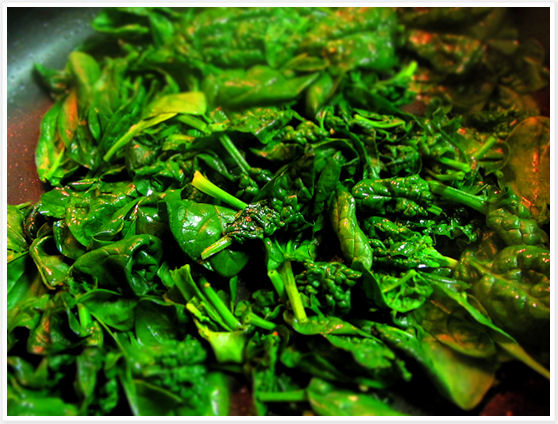 Heat reserved marinade to boiling point, reduce heat and simmer for two to three minutes.
To assemble the plate: In the center of each of 6 large bowls divide the spinach. Place a portion of fish on top and pour approximately 2 tablespoons of reserved marinade, over the top of each fish.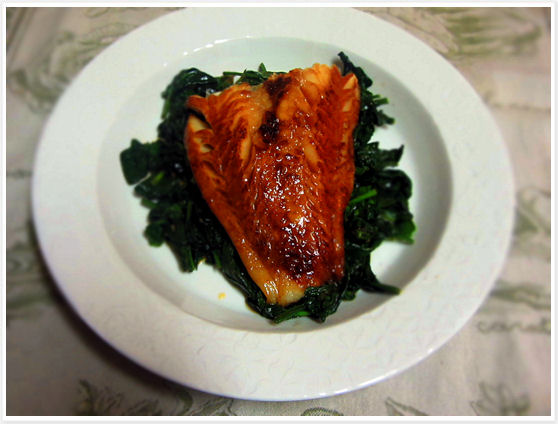 Print This Post