Here's one restaurant opening of 2011 I was impatiently waiting for – La Mar Cebicheria Peruana settling down in the Flatiron district. My recent trip to Peru saw me fall in love with the cuisine, the people, and the culture of this stunning country and La Mar will get you that much closer to having a taste of it all.
Peruvian chef Gastón Acurio is probably the highest-profile chef in South America with countless TV cooking shows and over 30 establishments in twelve countries. His La Mar chain of signature ceviche bars opened his first US outlet in San Francisco a few years ago before making its way to Manhattan in the fall of 2011. The two-floor space off Madison Square Park used to host Indian-fusion restaurant Tabla and is now the stage for a captivating Peruvian dining experience. Ever since coming back from Peru, I realized just how much Peruvian food had yet to be discovered in all its glory and I have a feeling La Mar Cebicheria Peruana might just do the trick…
First things first, no Peruvian meal of mine has ever started without a traditional and frothy Pisco Sour. La Mar does them perfectly and they're the ideal accompaniment for the extremely addictive fried plantain chips with hot dipping sauce that land on your table…be careful, it's easy to fill up on such a delicious snack!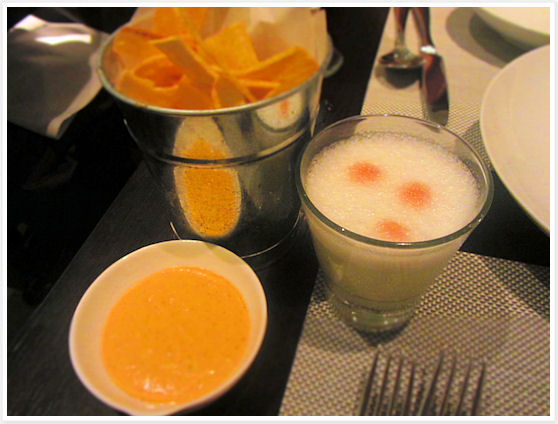 The quinoa salad was a fantastic start – roasted scallops, tricolor organic quinoa, greens, Japanese cucumber, with a grilled tomatoes and ají amarillo emulsion finished with huacatay oil.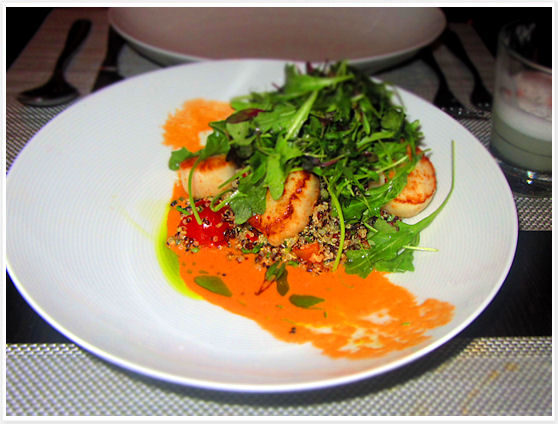 Of course the staple of Peruvian cuisine, cebiche, is playing a main role on the menu and I could easily make a meal of it! We ordered the cebiche tasting which includes a sample of three ceviche from the menu: Fluke with corn and yam, salmon with shrimps and octopus topped with crispy calamari, and yellowfin tuna with daikon and avocado in a tamarind sauce. They all tasted amazing though my favorite one was the fluke, incredibly fresh with a nice little kick from the spicy lime-based leche de tigre sauce.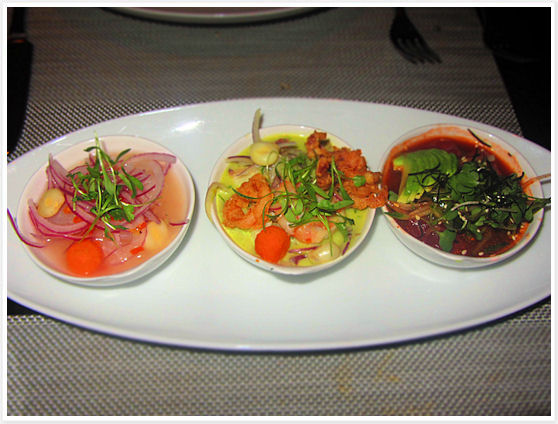 The main dish of Sudado was a delicious red grouper with Manila clams, yucca, Kabocha squash, onions and tomatoes cooked in ajies and white wine broth.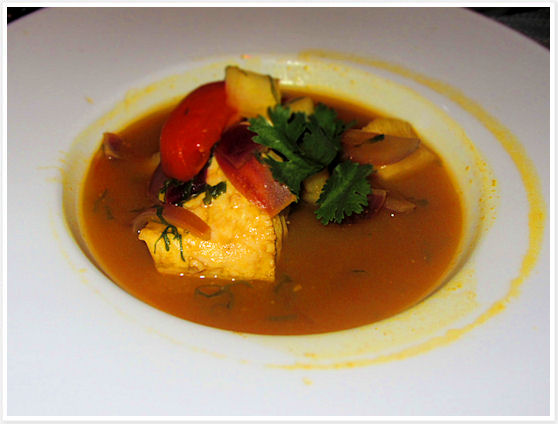 A dessert of lúcuma y cacao was a memorable introduction to this Peruvian native tropical fruit, here featured in a tube-shaped flan over crushed alfajores and a cheese ice cream…dreamy! The taste was slightly reminiscent of maple…we left wanting more!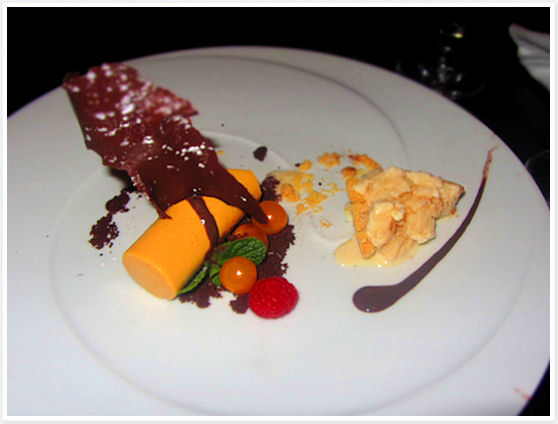 The ground floor bar area is a great place for an after-work drink and a quick bite in a soothing atmosphere – shimmering lattice curtains and blue lights give the space a nice aquatic feel.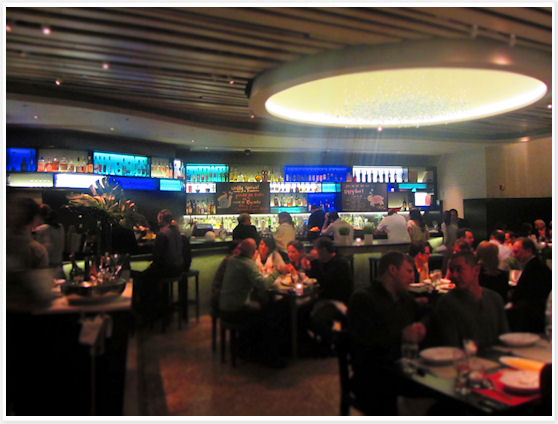 It's hard to leave a place like this especially with drinks this good, on par with the superior food we had all night. After the Pisco came the La Mar Sangria – forget everything you knew about sangria, this is probably the best regional adaptation I've ever had the pleasure to taste. While still using Spanish red wine, they add chicha morada (a typical Peruvian drink made of purple corn), pisco quebranta, cachaça (liquor made from fermented sugarcane juice), and of course seasonal fruits. The end result is a perfectly strong, dark and fruity sangria with the underlying notes of cinnamon and cloves from the chicha morada. It brought me right back to that terrace in Aguas Calientes where I had my very first chicha morada, killing a few hours before climbing up to Machu Picchu…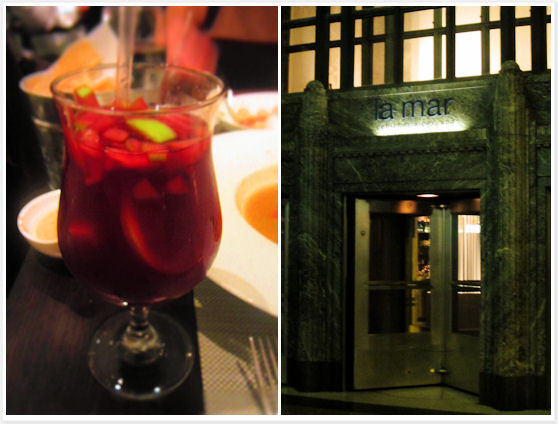 I couldn't be happier that New York finally has its share of Gastón Acurio's creative and refined cuisine and that more people will finally discover the wonder that is Peruvian food. It won't stop me from going back to this breathtaking country, but it will probably contribute to my increased consumption of healthy fish, corn, and potatoes…
La Mar Cebicheria Peruana
11 Madison Ave
Manhattan, NY 10010 T: (212) 612-3388
map