I often find myself missing the incredible panoply of dairy, creamy desserts you can find in every French supermarket and looking for ways to curb my cravings in as little time as possible. It's surprising to realize that pots de crème ("pot of cream"), which could be described as the most sophisticated and rich potted dessert, are in fact very simple to make and enjoy at home. Even those with very basic baking skills can succeed in turning this easy recipe into a decadent, seemingly-professional dessert.
A pot de crème is a traditional French custard typically served in a pot-shaped cup and loved for its super creamy and dense texture. Delicious when simply made of chocolate, here it turns into pure bliss with the addition of orange and cinnamon, two match-made in heaven for dark chocolate. The result is an incredibly luscious dessert that'll make you lick your spoon to grab on to every little bit of intensely flavored custard. If you're not ready for such a punch, adding the whipped cream on top helps cut out the extremely rich flavor, though the true chocolate lovers out there will be able to manage without and probably prefer it in its pure decadent form. Any way you decide to eat it, this is one fantastic addition to your 'great desserts with little effort' list.

Chocolate Orange Pots de Crème
Adapted from
Gourmet
Makes 8 servings Active time: 20 min  Total time: 5h (includes chilling)  
1 1/3 cups heavy cream
1 cup whole milk
3/4 teaspoon cinnamon
6 1/2 to 7 ounces orange-flavored bittersweet chocolate such as Lindt Excellence Intense Orange, finely chopped
6 large egg yolks
2 tablespoons sugar
Equipment: 8 (4- to 5-ounce) ramekins
Accompaniment: whipped cream

Bring cream, milk, and cinnamon to a simmer in a small saucepan. Remove from heat and whisk in chocolate until melted.
Whisk together yolks, sugar, and a pinch of salt, then whisk in chocolate mixture. Strain through a fine-mesh sieve into a bowl and cool to room temperature, stirring occasionally.
Preheat oven to 300°F with rack in middle. Line a roasting pan with a folded kitchen towel and put ramekins on towel.
Divide custard among ramekins and add enough boiling-hot water to pan to reach halfway up them. Cover pan tightly with foil and poke a few holes in it. Carefully transfer pan to oven and bake until custards are set around edge but slightly wobbly in center, about 30 minutes.
Cool custards on a rack, uncovered, about 1 hour, then chill, covered, until cold, at least 3 hours.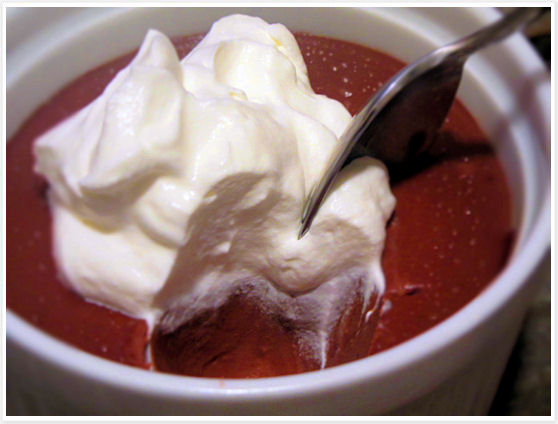 Print This Post