Börek is found all over the Mediterranean but is quintessentially Turkish. A regular feature at home, the best ones have been known to be served right off the streets from stalls across Turkey and Syria. Generally speaking, böreks are all pastry layers of some type enclosing fillings as imaginative as you can think of, so the variations are endless.
Here a simple filling of sweet potatoes and scallions lends a colorful and light touch to this favorite snack. Think of it as a fun and extremely delicious vehicle to your side dish of sweet potatoes, or original finger food for your next get together. Traditionally it was said that no girl should marry until she had mastered the art of börek making…wonder if I've passed?

Sweet Potato and Scallion Börek
Adapted from
Purple Citrus and Sweet Perfume
Serves 6 as an appetizer/mezze   2 large sweet potatoes, peeled and cubed 1 tablespoon unsalted butter 6 scallions, finely sliced 1/2 teaspoon sweet paprika 2 1/2 teaspoons nigella seeds 4 sheets of filo, thawed melted butter, for brushing 1 large egg yolk, beaten  

Preheat oven to 375°F.
Place the sweet potatoes in a saucepan of cold water and bring to a boil. Reduce to a simmer for 12-15 minutes, until the potatoes are soft. Drain and coarsely mash the sweet potatoes – you don't want them to be too smooth.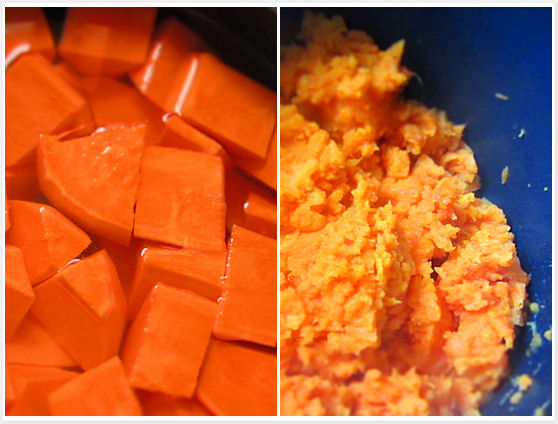 Heat the butter in a deep saucepan and sauté the scallions for 1 minute. Add the warm sweet potatoes, paprika, and 1 1/2 teaspoon of the nigella seeds. Combine well and let cool.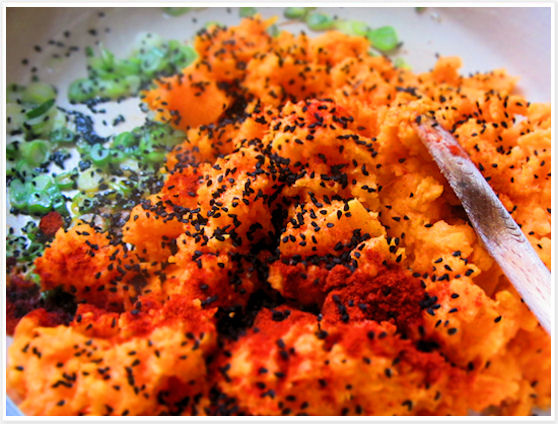 Place a sheet of filo pastry on your work surface and brush with melted butter, then immediately place another sheet of filo on top of the first. (Filo can dry quickly, so keep the pastry that you are not using under a damp cloth). Spoon half the potato mixture along the bottom edge of the stacked filo. Roll away from you to form a thin sausage and tuck the ends in. Repeat the process with the remaining filo and filling.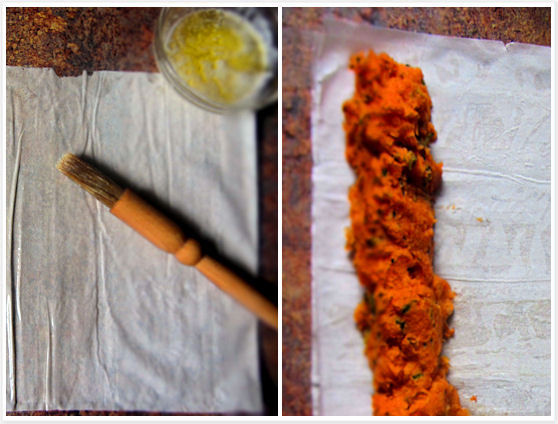 Arrange the two böreks on a baking sheet, brush with the beaten egg yolk and sprinkle with the remaining nigella seeds.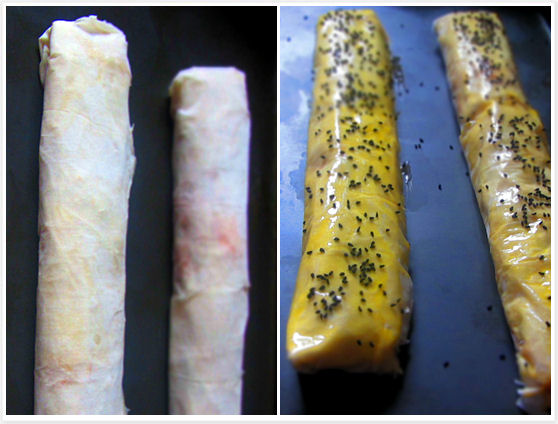 Bake for 12-15 minutes, until golden. Cut up and serve warm. Simple and delicious!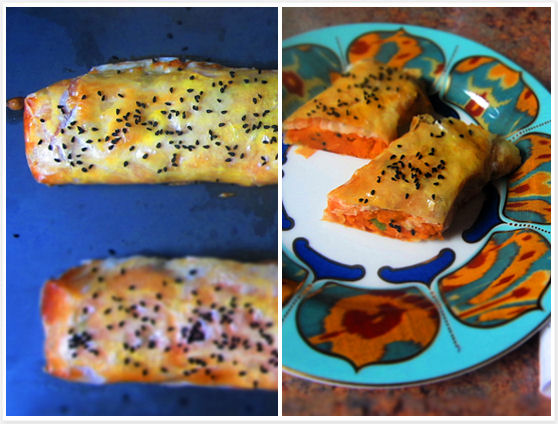 Print This Post