Combining two of your favorite things hasn't always yielded the desired results…[insert unpalatable mix in here]. In this particular case though, I can assure you that the coupling is an inspired and tasteful one! Cheesecake and Cannoli make for a wonderfully light and grown-up Italian dessert. I made this for a friend's birthday and it was received with applauds – such a nice change from overly sweet buttercream concoctions, though the lightness of it made us reach for a second piece! So long the 2012 resolutions…ah!
The airy ricotta filling is flecked with small chunks of chocolate chips and candied orange peels for a perfect marriage of Italian and American. The quality of the ricotta used will make a huge difference here so make sure you pick fresh homemade variety instead of watery store bought ones. This cake is so easy to eat, you'll end up munching on it all day as it's the perfect companion to your tea/coffee, ideal mid-afternoon snack and strong contender for your new breakfast regimen…it didn't last 24h! Thinking about it, I'll have to revert back to overly sweet buttercream cakes from now on, at least I had enough after a single piece!

Cannoli Cheesecake
Makes 8 to 12 servings Active time: 20 min Total time: 2 3/4 hr (includes cooling)  
For crust:
4 (4 3/4-by 2 1/2-inch) graham crackers, crumbled
1/3 cup slivered almonds
3 tablespoons granulated sugar
1/2 stick unsalted butter, melted  
For cheesecake:
1 3/4 cups (15 ounces) whole-milk ricotta
1/4 cup granulated sugar
1 tablespoon grated orange zest
1 large egg, separated
1/3 cup candied orange peel, chopped
1/3 cup semisweet chocolate chips, chopped
4 large egg whites
2 teaspoon confectioners sugar   Equipment: a 9-inch springform pan  

Make crust:
Preheat oven to 350°F with rack in middle. Invert bottom of springform pan (to make it easier to slide cake off bottom) and lock on side.
Pulse graham crackers, almonds, and sugar in a food processor until finely ground, then transfer to a bowl. Stir in butter until combined.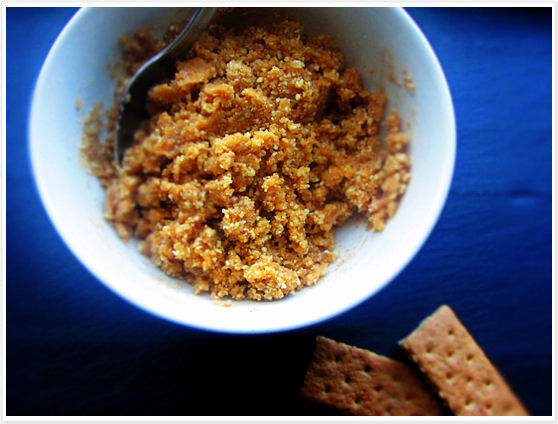 Press crumb mixture evenly onto bottom and 1/2 inch up side of pan.
Bake crust 8 minutes. Cool to room temperature (still in pan), about 15 minutes. Leave oven on.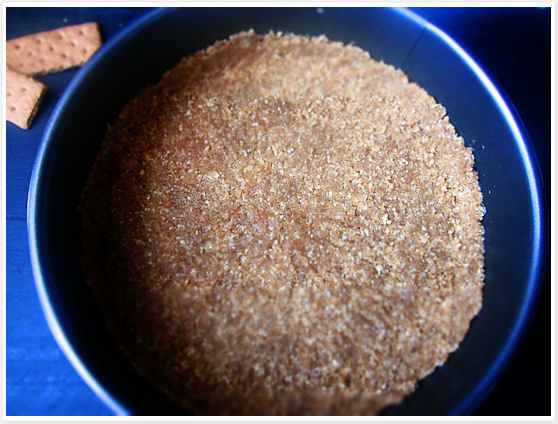 Make cheesecake:
Stir together ricotta, granulated sugar, zest, and egg yolk in a large bowl until combined, then stir in candied orange peel and chocolate chips.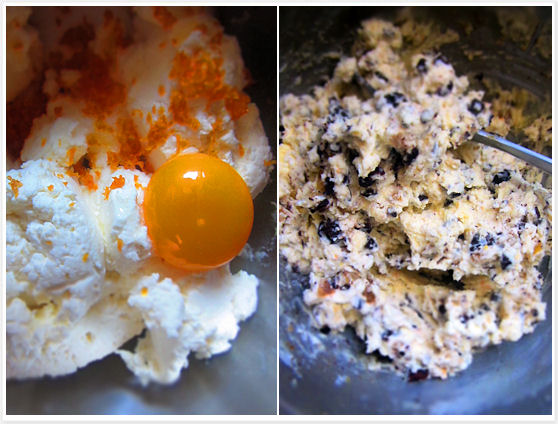 Beat egg whites (all 5) and a pinch of salt in another bowl with an electric mixer until they hold soft peaks. Fold into ricotta mixture gently but thoroughly.
Pour filling into crust.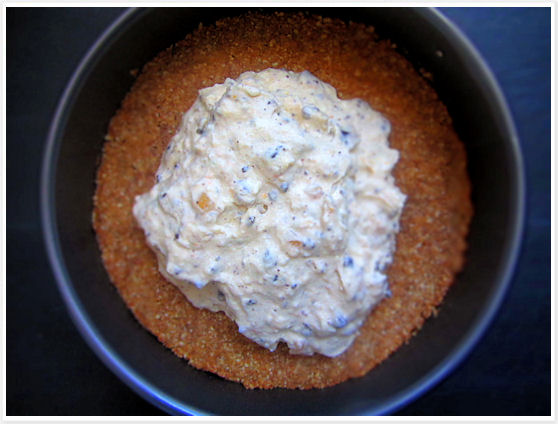 Bake until top is puffed and golden, about 55 minutes to 1 hour.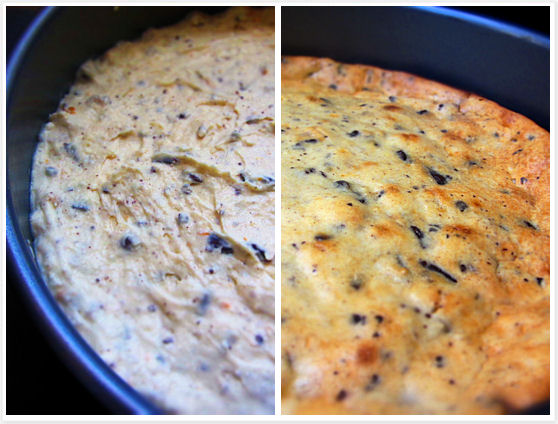 Cool in pan 15 minutes. Run a thin knife around edge to loosen cake, then remove side of pan. Cool to room temperature, about 1 hour. Dust with confectioners sugar.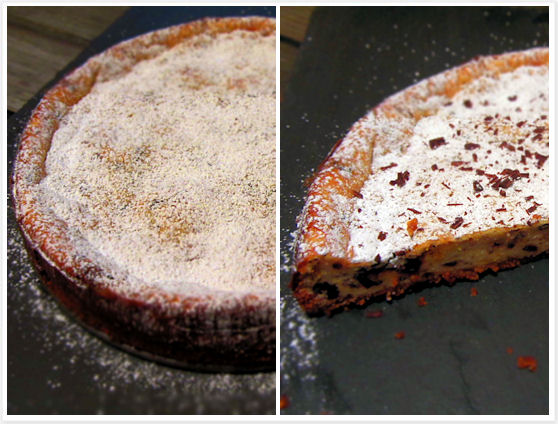 I added a dusting of grated semi-sweet chocolate to the powdered sugar topping…gave it that little extra oomph!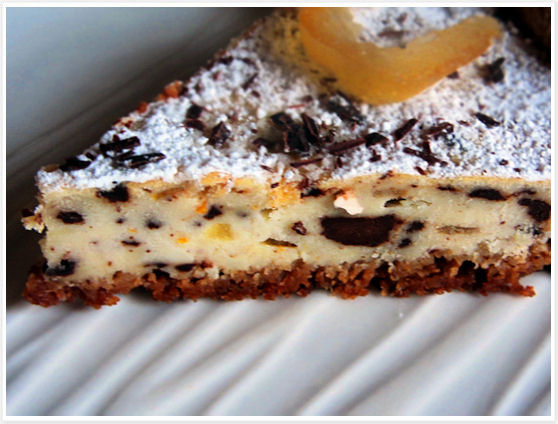 Print This Post