I've always had a tendancy to prefer shy types, convinced the extra work needed to break the ice surely would be rewarded by discovering a complex and wonderful personality. While it didn't always ring true on the people front(!), it seems to be quite a reliable theory when it comes to restaurants. Cuisine et Dépendance in Montreal is a pretty good illustration – opened since 2006 (really?!), this charming bistro is still attracting crowds despite the lack of press or fanfare: a sign that surely they're doing something right, and I want in on the secret!
For start, it has an enviable location on the Plateau, right on The Main (Saint-Laurent Boulevard) and a bright white exterior that immediately livens up this slightly dim stretch of street and lures you right in. Once inside, you can't help but feel straight at ease, leaving your coat to be hung in the hallway before taking seat at a casual table, as if you had just walked into a dear friend's home.
The decor is definitely modern and minimalist though warm touches such as a white brick wall, dark wood furniture and lime green accents gives it a comfortable airiness – no cramped tables here! What you'll eat is a fresh, simple, and local bistro cuisine in an understated elegance that proves that no extra flourish is necessary when the food and ambiance is that good.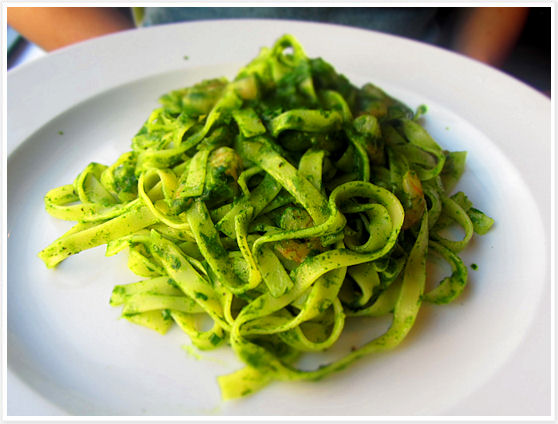 Spinach pesto tagliatelle with shrimps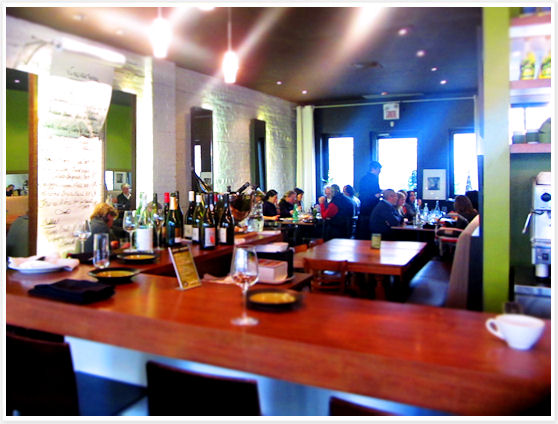 An honest and incredibly pleasing eating experience, you can tell the duo behind Cuisine et Dépendance (discreet and extremely talented chef Jean-Paul Giroux in the kitchen and Danielle Matte in the room) is full of heart, talent, and good intentions. The simple market-driven menu evolves day after day, always comforting and bursting with the freshest of ingredients. They have their regulars, their friends, and now my seal of approval as an 'attractively shy' establishment well worth seeking out…
Cuisine et Dépendance
  4902, boulevard Saint-Laurent
Montréal, QC H2T 1R5 T: (514) 842-1500
map