Gramercy has seriously upped its coolness factor lately with the concentration of trendy eateries that have opened inside the Ace Hotel. Joining the popular The Breslin, Stumptown Coffee, and No. 7 Sub comes my favorite of them all: The John Dory Oyster Bar.
The brainchild of Chef April Bloomfield and Ken Friedman, the second incarnation of this turn-of-the-century-style oyster bar (there was a first unsuccessful attempt in Chelsea in 2009) is a seafood 'turned on its head' extravaganza, lick your fingers comfort food maritime-style. It's no surprise coming from Bloomfield who has turned out acclaimed eateries one after the other since opening Greenwich Village's darling Spotted Pig back in 2004 and earned herself two Michelin stars. This time, she has let go of her porcine obsession to seduce us with her own gastronomic twist on the bounty of the sea.
Bivalves, Brine, and Butter: here it comes…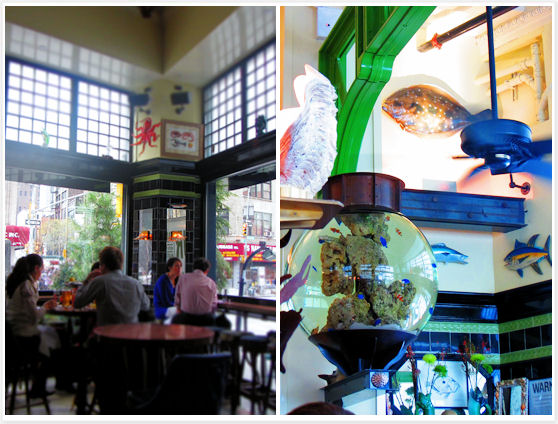 The space is bright and airy, and although the huge corner windows overlooking a dull stretch of Broadway remind you this is no beachfront location, the quirky maritime decor makes for a fun and light ambiance. Black tiled walls with bright blue and green accents evoke old-school bistros with a modern flair, one of Bloomsfield's trademarks.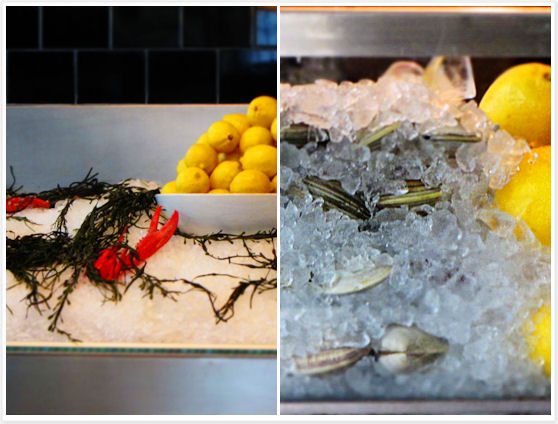 Of course there is a raw bar, where oysters and clams are shucked and cold Dungeness crab is plated. With only 5 seats, good luck seeing the action live as this is a prime spot come happy hour (the bar's happy hour has become famous – 5pm-7pm where $15 buys you a half-dozen oysters or clams and a glass of sparkling wine or a pint of Sixpoint oyster stout, hmmm…).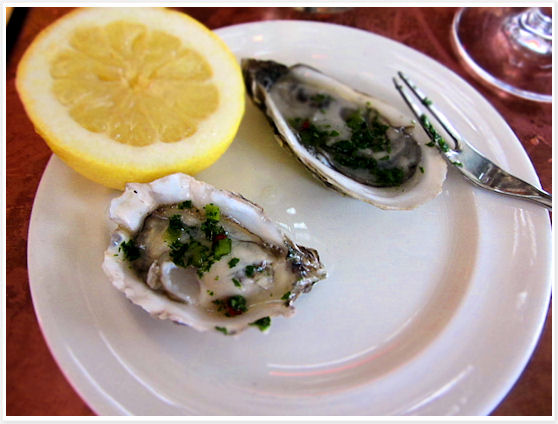 The oysters vary each day and are a mix of East and West Coast types. We had a few as starters (would be silly not to!) but it's the rest of the meal we were saving ourselves for, and I recommend you do the same. You can get good oysters at plenty of other places in the city, but Bloomsfield's creative dishes are only available here and the main reason for a visit…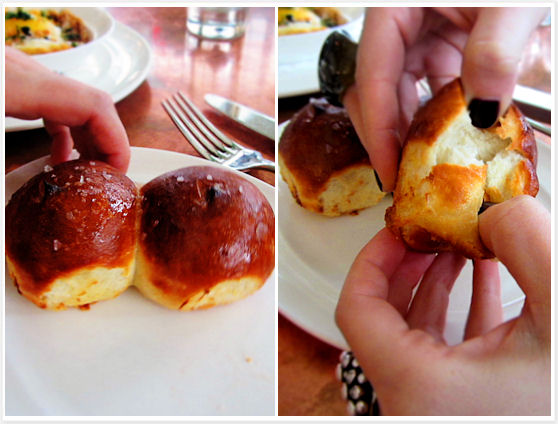 Parker House Rolls…I'm still stunned that I would want to write about a restaurant's bread rolls but these are just too good! They don't come free, you have to order them from the menu but trust me when I say they'll change your life! OK, maybe not but they'll surely change your meal here. At $4.50 for 4, these unbelievable dough balls are slathered in butter and salt, giving the rolls a buttery, soft, slightly sweet taste and slightly crispy shell. They arrive piping hot, and even though they taste fantastic enough to gobble down the second you get them, you'd be smart to save some as they go perfectly with every dish on the menu, acting as sauce soakers or savory bite transporters. Be ready to order some more!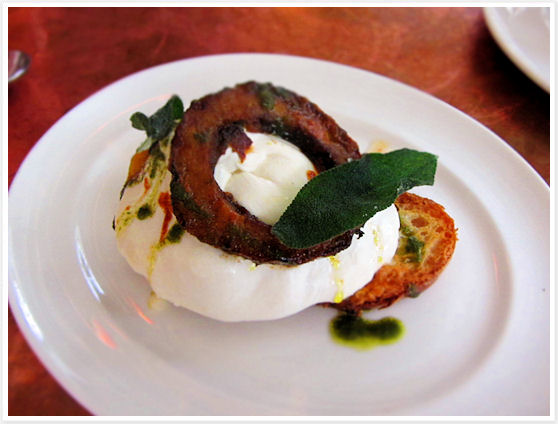 Vermont Burrata with delicata squash, brown butter and sage – Great as a starter, creamy Burrata was oozing out and marrying perfectly well with the squash (and the house rolls!)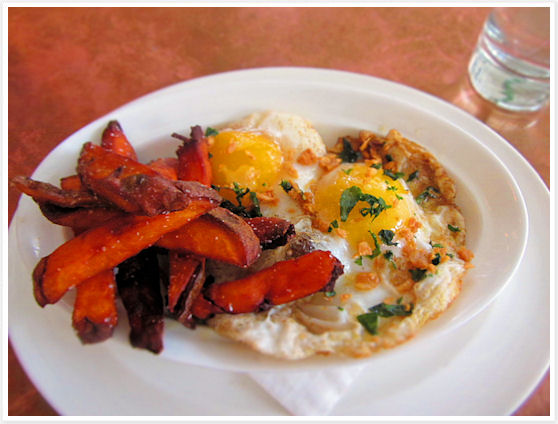 Sweet potato chips with duck eggs – I'm already a huge fan of sweet potato fries, and I must say dipping them in the egg yolk was a pretty tasty combo, the sort of comfort bistro dish that has become a signature of Bloomfield's establishments.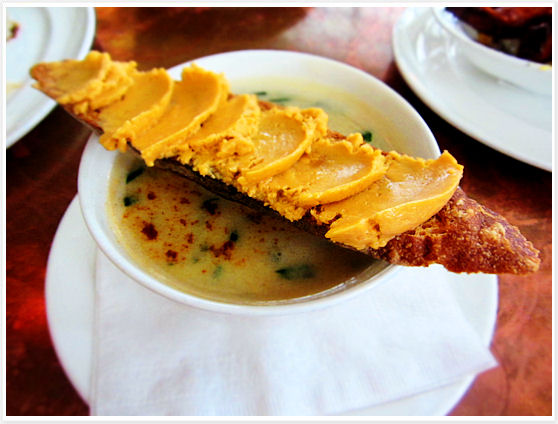 Oyster pan roast with uni butter crostini – For many, this dish is THE reason to go to The John Dory Oyster Bar. I'm not mincing my words when I say it is legendary… I'm sure people have cried over it, no kidding. This must be one if not the most decadent soup I've ever had the pleasure to taste. Succulent smoky oysters are submerged in a bowl of melted butter, cream and sherry…not for the faint of heart and I hereby salute chef Bloomfield for daring such flavors for our greatest enjoyment. The crostini on top is generously smeared with fresh sea urchin which you'll liberally dunk into the rich broth for an explosion of richness…and since you won't have enough to clean up the bowl, you'll then (yes you've guessed it) reach for your Parker House Rolls. At this point, I was in food euphoria, wishing I was suddenly alone and able to dismiss all proper eating etiquette…you get the picture. Needless to say, we left the bowl squeaky clean.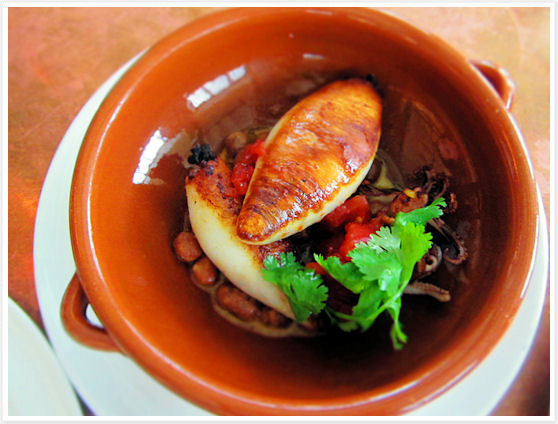 Chorizo stuffed squid with smoked tomato – whole seared squids are stuffed with paella rice cooked with chorizo, red pepper, onion and saffron and a vinaigrette of smoked tomatoes, and placed on a bed of beans. It was super tender, and the smokiness lent it a very unique and pleasant flavor.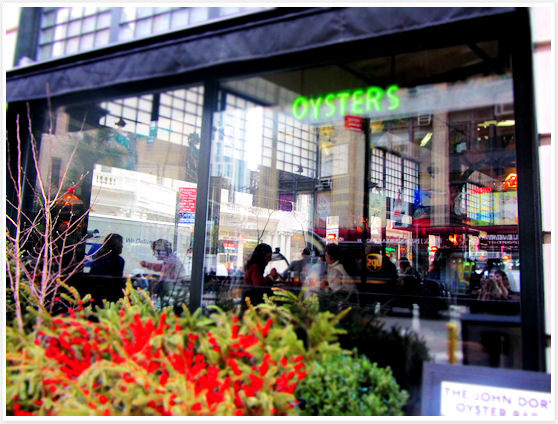 A most glorious meal it was and I'm dying to go back already. This is exactly what the area needed and despite the no reservations policy, slurping a few oysters at the buzzing bar while waiting to sit down and enjoy a spectacular Oyster Pan Roast sounds like the best way to spend one's time, doesn't it?
John Dory Oyster Bar
1196 Broadway New York, NY 10001 T: 212-792-9000
map