Mushrooms are a diverse bunch – Portabello, Enoki, Field, Swiss Brown/Cremini, Wood Ear, Oyster, Porcini, Shiitake, etc. That's only the tip of it and yet, too often we settle for the ubiquitous white button mushroom…such a shame. I love my fungus in every shapes and forms so finding a recipe that can help get creative is always great.
This recipe is based on a Chanterelle Mushroom Tart that used to be served at now defunct Aix Brasserie in Manhattan. It's a little fancy but easy to do so if you want to impress your dinner guests with a beautiful appetizer and show your 'foraging' skills with little efforts, I suggest you give this one a try. The beauty of it is you can pretty much use any type of mushrooms you like and get a delectable result – the rich hazelnut paste is what really plays it up and makes this dish a standout. Most mushroom tarts are filled with a cheese and egg base, while this one has a deep earthy flavor brought on by the homemade roasted hazelnut and caramelized onions paste (which you'll want to double up so you can spread it on your toasts and fruits in the morning!).

Mushroom Tart with Hazelnut Paste and Sugarcane Sabayon
Adapted from Chef Didier Virot's recipe Active time: 35 min Serves 4 as an appetizer  
Mushroom tart
4 small puff pastry rounds or squares 1 qt chanterelle, porcini, or any other type of mushrooms (I used
yellow foot mushrooms
) Olive oil (for sauté) Salt and pepper to taste Chives (for garnish)  
Hazelnut paste
1 cup hazelnuts, toasted and skinned 1 cup caramelized onions ¼ cup olive oil Salt and pepper to taste  
Sugarcane sabayon (froth)
¹⁄3 cup sugarcane vinegar (found in Asian specialty markets) or replace with malt or cider vinegar ²⁄3 cup cream 2 egg yolks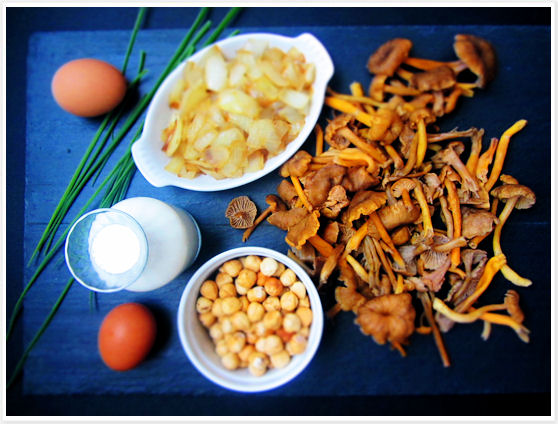 Bake puff pastry in 375°F oven for 20 mins until golden brown.
In food processor, purée toasted hazelnuts and caramelized onions with ¼ cup olive oil until smooth like peanut butter. Season with salt and pepper.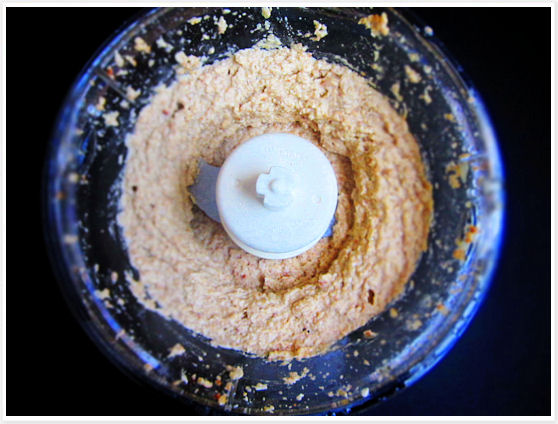 Sauté mushrooms in a pan with olive oil, salt and pepper.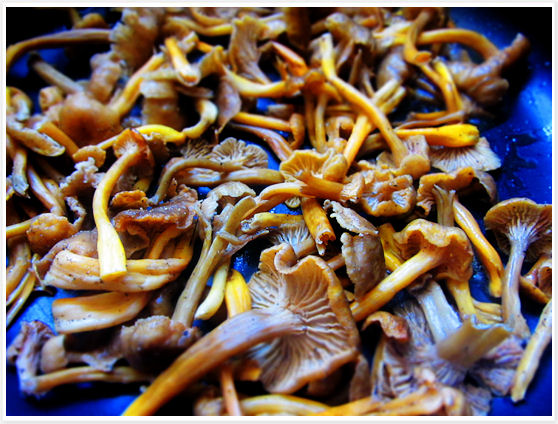 When the puff pastry has cooled down, remove the caps and spread the hazelnut paste, filling the inside with a thick layer of the nutty goodness.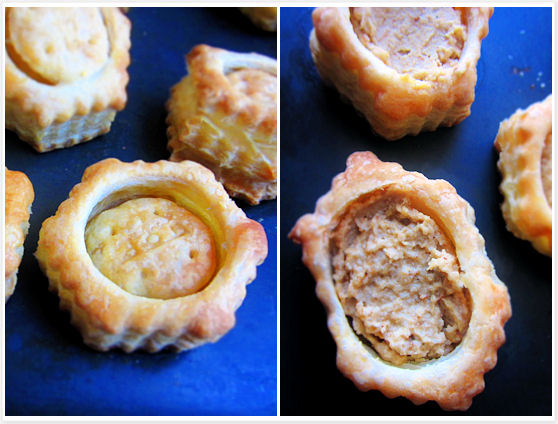 Top with the mushrooms.
In blender, mix cream, vinegar and egg yolks. Heat in a saucepan over low heat while whisking vigorously until frothy and slightly thickened. This is your sabayon and is best consumed seconds after it's made so do it at the last minute and immediately spoon the sauce over the mushrooms. Garnish with chives.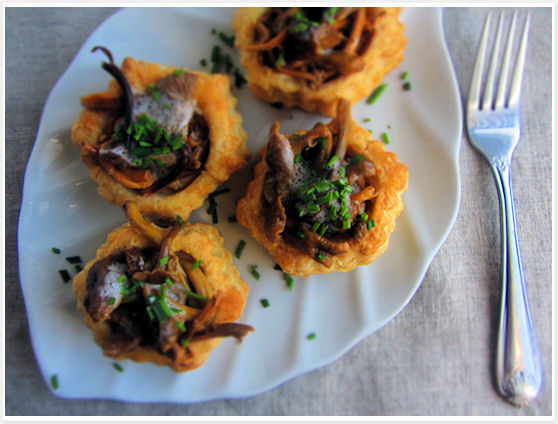 Print This Post