Yalla!  which means "Hurry!" in Arabic is definitely not something you'll want to do once you step into this little street food gem. Yalla Yalla is one of those authentically charming restaurant you wish you could keep all to yourself and visit whenever the mood for good Lebanese and Middle Eastern cuisine strikes.
Secretively nestled down a hidden alleyway in what remains of the sleazy heart of Soho, among sex shops and strip joints, the very tiny place is bursting with joyous patrons every night, filling in the handful of seats available inside as much as the narrow alley outside, waiting patiently for a table.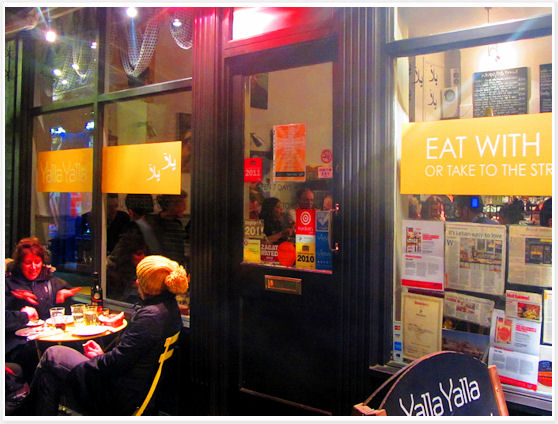 You can pick from a selection of Lebanese beer and wine, but the chill in the air on that cold night made us go for the Arak Mint Tea made with fresh mint, rose water, sugar, and Arak (an anise-flavoured alcohol) – perfect warm-up while we sat and waited at one of their cute bright yellow sidewalk tables.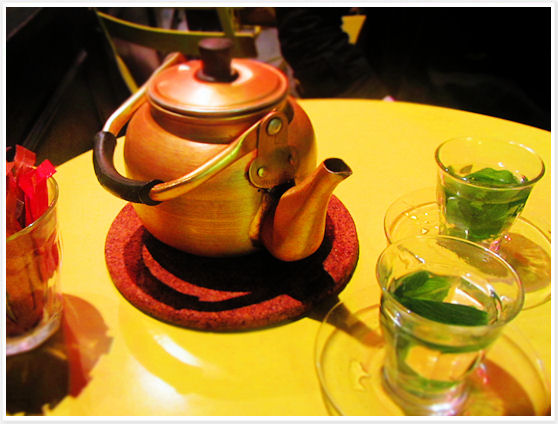 The menu contains all the greatest hits such as babah ghannouj, labné, fattoush, and tabboulé and they're exactly as they should be; fresh, pungent, coated with excellent oil. It is also the perfect place to get initiated to new flavours by trying some of their specialties like sawda djej (sautéed chicken liver with garlic and pomegranate molasses), kibbé nayyé (lamb tartar), samboussek lamhé (pastry filled with spiced lamb, onion comfit and roasted pine nuts), etc. We went for a selection of mezze to share and one main dish…as you'll see, an incredible quantity of food for only two!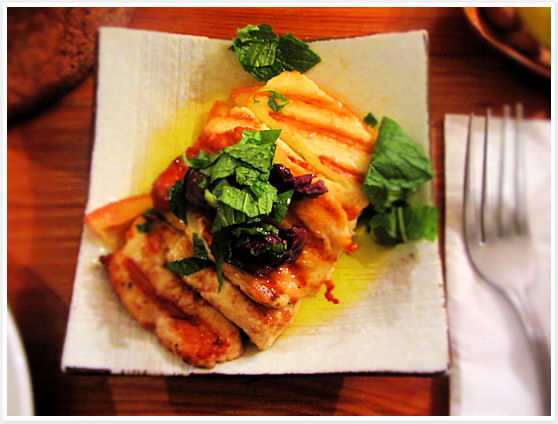 Halloum Meshoue – Grilled Halloumi cheese, always a personal favourite, was well charred and served with tomatoes, black olives, fresh mint and olive oil.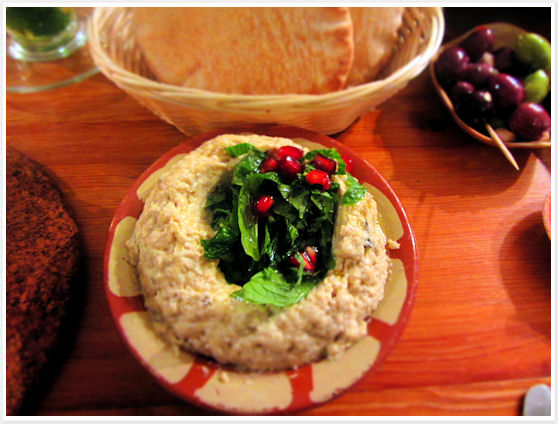 Baba Ghannouj – Super smokey charcoal grilled aubergine dip with tahini, fresh lemon juice, crunchy juicy pomegranate seeds, and fresh mint was simply delicious.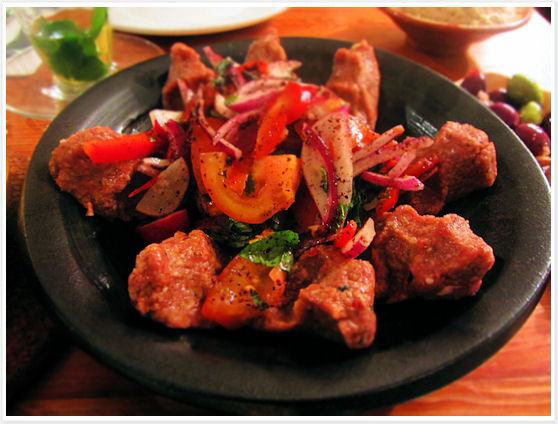 Kibbé Nayyé – Lamb tartar with spiced cracked wheat, spring onions, fresh mint and basil. The portion was huge, you could easily make a meal out of it. Heavily seasoned and spiced, the tartar was an excellent pita spread, topped with the vegetable garnish.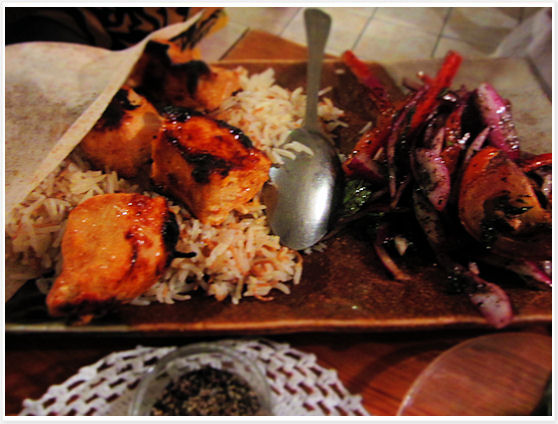 Chicken Shawarma– Moist grilled pieces of marinated chicken, grilled tomato, sumac, parsley and red pepper salad and buttery vermicelli basmati rice: indulgent dish after so much food, but the tender pieces of chicken were hard to resist! Would definitely try their shawarma wrap after having a taste of this wonderful meat…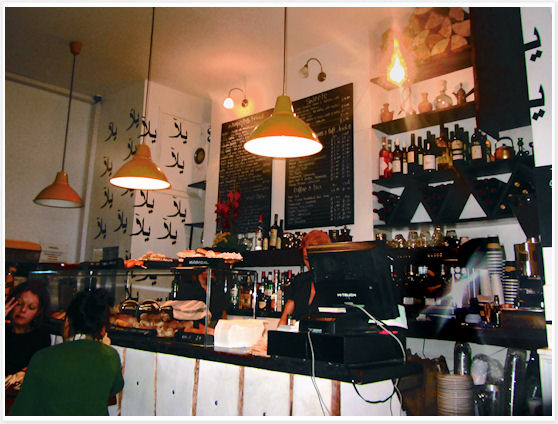 Blackboards on the back wall outline the day's specials and the counter is piled up high with an enticing display of kebabs, wraps, pastries and other sweets. Yalla Yalla's dessert menu is mouth watering and if I hadn't been so gluttonous with our meal I would have certainly tried one of their Lebanese specialties like baklava, mohalabiya (fragrant milk pudding) and knéfé, a warm Lebanese cheese and semolina cake flavored with orange blossom and served with rose petal ice cream.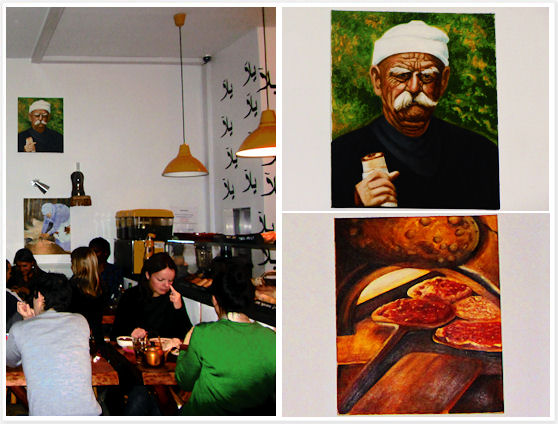 After such an amazing feast you're in for a nice surprise when the bill comes, about £15 each! The starters were enormous for their price and looking at their selection of takeaway wraps and dips which is even cheaper, that's what I call exceptionally good value for money. If you work in the area, this is one of the best lunch spots around.
Yalla Yalla has already been open for a few years and its popularity (along with its tininess) has now produced two more branches (12 Winsley Street, just north of Oxford street, and soon to open within Kings Cross station). As one would suspect, the charming and authentic character didn't really follow (modern design, communal tables, etc.) so my advice is to stick to the original one in Soho, well worth the wait!
Yalla Yalla
1 Green's Court
London
W1F 0HA
T:
020 7287 7663
map