A simple sandwich can sometimes be the greatest of creation. While every new hip takeout place is throwing in funky toppings these days, I still rely on little bakeries for fresh and tasty sandwiches. I can't recall the number of mozzarella-tomato-basil combo I've had in my life, but it's definitely sky high.
I particularly remember the one I had from Once Upon a Tart, a cute little cafe/bakery in the West Village. Very simple in its form, it has everything a great mozzarella sandwich should have: extremely fresh cheese, lots of basil, super sweet roasted tomatoes, and a soft, fresh bread to bring it all together. I recreated it at home with the best mozzarella I could find and it was divine.

Fresh Mozzarella Sandwich with Oven-Roasted Tomatoes and Pesto
Adapted from Once upon a Tart
Active time: 10 minutes
Total time: 35 minutes
Makes 4 sandwiches
Oven-Roasted Tomatoes
1 lb plum tomatoes, cored and cut into 4 rounds ¼ cup olive oil 1 teaspoon salt A few turns of freshly ground black pepper 2 garlic cloves, peeled and minced ¼ cup chopped fresh basil  
Sandwich
4 4-inch squares focaccia 1 lb fresh mozzarella, sliced into ¼-inch rounds A sprinkling of salt ½ teaspoon freshly ground black pepper 1 recipe oven-roasted tomatoes ½ cup fresh basil (24 whole leaves) ½ basil pesto  

Prepare the oven-roasted tomatoes:
Preheat oven to 475°F. Toss the tomatoes with the rest of the ingredients in a medium-size bowl. Place the tomatoes, cut side down, on a sheet pan.
Place the sheet pan in the oven, and roast the tomatoes until they begin to blacken around the edges, 25-30 minutes. Check the tomatoes occasionally to make sure they're not charring. If they are, lower the oven temperature to 400.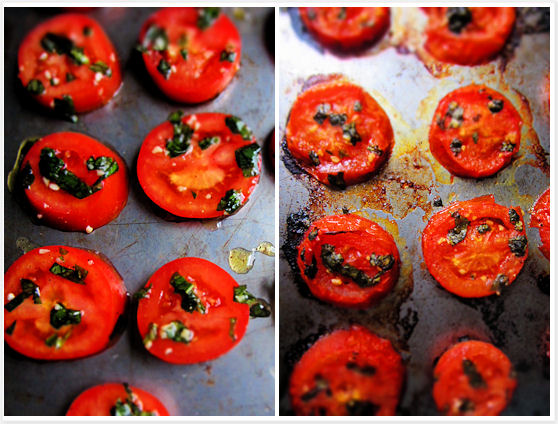 Assemble the sandwiches:
Cut the focaccia in half like a hamburger bun and lay it on your work surface with the bottoms closer to you and the matching tops directly behind them. Lay the mozzarella slices so they cover the bottom halves of the focaccia, and sprinkle the mozzarella with salt and pepper. Place a layer of roasted tomatoes over the cheese, and lay the basil leaves over the tomatoes.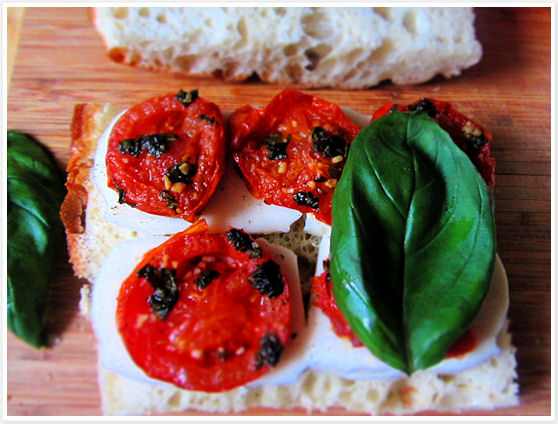 Using a rubber spatula or the back of a spoon, spread the pesto on the inside of the top half of the bread, making sure to coat the edges.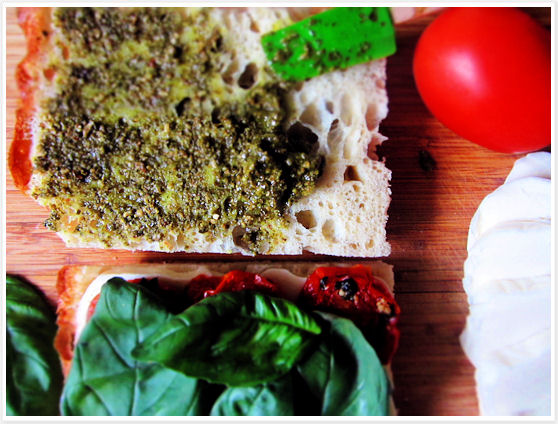 Place the top halves on the respective bottoms. Rest one hand firmly on each sandwich. Use a serrated knife to gently saw the sandwich in half.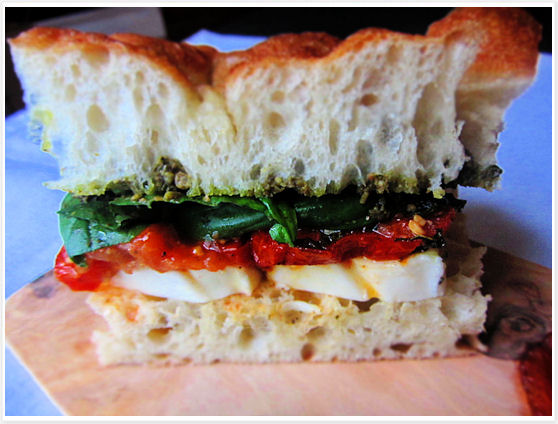 Print This Post