Sushi amateurs like myself are spoilt for choice in NYC where the number of pint-size authentic Japanese eateries increases year on year as does the behemoth celebrity-endorsed establishments. Morimoto stands firmly among the latter and remains a 'must-see' on many people's checklist when visiting the city. Very few have yet to hear about celebrity chef Masaharu Morimoto who is known the world over for his creativity and awe-inspiring skills in the kitchen. I've seen the man work its magic on Iron Chef and that alone is reason enough to pay a visit to his eponymous, flashy and very sexy restaurant in the Meatpacking District.
Morimoto is a great place to bring out-of-towners, plan an expensive business dinner, impress a special date, or treat yourself to some fine Japanese cuisine with a twist. While I'm still very much a lover of those small hole-in-the-walls, bamboo-lined, truly traditional sushi joints where ordering off the poorly translated menu is a joy, I must say the behemoth experience wasn't bad at all, thanks to top quality food and presentation.
Besides the extensive sushi list, in which you'll find your usual suspects as well as more exotic specimen, the main menu plays up Morimoto's creativity by reinterpreting Asian dishes with a worldwide spin (raw tuna on pizza, lobster with garam masala, pork gyoza with tomatoes and cream, etc.). Some dishes are excellent, others are a little bit more forgettable, but in this huge modern and sexy space somehow the whole theatrical production totally fits and guarantees a very pleasant evening.
Oyster Foie Gras: Market oysters are topped with foie gras, uni, and teriyaki sauce.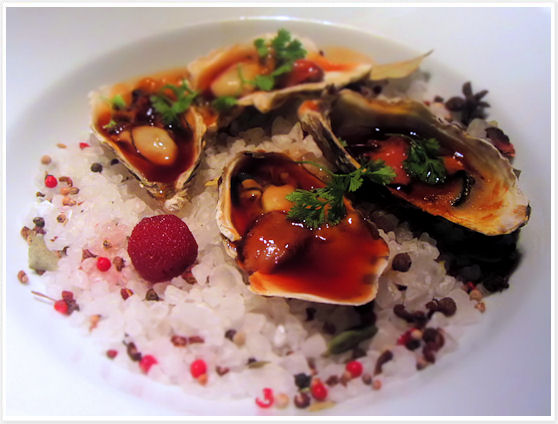 Crispy Rock Shrimp Tempura in a spicy sauce, served with wasabi aioli on the side.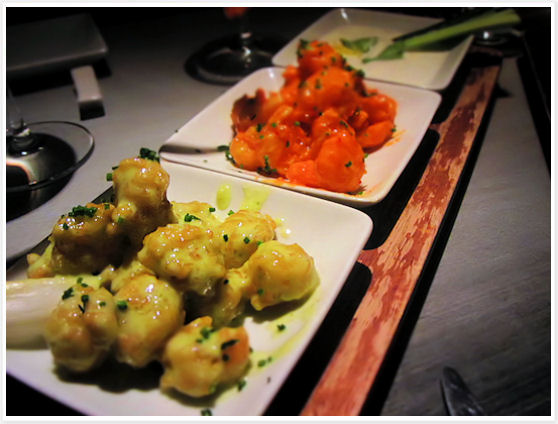 Pork Gyoza (hidden), served with chives, tomatoes and crème fraîche.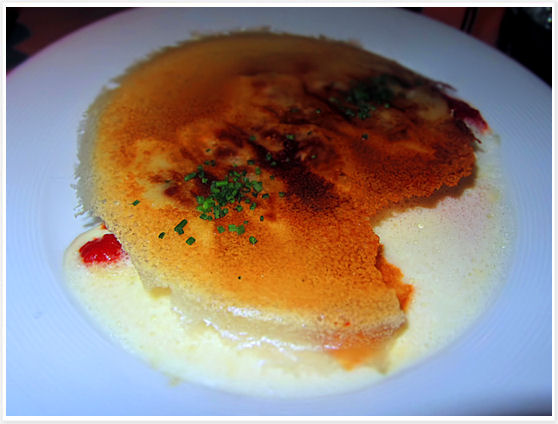 Ishi Yaki Buri Bop: Morimoto's favorite dish is yellowtail on rice cooked at your table in a hot stone bowl – scrumptious!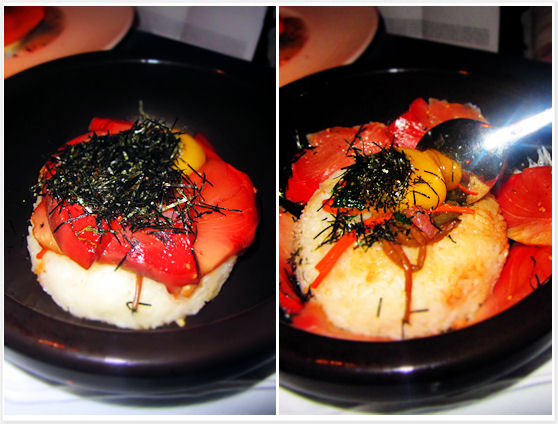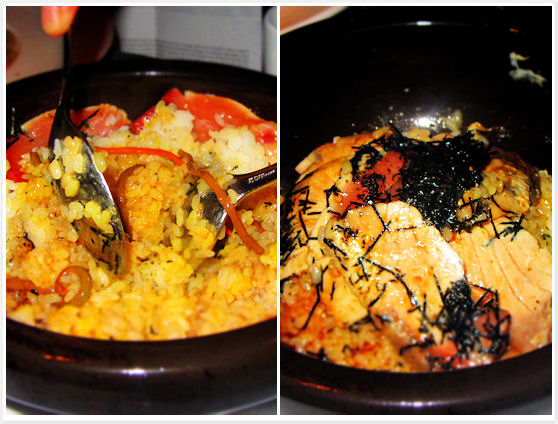 Sushi roll with a side of bok choy.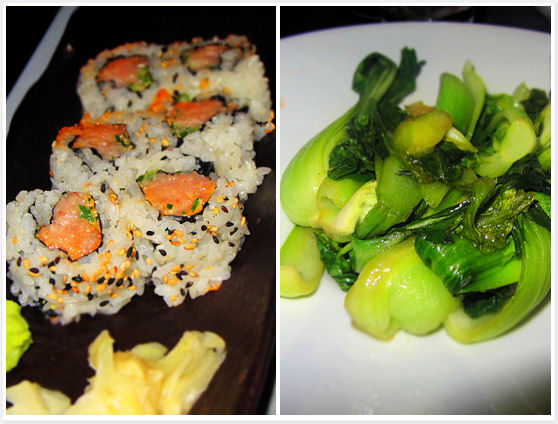 Chirashi Sushi – That was my dish and I would order it again and again. Some of the freshest sushi I've had, about a dozen different melt-in-your-mouth fish, all perfectly chopped up and served over a deep bowl of rice with some vegetables. It's one fancy sushi bowl and it was huge.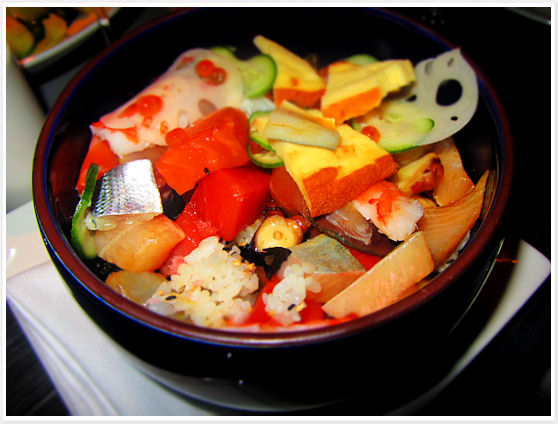 Roasted Ocean Trout with turnip, miso, truffle, and crispy prosciutto and Sea Bass with sweet sake kasu, Japanese eggplant, and miso.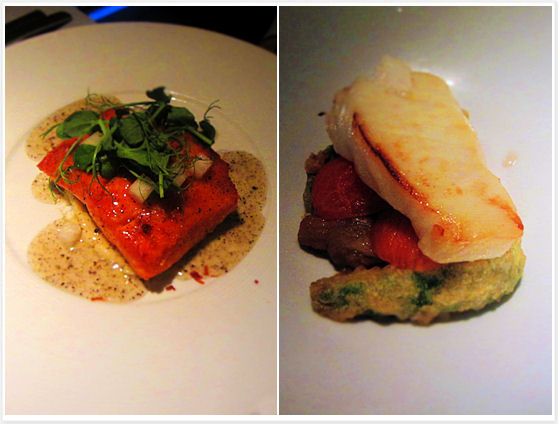 Warm Chocolate Cake: caramel popcorn and rice crispies, sesame-caramel sauce,
white chocolate foam, green tea-pear sorbet.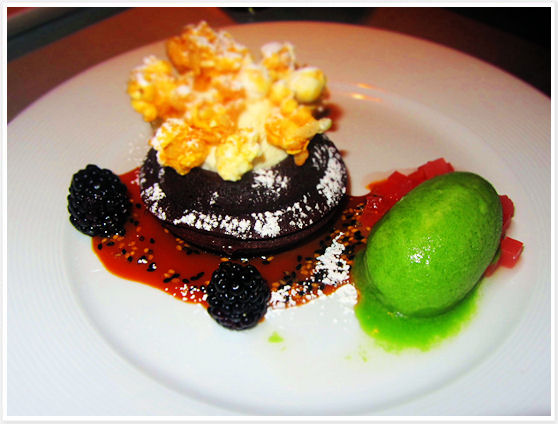 Chocolate Macadamia Nut Bar: amaretto cream, hawaiian kona coffee ice cream,
cardamom caramel sauce.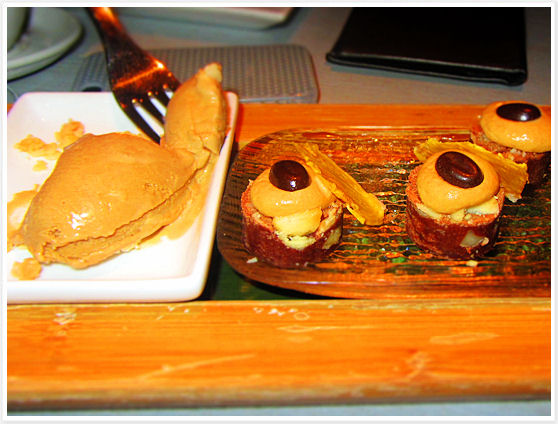 Tofu 'Hot and Cold': soy milk soufflé, tofu cheesecake, maple ice cream.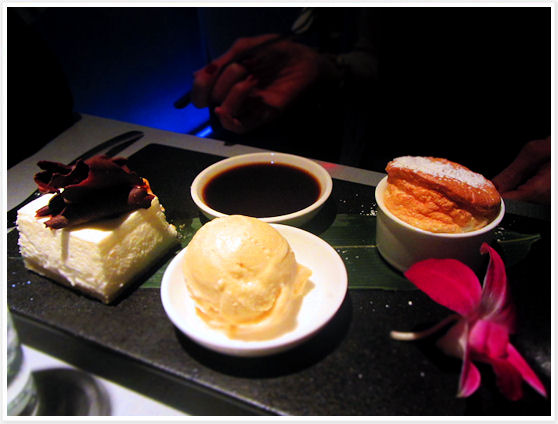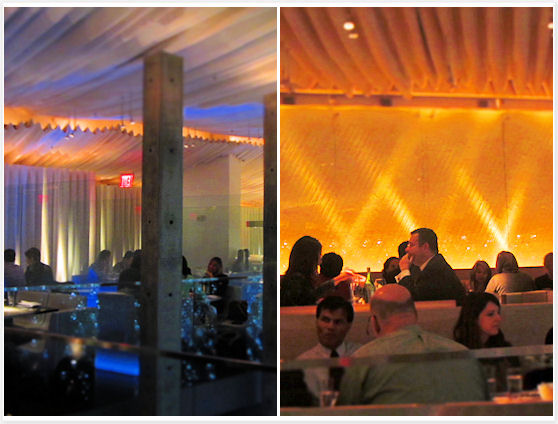 Morimoto
88 10th Avenue New York, NY T: (212) 989-8883
map