From the moment I took my first bite as a little girl into a warm and flaky chocolatine (chocolate croissant) I was hooked. Chocolate would be part of my breakfast rituals from then on and include everything from pastries and cookies to praline spreads. I've eaten my way literally through the commercial versions available to me though none would quite satisfy my palate as much as the real thing – fresh pastry dough slowly leaking its high buttery content into a rich and dark chocolate…
It remains to this day a special treat I'll allow myself on the weekends when I can get to a proper bakery, but there are times when I crave a bigger quantity or have guests over and I just want to smell the chocolaty goodness all over my house – that's when those addictive Chocolate and Raspberry Turnovers come in!
These mini pastries are quick to put together and with only 4 ingredients are as simple as can be. Even though you can make your own puff pastry, the frozen kind works really well here and in the end it's all about getting them as fresh and hot as possible, when the chocolate is still melting. The raspberry jam is a wonderful addition, perfect pairing with the dark chocolate. As a bonus, you can even freeze unbaked turnovers until you're ready to pop them into the oven. You now have the perfect excuse to have chocolate for breakfast every day.

Chocolate Raspberry Turnovers
Adapted from Gourmet
Active time: 20 minutes
Total time: 45 minutes
Makes 32 small pastries
  1 (17 1/4-oz) package frozen puff pastry sheets, thawed
1 large egg
1/3 cup raspberry jam
3 1/2 oz fine-quality milk chocolate, finely chopped *parchment paper  

Put oven racks in upper and lower thirds of oven and preheat oven to 425°F.
Line 2 large baking sheets with parchment paper.
Roll out 1 puff pastry sheet into a 12-inch square on a lightly floured surface with a floured rolling pin, then brush off excess flour from both sides. Cut into 16 squares.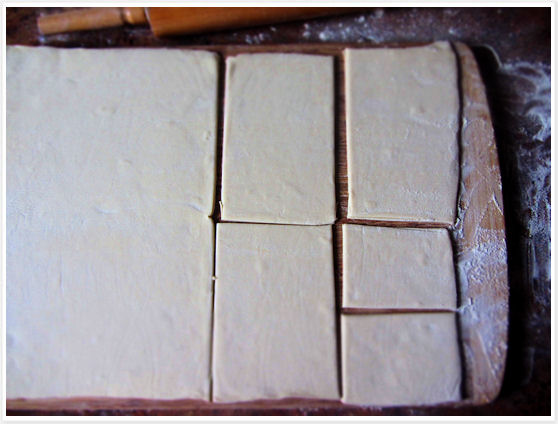 Whisk together egg and a pinch of salt. Place 1/2 teaspoon jam and 1 teaspoon chocolate in center of each square, then brush edges of squares with some of beaten egg.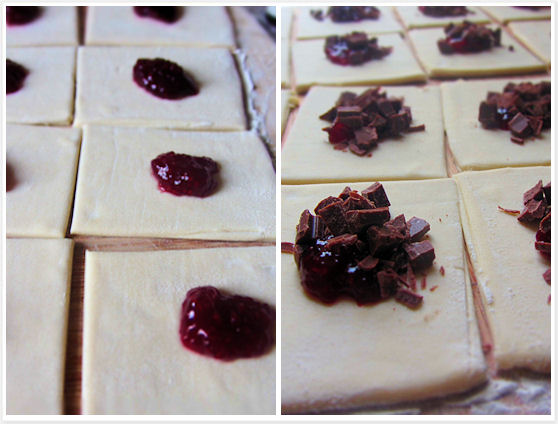 Fold each square in half to form a triangle, pressing edges to seal (while you can press using your fingers, it's much better here to use a fork to seal them really tight as the raspberry filling tend to ooze out when cooking).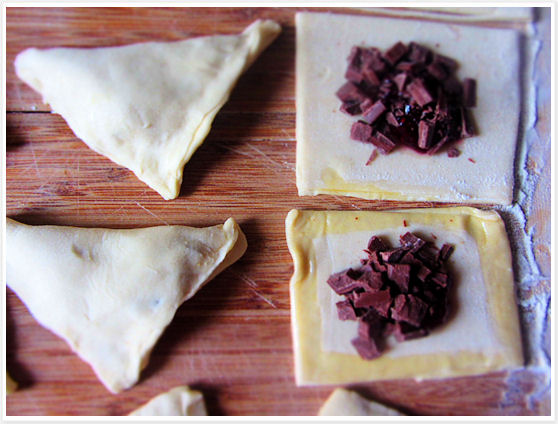 Brush tops of pastries with some of remaining egg and transfer to a lined baking sheet. Chill on sheet while making 16 more pastries in same manner, transferring to second baking sheet.
Bake pastries, switching position of sheets halfway through baking, until golden and cooked through, about 20 minutes.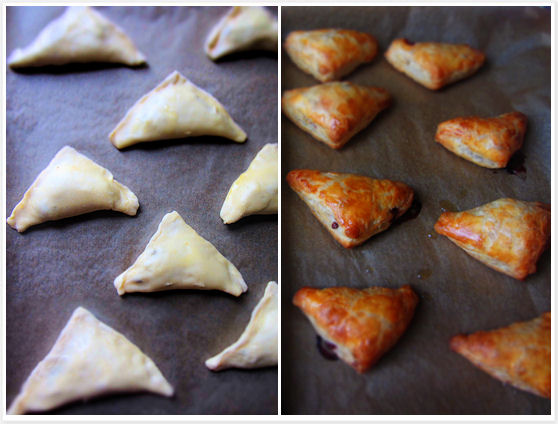 Cool on sheets on racks 5 minutes. Serve warm.