Everyone I know has what I call a favorite 'backup meal' at home – the food item(s) you're never without even when your kitchen is totally empty so you can have a 'meal' in an emergency situation (i.e. tornado outside, too bad a hangover to get out of the house, total lack of inspiration, etc.). For some it's a simple bowl of cereals, PB&J sandwich, or the ubiquitous cheese and crackers combo. I'm a cheese and crackers kind of gal all the way, never without at least a good cheese in my refrigerator, whether it's a brie, goat or cheddar. The one extra thing I always add to easily elevate this humble meal is a fancy jam or chutney, and that fig jam is as good as it's going to get.
Its versatility is what makes it a pantry staple in my house as it goes with absolutely EVERYTHING you can think of, and I mean it! Spread over cheese and bread, drizzled over ice cream, smeared in your favorite meat sandwich, mixed in Greek yogurt for a healthy breakfast, etc. I have a preference for creamy goat cheese or blue cheese with it and crusty bread, the Greek yogurt coming close second.
The jam has a thick consistency with a rich sweetness and will leave you feeling warm and full, perfect for a meal on the go. What I love the most about this particular fig jam is the addition of cinnamon, cloves, and nutmeg that really comes through, taking it a notch above the usual fig-sugar-lemon combo. It's also very chunky with plenty of big pieces of figs to bite into which I much prefer to thin spreads. If you can resist eating the whole batch (!), this also makes for very elegant and tasty gifts. The labor of love that goes into making your own jam and canning it is something everyone can appreciate.

 Fig Jam
Adapted from The Seasoned Vegetarian
Active time: 20 minutes
Total time: 1 hour
Makes loads… about 8 cups.   2 red onions, sliced 2 tablespoon vegetable oil 1 garlic clove, crushed 1 carrot, finely chopped 1 small red chilli, finely chopped 400g (14oz) fresh figs, quartered 400g (14oz) dried figs, chopped 1 tablespoon ground cinnamon 1 teaspoon ground cloves pinch of freshly grated nutmeg 200g (70oz) demerara or turbinado sugar 150ml (¼ pint) cider vinegar salt and freshly ground black pepper   Sterilised jars

Fry the onions in the oil in a large pan until soft. Add the garlic, carrot and chilli and cook for a further 4 minutes.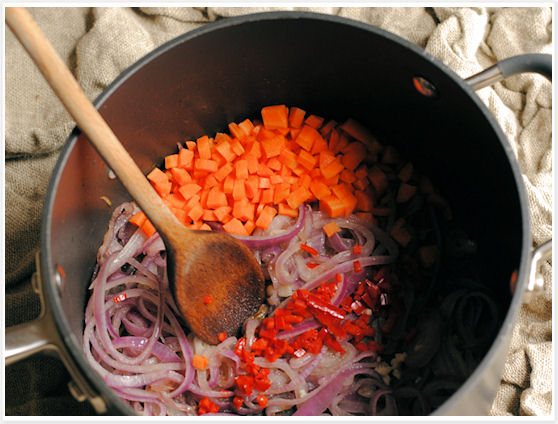 Now add the fresh and dried figs and spices and cook for 2-3 minutes, stirring as you go.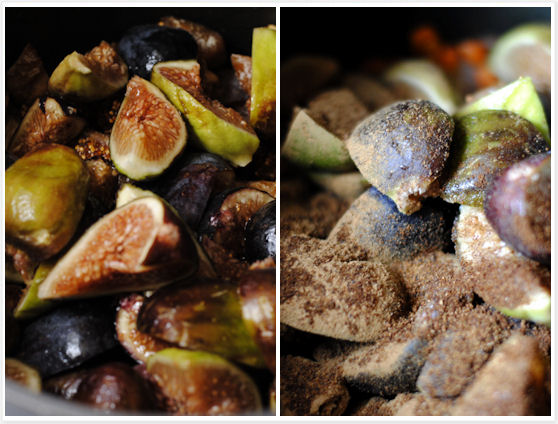 Add the sugar, vinegar and seasoning. Crank up the heat to bring the jam to the boil, then reduce the heat a notch to prevent it from burning, and simmer for about 12 minutes until thick and jammy.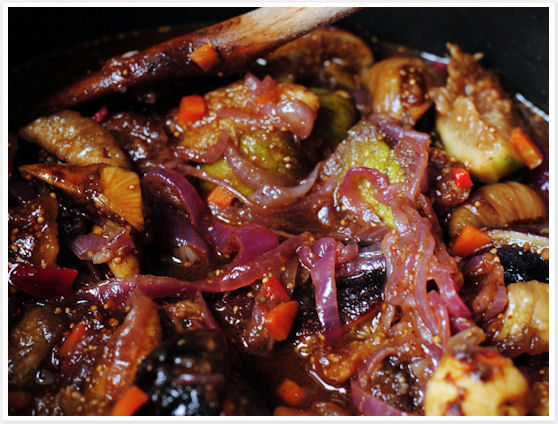 Allow to cool slightly…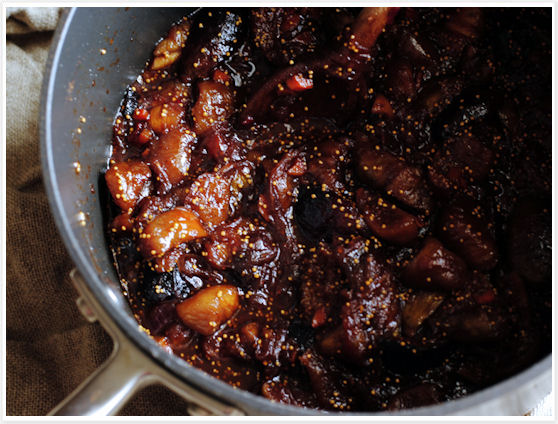 …then pot into sterilised jars, label and cover lightly.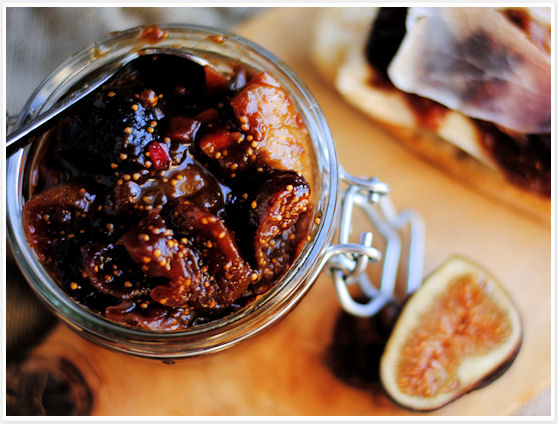 I served the jam with an unctuous triple creme goat brie, a crusty baguette and a few slices of prosciutto… best lunch ever!

Print This Post