The Riviera Maya has always been a very popular holiday destination for many reasons: it's a relatively quick flight from the US/Canada, the weather is almost guaranteed to be gorgeous, the food is mainstream enough to please everyone, and the variety of things to do (or not!) means it suits the sun-seekers as much as the more adventurous types. We picked it for our family trip this year with one goal in mind – to relax! It was my 5th trip to Mexico and all the previous ones had been quite busy, whether I was getting my scuba diving certification in Cozumel, living with a Mexican family and learning Spanish in Cuernavaca, climbing to the top of the Pyramid of the Sun in Teotihuacan or running around Mexico City, meeting trade consulates to finish my end of term paper for school.
This time I was determined to just chill out and the six books I finished reading in as many days prove I succeeded. I spent most of my time by the private cove of our hotel, the Occidental Grand Xcaret, devoring French litterature while sipping cocktails which is a far cry from my usual hiking/adventure trips abroad!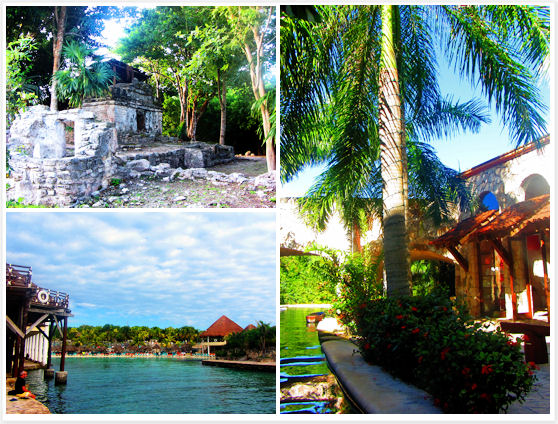 I didn't mind so much the laziness, and  every time I'd get fidgety I'd just jump into the water, camera in hand to capture some underwater scene…
The cove was teeming with fish coming to look for food in this ideal shelter from the rough sea. I was enjoying their abundance which made for some nice snorkeling with my brother until I realized they were considering me part of the buffet as well. You see, I have this very annoying condition, whether we want to commonly call it 'sweet blood' or else, in that I always attract hungry insects wherever I go. I thought to this day this condition of mine was limited to flying creatures, until those cute little white fish decided to take a bite out of me literally, not once but three times!! They ain't no piranhas but still, it hurt!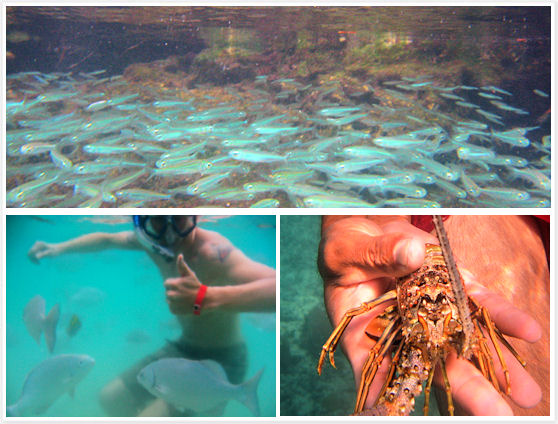 I decided to take a break from my flesh-eating friends and head south to what is probably the region's most known site: the ruins of Tulum.
Tulum
A nice catamaran ride along the eastern coast of Mexico brought us to the striking site of Tulum, the famous Maya walled city.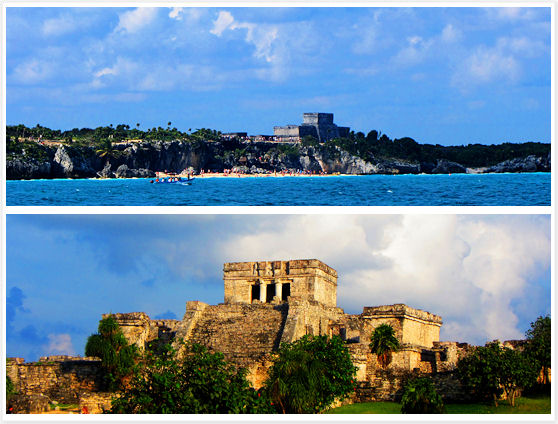 While it doesn't boast the size or grandeur of other Maya site I visited such as Teotihuacan, the location right on the beach with its high cliffs and views overlooking the Caribbean sea is a must visit on any trip to the Yucatan Peninsula. The history of Tulum, all those unanswered questions about its demise and what happened to the Mayan population living there at that time make for a very eye-opening tour and is definitely a great way to spend an afternoon. Watching the sun set over Tulum is some pretty fantastic sight…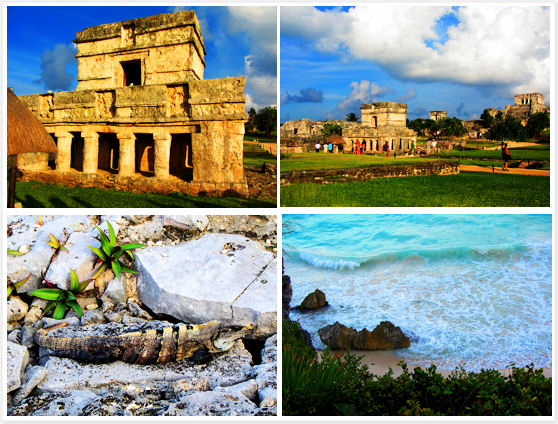 Xcaret Park
The only other day I was not turning pages or defending my skin underwater, we made a day out of visiting Xcaret Park, the biggest eco theme park in Riviera Maya. Easy enough, our hotel was part of the natural reserve so all we had to do was follow the river from our hotel to the entrance of the park.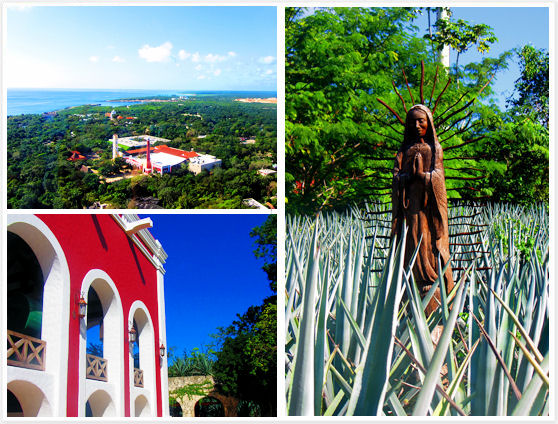 While it might sound pretty touristy, we did very much enjoy our day at Xcaret, not managing to see the entire park (it is huge!) but hopping here and there to the attractions we most wanted to see. Surprisingly, they had a 'mushroom farm' which the foodie that I am was dying to see…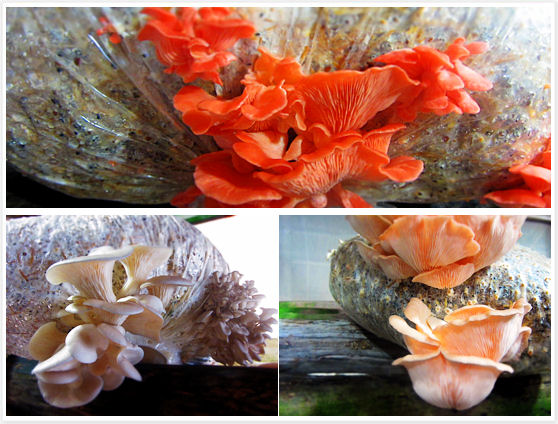 The main attraction here is the river which meanders all over the park, over and under the ground. Being the water lovers that we are, we made sure we had time to try both the boat tour and swimming in the underground river which is insanely cool, but would be a lot cooler if there weren't another few hundred people doing the same thing! Hello bottlenecks…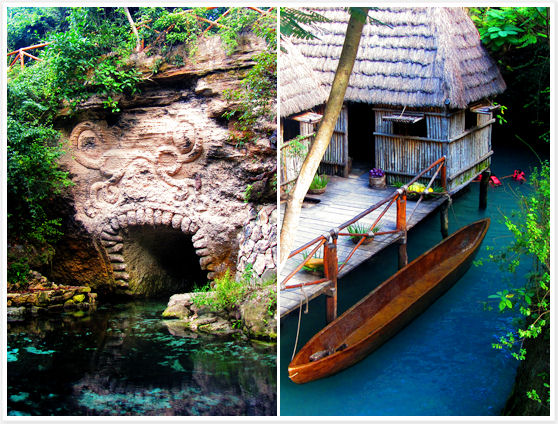 For those who'd rather imbibe their liquid then swim in it, there's even a wine tasting cave with some Mexican Grand Crus.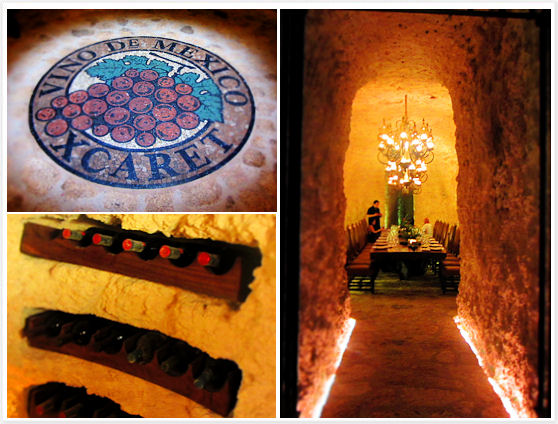 The rest of the park is a gigantic zoo to our greatest pleasure – we could spend hours staring at animals, probably a family thing, therefore the rest of the day was spent running to all four corners to check out our favorite species. Xcaret is known for its flamingos conservation program so we took a peak at those shrimp-colored birds for a bit and then went on to see some more creatures.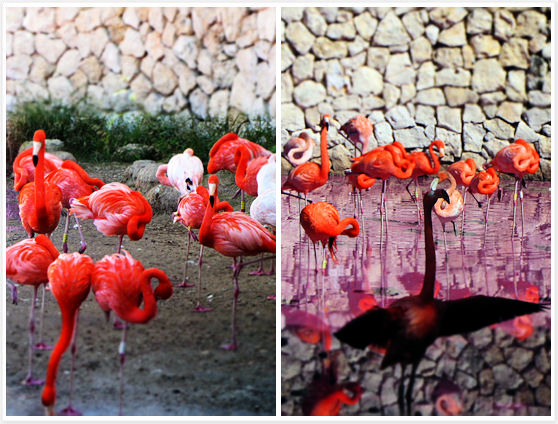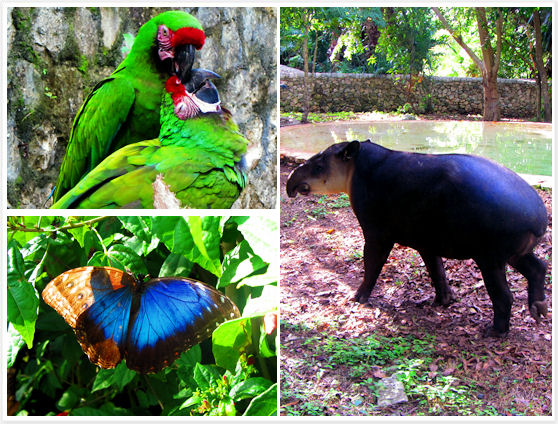 Of course, I had to stop at the aquarium, no risk of being bitten here! Though not as unique as my latest underwater sightings in Thailand, it's still wonderfully soothing to stare at such beauty through a glass window.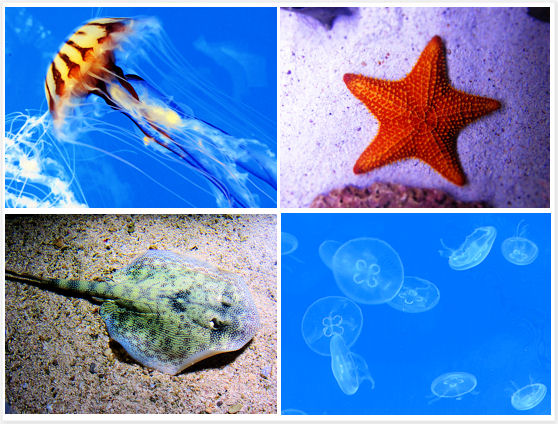 The best for last – turtles! We could walk through their green turtle rescue program, admiring dozens of them from 2 inches to about 4-5 feet long, the largest hard-shell turtles in the world! I was in awe…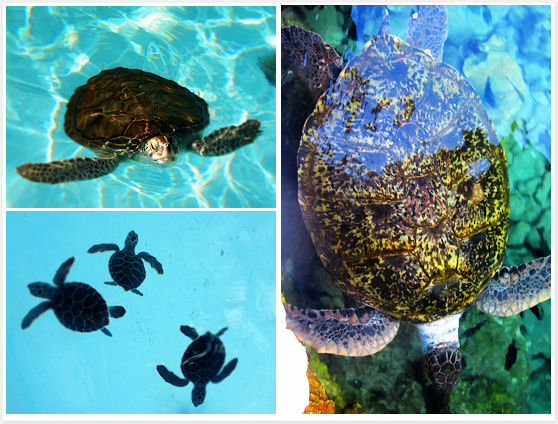 Every day at Xcaret finishes with a beautiful Night Show not to be missed, with songs from all the districts, theatrical and historical representations, and some pretty cool effects.