A classic of the Hanukkah table, crisp potato pancakes, a.k.a. latkes, should not be relegated to being eaten solely during the holiday. So simple to make, I see them as my way of recreating from scratch the frozen hash browns of my youth in my quest to eliminate all prepared food from my diet.
I usually eat them for breakfast but they're also a fine accompaniment for chicken dishes and sausages, or just as a simple snack on their own. Potato pancakes also lend themselves really well to all kinds of variations – I love to mix regular and sweet potatoes together, add a few different herbs of whatever I have on hand that day, could even spice things up with hot peppers or sauce. In the end, what we're really looking for is the golden crunch on the outside and tender moist potato filling inside for a simple comfort food feeling in every bite… This recipe does a pretty good job of delivering the desired texture and is basic to allow you to add on your favorite bits. The chives are a great match with sour cream, though feel free to take them out if you're going in another direction.

Potato-Chive Pancakes
Adapted from Pancakes and Waffles
Active time: 30 minutes
Total time: 45 minutes
Makes about 1o 4-inch pancakes   4 medium russet or baking potatoes (about 1.5 pounds) ½ teaspoon salt 2 large eggs 1 small onion, grated 2 tablespoons minced fresh chives (or parsley) 3 tablespoons unbleached all-purpose flour 2 large cloves garlic, minced Freshly ground black pepper Vegetable oil for frying Sour cream or plain yogurt and applesauce for topping  

Peel and finely grate the potatoes.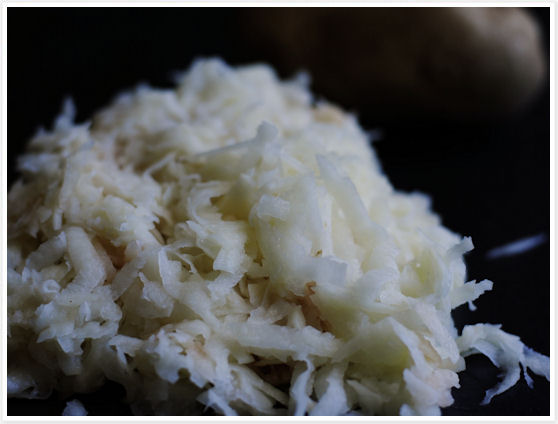 Place in a colander and toss with the salt. Let stand 10 minutes, then squeeze out the moisture. In a large bowl, beat the eggs and stir in the potatoes, onion, chives, flour, garlic, and pepper to taste. Mix well.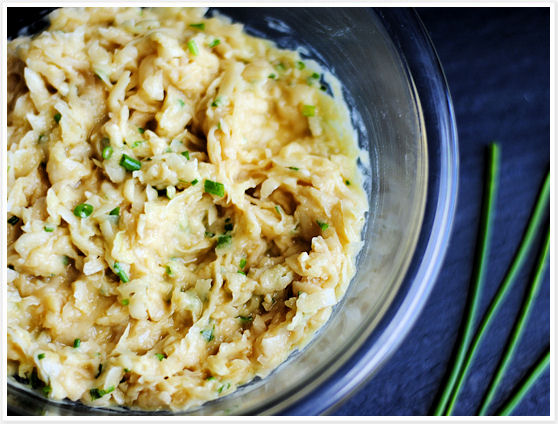 In a large skillet, heat 2 tablespoons oil over medium heat. For each pancake spoon one heaping tablespoon of batter onto the hot pan and pat down lightly.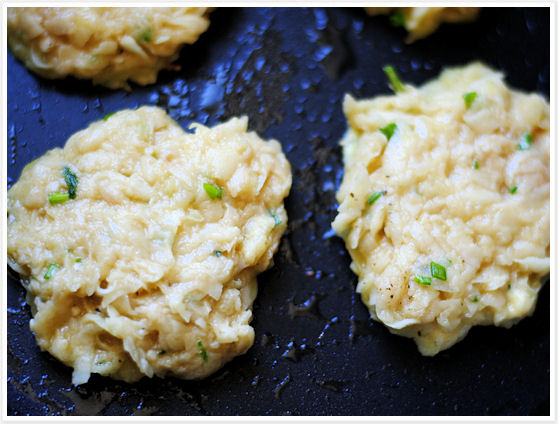 Cook until lightly browned underneath, about 4 minutes. Turn over and cook until crisp and golden, about 2 minutes more. Transfer to a baking sheet and keep warm in a 200°F oven as you cook the remaining batter. Serve hot topped with sour cream or yogurt and applesauce.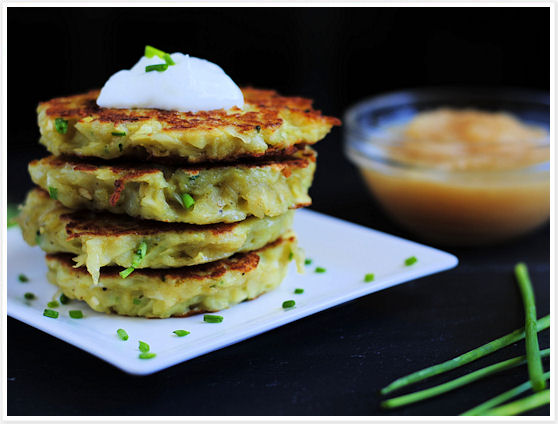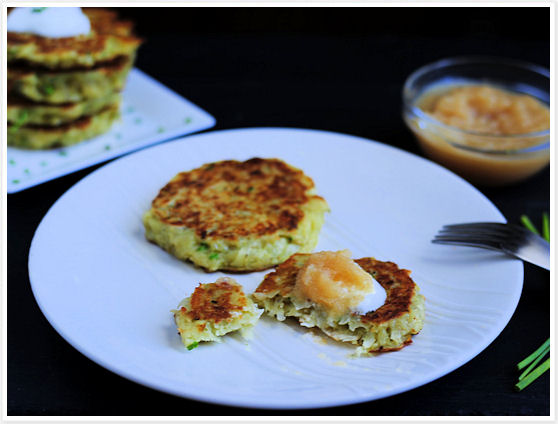 Print This Post