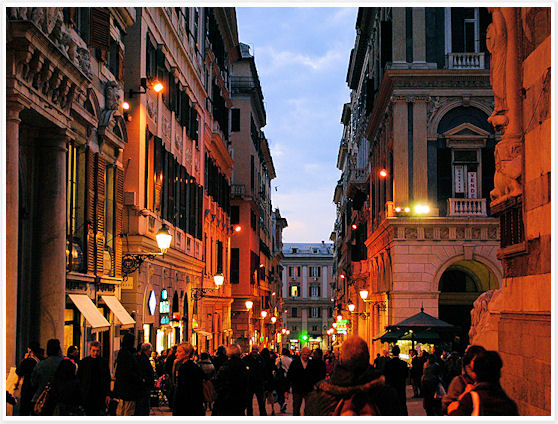 I had the pleasure last week of spending my weekend in Genova, Italy (terrible, I know!) and made sure I brought back salivating and realistic images of the incredible charms this often underappreciated city is filled with. As far as gastronomy goes, I've always been a firm believer that anywhere I would end up in France or Italy (our yearly girls getaways are proof) would be a feast for my palate and Genova is no exception – it's still one of those places where you can follow your nose and end up with an amazing meal at every hole-in-the-wall that'll cross your path.
Once a fishing village, the city has grown across a series of hillsides, and as a result its tiny winding streets, at least in the old part of town (the caruggi), form an unpredictable maze where getting lost is pure pleasure and will unmistakably lead to the discovery of the cutest piazza, bakery or bar.
Our plane landed around lunchtime and after a quick check-in at our hotel, we were off to explore the wonders of Genova…after of course grabbing a quick bite to eat! It's an easy task in a city known for having the best focaccias and a fantastic bakery on every corner. "Genovesi" consume focaccia all day long, from morning for breakfast time until evening. We strolled along pedestrian Via San Vincenzo, filled with shops of every kind, and stumbled upon a Focacceria displaying its oily specimen with every imaginable toppings.
It's all take-out style here so off we go with our cheesy snacks, savoring our first real Italian focaccia under the bright sun in a side street, quietly aknowledging this warm and tender bread tastes like nothing we've had before… in a very good way!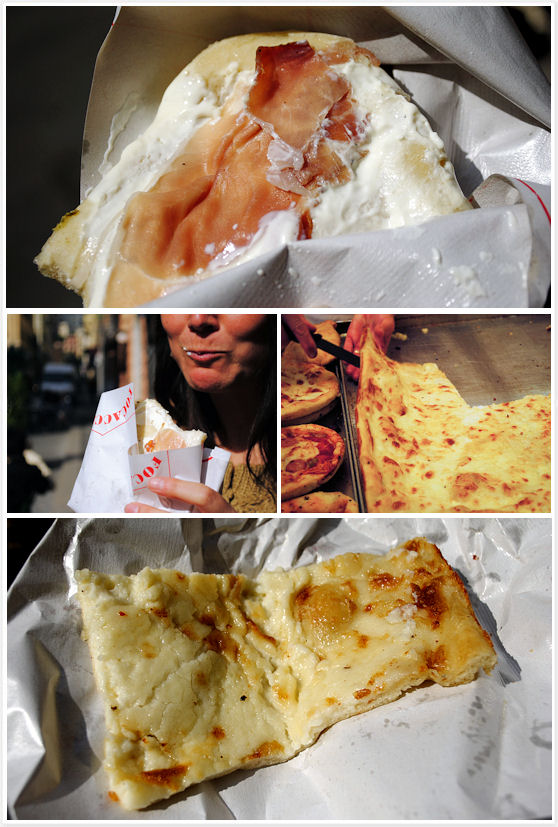 Next, time to search for a sweet treat which in Italy obviously translates into gelato. Not quite as numerous as the focaccerias, the ice cream shops were a mix of old-style counters and fancy confectioneries, serving eye-pleasing ice cream sandwiches, cones, and cups, a true delight for the eyes!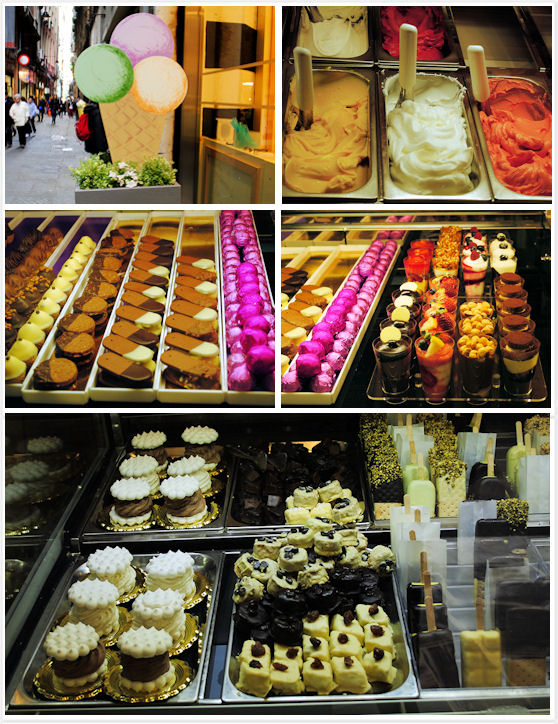 I didn't want just any gelato though, and had found after a bit of research that Italian foodies were unanimously all pointing to a local gelateria, hidden in the corner of the cutest little piazza almost invisible on most maps – Piazza Delle Erbe. After a few detours, we finally found it, basking in the mid-afternoon sun, waiting for the after work crowd to fill in the outdoor tables outside its numerous bars.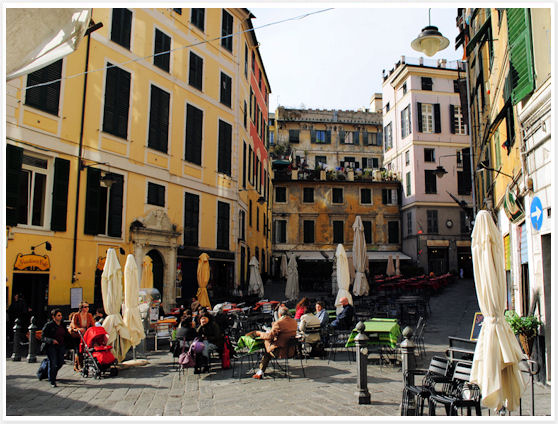 Cremeria delle Erbe (Vico delle Erbe 15/17r) sits right up the piazza in a corner behind a simple storefront that says very little about the wonders hiding inside. Let's just say this gelato made all the subsequent ones on this trip feel like bland commercial tubs…it was unbelievably crazy good! If you're ever in Genova and you only have a few hours to spare, this is the one spot you'll want to check out.
My Italian wasn't good enough to properly translate the posters on the walls but it said something like 'organic creamery, using only the best and freshest of ingredients, bla bla bla' which honestly is a language used by many of the popular gelato chains but somehow never felt truer than at that very moment. The flavors were very concentrated and intense, but it's the texture we were most stunned with – an airy, whipped gelato closer to an unbaked meringue than the usual cold and creamy concoctions we're used to…and it was magical. I had a trio of praline, mocha and flor di latte…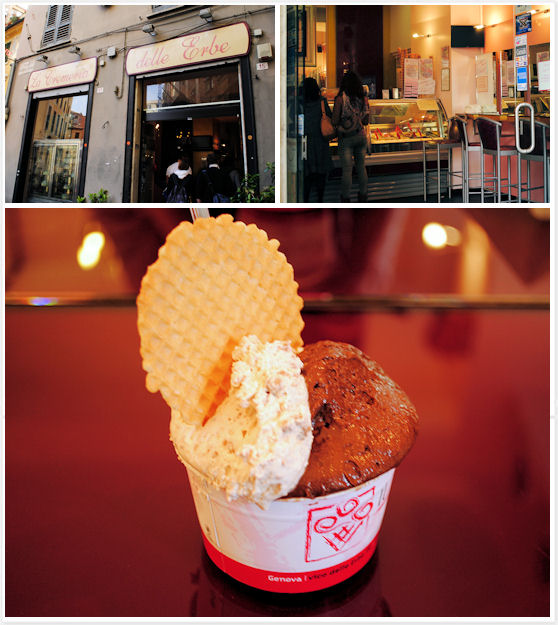 Trying to avoid the dreaded afternoon food coma, we set out to get lost in the historic center for the rest of the day and walk for a few hours, taking in the local sights, famous monuments and genovese lifestyle. One thing that really stood out is just how little things have changed here, Genova being known for its traditional ways. Walking these tiny streets felt like I was brought back 50-100 years behind and the fact that we barely saw other tourists made it even more authentic. Grocery stores are nowhere to be found (always a favorite destination of mine wherever I travel!), people still going to their butchers/bakers/fruit sellers for their daily needs which I adore.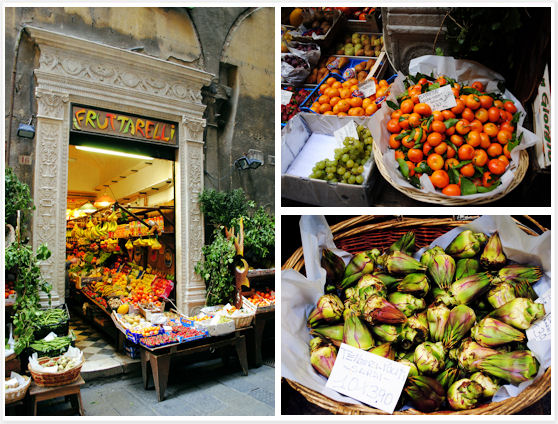 Bordering the historic center is Via Garibaldi, Genova's most beautiful street, lined with 16th century mansions and palaces.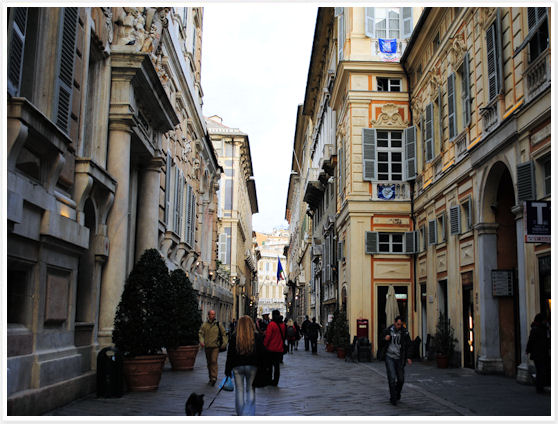 Italian confectioners Pietro Romanengo fu Stefano have been dispensing handmade candies since 1780 from this fantastical, gem-like little shop on Via Soziglia 74r. Marble walls, glass shelves and rich wooden cases highlight multi-colored candied fruits, chocolates and marzipan, and with Easter just around the corner, a beautiful array of festively molded chocolates and eggs for the perfect gift. I got myself a little assortment to take home…would be crazy not to!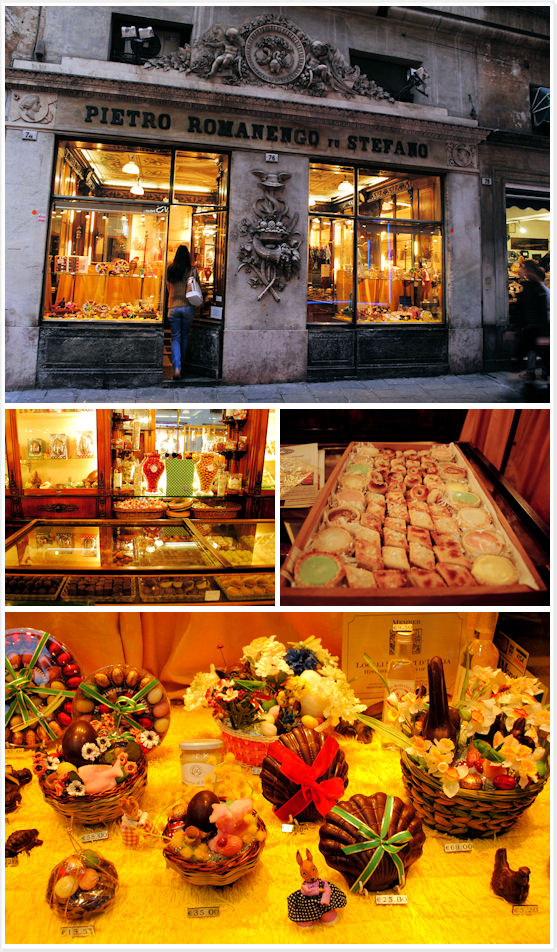 The sun was slowly starting to set which made for my favorite lighting conditions and some moody/touristy shots…
Tucked away courtyard and one of the few remaining medieval gates.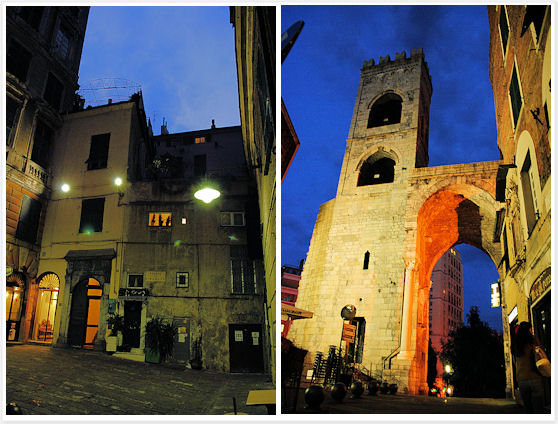 The street leading down to Piazza Delle Erbe.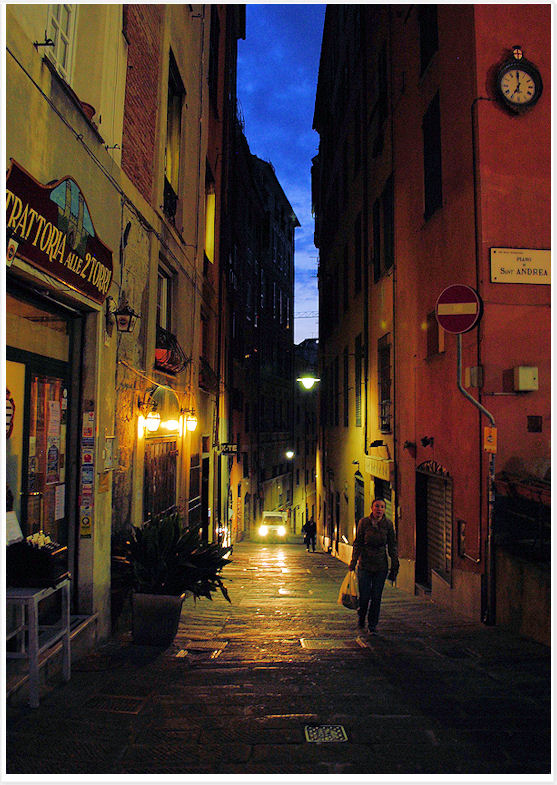 Almost 8pm, in search of a pre-dinner drink, we stumbled upon a very lively bar, Le Corbusier (Via San Donato, 36-R), strategically placed near the Palazzo Ducale in the heart of the old town. Packed through the roof with trendy locals, we were lucky to snag a seat at the bar and order 2 glasses of Prosecco.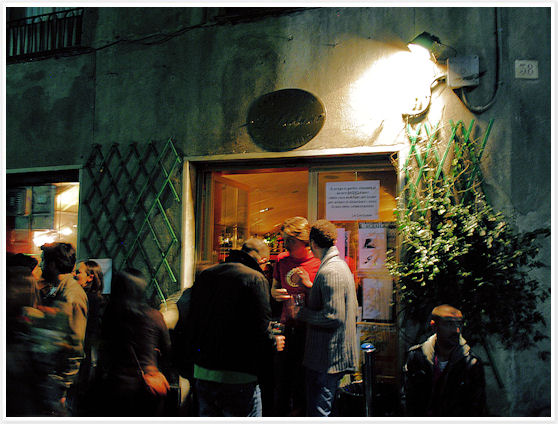 I had heard of the Italian 'Aperitivo' – social happy hour meant to build your appetite before dinner, thinking it would be similar to what you get in Spain, i.e. a few free tapas, mostly pintxos, to nibble on at the bar. Wrong! Here there was a full-time staff piling on plates of focaccia, salami, prosciutto, grisinis, and bruschettas, all complimentary with your drink. Wow! So this is what our 4€ glass of Prosecco got us – a huge dinner plate full of Italian goodness. What is meant to be a snack ends up being more of a dinner for most people here. Except for us, of course, as we had dinner plans that no aperitivo would ruin…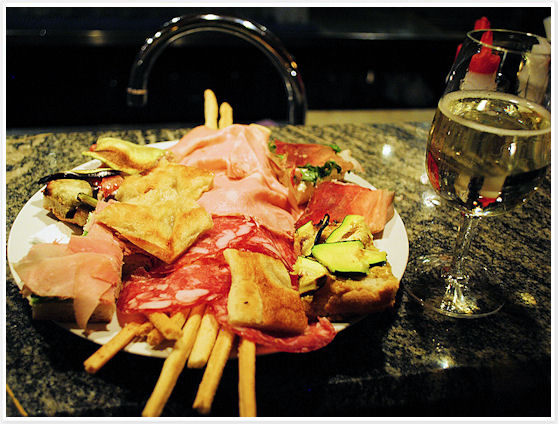 Last stop of the day was for dinner at trattoria Sa Pesta (Via dei Giustiniani, 16), one of the most authentic and casual restaurants in town. I've always loved these really bare bones places and Sa Pesta didn't disappoint – the only visible tourists in the place, we had a phenomenal dinner, even though I was still full from the aperitivo. It's simple, traditional Ligurian cuisine with the freshest of ingredients so we shared a few of the city's specialties to cross them off our list and washed it all down with a good house wine… all for less than 40€ for the both of us, incredible!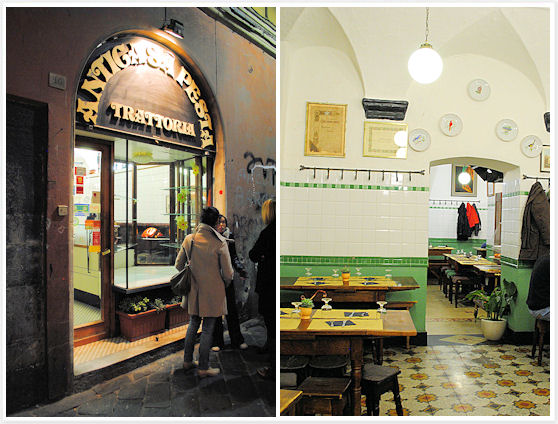 Of course we had to have pesto and especially Trofie al pesto, a traditional Ligurian pasta which resemble thin, hand-rolled tight twists. One bite and I was hooked… best pesto I've ever had in my life, just look at the color.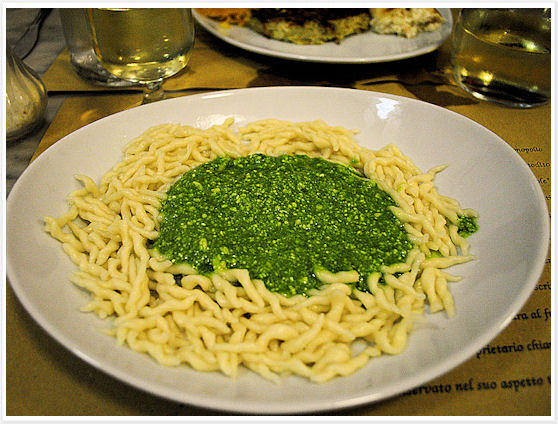 The ingredients for true pesto alla genovese are: parmesan cheese, pecorino cheese, basil, garlic, pinoli, olive oil and salt (apparently from Trapani). It must be made with a mortar and a pestle…nothing else! Will I ever find something similar in New York? I somehow doubt it, but it sounds like a quest I'm willing to undertake…tbc.
Another specialty of the house which we've seen on almost every tables is the Piatto misto della casa, literally the 'mixed platter of the house' which consists here of a sampling of the restaurant's famous tortas: la farinata (thin chickpea cake, delicious!), la torta di riso (rice pie), la torta salata alle cipolle (a quiche-like pie with Ricotta cheese and onions), and all were cooked in the traditional wooden oven that greeted us at the entrance. This was a wonderful way to taste all the traditional tortas, seeing as we only had two days to try everything!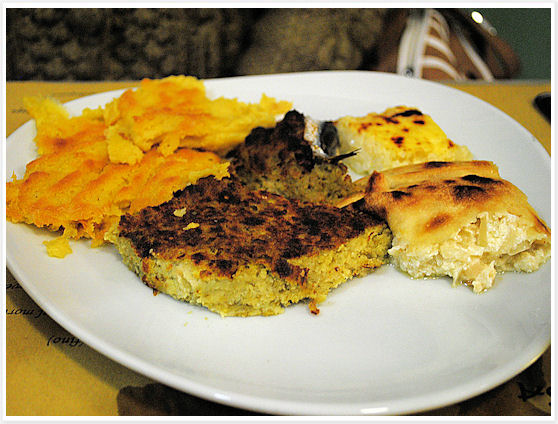 Desserts were displayed on a cart – very few left at this hour (10pm) since we were almost the last ones in, so we opted for a slice of a scrumptious pine nuts tart. No matter how full our bellies were at this point we still managed to swallow this perfect end to our meal, a not-too-sweet combo of light custard topped with the crunchiest of roasted pinoli.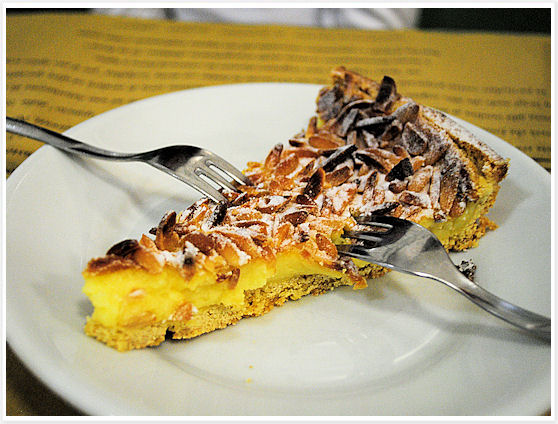 A little walk and a short taxi ride back to the hotel where an illuminated port afforded us gorgeous views of the old town. What a splendid first day – stay tuned for the finale of our Genova foodie trip!