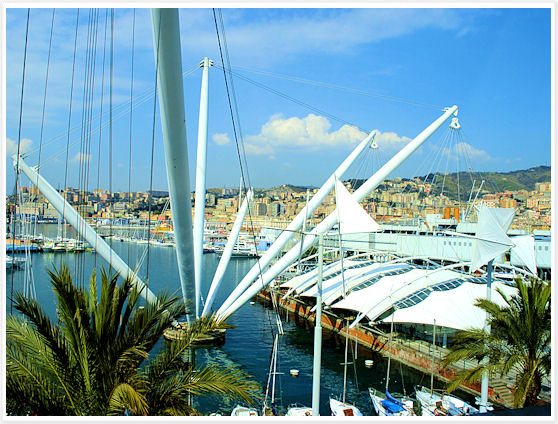 Second day in Genova and we already feel like locals, retracing our steps across the old town to find that perfect breakfast treat.  Continuing on the traditional trend set yesterday, we make our way to another Grande Dame of Genova's food scene: Pasticceria Tagliafico (Via Galata, 31/R). Opened since 1890, the pastry shop sits nearby pedestrian street San Vincenzo and is the perfect pit stop any time of day if you're into beautifully presented pastries and local baked goods to sink your teeth into.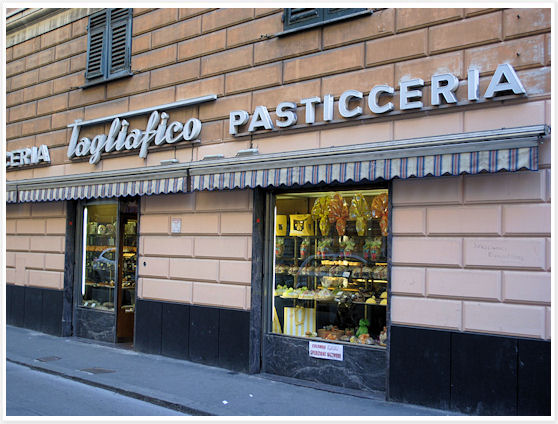 My chocolate croissant was made from actual chocolate dough instead of the usual 'chocolate in the middle only' and it was perfect in terms of first morning bite.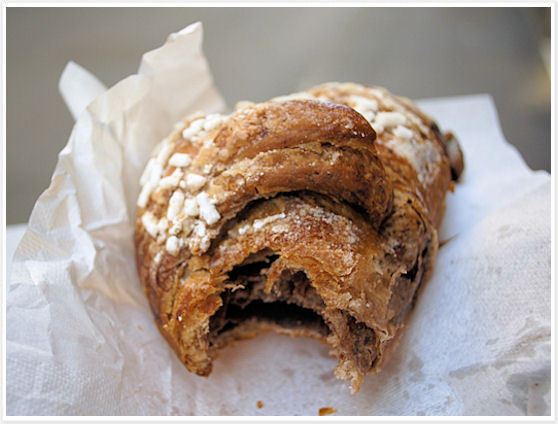 I promptly followed with a traditional Genovesine, though it seems the real version from here is lacking the pastry cream or ricotta they're usually filled with in other parts of Italy. Nevertheless, it's a nice and light pastry with a slight hint of lemon that was gone in less than 3 bites!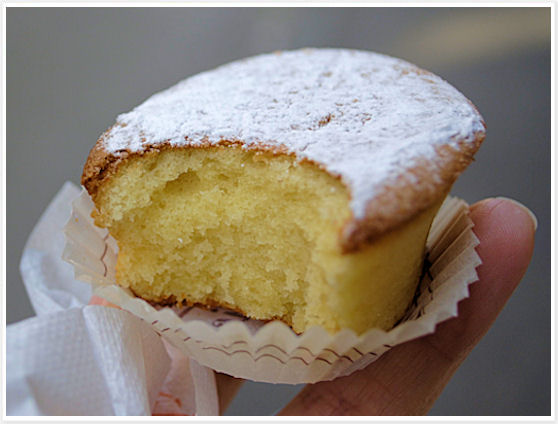 Morning was devoted to exploring the Porto Antico, the old port of Genova which is still the main port in Italy and the city's raison d'être. It's a hive of activity any time of day and boasts the main tourists attractions such as 'Il bigo' (a panoramic lift), the famous aquarium as well as Renzo Piano's "Bolla" or Bubble – a glass sphere suspended on the water which holds a miniature rainforest.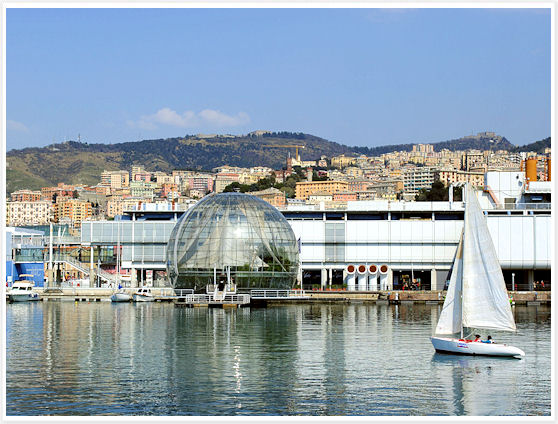 While we didn't venture into any of these attractions, we did make a special stop at Eataly, the largest artisanal Italian food and wine marketplace in the world. Even though I'm lucky enough to have easy access to the New York branch, I simply couldn't resist peeking into it here, just to see how it measured to Mario Batali's version. It was surprisingly (or not?) smaller, less impressive as it looked more like a gorgeous grocery store instead of the mega Italian food experience we get in NYC. There were a few places to sit down and eat, and only one restaurant, but we still managed to spend a lot of time admiring the colorful rows of pasta, cured meats, chocolate, beer, wine, jams, dairy products, vegetables, etc.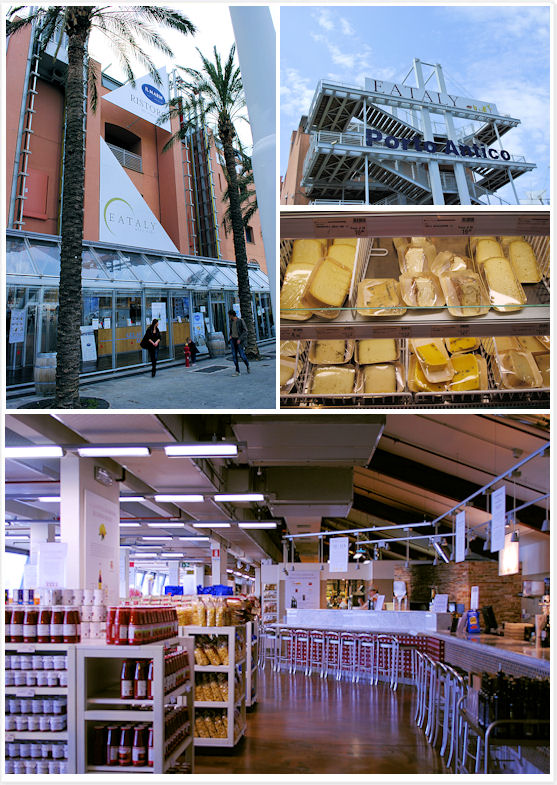 I was particularly jealous of their dairy section, it's always the case when I travel to Europe! Not wanting to miss out on such an opportunity, we each grabbed a fatty yogurt, a piece of focaccia and a fresh burrata for an impromptu pique-nique overlooking the port (yes, Eataly's food court probably offers the best views of the old port so reason more to go!).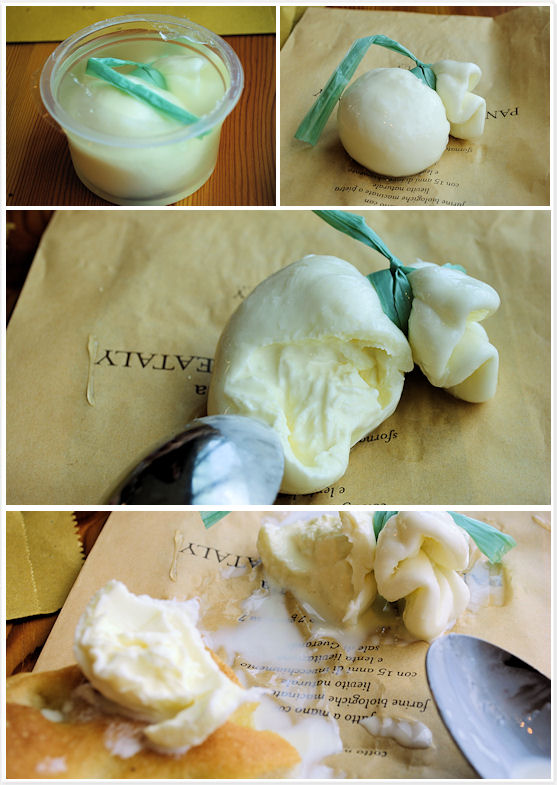 Back in the city center, every road seems to end at Piazza de Ferrari, even the subway line! Its central location makes it an ideal meeting point and it's also the start of the main shopping street, Via XX Settembre.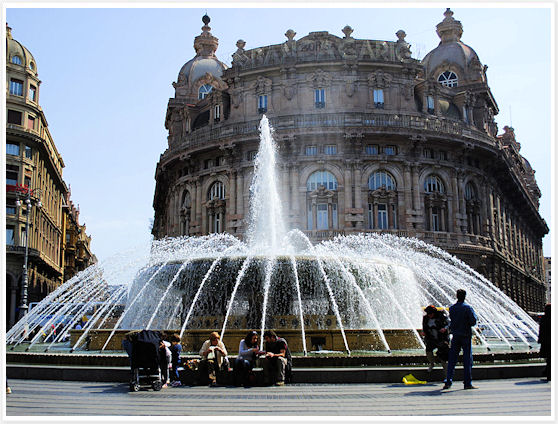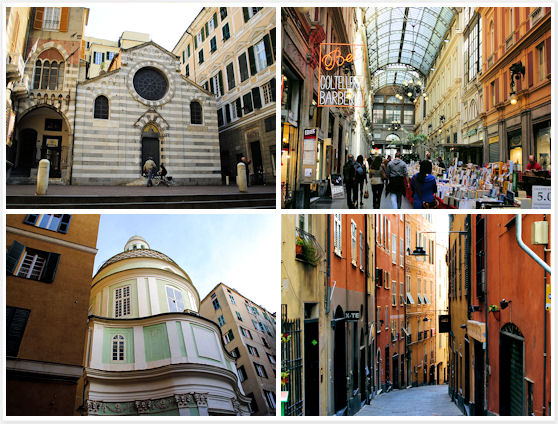 Enough walking, now it's time for lunch!

Another fabulous meal, this time at Enoteca Infernotto (Via Giuseppe Macaggi, 64), a wine bar downtown recommended by Mario Batali. Our lunch was spectacular, made even more so by the lovely owner, a smiley bon-vivant who made the best recommendations and paired our light meal with a local white wine, Pigato, nice and mineral, I adored it. I'll have to look out for it in New York for sure.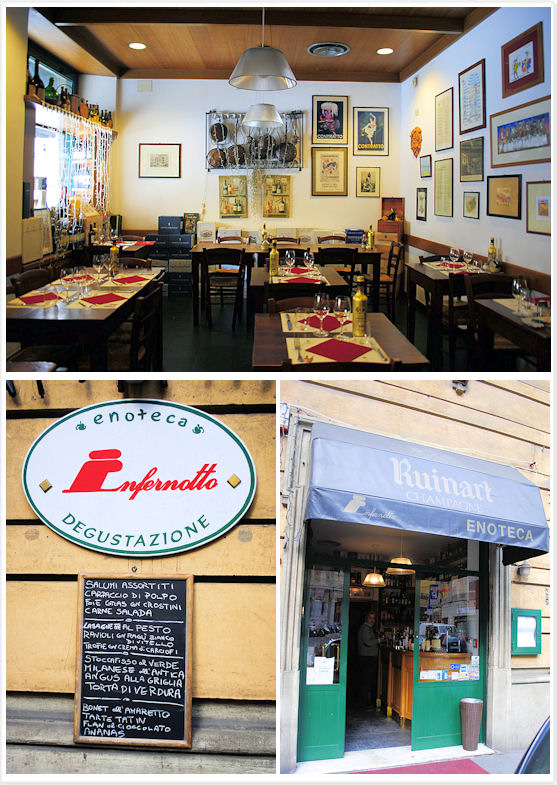 We started with an octopus carpaccio – simply dressed with the best of olive oil…sublime appetizer.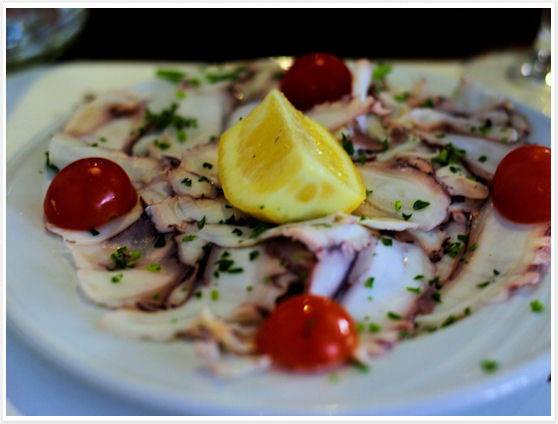 Then came of course the pesto pasta, this time with lasagnette, and an ultra smooth pesto which they must have passed through a sieve. As memorable as my pesto from last night was, this one just blew my mind…I think the lasagnette had a lot to do with it, their thin shape embracing the pesto in the silkiest pasta dish I've ever had. This will be a hard one to beat!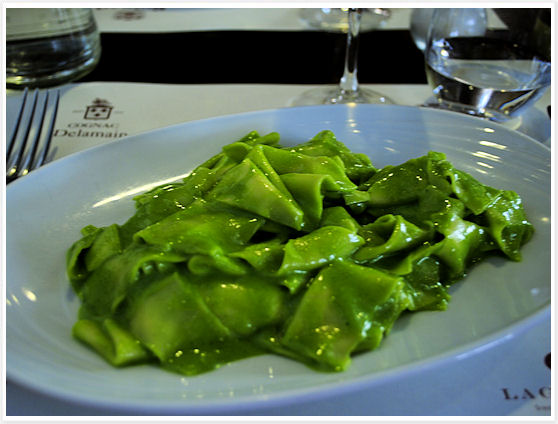 Lamb raviolis…another hit and the only meat we've eaten in Genova. Surprising considering I was traveling with an Argentine!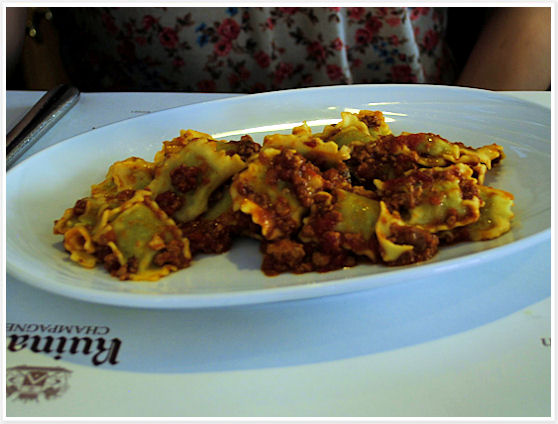 Nearby Mercato Orientale (Via XX Settembre, 9), The Eastern Market, was another must on my list. A colorful indoor food market, it boasts some impressive looking produce along with bakeries, cheese and meat stalls, all permeated by a smell of fresh focaccia bread. My visit confirmed that it was indeed artichoke season (yeah!) and that we were really getting robbed in the US for never having the flowers still attached to our zucchinis!!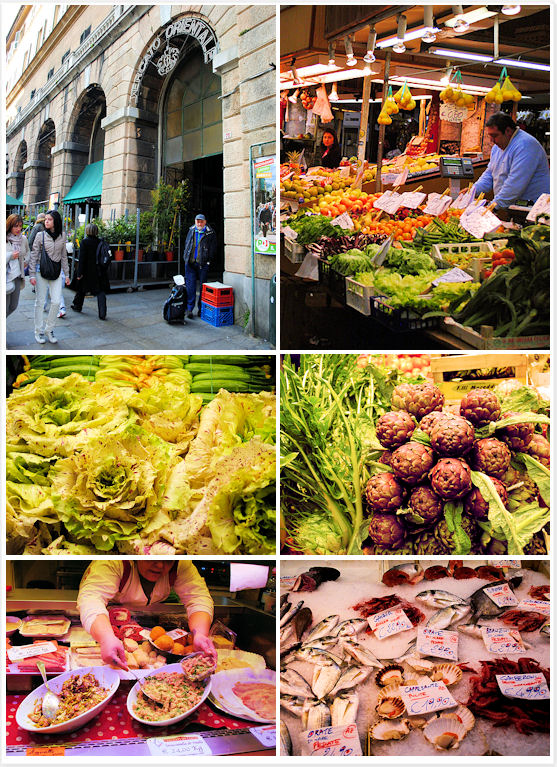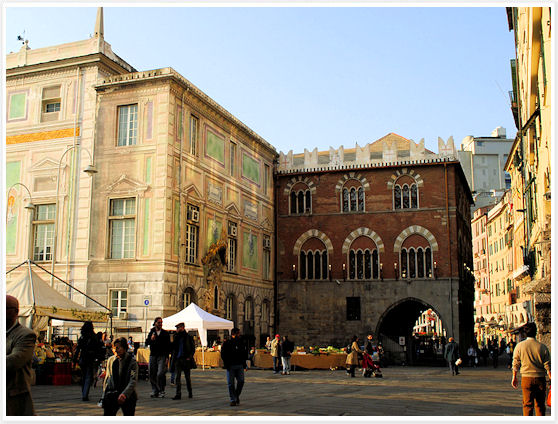 Our last evening and meal saw us hopping on a train for a 45 minutes ride outside of Genova to the foodie mecca of Recco. Seems silly to leave the city on such a short trip for a quick dinner, but I was told there was a dish well worth the journey I simply couldn't pass… You see, Recco is famous for being the birth place of the focaccia col formaggio, and until you've had one yourself it's hard to believe the hype surrounding such a simple snack. After all, haven't I tasted amazing focaccias already in Genova?  Apparently none that could measure up!
The classic place where to savor the specialty is at Manuelina in Via Roma 276 (big thanks to my friends Tfeilla and Giulio for the recommendation!). Although the restaurant was fully booked on that Saturday night, we still managed to get into their focacceria next door where it seemed like the whole town was hanging at!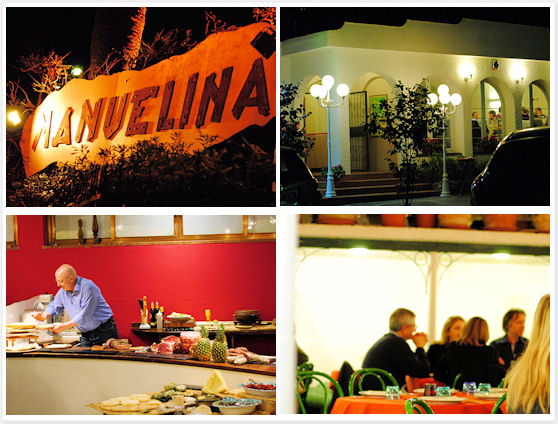 Sitting in the buzzing back garden, we started off with an appetizer of fried artichokes, tiny and incredibly tender.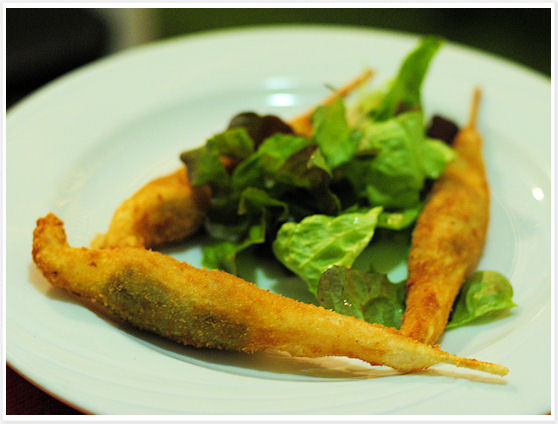 Then came what we had treked all the way here for: the famous focaccia col formaggio. It's basically two very thin and stretched out slices of focaccia bread, made with water, extra virgin olive oil and yeast free flour, filled with a layer of soft crescenza cheese – an extraordinay cheesy delight! It's light and crispy, and at the same time oozing with all that delicious cheese… now I understand all the hype and why people come here from as far as Milan at the end of a boozy night to get their fill!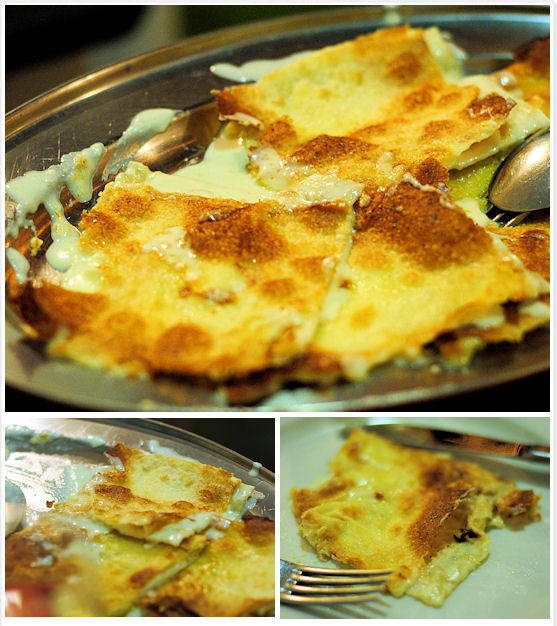 At last, we finished our meal with none other than a pasta dish, no pesto this time but some more artichokes (I did say they were in season!), delicate yet immensely flavorful.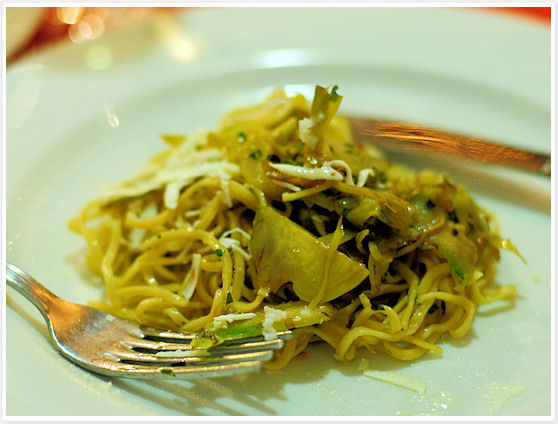 Our final meal was another standout and will definitely put the region on my permanent foodie map. Sadly no time for dessert this time as we had to rush back to the train station to catch our train back to Genova.