Cheese has always been a perfectly acceptable way to end a meal and any types from the mild, creamy ones to pungent blue ones can serve as an ideal dessert when paired with nuts and fruits. This is exactly what this cheese and apple tart is – an original and obviously very tasty way to get that cheese, fruit and nut pairing dessert we all crave while we still have a few cold nights to go by.
This is a great tart to make ahead as it is equally good at room temperature or reheated in the oven. An uptake on the old diner special of 'apple pie and cheddar', the combination of creamy triple-cream cheese with tart apples and crunchy almonds is fancy enough though still appealing to everyone because of its mild taste and crowd-pleasing factor. Triple creme cow's milk cheese is usually made of cream, double (heavy) cream, and crème fraîche so now is not the time to think about your waistline! Think instead of how this silky, velvety paste goes naturally so well with apples and how you've always wanted an excuse to grab something other than brie or cheddar at the grocery store. St. André, Pierre Robert, Explorateur, Brillat Savarin, and Les Delices des Cremiers all work very well in this recipe, though you can use any 'triple-cream' you get your hands on. I've used St. André here as it is widely available.

Apple Tart with Triple-Cream Cheese, Almonds, and Honey
Adapted from
The Cheesemonger's Kitchen
Active time: 1 hour Total time: 2 hours Makes one 15in/38cm tart  
For the dough
7 tablespoons (100g) unsalted butter, chilled 3 cups (380g) all-purpose flour ½ cup (60ml) crème fraîche  
For the tart
3 tart green apples 3 tablespoons unsalted butter 2 tablespoons wildflower honey 8oz (225g) triple-cream cheese such as
St. André
¼ cup (30g) slivered almonds  

To prepare the dough: Cut the butter into small cubes and place in a medium mixing bowl with the flour. Rub the butter into the flour with your hands until a coarse meal is formed.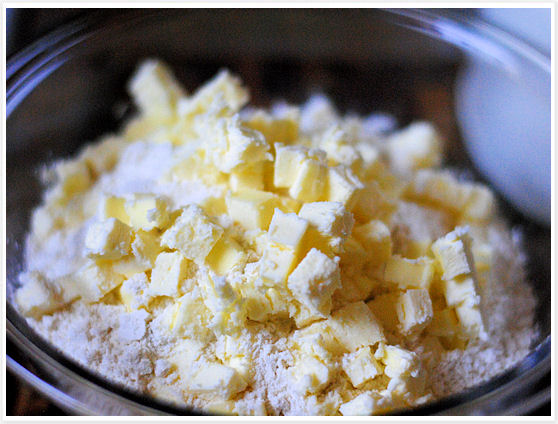 Transfer the mixture into the bowl of a food processor fitted with a blade attachment. Add the crème fraîche and pulse until a dough forms (if the mixture seems too floury, add a tiny bit of water and pulse again until it comes together slightly).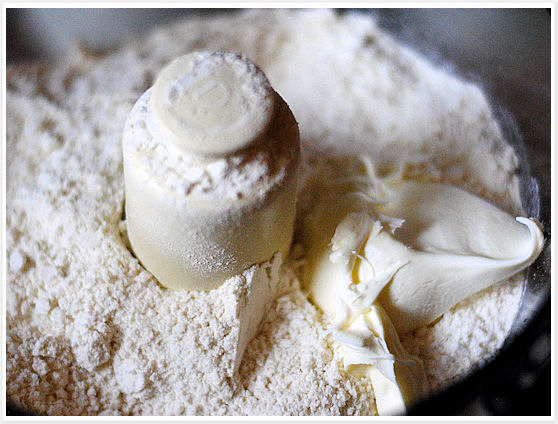 Take the dough in your hands and slam it down onto a very lightly floured work surface. Gather up the dough and continue to slam it down hard, a good ten to twelve times more. (This will help prevent the dough from rising too much during baking). Wrap the dough in plastic wrap/cling film and chill for at least an hour.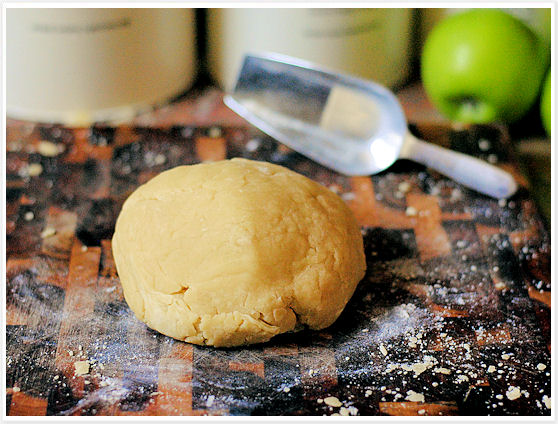 Preheat the oven to 400°F/200°C.
To assemble the tart: Peel and core the apples. Cut them into 1/8 of an inch (3mm) thick slices.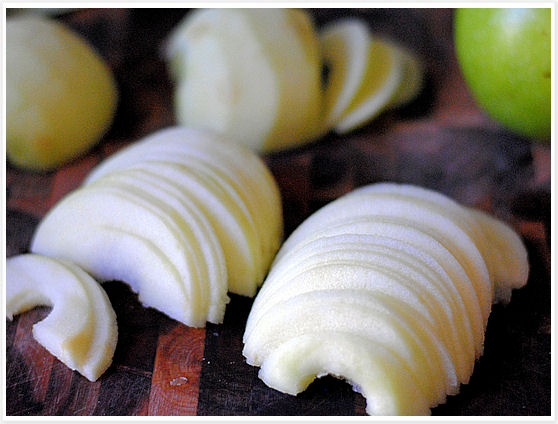 Heat 2 tablespoons of the butter with the honey in a frying pan over low heat. Add the apple slices and sauté for 2 to 3 minutes, or until slightly gilded but still quite firm. Remove from the heat and allow to cool.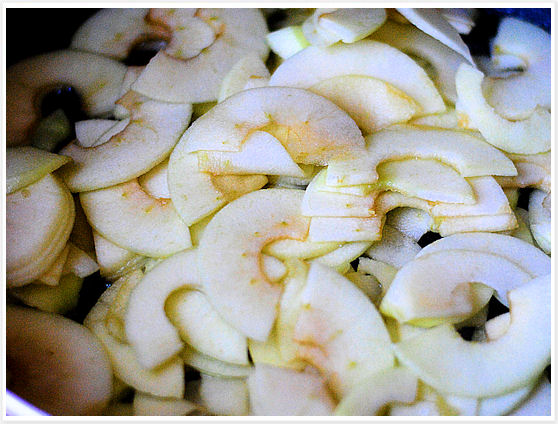 Slice the cheese as thin as possible.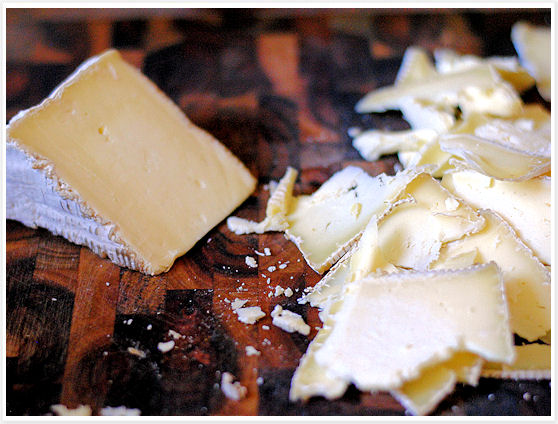 Roll out the pastry dough to a 15in (38cm) circle. Place the dough circle on a baking sheet (I've used a pizza pan here) and prick it all over with a fork. Arrange the apple slices in a concentric circle, leaving about a ½in (12mm) border.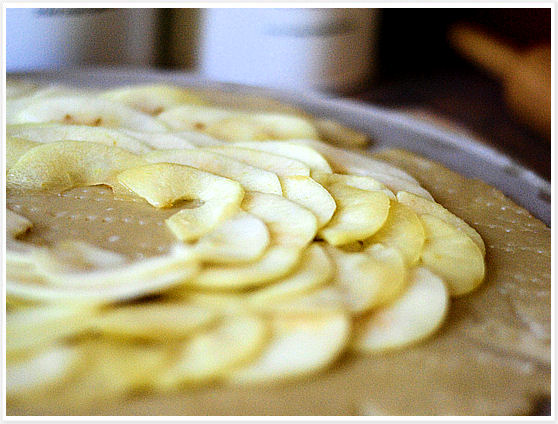 Roll up the edges of the tart and pinch to form a simple crust.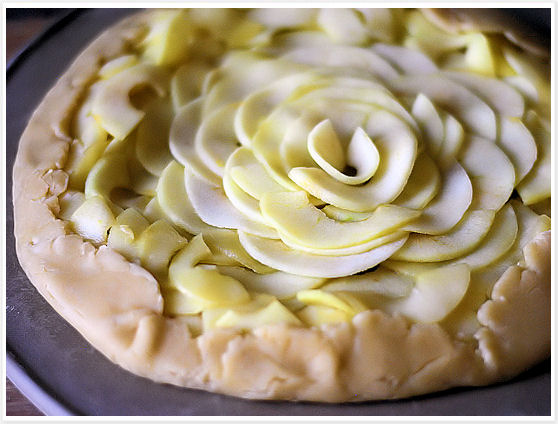 Scatter the slices of cheese and the almonds across the top of the apples.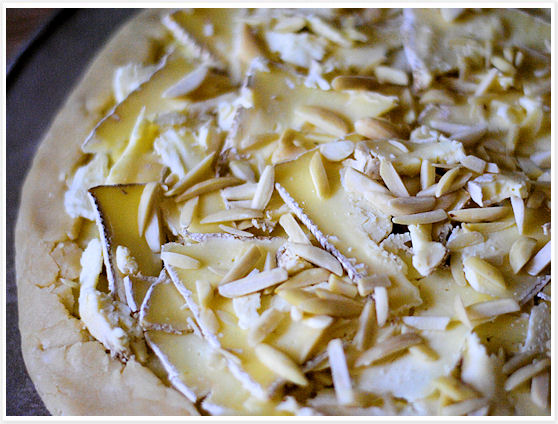 Dot with the remaining tablespoon of butter and bake for 15-20 minutes, or until the dough is cooked on the bottom and the cheese is melted and bubbly. Serve hot or at room temperature.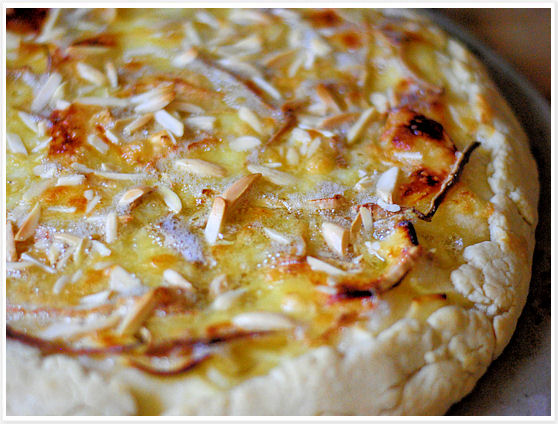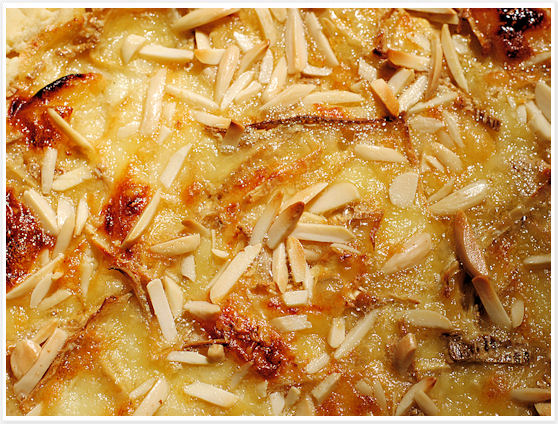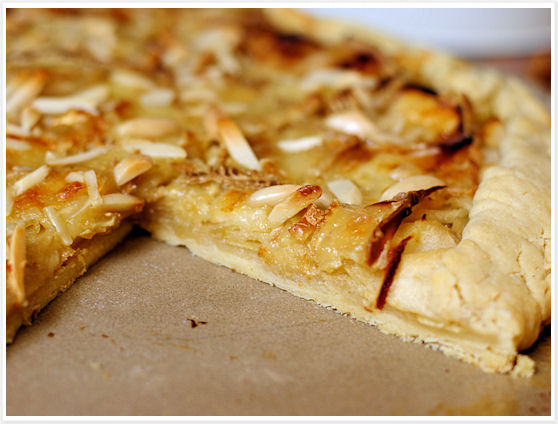 Print This Post