I've always loved the flavor of smoked fish of any kind and usually eat them on their own straight out of the package be it salmon, trout, bluefish, etc. I've recently added to my fishy addiction smoked mackerel thanks to this humble and wonderful smoked mackerel, celery, and apple salad. It's a cinch to throw together and while I managed to snack on half the pack of mackerel while making it (!), I admit the added ingredients do wonders to the fish and make me feel like I'm at least having a full meal.
The combination of flavours is hard to beat – salty and fatty fish, peppery arugula and sweet, crunchy apples and celery. It's a study in contrast that works extremely well in the kitchen and proves that pairing refreshing ingredients with a strong and health-packed star of the show such as smoked mackerel makes for an ideally balanced meal. You get your loads of omega 3 fatty acids in a salad that requires little preparation, is of good value, and packs a punch on the tasting scale. Add a little piece of bread and a cold beer or white wine for a light summer lunch and get ready to fall into my smoked fish addiction…

Smoked Mackerel, Celery, and Apple Salad
Adapted from Gourmet Magazine
Total time: 20 minutes
Makes 4 main courses or 8 first courses
  1/3 cup mayonnaise
1/3 cup sour cream
2 teaspoons fresh lemon juice
1 teaspoon sugar
1/4 teaspoon black pepper
4 ounces smoked mackerel – (I've used peppered smoked mackerel here…just because I love it!)
3 celery ribs, cut crosswise into 1/4-inch slices
1 Granny Smith apple, cored, then cut into 1/2-inch cubes
1/2 pound arugula, trimmed and coarsely chopped (6 cups)
2 teaspoons olive oil  

Whisk together mayonnaise, sour cream, lemon juice, sugar, and pepper in a large bowl until sugar is dissolved.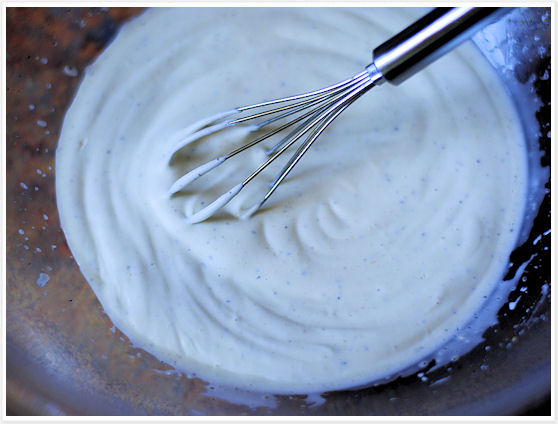 Pat mackerel dry and break into large pieces, discarding skin (resist hard not to eat them all and toss them quickly into the dressing!). Stir into dressing along with celery and apple.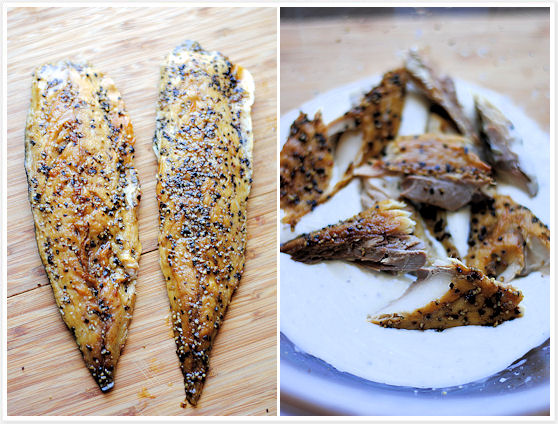 Toss arugula with oil and a pinch of salt in another large bowl.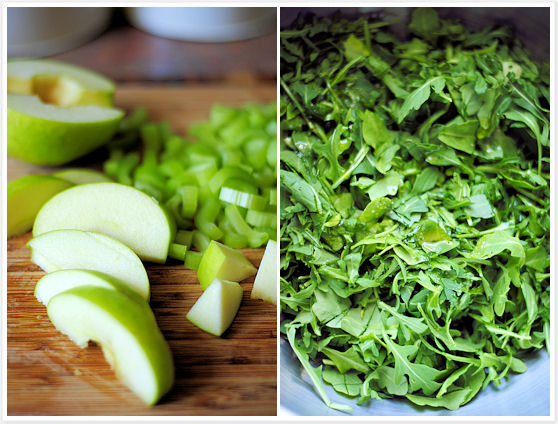 Divide arugula among plates, then spoon mackerel salad on top.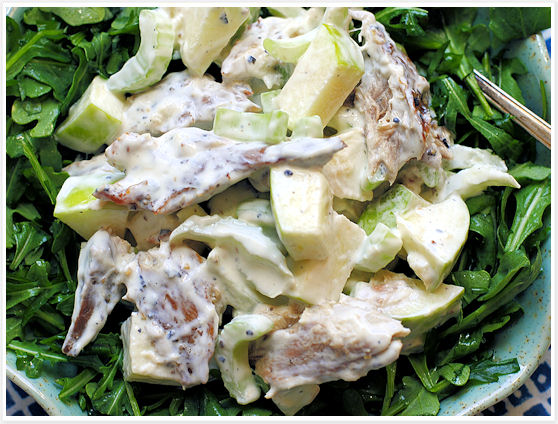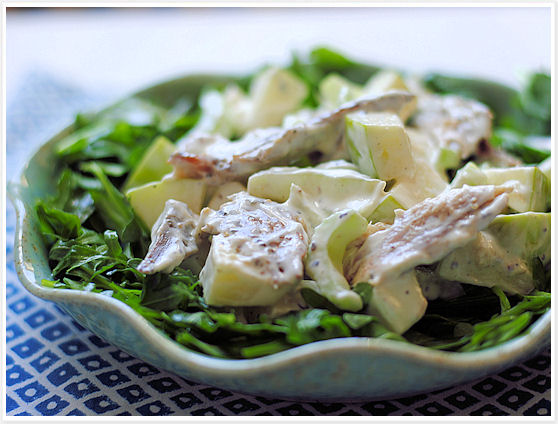 Print This Post