The sinful pleasure of eating cake shouldn't be relegated to birthday parties alone. I've been known to bake cakes for no particular reasons, usually finding a random excuse to celebrate which is usually pretty easy for me (short work week? incredibly nice weather? coworkers in need of a sugar fix?). No need to go all fancy with a 3 layers construction if it's not a big event, an unfussy cake with to-die-for frosting like this Burnt Sugar Bundt Cake will do the trick perfectly while leaving you enough time to enjoy the day.
While this cake is super moist and rich (coconut milk does wonders here), it's really the caramel burnt sugar liquid that is absolutely amazing. The mixture is added to both the cake batter and frosting and is truly the essence of this cake so you'll want to make it right. Burnt sugar really means that, burnt, and you'll want to make sure you get your caramel to a very dark color (think molasses) before taking it out of the stove top. I honestly can't remember ever being disappointed for not burning something before and I should have left my sugar mixture a little while longer (the cake is supposed to be darker than this if you do it right) but it still tasted wonderful.
The frosting is soooo good; you'll be imagining everything you could put in on while having your first taste, wishing you'd doubled the recipe a few moments before! Fret not; it's so flavorful you'll have enough with this batch, at least for now. There's an optional decorative topping of basic hard caramel candy which is so easy to do it would be a shame to pass on it. It dresses the cake pretty nicely and who doesn't like a bit of crunchy candy on their frosting!

Burnt Sugar Bundt Cake with Caramel Rum Frosting
Adapted from Baked Explorations
Active time: 1 hour
Total time: 2.5 hours
Makes one 10-inch bundt cake
For the Burnt Sugar Liquid
½ cup granulated sugar
1/2 cup heavy cream
Approximately 3/4 cup coconut milk
1 ½ tablespoons fresh lemon juice  
For the Bundt Cake
3 cups all-purpose flour
1 teaspoon baking powder 1/2 teaspoon baking soda 1 teaspoon salt 1 ¼ cups unsalted butter (2. sticks) cut into 1-inch cubes, at room temperature 2 cups granulated sugar 4 large eggs 1 teaspoon pure vanilla extract Burnt Sugar Liquid (see above)  
For the Caramel Rum Frosting
1/2 cup (1 stick) unsalted butter 1 tablespoon dark rum 3 cups (at least) confectioners' sugar Burnt Sugar Liquid (see above)  
For the Caramel Shard Topping (optional)
½ cup granulated sugar  

Make the Burnt Sugar Liquid
In a medium saucepan over medium heat, slowly melt the sugar. Use a wooden spoon to stir it continuously to ensure even melting.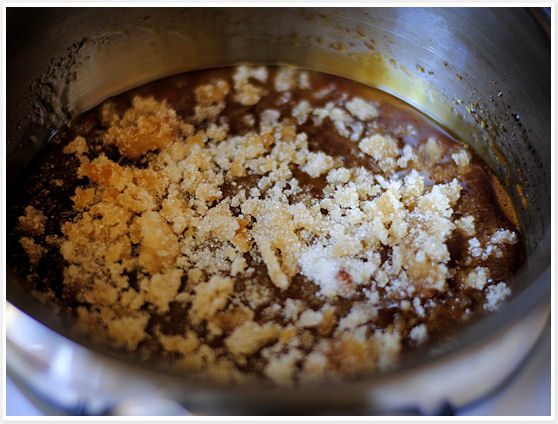 When the sugar turns a dark caramel color, remove the pan from the heat and slowly stream in the cream while continuing to stir (don't worry if mixture starts to clump). Return the pan to medium heat and stir until completely combined; cook for 2 minutes longer, stirring.
Transfer the burnt caramel mixture to at least a 2-cup heatproof liquid measuring cup (like Pyrex) and add enough coconut milk to make 1 1/4 cups liquid. Add the lemon juice. Whisk to combine, divide the mixture in half, and set both portions aside.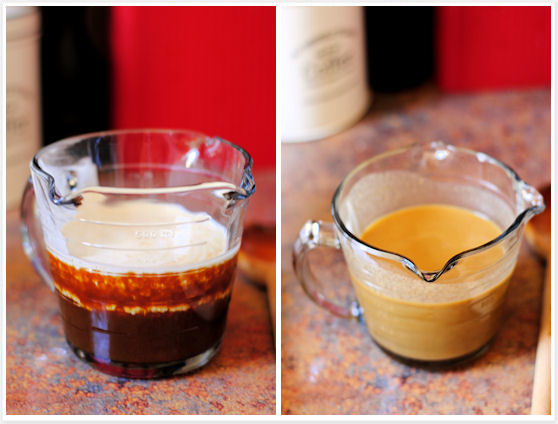 Make the Bundt Cake
Preheat the oven to 325 degrees F. Generously spray the inside of a 10-inch Bundt pan with nonstick cooking spray; alternatively, butter it thoroughly, dust it with flour, and knock out the excess flour.
In a medium bowl, whisk together the flour, baking powder, baking soda, and salt. Set aside. In the bowl of a standing mixer fitted with the paddle attachment, beat the butter and sugar until pale and fluffy. Scrape down the bowl and add the eggs, one at a time, beating until each is incorporated. Add the vanilla and beat for 5 more seconds.
Retrieve one of the reserved portions of burnt sugar liquid. Add the flour mixture in three parts, alternating with the burnt sugar, beginning and ending with the flour mixture.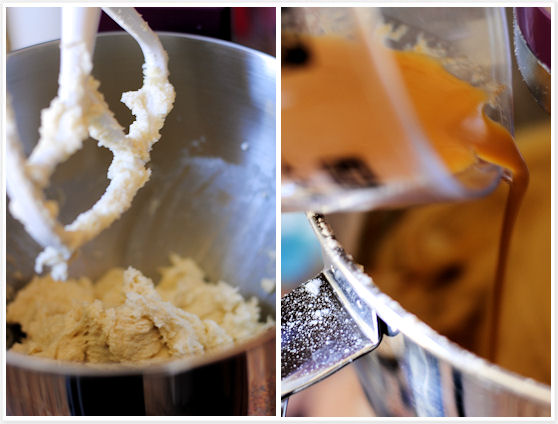 Scrape down the sides and bottom of the bowl and beat again for 10 seconds. Pour the batter into the prepared pan and bake for 45 to 50 minutes, or until a small sharp knife inserted into the center of the cake comes out clean.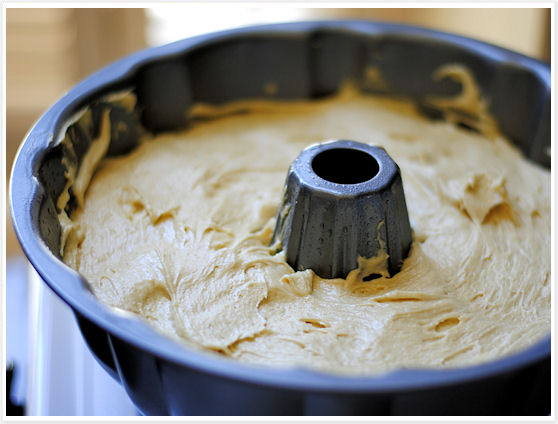 Transfer the pan to a wire rack to cool completely.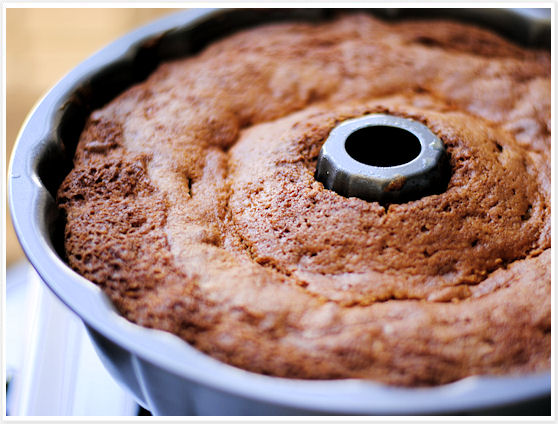 Gently loosen the sides of the cake from the pan and turn it out onto the rack.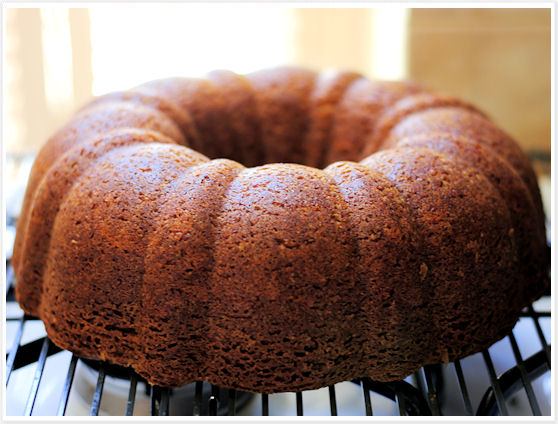 Make the Caramel Rum Frosting
Put the butter, rum, confectioners' sugar, and remaining portion of burnt sugar liquid in a food processor. Pulse in short bursts until the frosting is shiny and smooth. Check the consistency as you want a thick frosting here. If it's too runny, add more confectioners' sugar in little increments (i.e. ¼ c.) until you reach the desired consistency.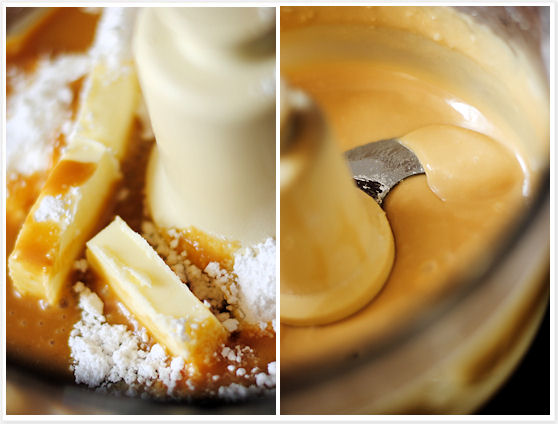 Use an offset spatula to spread the frosting over the crown of the Bundt in a thick layer. Let the frosting set before serving.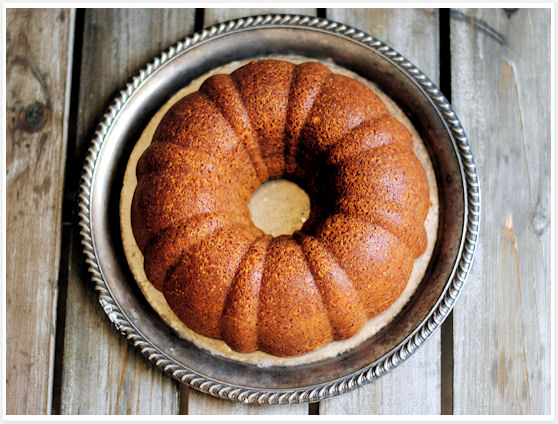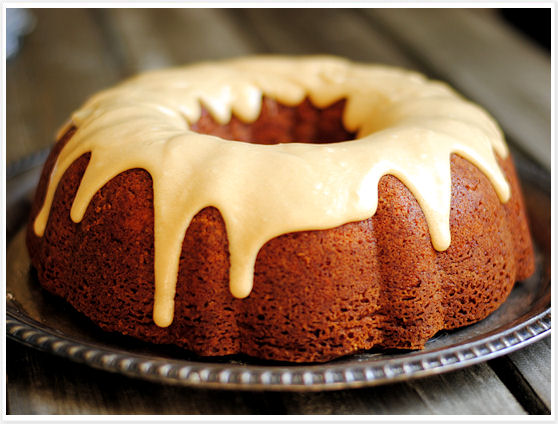 Caramel Shard Topping
This caramel shard decoration is entirely optional—but it looks spectacular. Place the sugar in a small saucepan. Add enough water—it takes approximately 1 teaspoon—to make it the texture of wet sand.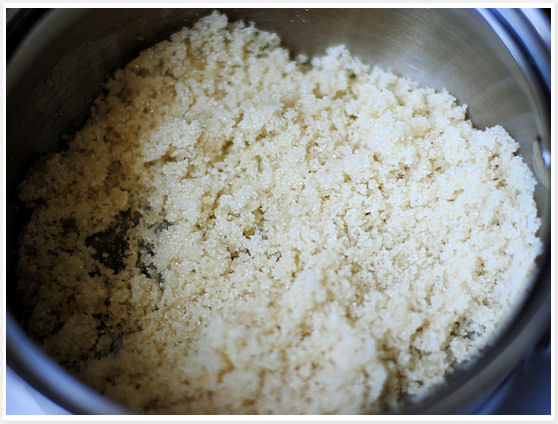 Cook on high heat until the sugar turns amber.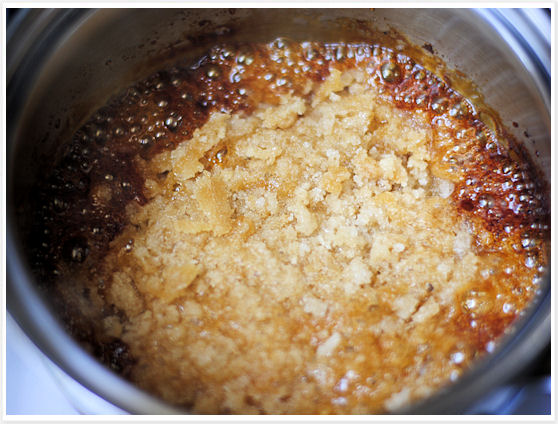 Pour the caramel onto a half-sheet pan lined with a a nonstick baking mat or parchment paper.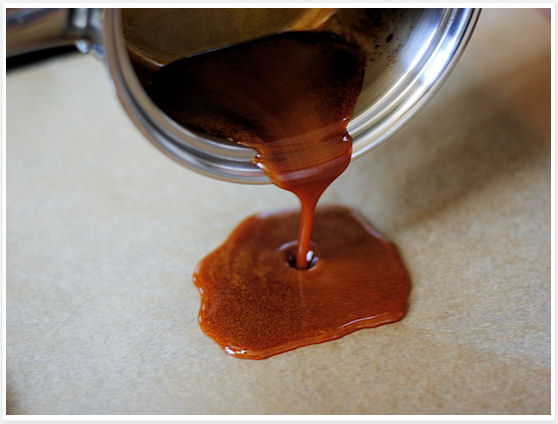 Let cool. Break the cooled caramel into small shards and use them to decorate the frosted cake.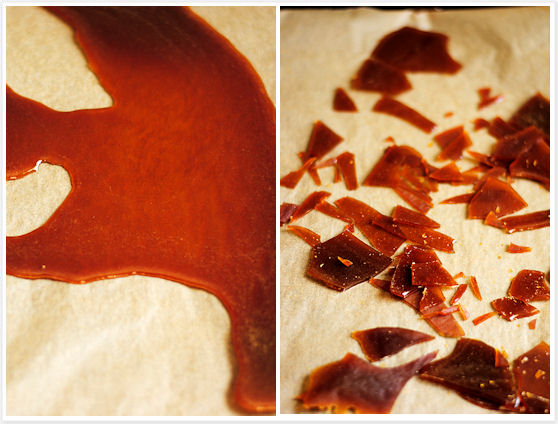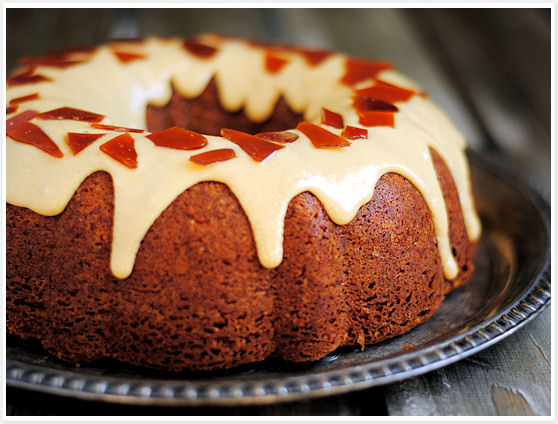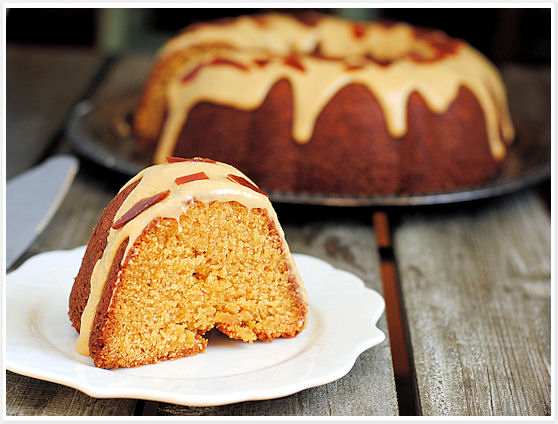 Print This Post