Whether you consider yourself a fan of Indian food, are just starting to discover the myriads of choices of this intensely flavoured cuisine, or are even intimidated by it, you are going to love this Tandoori Chicken. While the traditional recipe requires 24 hours of marinating and an 800-1000 degrees oven (who can manage that!), this one will have you lick your plate in less than an hour with results deliciously close to the real thing.
The chicken is marinated in a spicy yogurt seasoned with fresh herbs and vindaloo paste (paste made of chillies, turmeric, cumin, coriander and other spices, available at ethnic markets or your local grocery store) which tenderizes the meat and locks in moisture during cooking. Then, it is cooked at a high temperature (500⁰ F) to simulate a tandoori oven, creating a beautifully charred surface. I suggest pairing the chicken with the following recipe for spiced potatoes, super easy and they can be cooked alongside the chicken in the oven.
It's a little spicy, super speedy, and will give you a good share of exotic tastes in a very eye-pleasing feast. Have a bit of yogurt on the side to tame some of the heat and enjoy it with a cold beer or a glass of Riesling…

Tandoori Chicken with Masala Spiced Potatoes
Adapted from Gourmet Magazine
Active time: 20 min
Total time: 50 min
Makes 6 servings
For the chicken
1 cup plain yogurt (not low-fat; preferably Greek-style)
1/4 cup chopped fresh mint leaves
1/4 cup chopped fresh cilantro
2 tablespoons vindaloo paste (preferably Patak's brand)
1 teaspoon salt
3/4 teaspoon black pepper
6 whole chicken legs (thigh and drumstick; 3 3/4 pounds), skin discarded  
For the potatoes
2 pound potatoes, peeled and cut into 1-inch cubes
3 tablespoons vegetable oil
1/2 teaspoon cumin seeds
1/2 teaspoon salt
1/2 teaspoon black pepper
1/4 teaspoon turmeric
1/4 teaspoon ground ginger
Pinch ground cloves

Put oven rack in middle position and preheat oven to 500°F. Line rack of a broiler pan with foil.
Stir together all ingredients except chicken in a large bowl until combined well.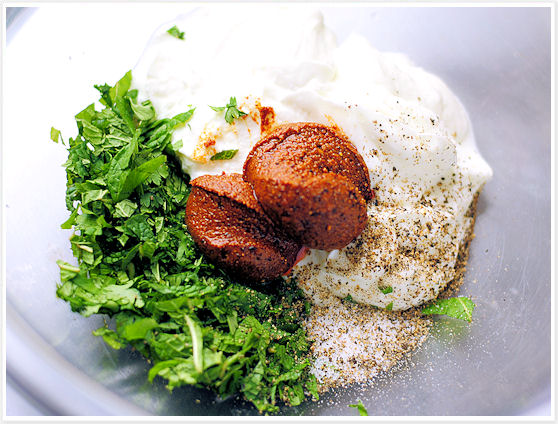 Coat both sides of chicken legs well with yogurt mixture (use all of it).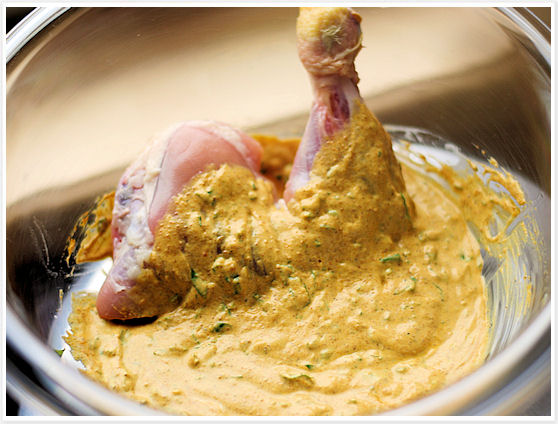 Transfer to broiler pan, arranging them in 1 layer.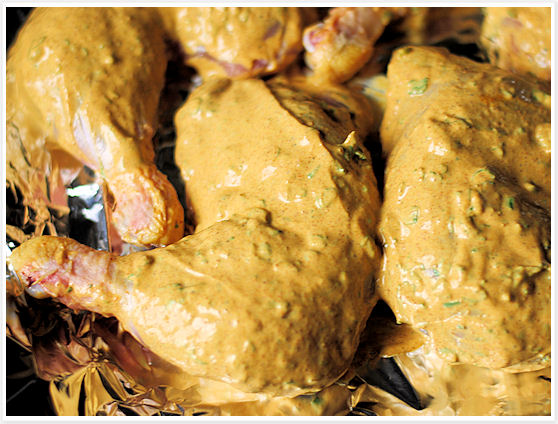 Roast chicken until charred in some spots and cooked through, 25 to 30 minutes.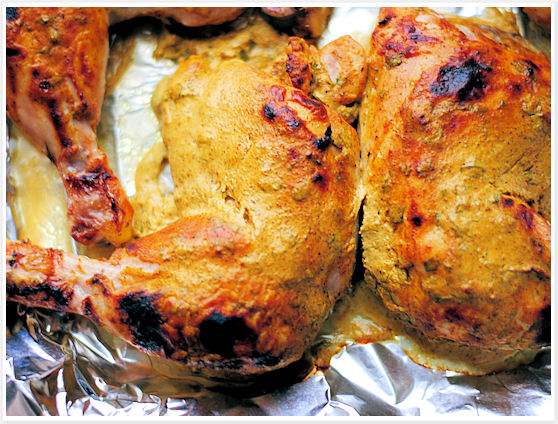 For the potatoes: Put oven rack in middle position and preheat oven to 500°F.
Pat potatoes dry, then toss with remaining ingredients in a bowl until evenly coated.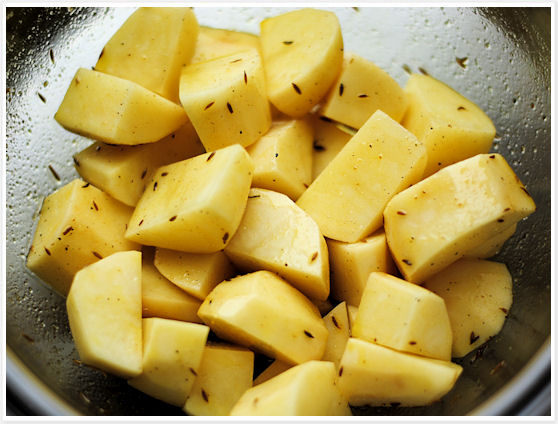 Spread out potatoes in 1 layer in a large (17- by 12-inch) shallow heavy baking pan, then roast, turning potatoes over with a metal spatula once or twice during roasting, until tender and some edges are golden brown, 25 to 30 minutes.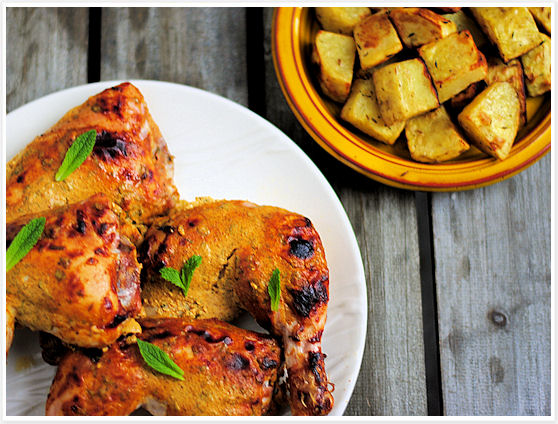 Print This Post