I think I may have just found the best way to get your daily portion of veggies… Digging once more into one of my favourite cookbooks, Plenty by Yotam Ottolenghi, I stumbled upon this unusual yet very tempting ratatouille. Unlike your traditional mix of zucchinis, bell peppers and tomatoes which often results in a wet and mushy stew-like concoction, this one promised to retain the veggies' shape and deliver a more intense flavour.
I have to agree on all counts; what came out of the oven was a magnificent mixture of perfectly roasted chunks of fall vegetables, with the butternut squash, parsnips, eggplants, tomatoes, and green beans giving a hearty makeover to the best ratatouille I've had to date, period. Nothing that good comes easy though so be ready to spend a decent amount of time preparing your veggies (there's no way around it, you must prep them all before you even get started). So turn on some good music and start chopping…
It's well worth the effort and the decent quantity that you're left with will take care of those daily eating recommendations for at least a few days. Serve it with rice or naan bread for a very filling dish.

Tamara's Ratatouille
Adapted from Plenty
Active time: 1 hour
Total time: 2 hours
Makes 4 generous servings
  7 tablespoons sunflower oil (or extra-virgin olive oil)
2 small onions, cut into 1 1/4-inch dice
4 garlic cloves, peeled, sliced
1/2 fresh green chili, thinly sliced
2 small red bell peppers, cut into 1 1/4-inch dice
1/2 small butternut squash, peeled, cut into 1 1/4-inch dice
1 small parsnip, peeled, cut into 1 1/4-inch dice
1 cup French green beans, trimmed
1 medium zucchini, cut into 1 1/4-inch dice
1/2 large eggplant, peeled, cut into 1 1/4-inch dice
1 small baking potato, peeled, cut into 1 1/4-inch dice
2 medium tomatoes, peeled, chopped
1/2 tablespoon sugar
1 tablespoon tomato paste
Salt and freshly ground black pepper
1 cup water
Garnish:
chopped fresh cilantro  

Pour 2/3 of oil into large heavy casserole or pot and place on medium-high heat. Add onions and fry 5 minutes, stirring occasionally. Stir in garlic, chili and red peppers; cook, stirring occasionally, another 5 minutes. Add butternut squash and parsnip and continue frying for 5 additional minutes.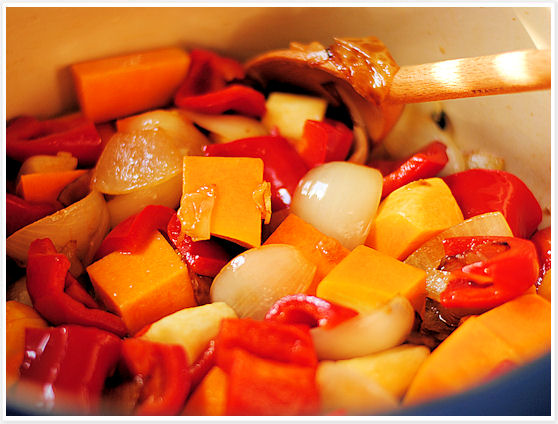 Using a slotted spoon, lift vegetables out of pot into medium bowl, leaving as much of the oil in the pot as possible. Top this up with remaining oil. Add green beans, zucchini and eggplant; fry 5 minutes, stirring occasionally.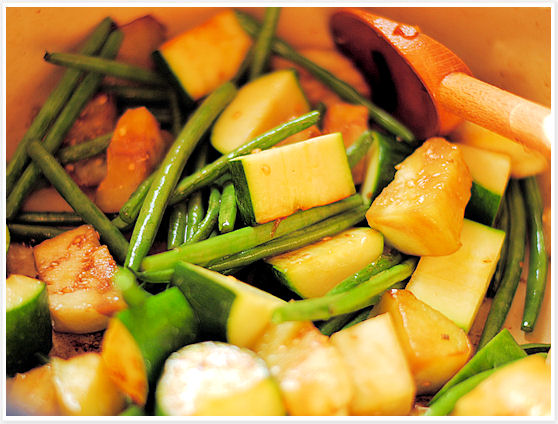 Preheat oven to 400 degrees. Return contents of bowl to pot. Add potato, tomatoes, sugar, tomato paste and plenty of salt and pepper.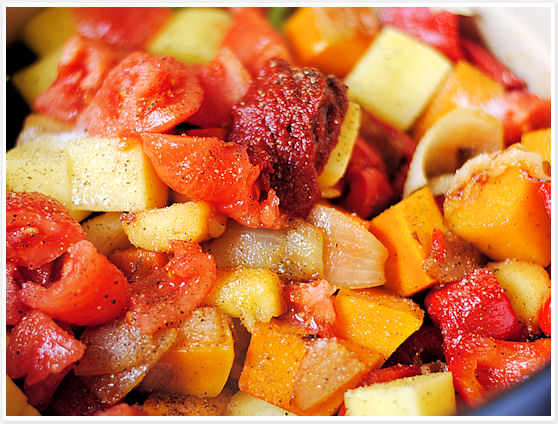 Stir well, then pour in the water, or just enough water to half-cover the vegetables. Cover with lid and simmer gently for 30 minutes. Taste and add more salt and pepper if needed.
Use slotted spoon to gently lift vegetables from pot into a large, deep roasting pan to make a layer about 1 1/4 inches deep.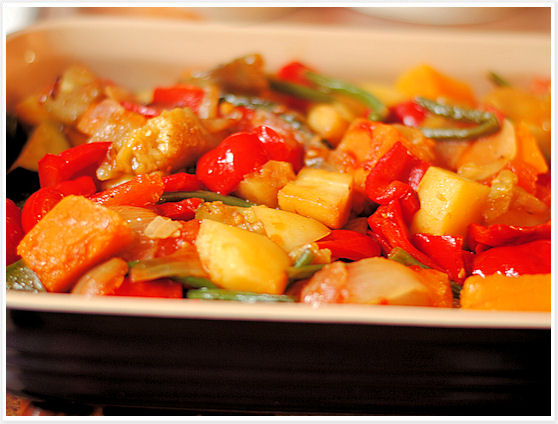 Pour liquid over vegetables and place in middle of preheated oven to cook for 30 minutes. At this point all the vegetables should be very soft and most of the liquid evaporated. Garnish with chopped cilantro if desired and serve.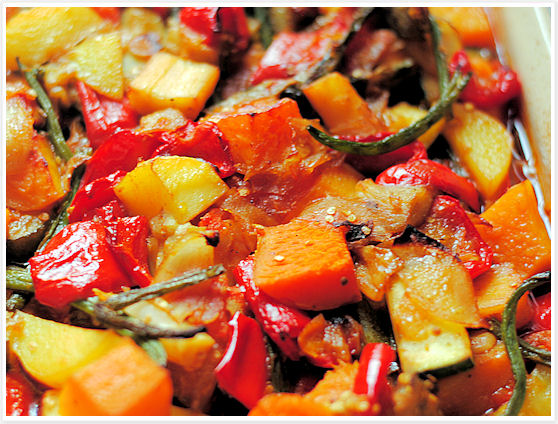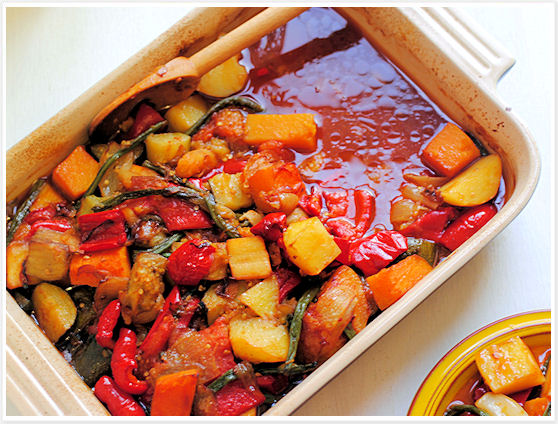 Print This Post