I've waited a long time to write something about Sushi of Shiori. For years it's been my little secret foodie place in London, an out-of-sight gem that I would treat my closest friends to, delighting in their awe and surprise of never having heard of such a wonderful shrine to the art of sushi. Now that so many food bloggers have discovered it and countless reviews have been written, it no longer is such a secret though still maintains everything I love about it, thankfully.
The place doesn't look like much from the outside and is located on a quiet stretch of Drummond Street, north of Warren St Tube, facing two rather dark Indian restaurants. Probably explains why it stayed out of the spotlight for so long. It's so tiny with only 3 counter seats and place for 4-5 more at two little tables by the window that you'd easily mistake it for a take-out operation, which it isn't. It's on the contrary an extremely well crafted family affair, with the husband/chef working its magic right in front of you while his lovely wife takes good care of the customers.
I've been coming here for years now and I'm still amazed at the quality of the food, especially the sushi. The chef has previously worked at Michelin starred Umu and treat every single little morsels going through his hands like real work of art (they call it 'sushi canape style'). The nigiri are all of extraordinary quality and each comes with its own little touch, usually a contrasting topping to create a combination of flavors that'll make you close your eyes for just a few seconds in pure ecstasy. I particularly marvel at the generous scallop decorated with a dab of truffle shavings (the one item you shouldn't miss on the menu!), the green okra paste on top of the tuna, the sweet shrimp that taste like nothing you've had before.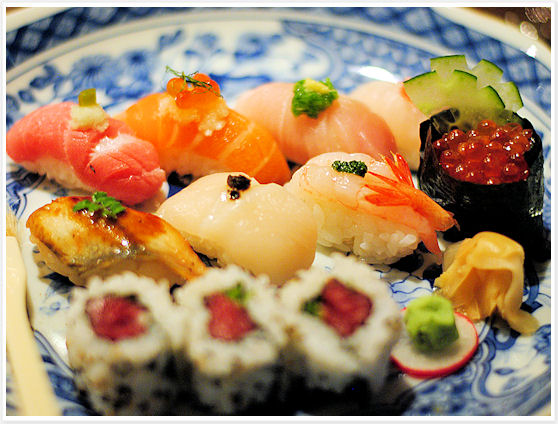 Here it's all about the quality ingredients, no fuss, and especially no dipping bowls! The chef was tired of seeing people dumping their nigiri in the salty soy sauce, masking all the subtle taste of his inventive toppings, so he instead gives you the cutest little brush on the side to brush a tiny amount of sauce on the fish. It is so elegant and yet so useful I wonder why I haven't seen this anywhere else.
The value for money is also pretty incredible for the best sushi in London. While you can treat yourself to the chef's Omakase menu by reserving in advance (usually starts at £40 per person), I tend to always go for their signature Shiori plate which contains 8 amazing nigiri and 3 Hosomaki for £23, a steal.  I usually round it up with 1-2 pieces more from the a la carte menu and finish off with a creamy homemade ice cream…doesn't get any better than this. Perhaps also adding the miso soup if you're particularly peckish as it is insanely good!
Chu-Toro (fatty tuna)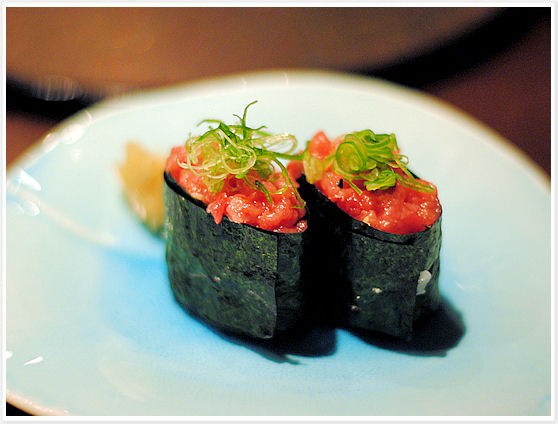 Wagyu nigiri: Succulent slice of Wagyu beef, seared with a blow torch.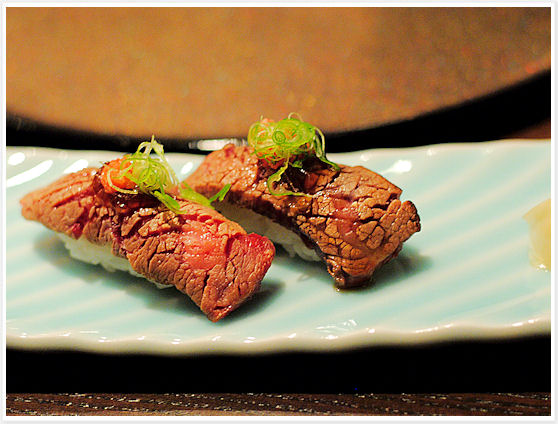 Hojicha Ice Cream (roasted tea) – distinct nutty flavor, delish!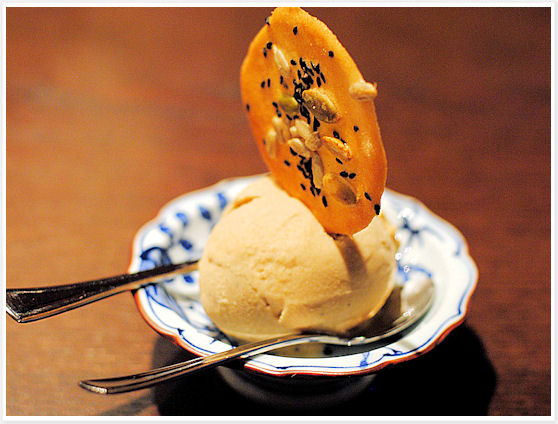 If you haven't guessed it, this is my favorite sushi restaurant in London so I urge you to go. Reservations are obviously necessary with only 7 covers and you can make them online via their website (http://www.sushiofshiori.co.uk/contact.html). You can ask for a seat at the bar if you want to get a view of the chef and all the action.
Sushi of Shiori
144 Drummond Street London, NW1 2P4
map