It would take more than the dog days of summer to stop me from having my daily dose of dessert and sweets, though I can appreciate that chocolate and heavy cakes don't fare well in this weather either. Come July and August I turn to the bounty of fresh fruits and lighter baked goods to curb my cravings and this Ricotta Pudding is just the right thing for now.
You'll love this if you're more of a cheese course type than a cupcake fan. The pudding (which is really more like a flan) is light and soft though still rich and creamy and you'll want a fruity topping to add a bit of sweetness as it is pretty mild on its own. The roasted grapes in this recipe are great, though you could substitute any berries or stone fruits, a drizzle of honey, or even a chocolate sauce, whatever suits you really since this is a pretty versatile base.
The baked pudding will come out of the oven puffed up but will soon deflate and collapse. You want to make sure you're using fresh ricotta to keep it airy as a commercial one would probably leave you with a firmer texture than you'd like. Serve it at room temperature with the topping of your choice, and eat the leftovers for breakfast, it's delicious the following morning! I'm already thinking of doing a savory incarnation, perhaps tomatoes and basil, and skip on the sugar…

Sweet Ricotta Pudding with Roasted Grapes
Adapted from Gourmet Magazine
Active time: 15 min
Total time: 1 hr
Makes 6 servings
  2 tablespoons unsalted butter, melted, divided
1 tablespoon plain fine dry bread crumbs
1 2/3 cups whole-milk ricotta (15 ounces)
2 large eggs
1/4 teaspoon cinnamon
1/8 teaspoon salt
5 tablespoons sugar, divided
1 1/2 tablespoons pine nuts, toasted2 cups red seedless grapes (3/4 pound), halved
1 tablespoon balsamic vinegar  

Preheat oven to 375°F with racks in middle and lower third.
Butter a 9-inch glass or ceramic pie plate with some of butter, then spread bread crumbs in plate to coat.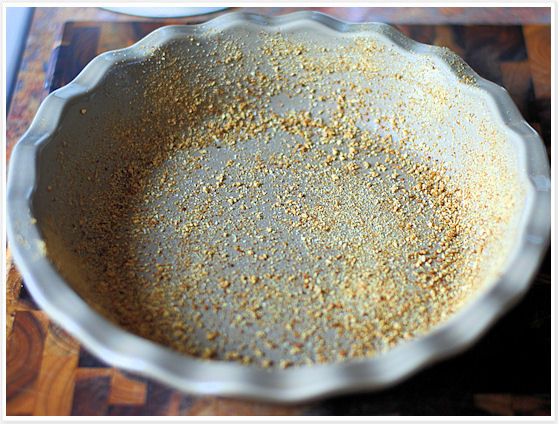 Blend ricotta, eggs, cinnamon, salt, and 3 tablespoons sugar in a blender until very smooth, about 2 minutes. Pour batter into pie plate and sprinkle with nuts.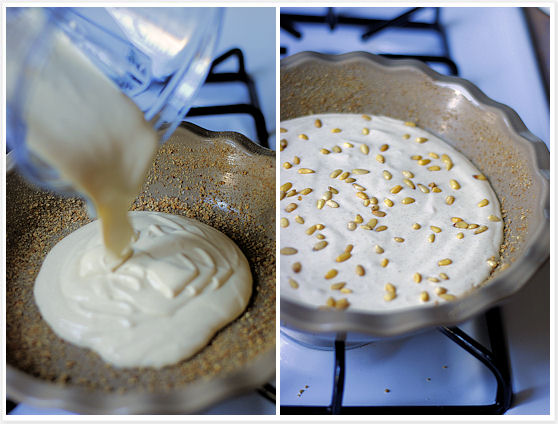 Bake in middle of oven until puffed, golden, and just set, about 25 minutes. Cool pudding on a rack.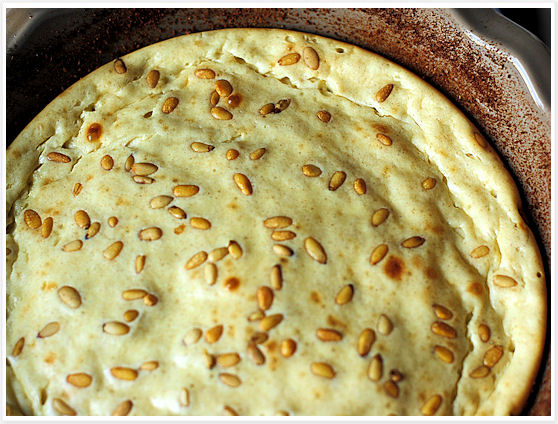 While pudding bakes, toss grapes with remaining butter, remaining 2 tablespoons sugar, and vinegar in a small shallow baking pan and let macerate.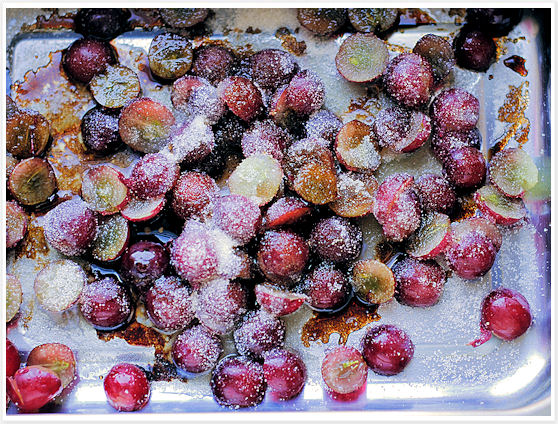 Increase oven temperature to 425°F.
Roast grapes in lower third of oven, shaking pan occasionally, until tender but not falling apart, 10 to 12 minutes. Cool grapes until just warm and serve alongside pudding.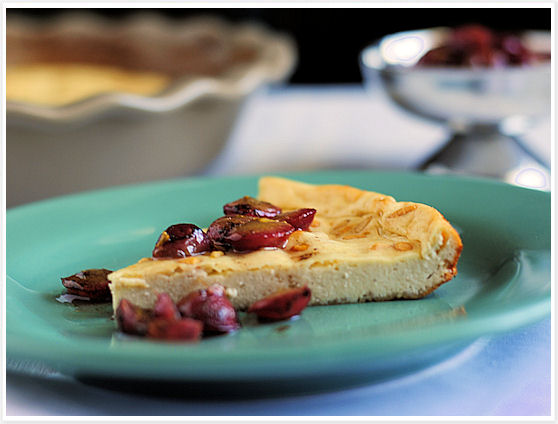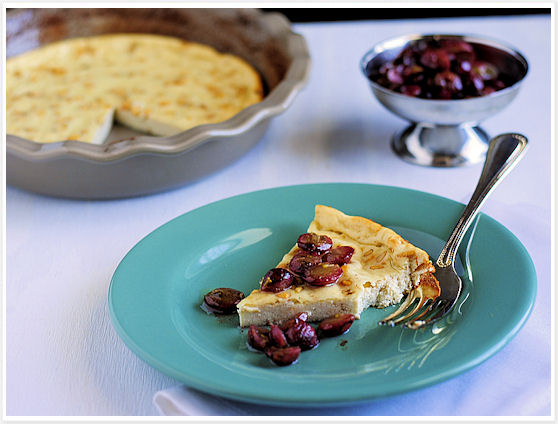 Print This Post