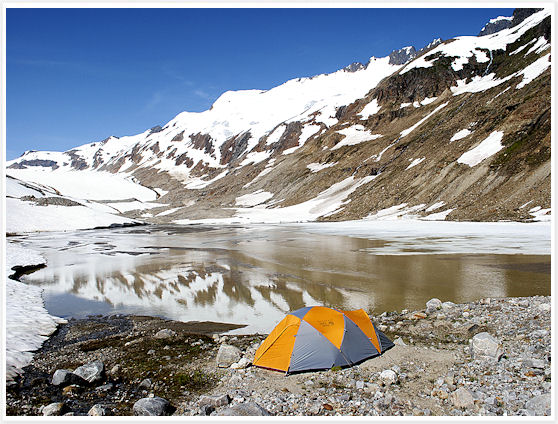 While everyone was suffering from the heat waves relentlessly hitting the US, I was heading north to cool off by joining the 2012 General Mountaineering Camp with the Alpine Club of Canada. Located this year in the Sir Sandford area of the Selkirk mountains, my friend and I met the group in Golden, BC before driving one hour north to the helicopter staging area that would bring us to the base camp, our home for the next 7 days.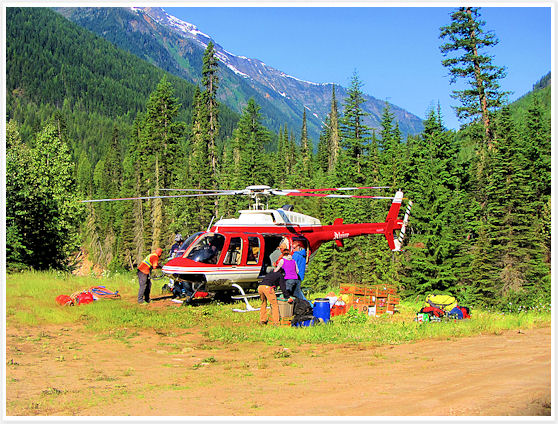 With a prime seat at the front next to the pilot, I got sweeping views of the area, heading up towards the snowy peaks before landing a short 5 minutes later at the base camp some 7,000 ft in altitude.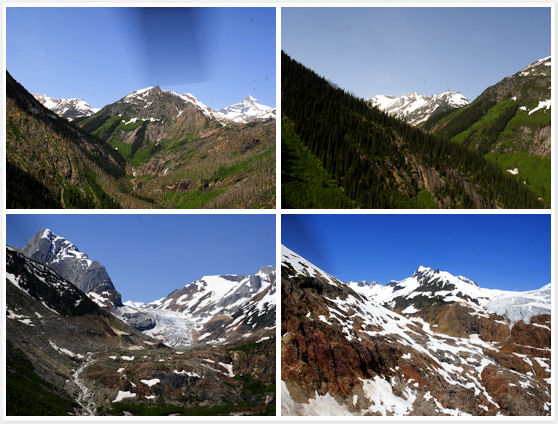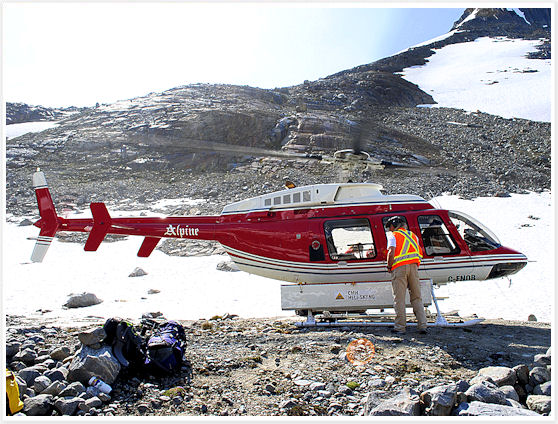 The scene was spectacular, looking down at all these bright orange tents waiting for us, sparkly snow, rugged mountains and shiny glaciers surrounding it all.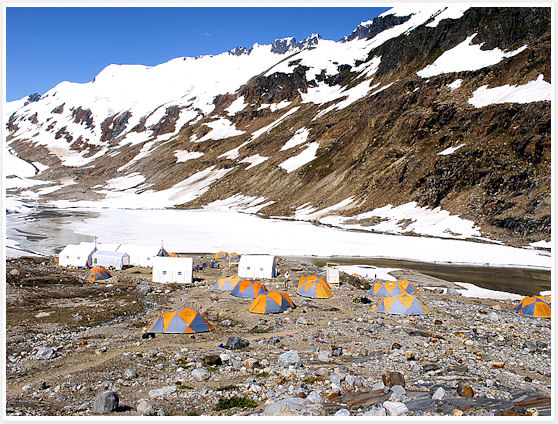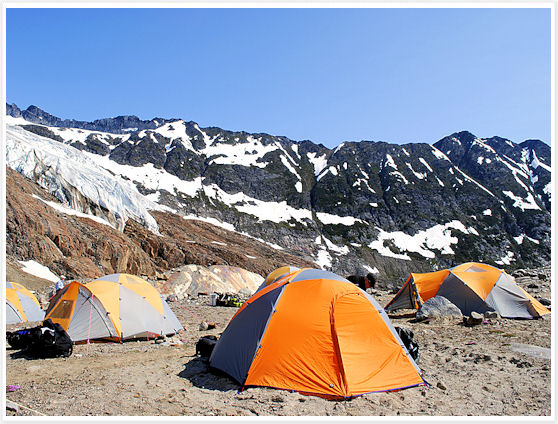 The set up and organization were impressive: large communal area with kitchen, big dining tent, a tea room for rainy days, …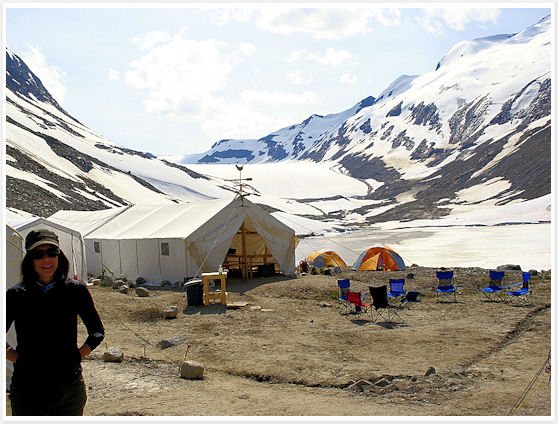 … built-up toilets and hand washing station…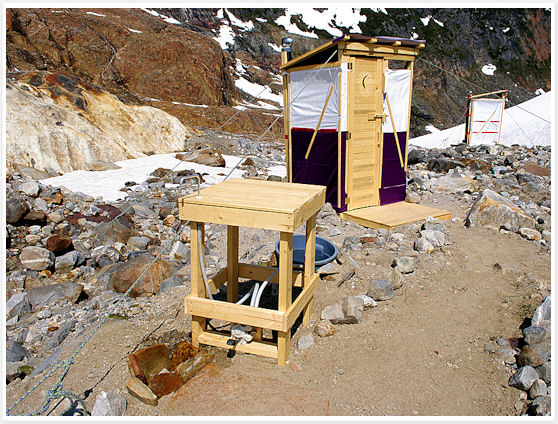 …and the most stunning and wild landscape I had ever camped in.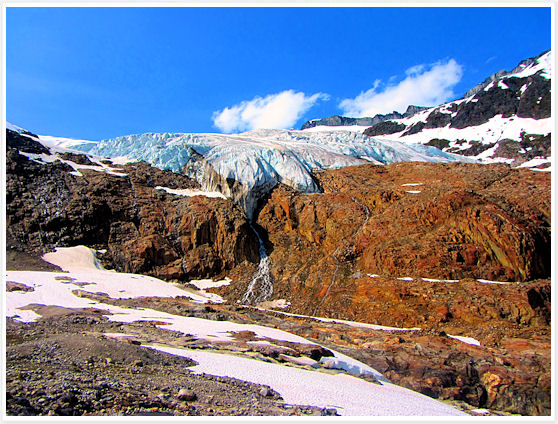 I realize very few people know what a Mountaineering Camp is so I'll highlight one of our typical days below:
No surprise, wake-up time is early, between 4:30am and 7am if you're having a lazy one. The air is crisp and wonderfully invigorating and the light from the rising sun is just gorgeous!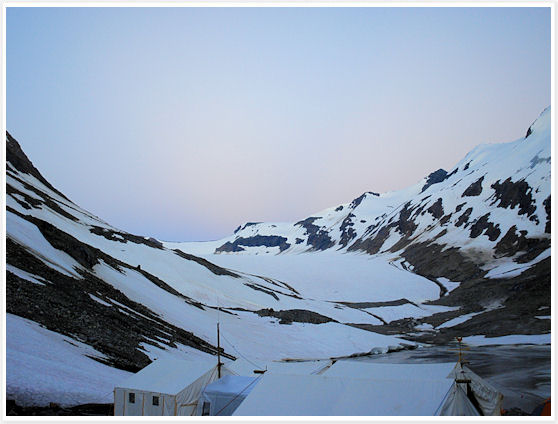 You get all your gear packed up and head to the main tent for a big breakfast – warm porridge every morning with a fruit salad to which they add a new main dish every day such as pancakes and bacon, frittata, scones, french toast, etc. served with coffee/tea – a very filling start for the active day ahead!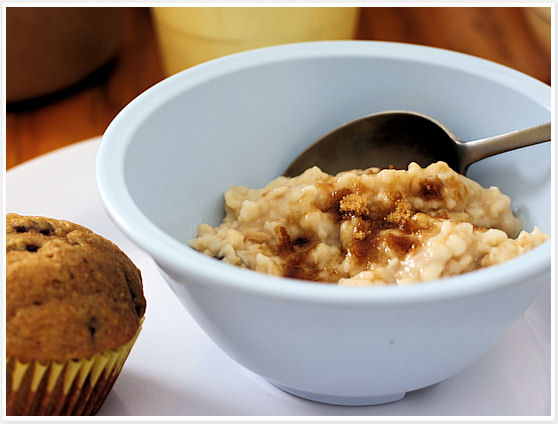 The rope teams (there are usually 3-4 different climbs each day which you pick the night before) gather for a briefing and an equipment check before heading out.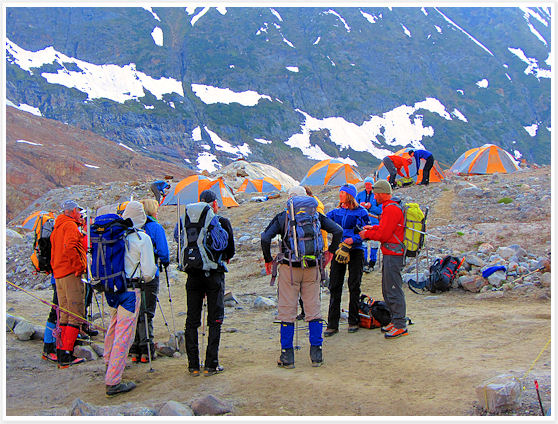 Then it's on your way to the peaks, usually starting by crossing a large glacier or going straight up through some rock scrambling.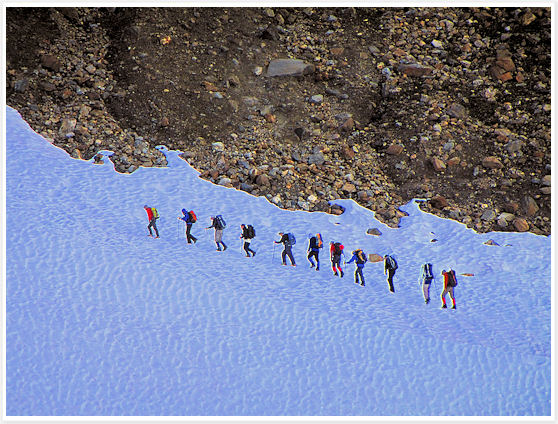 You soon realize all that gear you're carrying has its use – out the ice axe and ski poles for helping with the balance and getting you out of unexpected sink holes.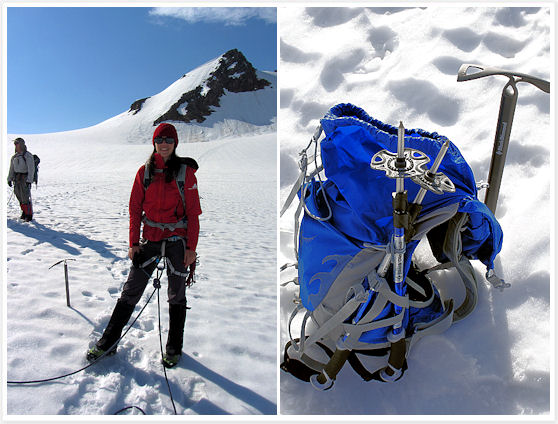 One of many fuel breaks on the way to the peak where you have a short time to eat a snack (you would have packed yourself a pretty big lunch last night!), take in the scenery and often shorten the ropes (taking in coils as they say here) if you're about to go through a risky patch.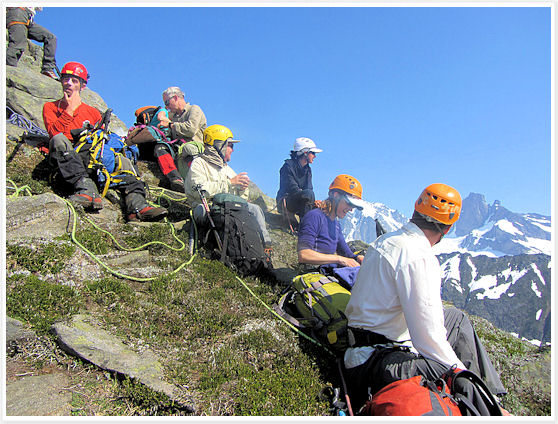 At some point between 11am-1pm you'll finally reach the summit, the ultimate goal of your day and an excuse for a very scenic lunch break. You're now about 9,000-10,000 feet up high and though the views are different from every peak, all are spectacular especially considering we probably had THE best weather that has ever been seen at week one of a GMC.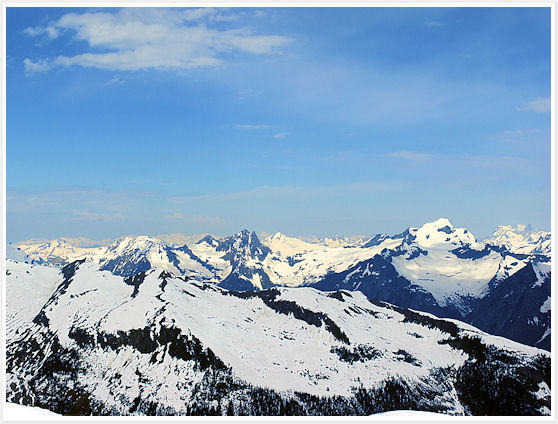 After a more than decent lunch break and plenty of pictures, time to go down already as the sun is pretty strong and the snow and ice are at the melting point. Going down in the snow isn't as easy as it looks (heels in first folks!) so we try as best to keep it controlled and balanced…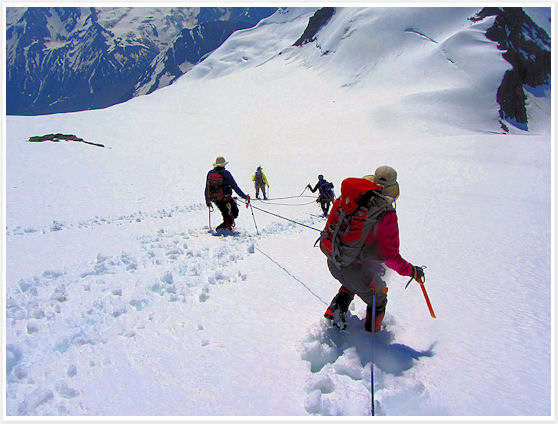 …though sometimes you just can't avoid the occasional butt slide! I don't need to tell you how much fun this is (and how much quicker!), well as long as the end of the slope is clear and not a massive drop down into a crevasse! Talk about being a kid in an adult playground.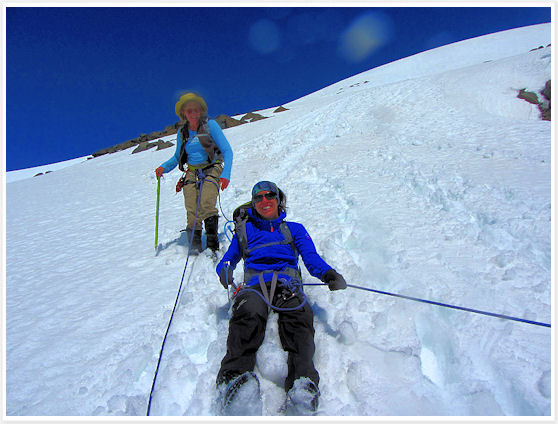 The walk back to the camp in mid-afternoon is a hot one and at this point, all you're thinking about is taking off your boots, shedding some more layers and…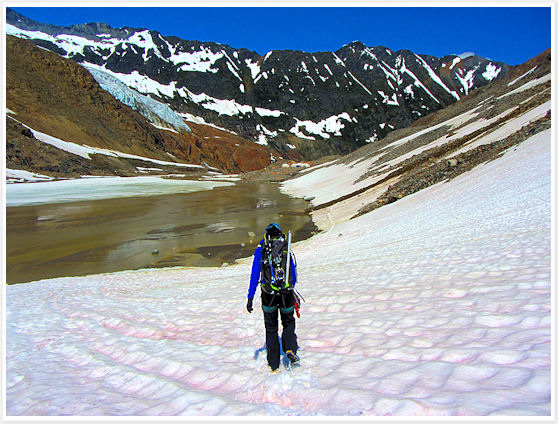 … getting in queue for the outdoor shower.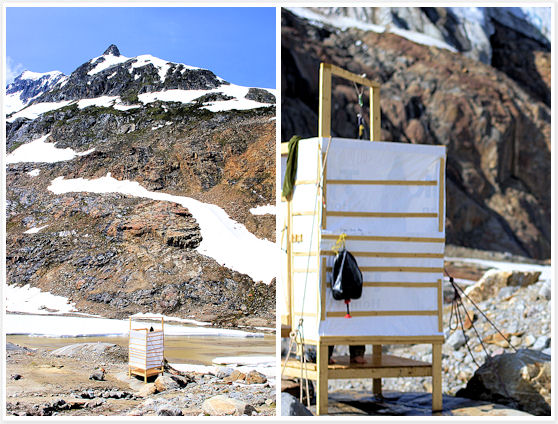 Before getting into leisure mood though, take time to put the gear out to dry…it's been a wet day in all shapes and forms.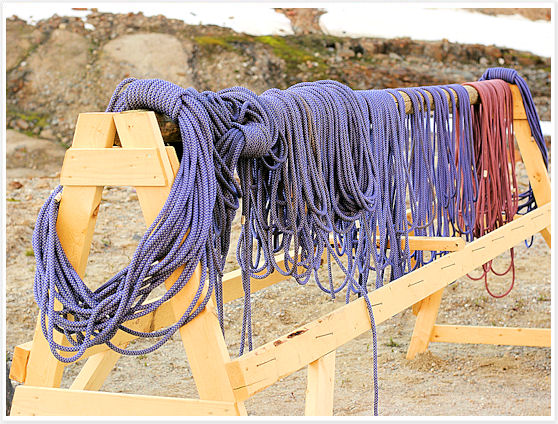 The two to three hours you have left in the afternoon before dinner are spent as you like, usually getting cleaned up, taking a nap, reading a bit, chatting about your day's adventures to the different teams sporadically making their way back to camp, eating (again!), and for the lucky ones who thought about bringing alcohol, enjoying a well deserved cold beer or a glass of wine.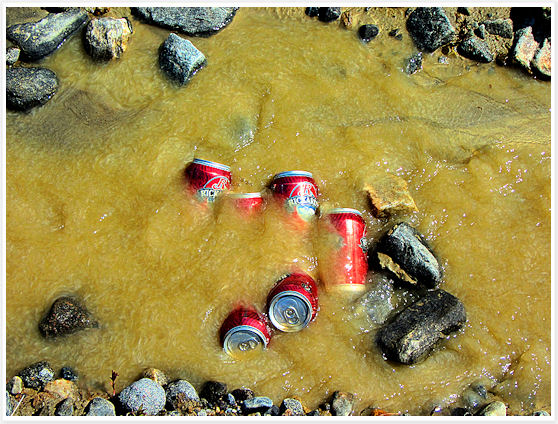 Dinner is usually promptly served around 6pm and it is everyone's favorite time. Two large communal tables are welcoming hungry climbers inside the dining tent where our dedicated cooks have prepared a filling and tasty 3 course meal. There's always soup as a starter, followed by a main meal with salad (lasagna, chicken with rice, mexican burrito, you name it) and of course a dessert.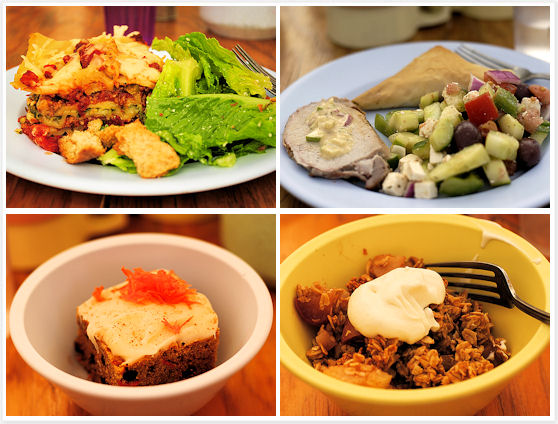 When you're finally satiated (and you will be with all this food), you take part in the lovely tradition of 'story time'. This is where a member of each rope team stands up, puts a sort of pirate's hat on with colorful feathers, and tell the tales of the day, how their climb went, any particular incidents or memorable quotes, etc. Trust me, with such adventure-packed days and colorful characters, they were all highly entertaining and showed the great camaraderie the GMC is famous for.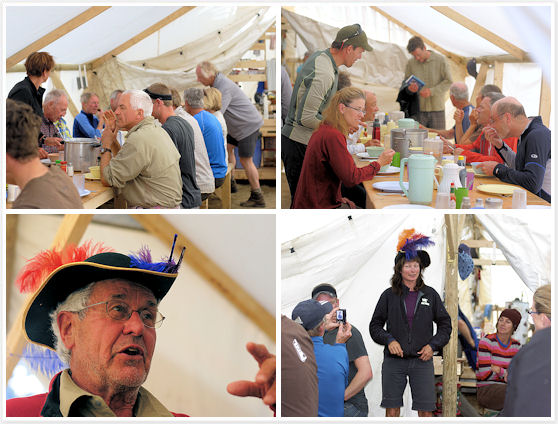 We usually linger a bit to chat before getting kicked out of the dining room to allow the cooks to lay out our lunch spread. We shortly get called back in to prepare our lunch for the next day (sandwiches, cookies, fruits, trek mix, etc.) and then everyone gathers around the tea tent, waiting for tomorrow's climbs and rope teams to be announced. Once you know what you'll be up to the next day, you simply go get your gear ready and yourself into bed.
It's usually about 8:30pm by then and getting into your tent for the night isn't easy…there's still so much of that beautiful light out, striking the mountain tops with a vivid hue.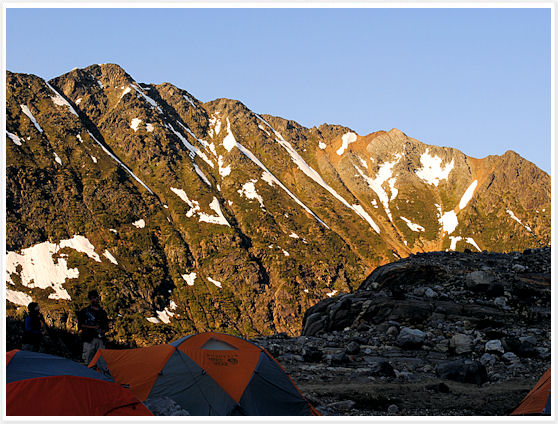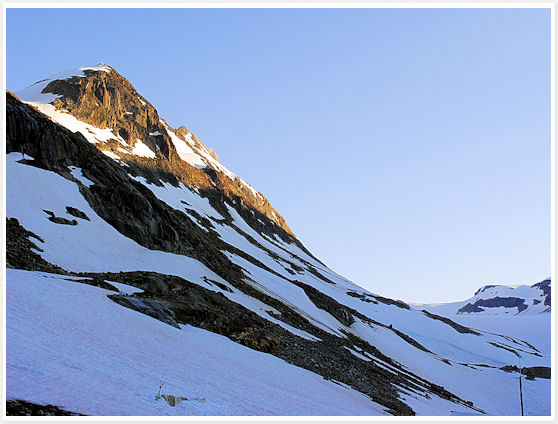 Tomorrow is another big day though so time to say good night, and anyway that sun isn't setting down for a while… it's still slightly light out at midnight over here!