Now that I've filled you in on a typical day at the GMC, I'll let a few more pictures of my ascents and active "days off" speak for themselves as to the astounding beauty of the scenery and learning experience this mountaineering camp truly was.
Late morning (i.e. 7:30am!) sunrise on the camp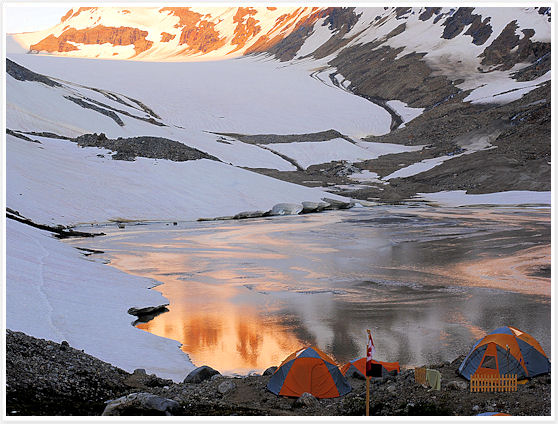 Walking along the cornice to my first summit of the week, Alpina Dome, an easy 7,829 ft.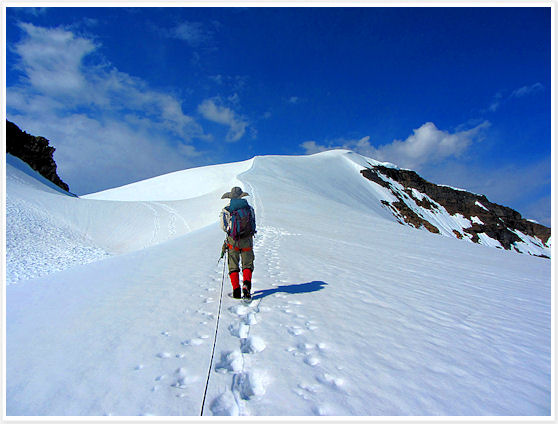 Red snow phenomenon increasing in visibility as the week went on and the temperature rose. It's caused by an algae and smells of fresh watermelon…no kidding!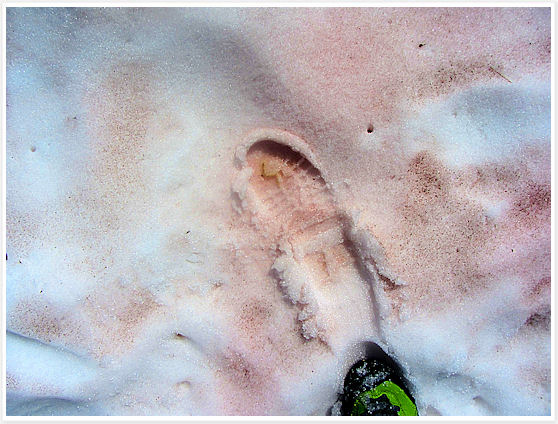 Looking towards Hawthorne Glacier as we were walking up to Belvedere Peak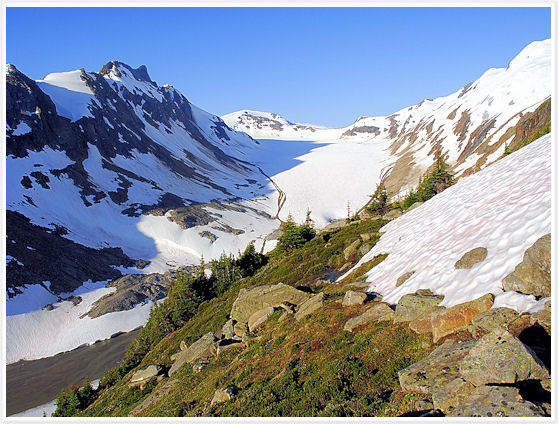 Our camp as seen from high above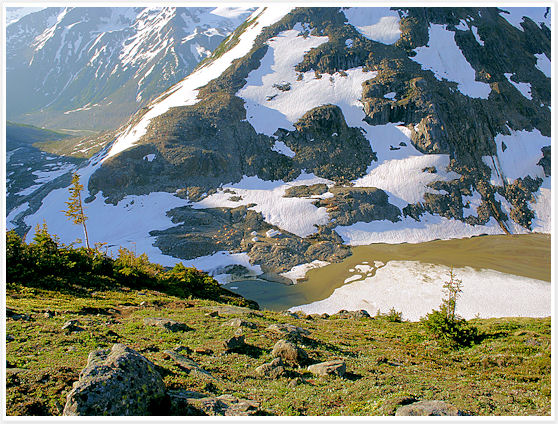 Snow field way up – makes you want to run across but these are the ones you need to be extra careful with (hidden crevasse anyone?)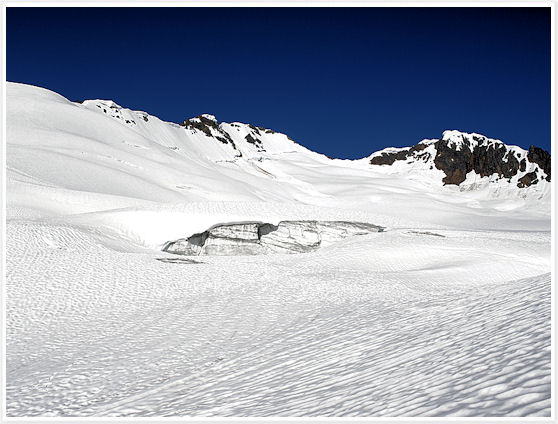 A rare shot as I'm nearing my highest summit of the week, Belvedere Peak, 9,770 ft. We're usually too busy rock climbing with our hands full at this point to stop and take a photo, but after such a climb I felt it deserved being recorded!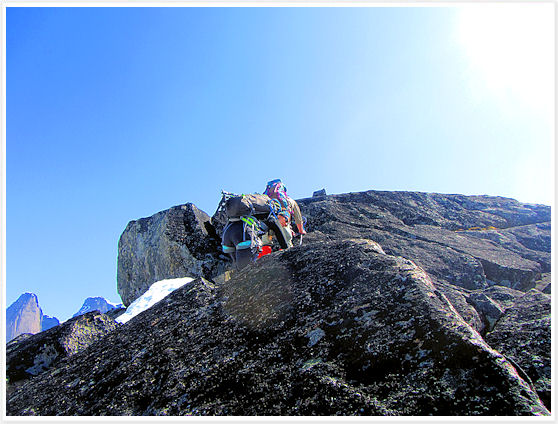 A surprise was hidden at the summit: an old and rusty sardine tin stuck in a plastic container, holding scribbled names of the climbers who've reached the Belvedere Peak before us. How cool is that? I've put down my name of course…finally immortalized! 😉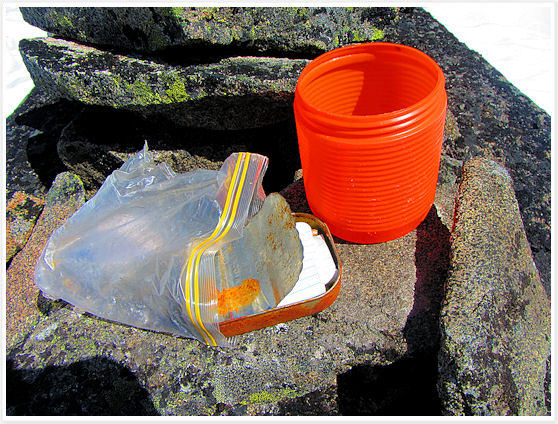 Taking a sun break on Belvedere Peak, staring at Mt Sir Sandford. I'll never get sick of this view.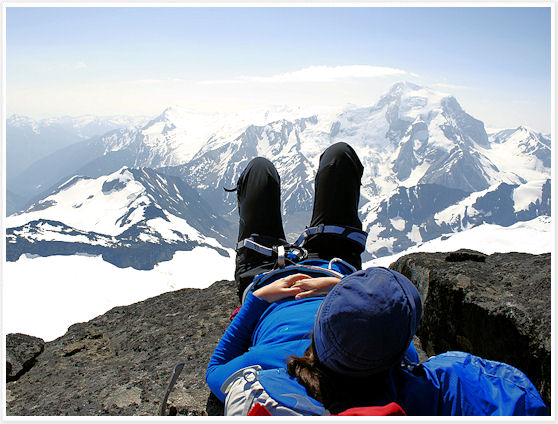 Another view from Belvedere Peak (can you guess now this was my favorite climb of the week?) – just the Rockies ad infinitum…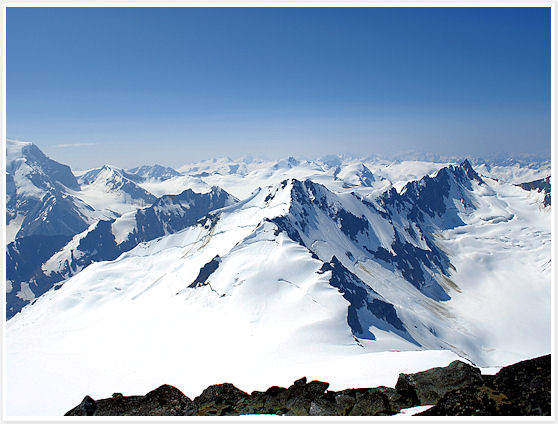 The other side of Belvedere was neighboring Blackfriars Peaks.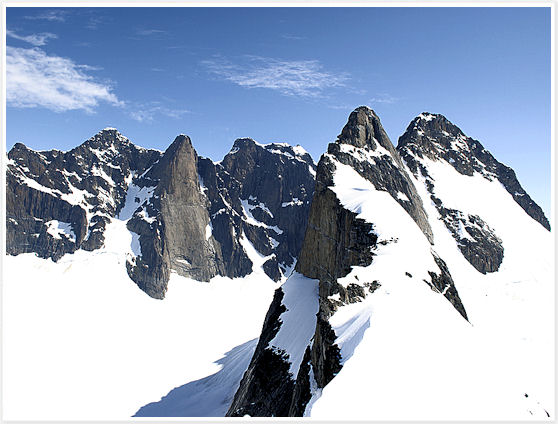 Sure, you can join the GMC like the majority of our group and go straight off climbing mountains on your first day there like you've done for many years, but us 'newbies' needed to attend 'snow and ice school' which is a very cool and very hands-on day where you learn everything from tying a bunch of knots to stopping yourself from a fall with your ice axe to building a snow anchor as shown below.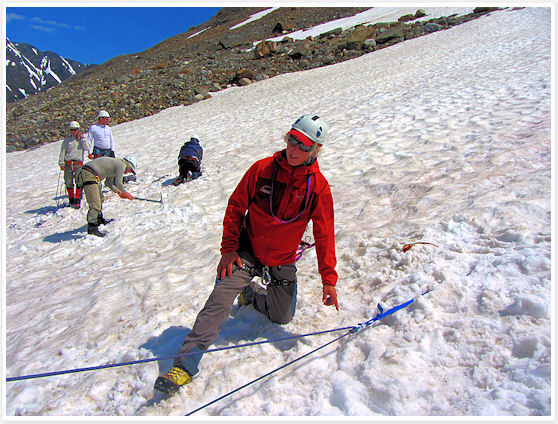 There are also 'days off' where if you don't feel like challenging yourself to a big peak, you can always attend the 'rock school' – so much better than learning rock climbing indoors! I honestly cannot think of a more perfect or beautiful setting.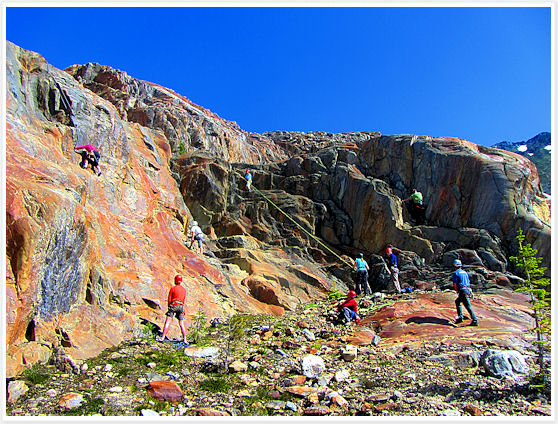 Rappelling was the easiest with my chunky mountaineering boots, the climbing not so much!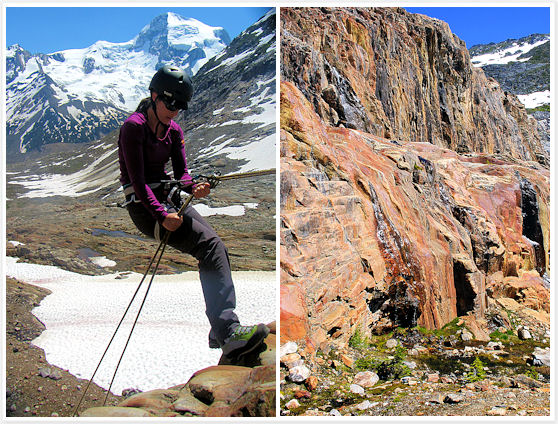 Another favorite activity on a day off (OK, I took two!) is to go hiking around the camp, there's still much to see and do at low altitude.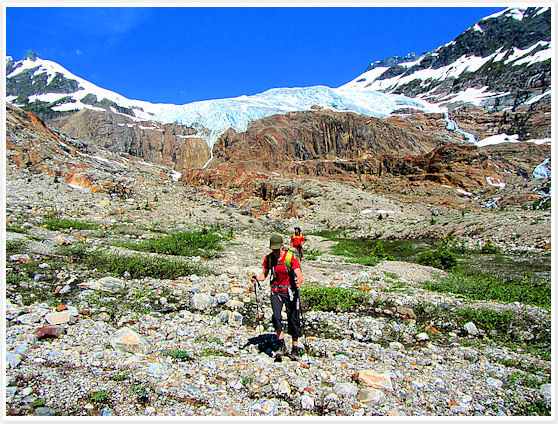 Since it's a day off you tend to look more closely at things, like flora and fauna (we did see a sort of silver alpine marmot too).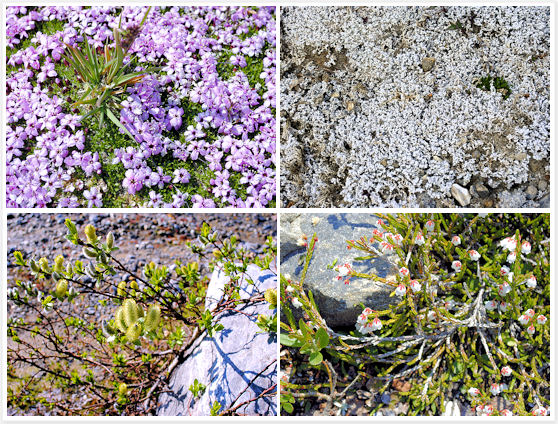 The hike has mainly two purposes: visiting the only permanent alpine hut in the vicinity and getting closer to Sir Sandford, the magnificent mountain in the background.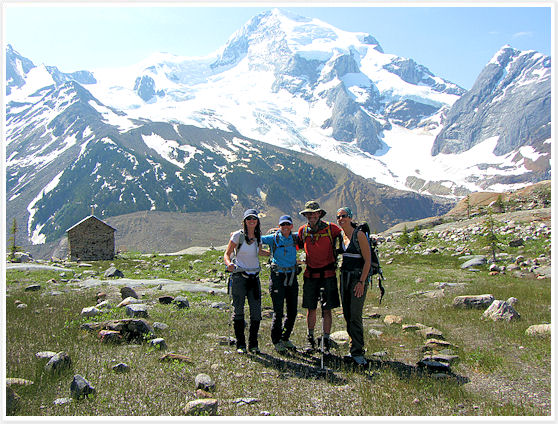 A close-up of Sir Sandford. That same day, a few of our best climbers went on a recon expedition (left at 2am) to see if an ascent of Sir Sandford would be possible. Alas, the snow was giving way, too dangerous to attempt until it freezes again!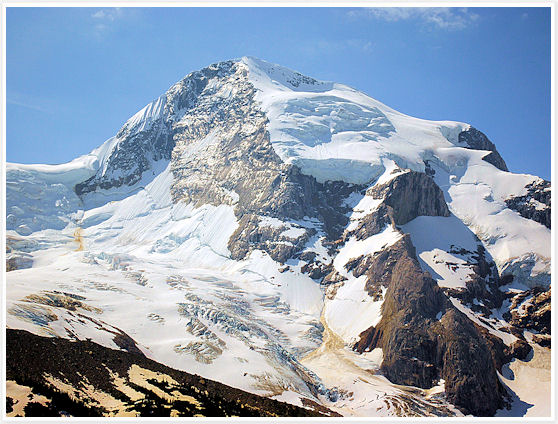 The Great Cairn Ben Ferris Hut is a spectacularly positioned hut from the Alpine Club of Canada, facing Sir Sandford, and was just around the corner from our camp. You'd need a solid day of mountaineering to access it in the summer or a helicopter ride in the winter.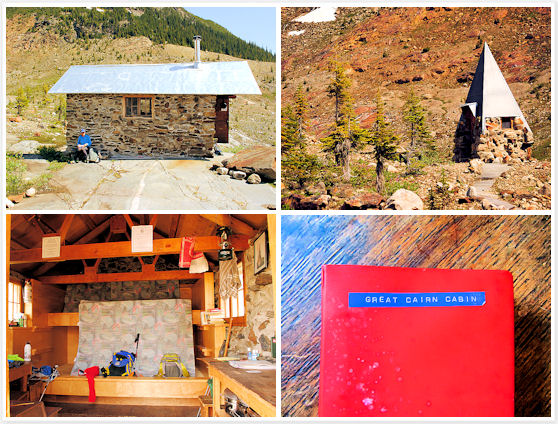 On my last day I climbed Palisade Mountain which still hadn't been explored that week so we had no idea what to expect! It was the perfect end to the week as it revisited everything we learned and challenged us by offering a mix of: steep rock scrambling and climbing, some snow, some slippery grass, good amount of exposure, a long and narrow ridge and of course splendid views all around.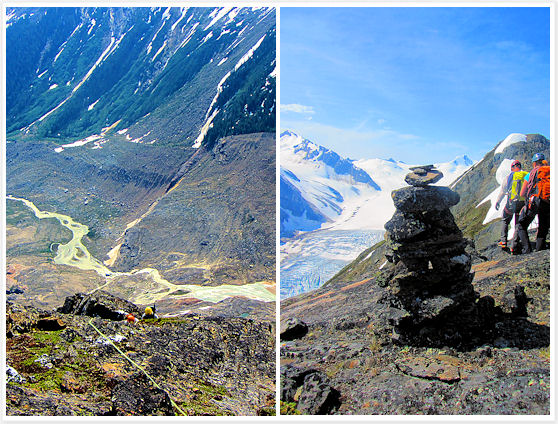 First climbers always encounter bottlenecks when the path needs to be cleared (or created in this case!).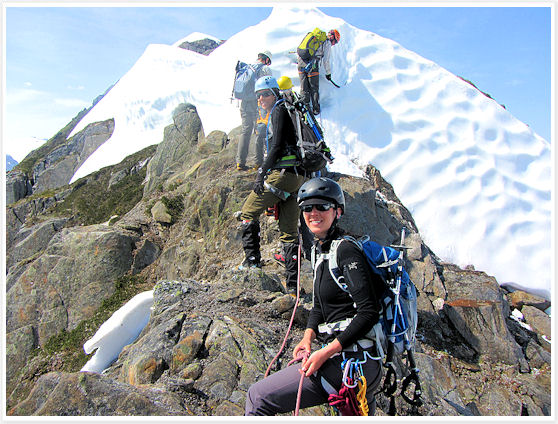 Another view of Sir Sandford and a gigantic glacier as seen from Palisade.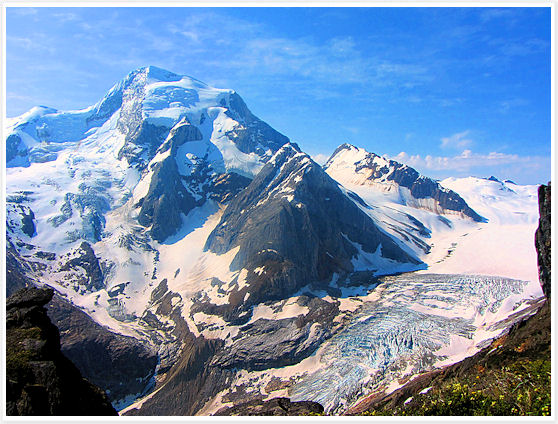 Sadly, the week eventually came to an end and with it arrived the helicopter to take us all down to civilization.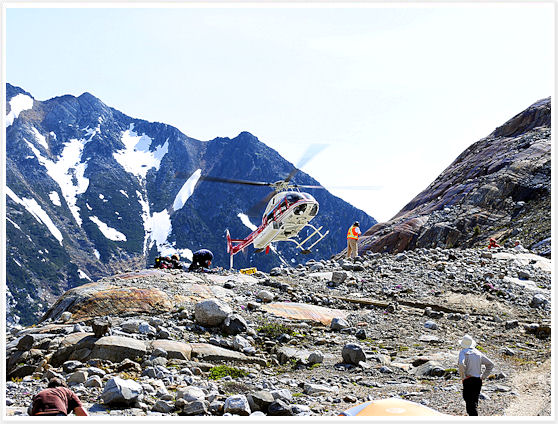 Our volunteer guides waved us goodbye as they were getting the camp ready for the other group of climbers arriving any minutes now.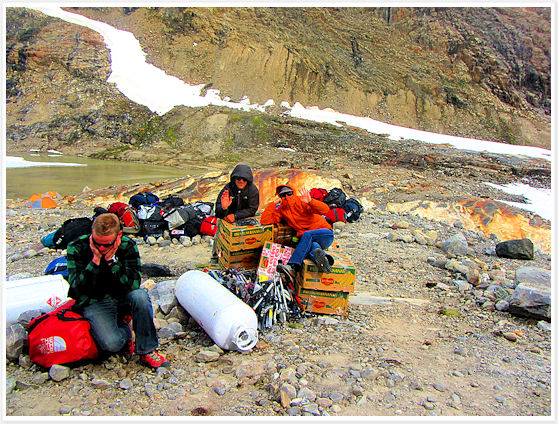 My final and last view of the camp, but definitely not my last mountaineering week!