While it may be fast and easy to throw a quick curry together these days with ready-made paste and coconut milk, there is something about the aroma and health benefits of using only fresh ingredients that'll make it a much more complex and balanced dish. This recipe caught my eye as it was calling for a fresh coconut instead of the usual canned milk and I have to admit, I had to this day never opened a coconut by myself before!
This was intriguing and appetizing enough to make me look for one in the ethnic food section of the grocery store and do a bit of research on the proper (and safe) way to get the fresh white meat. All you need is a towel, and hammer, a nail and a sturdy knife and you're good to go – just follow the steps outlined below and you'll be in coconut heaven!
It adds a bit to the prep time but the delicate flavors of the fresh coconut is such a perfect complement to the prawns you'll be glad you didn't reach for the can. Needless to say, skipping the calorific coconut milk and using yogurt instead makes it also a very diet friendly curry. Serve over steamed rice as I've done here or with Indian flatbread.

Prawn Curry
Adapted from Cooking at Home with The Culinary Institute of America
Active time: 45 minutes
Total time: 60 minutes
Makes 4 servings
  1 coconut ¼ cup clarified butter (ghee) or vegetable oil 1 yellow onion, chopped 3 tablespoons grated ginger 2 small jalapeños, seeded and minced 1 teaspoon ground turmeric ½ teaspoon ground cardamom ½ teaspoon ground cumin ½ teaspoon ground cayenne pepper ¼ teaspoon ground cloves 3 bay leaves 2 lb large shrimps, peeled and deveined 1 cup chicken broth 1 cup plain whole-milk yogurt 3 cloves garlic 2 tablespoons fresh lemon juice 2 teaspoons sugar 1 teaspoon salt 4 cups steamed white rice   *cornstarch slurry: 2 teaspoons cornstarch blended with 2 teaspoons cold water (optional)  

Place the coconut on a flat, level surface. Using a hammer and nail, pierce the 'eyes' (dark spots) at one extremity of the coconut and pour the coconut water into a bowl (line the bowl with a coffee filter if you intend to drink or use the water).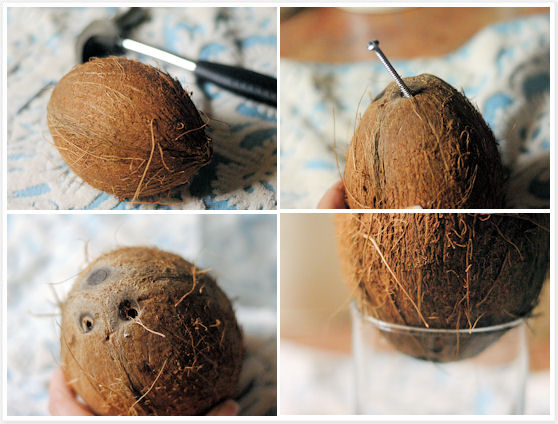 Wrap the coconut in a towel, then pound with the hammer until the coconut splits in several pieces. Unwrap, insert a sturdy knife between the hairy brown shell and coconut meat , and carefully twist to release the meat from the shell (my shell got separated easily when I split the coconut so you may not have to do this). Peel off the remaining thin brown skin with a vegetable peeler. Chop or grate ½ cup of the white nut meat and reserve the leftover coconut meat for another use, like snacking!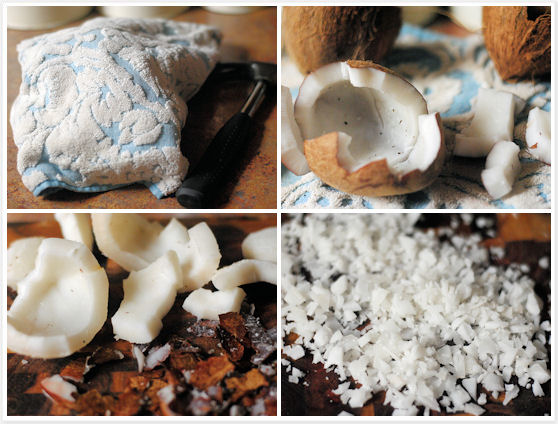 Heat the clarified butter in a sauté pan over medium heat. Add the onion and sauté until golden brown, 6-8 minutes. Remove with a slotted spoon and set aside.
Add the coconut, ginger, jalapeños, turmeric, cardamom, cumin, cayenne, cloves, and bay leaves to the pan and sauté until very hot, about 3 minutes.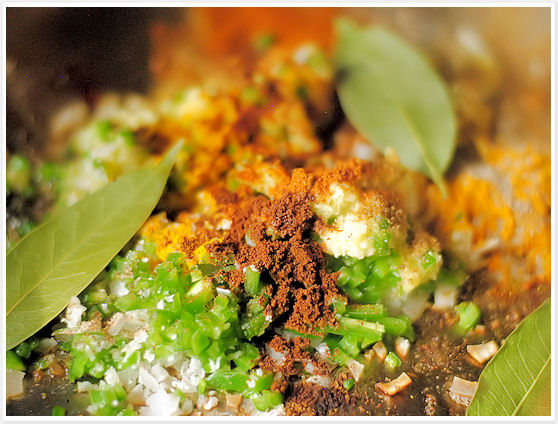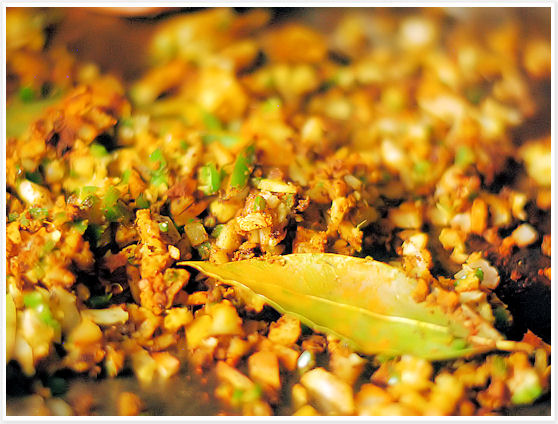 Add the shrimps, broth, yogurt, garlic, lemon juice, sugar, salt, and cooked onion and simmer until the shrimps turn pink and are opaque throughout and the dish is very aromatic, about 5 minutes.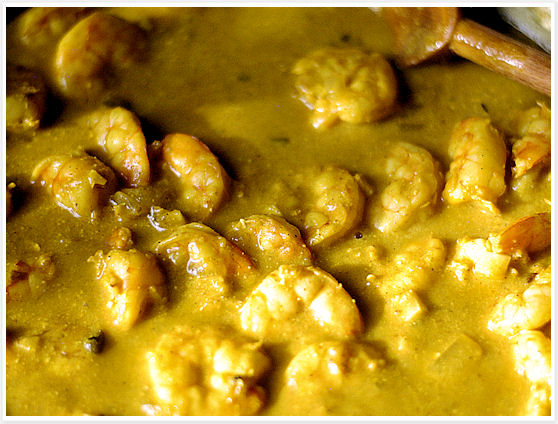 If needed, add just enough of the cornstarch slurry while stirring to thicken the sauce slightly. Remove and discard the bay leaves.
Serve the curry with steamed rice.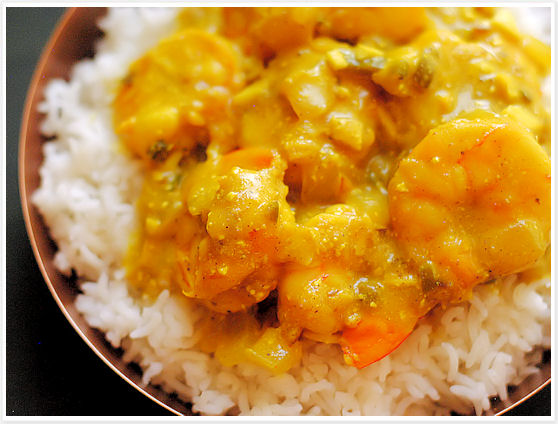 Print This Post