On my way to a wedding in the Scottish Highlands this summer, I briefly stopped in Glasgow to get a glimpse of its famed architecture and of course a few bites of the best food the city has to offer.
Armed with a walking map pointing to the main architectural works from Mackintosh and others, I wandered around the city center, staring at gorgeous Victorian and Edwardian buildings all afternoon.
George Square, heart of the city, is dominated by the Glasgow City Chambers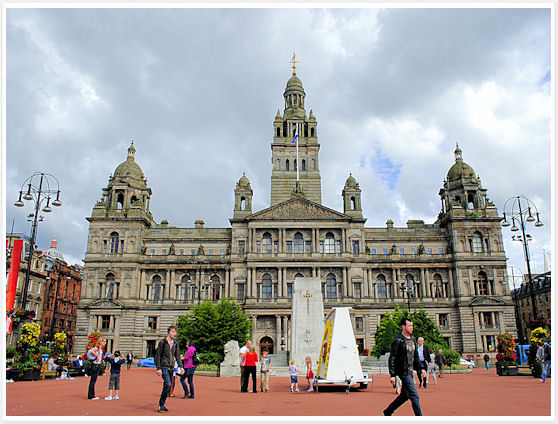 A few Art Nouveau buildings stand out in pure Glasgow style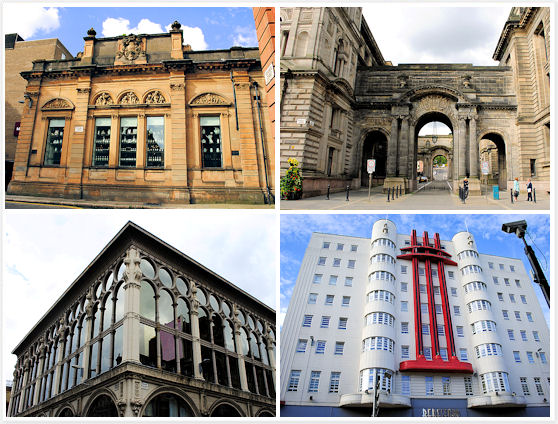 Elegant Exchange Place holds the Art Deco front and interiors of Rogano's Oyster Bar (11 Exchange Place), an institution since 1935. The restaurant was decorated after the 'Queen Mary' liner in pure Art Deco style and is a quintessential Glasgow experience. The unique 1930s ambiance, friendly vibe, and traditional seafood menu close to all the main tourists sites and shops makes it a must visit.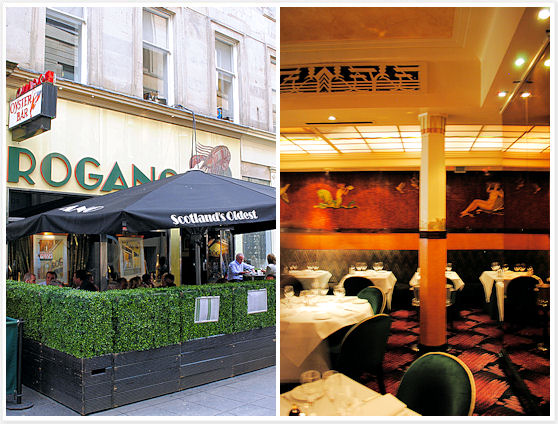 Of course, Rogano is famous for its oysters as well which I indulged in accompanied by a glass of rosé Champagne. The bar is the place to savour them and in no time you'll be chatting up with the locals and getting a few more tips on what to see and do.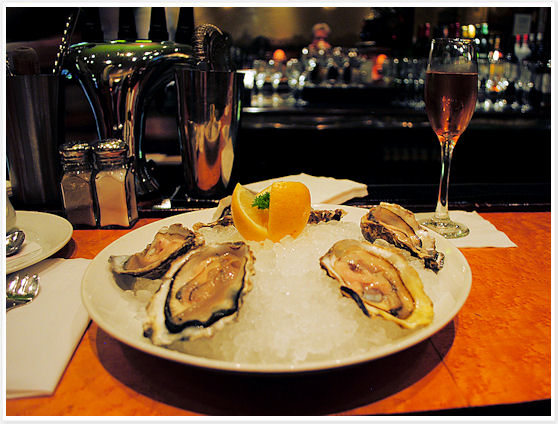 To the east of the city center stands Glasgow Cathedral, an austerily magnificent Gothic building. The only medieval cathedral on the Scottish mainland to have survived the Protestant Reformation of 1560 intact, it is the finest building surviving in Scotland from the 13th century and well worth a peak inside.
On a hill behind the cathedral you'll also find the Necropolis, or Glasgow's City of the Dead. It is one of the very finest and most impressive 19th-century cemeteries in Britain and was inspired by the Père Lachaise cemetery in Paris. It offers great views across the city and makes for a very pleasant walk through its winding paths. Many of the monuments and mausolea have been designed by the best architects and sculptors of that time so it is like walking in an outdoor museum – loved it!
All that walking has built up my appetite so I headed West to have dinner at one of the city's hottest restaurants – seafood specialist Crabshakk (1114 Argyle Street). The chic, urban sea-themed restaurant is all clean lines, wood, chrome and glass, making you feel like you're on board of a very special vessel. The place is super small and you can either sit at the bar like I did or at one of the tiny tables which have been crammed into the tiny shopfront space. The vibe is relaxed and lively at the same time, and everyone is here to enjoy the fresh Scottish produce which is some of the tastiest I've had.
The menu showcases Scottish fish and shellfish, simply prepared, unfussily presented and bursting with flavors. Crab cakes, a house specialty, were generously stuffed with white crabmeat spiked with chilli and parsley and infused with lemon. Simple presentation yet it packed a  punch and I can easily say these were the best crab cakes I've ever had, just unbelievably good.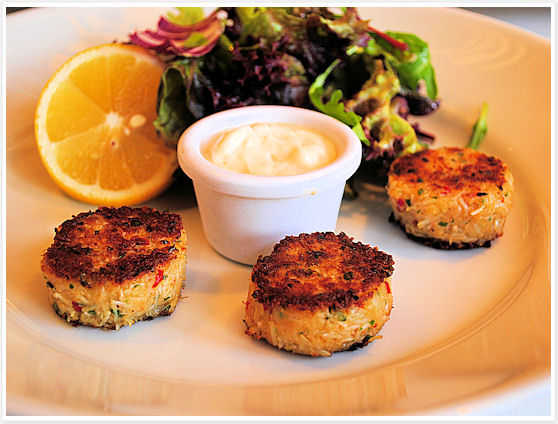 The daily specials are apparently always a treat, and almost never repeated twice. I ordered the Roast baby squid with confit duck and chanterelle. It came out sizzling in the pan juices, the squid taking on the taste of the duck fat…it was insane. I wish I've had a piece of bread to soak up whatever remained in the pan after I cleaned it all up, every drop was heavenly. A good glass of Chablis and an affogato to finish the meal, I can honestly say this was one of the most enjoyable meals I've had of late, and definitely the finest Scottish seafood to be had around. Well worth a detour if you ask me!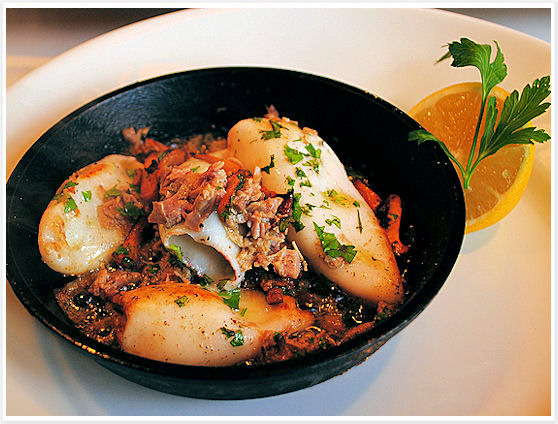 My second day in Glasgow started with a traditional Scottish porridge in the lovely setting of the Willow Tea Rooms (217 Sauchiehall Street) which were a few blocks from my hotel, the Citizen M. Another famous work from Mackintosh, they are the most famous of the many Glasgow tearooms since their opening in 1903, even though they've been sold to a department store since then and are now accessed through the storefront of a jewellery shop. They make for a lovely tea break, admiring the bright and feminine decor made famous over a century ago.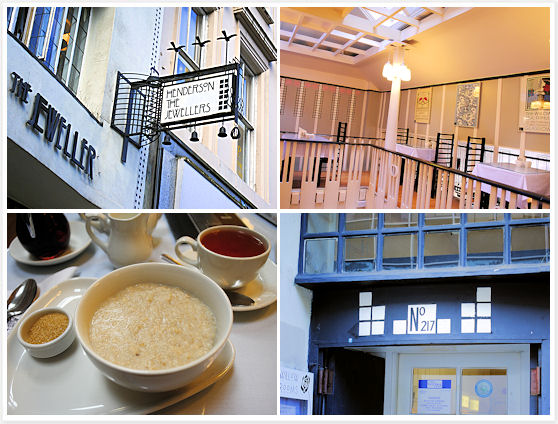 Then it was off to the West End, Glasgow's bohemian district filled with cafes, bars, boutiques, upmarket hotels as well as beautiful residential areas. You can't miss the Kelvingrove Art Gallery and Museum by Kelvingrove Park. It houses one of Europe's great civic art collections, many paintings from the Glasgow Boys as well as a few other key pieces such as the iconic Salvador Dali painting Christ of St John of the Cross.
Once you've seen enough (and you can spend a lot of time inside the museum!), head to nearby Gibson street for lunch at Stravaigin (28 Gibson Street), a long-time West End favourite and the only restaurant in Glasgow to have finally caught the attention of the Michelin men, having been awarded with a Bib Gourmand in 2012. The warmly  lit pub is so inviting, I ended up enjoying a 3 course meal at a very leisurely pace, book in one hand and a generous glass of red wine in the other…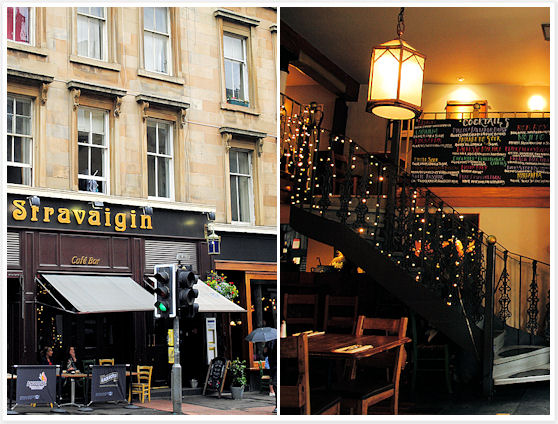 "Think Global, Eat Local" is what Stravaigin is all about so the menu reads like a creative and ethnic take on Scottish cuisine to great effect. They're especially known for their award-winning haggis so I had to have it, served of course with mashed neeps (turnips) and tatties (potatoes). It was simply wonderful: earthy, moist with a little kick of spice. That was a good start.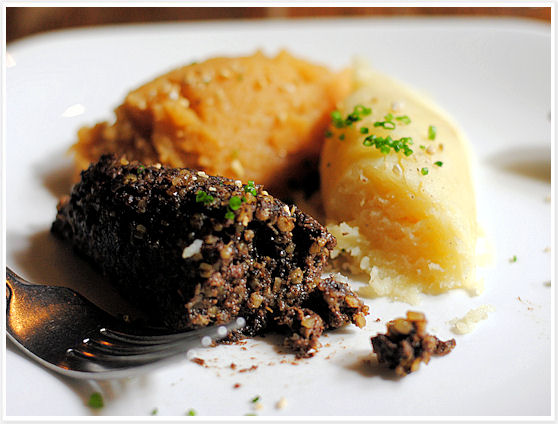 My second course was Haloumi, harrissa and roast vegetable flatbread with labneh, watercress and toasted pinenuts, a nod to the global ethos the restaurant is known for. It was pretty good though completely overshadowed by the amazing haggis I just had!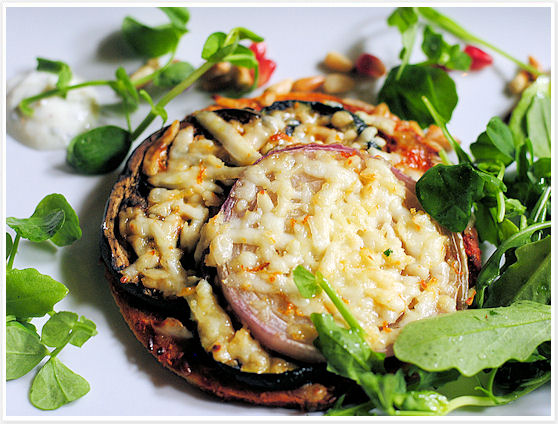 For dessert, an excellent Salted peanut, caramel and chocolate tart with amaretto ice cream and honeycomb. Just with a name like this, you know this was the bomb!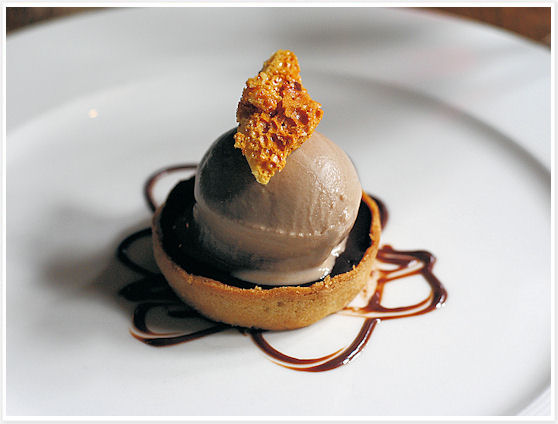 A few blocks away you'll find the University of Glasgow, the grandest Victorian Gothic building in Glasgow. It is worth walking round or through the buildings to stand on the south-facing terrace below the tower. From here there is a splendid view south over the city to the other side of the Clyde river.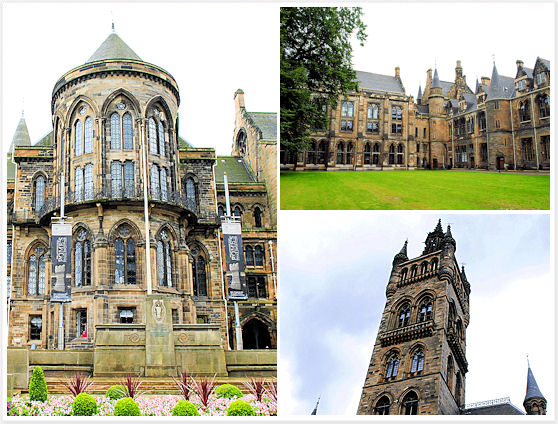 A short walk to the West leads to popular Byres Road, the commercial artery of the West End which is lined with cafes and shops. If you follow it to the end (it is not that long), you'll arrive straight in front of the Botanic Gardens. It's worth taking a quick stroll especially to admire the Kibble Palace, an enchanting bubble of iron and glass. It is one of the great conservatories of the 19th century.
To kill a bit of time before dinner (since my plans are always only limited to food!), walking out of the Botanic Gardens you can go and explore a few of the residential neighborhoods which have lovely terraces and examples of fine architecture.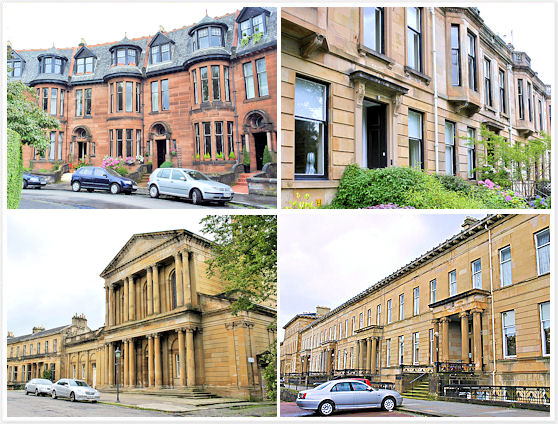 Dinner and my last meal in Glasgow before heading in the highlands had to be at the Ubiquitous Chip (12 Ashton Lane) or 'The Chip' as it is known here.The most famous fine-dining establishment in the city, it's been serving some of the best Scottish produce with a French flair in an open plan courtyard, with lush greenery entwined around pillars for a very unique setting. If you're feeling a bit more casual like I did, you can also dine in the brasserie upstairs in the same room with a more relaxed vibe and menu, but no less delicious!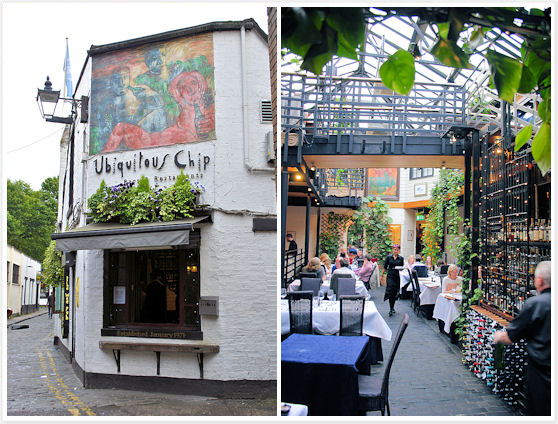 I started with a daily special – warm salad of shiitake mushroom, parsley, blue cheese and pickeld chanterelles.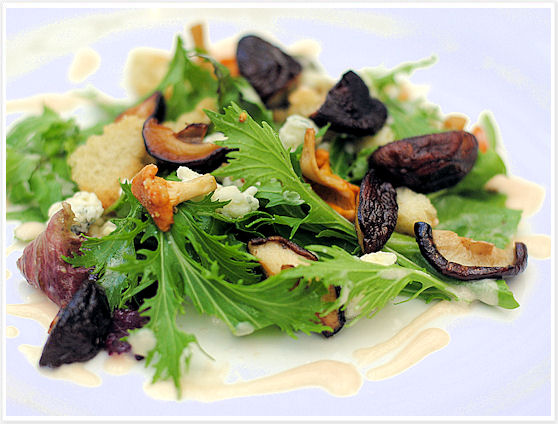 You can't come to Scotland without a taste of their Inverurie beef so I followed my salad with a Slow cooked ox cheek with pancetta potato cake and rosemary pesto – meltingly succulent.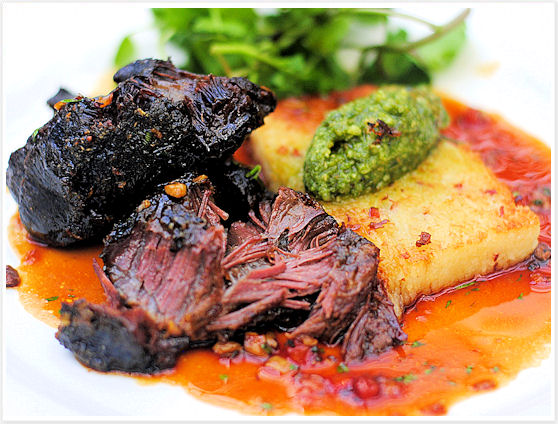 No place for dessert this time but looking back at the past two days, I can honestly say I never imagined Glasgow would be the culinary destination it turned out to be. Every single meal was memorable and worth repeating which I don't recall saying too often when living just south of here in London. The city is clearly on a mission to keep Scottish food and Scottish producers firmly on the culinary map and they're doing an amazing job at it. Hope my friends in London will take a hint and travel north sometime soon…