No matter where you travel to, it seems like every culture has its own take on bread. It is a staple of every cuisine yet so distinctly different from one place to the other that we'll probably never eat the same bread twice. I'm always fascinated by just how much a few ingredients and local techniques can produce such varied results, whether sweet or savory, for breakfast or tea time, etc.  Learning to make bread is I think a unique chance to have a taste of what is often a daily and very sacred ritual in many countries.
Tahini and Black Sesame Bread Swirls are originally from Lebanon and not only have unusual ingredients but also require a pretty unique technique to make them. These flattened flaky swirls are flavored with tahini and sugar, have a moist, almost cakelike consistency, and are usually eaten at tea time though I've sneaked in a few at breakfast!
They're fun to make at home, especially since they're best eaten warm, either on their own or with your favorite jam or some hummus. Contrary to what you might think, especially after seeing the quantity of sugar used here, they're actually not too sweet. Biting into these thinly stretched layers of crispy dough with a nutty and caramelized sesame filling is a guaranteed escape to the Middle East and a deeper appreciation for the art of bread making.

Tahini and Black Sesame Bread Swirls
Adapted from Purple Citrus and Sweet Perfume
Active time: 60 minutes
Total time: 3.5 hours
Makes 12 bread swirls
  3 tablespoons warm (105° to 115°F) water 1 teaspoon active dry yeast 1 1/3 cups plus 1 tablespoon sugar 3¾ cups all-purpose flour 2 teaspoons ground cinnamon 2 teaspoons sea salt 2 tablespoons olive oil ½ cup tahini, plus more for topping 3 tablespoons black sesame seeds, plus more for topping  

Mix the warm water and yeast in a small bowl. Add 1 tablespoon of sugar, stir and set aside for about 10 minutes until it becomes frothy.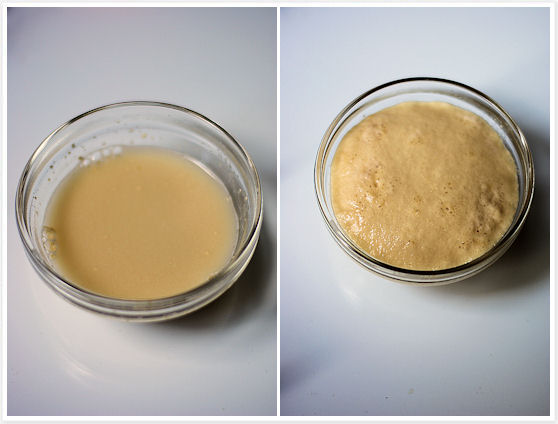 In a separate bowl, combine the flour, cinnamon and salt. Add the yeast mixture, the olive oil and about 1 cup of water, stirring to make a rough dough.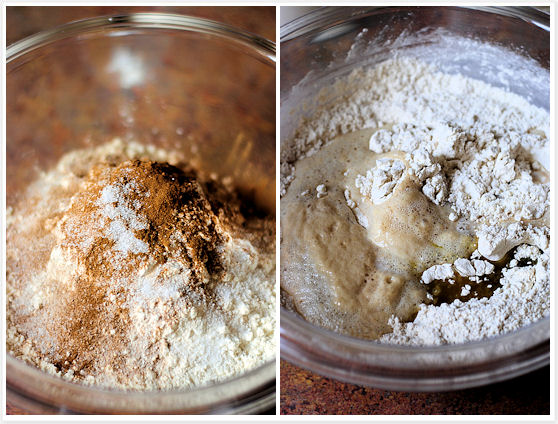 Turn the dough out of the bowl and knead on a floured surface for 8-10 minutes, until smooth and elastic. Return the dough to the bowl, cover with plastic wrap and let rise 2 hours. Divide the dough into 2 balls, cover again and let stand for 10 minutes more.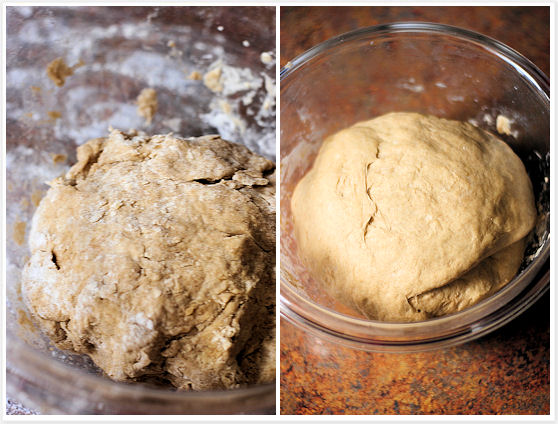 Preheat the oven to 400°F. Line a large baking sheet with parchment paper. On a floured surface, roll a dough ball into a very thin 24-inch-diameter round (or close to), occasionally letting the dough rest for 2 minutes or so if it becomes too elastic to roll. Cut a 1-inch hole from the center of the round.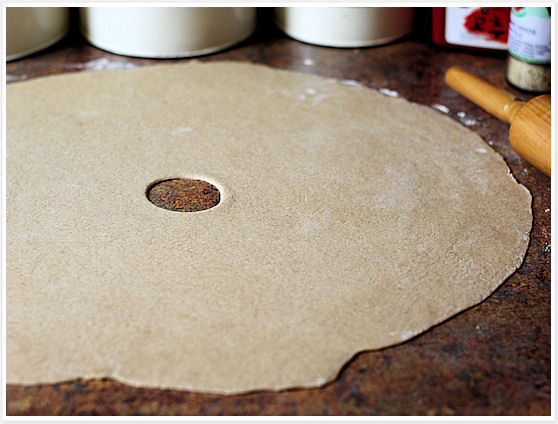 Spread the dough with ¼ cup tahini, then sprinkle with 2/3 cup sugar and 1½ tablespoons sesame seeds.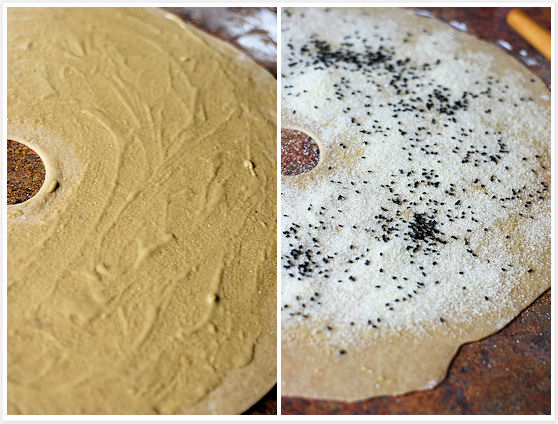 Using your fingers, roll up the dough from the hole toward the edge of the round, like rolling a pants cuff, to create a ring of dough about 12 inches in diameter. An unusual technique, but this is how it's been done for centuries!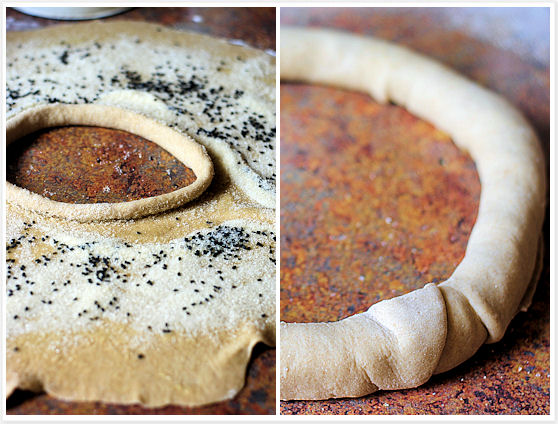 Cut the rope into 6 equal pieces. Coil each like a cinnamon roll, arrange on a baking sheet, then tightly flatten. Spread each with a little additional tahini and sprinkle with sesame seeds. Repeat with the remaining ingredients.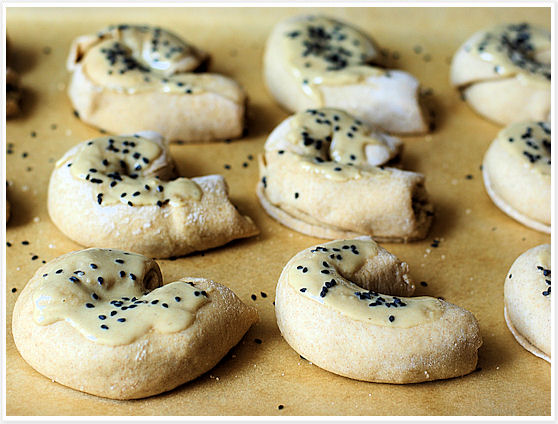 Bake for 25-30 minutes, until browned.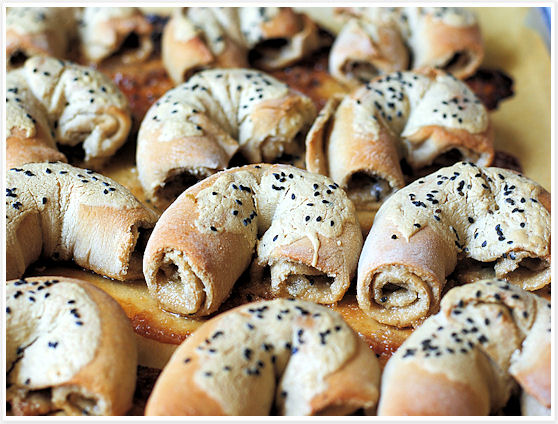 Serve warm with hummus or jam.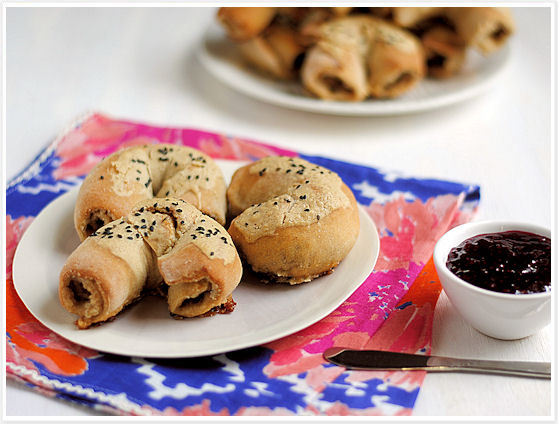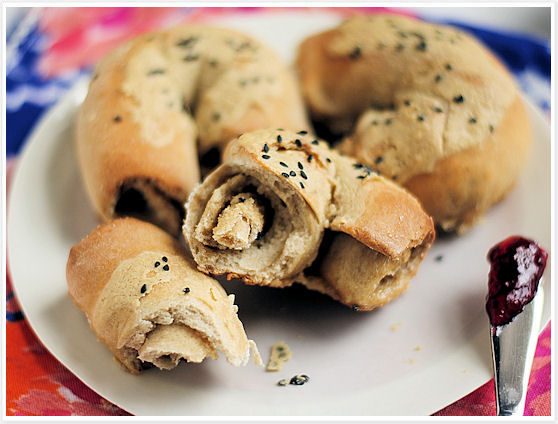 Print This Post