Now that summer is coming to an end, I'm starting to feel the need to drink as much rosé wine as possible before the cold renders it 'unseasonal'. Since my lovely trip to Provence a few years ago, I've always associated a good rosé with this enchanting region of France, firstly because I discovered there one of my favorite, Rosé de Tavel, and also because the food of Provence with its sun-ripened vegetables, fresh herbs and splendid olive oil is to me the perfect companion to the summary wine.
Cooking a Provencal dish in my kitchen is a delight I can't get enough of: the windows are open letting in a gentle breeze, the sun is shining through, I have a glass of cold rosé in my hand and the air is filled with the aromatic fresh herbs on the windowsill and Bach playing in the background. I guess I'm constantly visualizing my ultimate dream of settling down in the south of France and throwing dinner parties outdoors in the field, outside my old stone house… In the meantime though (!), I'll keep on daydreaming from my Brooklyn kitchen by making succulent Provencal dishes such as this rabbit recipe, using fresh and simple ingredients and a lot of good wine!
This is a simple summery dish, extremely easy to make and a good way to try rabbit if you've never had it before. It's a rather uncommon meat in the US though hugely popular in much of the rest of the world, especially in Europe. Rabbit is a very healthy meat, low in fat and high in protein. As it is drier than chicken and leaner, it does well with slow cooking recipes with liquid, which is the case here, for best flavor and texture.  The flavors are fresh and mild; don't be shy with the basil. Serve the rabbit in a pasta or shallow bowl with some good crusty bread to soak up the delicious rosé broth… and of course don't forget your glass of wine if you haven't finished the bottle already while waiting for your rabbit to cook!

Rabbit with cucumbers, tomatoes, rosé and basil
Adapted from the Dock Kitchen Cookbook
Active time: 30 minutes
Total time: 2 hours
Makes 4 servings
  1 rabbit, jointed (front legs, back legs and saddle cut into 2) sea salt freshly ground black pepper a couple of glugs of olive oil large pinch of saffron 1 small sweet red onion, very thinly sliced 3 garlic cloves cut into little chips ½ bottle of
Provençal rosé wine
4 small cucumbers, cut into little wedges 350g tomatoes (the best you can find, whatever is tastiest) cut the size of the cucumbers big handful of basil  

Firstly, if like me you didn't get your rabbit already butchered, you'll need to do the work yourself!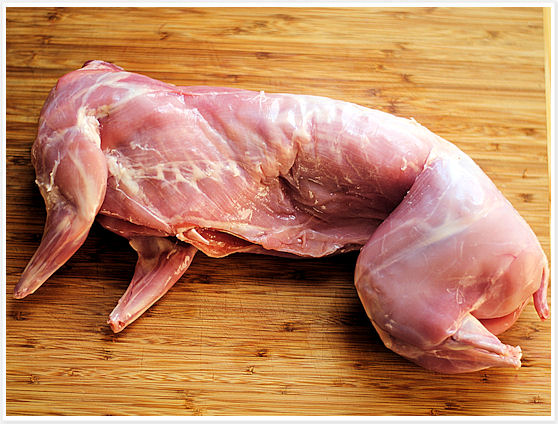 Here's how to do it:
Lay the rabbit on the chopping board with the rib cage facing upwards, and the small front legs to the left. First, using a small boning knife, cut off these legs. You do this by working the knife along the join between the leg and rib cage, until the joint comes clean away. We call these small front legs 'shoulders'. Now cut off the two larger rear legs.
You will find a small hip and thigh joint just below the rump. It is easy to tease the joints apart with the tip of your boning knife, while you very gently pull the leg away from the hip. You now have a very neat pair of legs. All that will be left is the saddle, with rib and neck attached which you can now just cut in half using a good pair of kitchen or poultry scissors, voila!
Preheat oven to 180°C/350°F. Put the rabbit joints in a deep roasting tray and season with salt and pepper, olive oil, saffron, onion and garlic.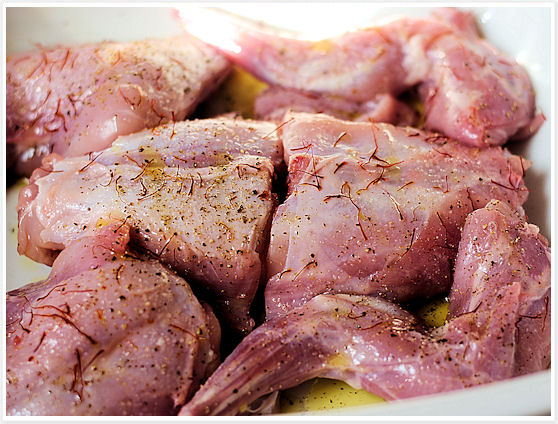 Pour in the wine and seal with foil, then bake for an hour; the rabbit should be tender but not browned.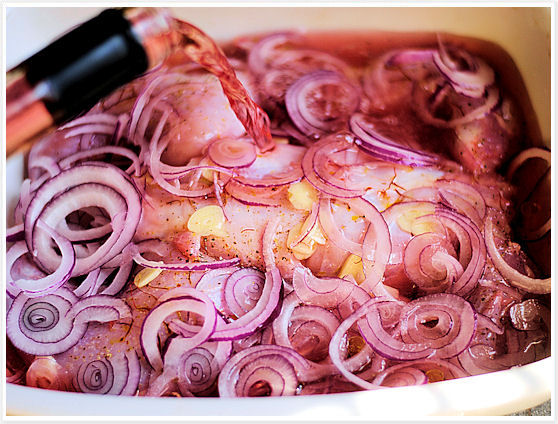 Remove the tray from the oven and increase the oven temperature to 220°C/425°F. Add the cucumbers and tomatoes and drizzle with a little olive oil.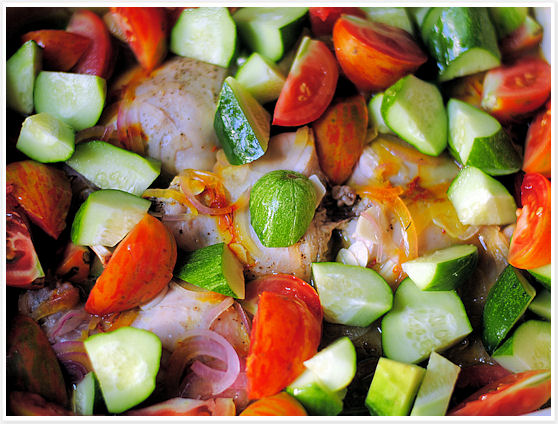 Return the tray to the oven, uncovered, and roast until nicely browned and the tomatoes and cucumbers are cooked.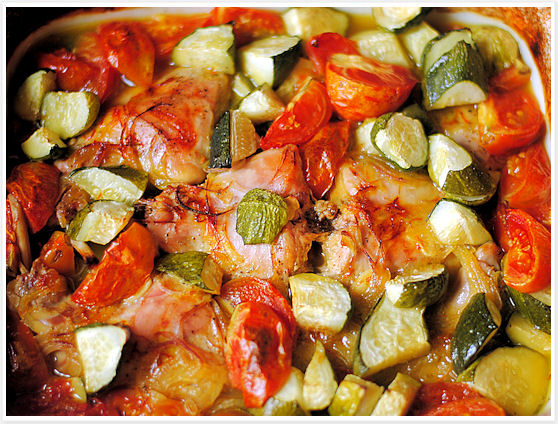 Throw in the basil and serve with a glass of rosé and a hunk of good bread.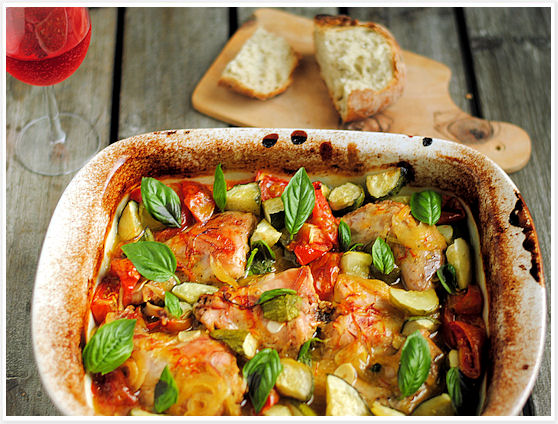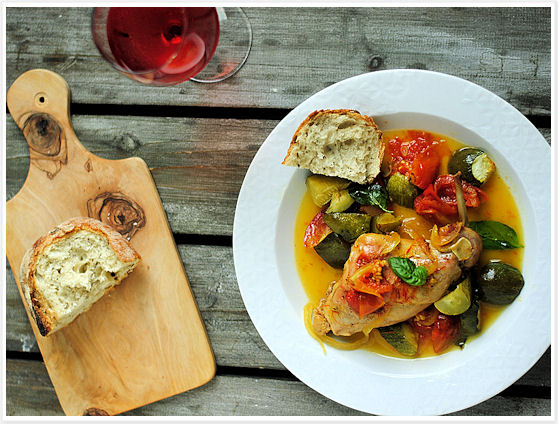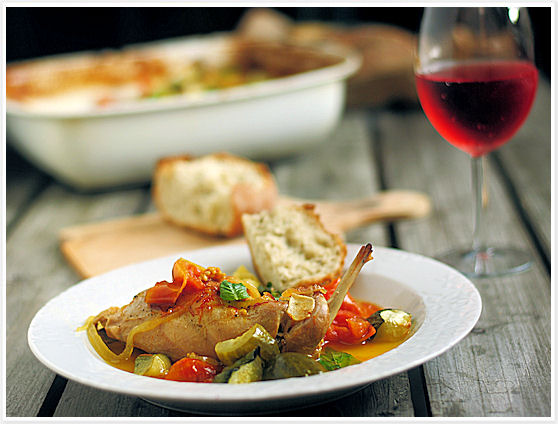 Print This Post