Salmon pies have always been a staple in my family and I believe in many other French Canadian kitchens. My mom would make the dough with Crisco and I'd help her mix mashed potatoes with canned (yes… canned) salmon and then cover the pie with dough, brushing some milk over it. My favorite part was getting all the leftover dough scraps together to rework them into decorations for the pie that I would then scatter over the top. I've always had a creative bend from a very early age so the pies could turn into anything from a Christmassy landscape to a flower show to an attempt at recreating wild animals.
I've grown up since but I still love the comfort of a salmon pie and my creative side is still very much present! While I wouldn't hesitate out of nostalgia recreating the pie my mom used to make and reliving those childhood memories, this 'Wild Salmon and Summer Vegetables Pie' is a fantastic uptake on the classic and much closer to the way I eat today. Loaded with fresh vegetables and all the benefits and deliciousness of wild salmon, this is one super healthy dish and ideal for this time of year when temperatures start to drop slowly, we begin craving warmer meals and want to take advantage while it's still time of all those colorful vegetables at the farmers market.
This pie is a meal in itself without feeling heavy and you can even have it cold the next day. It's perfect for a picnic or party with friends and the lattice pattern on top could very well turn into any artistic canvas if you so desire.

Wild Salmon and Summer Vegetables Pie
Adapted from Food and Travel Magazine
Active time: 1.5 hours
Total time: 2 hours
Makes 6 servings
For the pastry
375g plain flour 188g butter, softened 113g Parmesan cheese finely grated 1½ egg yolks  
For the filling
3 tablespoons olive oil 1 medium onion, finely chopped 2 sticks celery, finely chopped 1 small leek, finely chopped 2 medium carrots, coarsely chopped 284ml heavy cream 1 tablespoon cornstarch 3 tablespoons milk 3 tablespoons cooked peas 500g wild salmon, skinned and cut into bite-sized chunks Large handful of baby spinach leaves 2 ripe tomatoes, seeds removed and chopped Handful of chives, finely chopped 1 teaspoon chopped tarragon 1 tablespoon chopped chervil   1 egg, beaten 1 tablespoon milk   A4 size (20cm) rectangular loose-bottomed fluted tart tin  

Preheat the oven to 180°C/350°F. For the pastry, rub the flour and butter together until the mixture resembles fine breadcrumbs.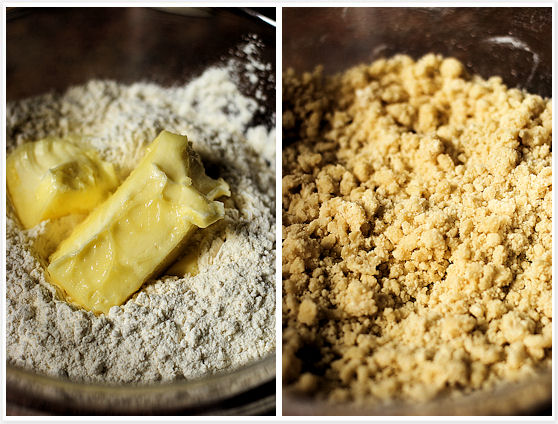 Add a large pinch of sea salt and all but a tablespoon of the Parmesan, then add the egg yolks and enough ice-cold water to bring the mixture together to form a soft dough. Wrap in cling film. Leave to rest in a cool place.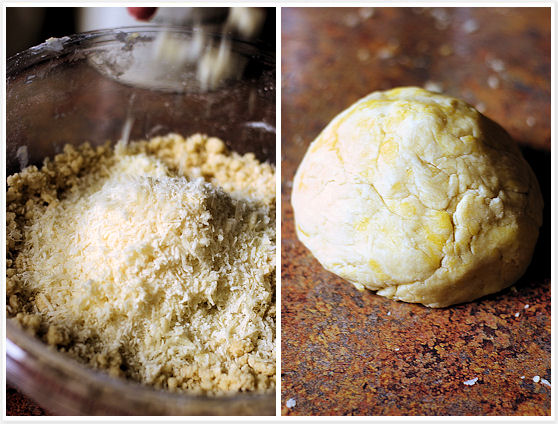 Meanwhile, heat the oil in a large frying pan over a low heat and add the onion, celery and leek. Cook for 5 minutes until softened. Add the carrot and cook for a further 5 minutes, until it starts to soften. Pour in the cream. Mix the cornstarch with the milk and add this to the pan, stirring all the time.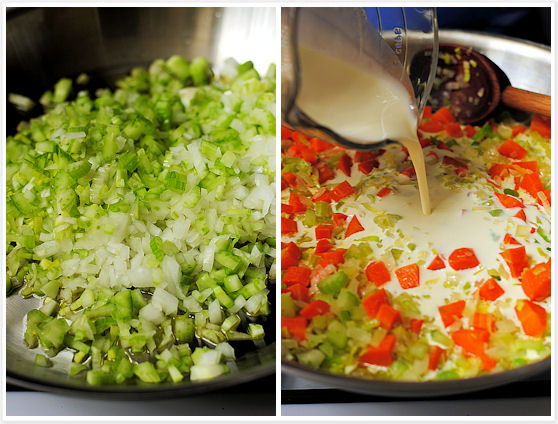 Raise the heat a little and cook for 3-4 minutes, until the mixture is thickened and the floury flavor has gone. Stir in the peas, salmon chunks and spinach.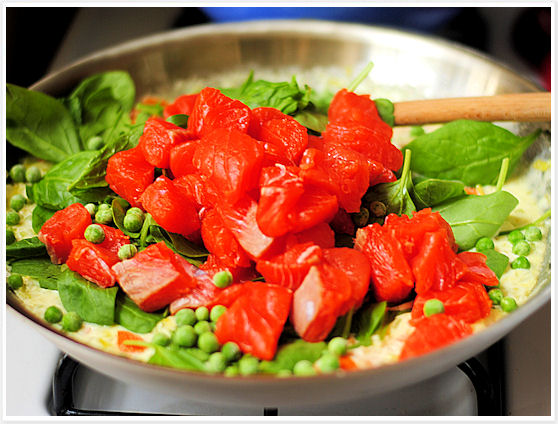 Add the chopped tomatoes and the herbs. Season to taste.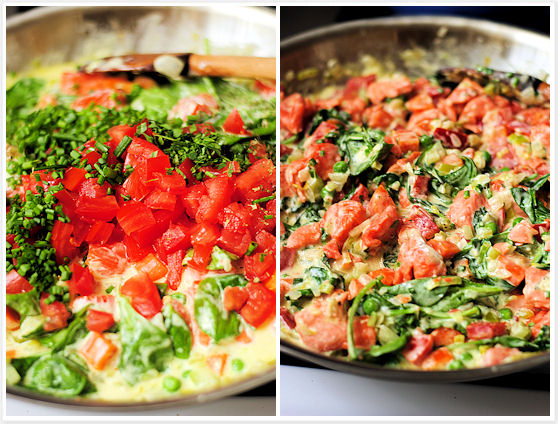 Divide the pastry in half and roll out one half to line the base of the tin.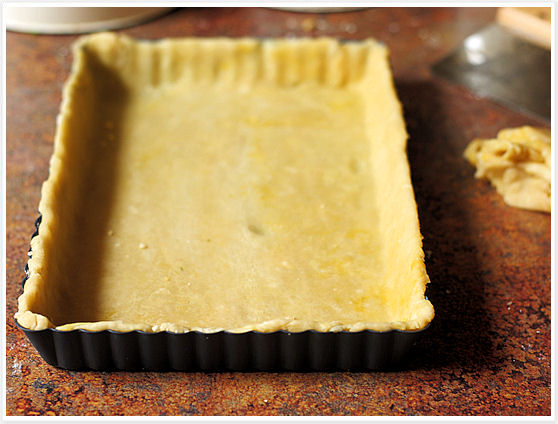 Roll out the other half and cut into stripes about 1cm wide. Spoon the filling into the tart tin and use the pastry strips to form a lattice pattern on top of the tart, re-rolling as necessary.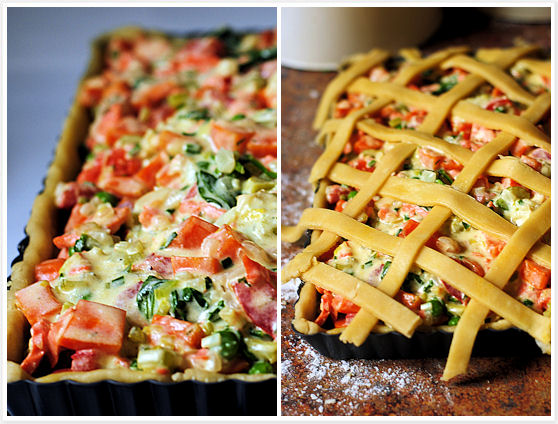 Mix together the egg and milk and brush over the pastry strips. Scatter over the remaining Parmesan and bake for 25-30 minutes, until the pastry is golden and crisp. Serve warm or cold.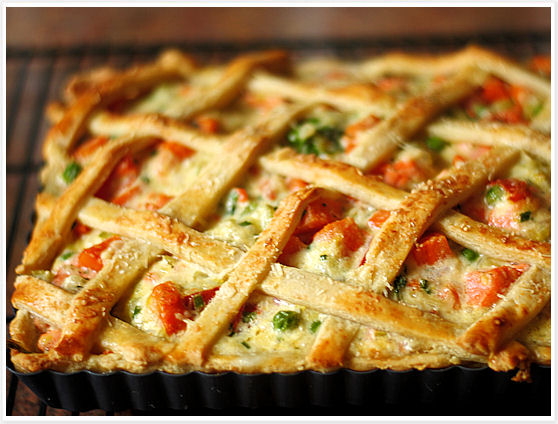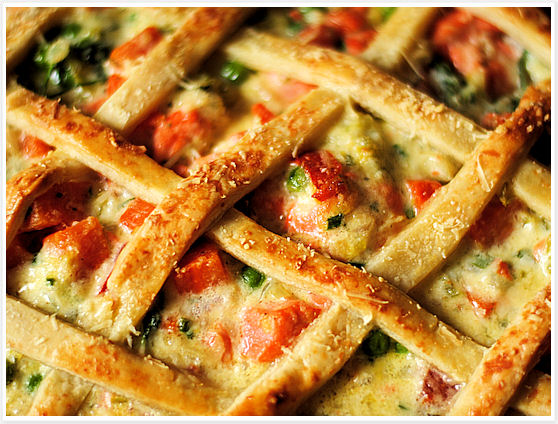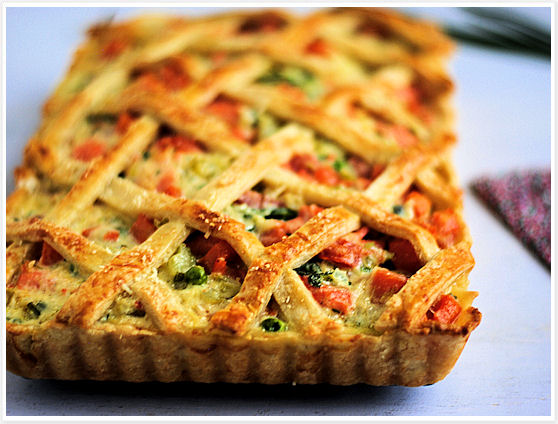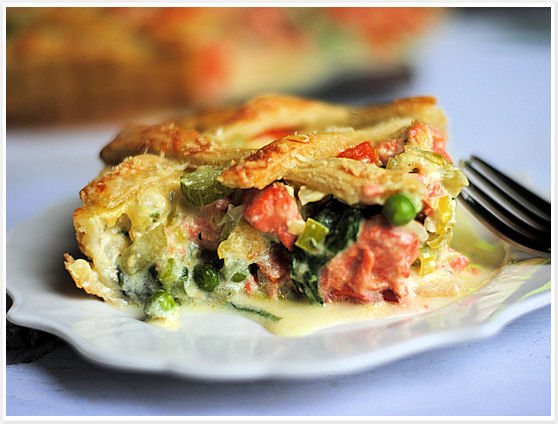 Print This Post