Walking around my neighborhood this past Sunday, I got immediately reminded that football season had kicked off within minutes of reaching the main street. The gorgeous weather had opened up all the bars and pubs, spilling frantic TV watchers onto the sidewalks and filling the streets with the usual shouts and exclamations. Those lucky enough to have a bar seat or table were happily scarfing down the usual sandwich or burger and beer, seemingly happy no matter what the outcome of the game (or so it appeared!).
Watching football and eating have always gone hand in hand and it's probably the one occasion where you can literally pig out on pub classics without feeling 'too' guilty. I love how bars and restaurants pull out monstrous portions for the crowds and I was looking for a way to reproduce somehow this trend at home for when you have a casual get together in front of the TV. A giant steak sandwich like this one fits the bill perfectly, is über tasty and a super fun way to feed a small crowd quickly and of course healthily.
The basis of a good steak sandwich is to have your meat pounded fairly thin, marinated or lightly seasoned, and quickly fried over a very high heat for that perfect savory crust and juicy pink center. Add some vegetables and good crusty bread and you've got yourself a complete meal that you can hold in your hands – perfect for couch surfing. This steak sarnie (British term for 'sandwich') feels light with the brightness of the rocket leaves and sweetness of the roasted red peppers, almost a simple steak salad on toast, though it's still pretty filling. Whether you'll be making it for Sunday afternoon football or an alfresco lunch, make sure you leave it whole when bringing it to your guests before cutting it up into individual portions, it just makes it so much more impressive.

Steak Sarnie
Adapted from Jamie's 30 Minutes Meals
Active time: 20 minutes
Total time: 20 minutes
Makes 4 servings
  2x 300g best quality rump or sirloin steaks 2 sprigs of fresh thyme 1 ciabatta loaf a small handful of jarred peppers a couple of sprigs of fresh flat-leaf parsley horseradish sauce, to serve a large handful of prewashed rocket, to serve

Put a griddle pan over medium heat and turn the oven grill/broiler on. Put the steaks on a board. Sprinkle with salt and pepper, pick and scatter over the thyme leaves, and drizzle with olive oil. Rub the flavors into the meat, then flip over and repeat on the other side. Pound the steaks once or twice with your fists to flatten them a little, then put them into the screaming hot griddle pan to cook for 1 to 2 minutes on each side for medium rare. or longer if you prefer (this depends on the thickness of your steaks of course so use your instincts here).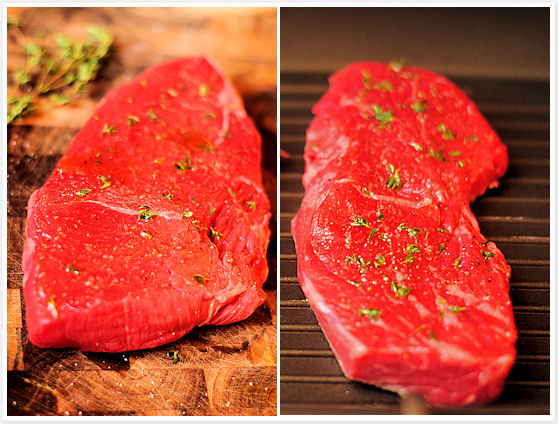 Put the ciabatta loaf into the bottom of the oven. Finely chop the peppers on a large clean board. Move the steaks to the board and drizzle with extra virgin olive oil. Finely chop a few parsley leaves, mixing them in with the peppers and all the steak juices.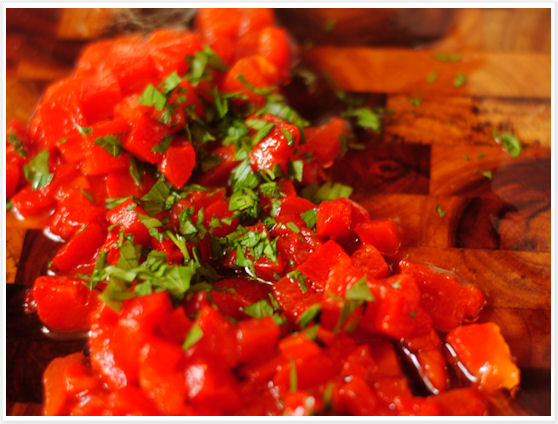 Scrape the pepper mix to one side of the board. Slice up the steak at an angle. Get the ciabatta out of the oven and slice it open with a serrated knife. Drizzle with extra virgin olive oil from a height. Spread over as much horseradish as you like, then arrange the rocket leaves on one half.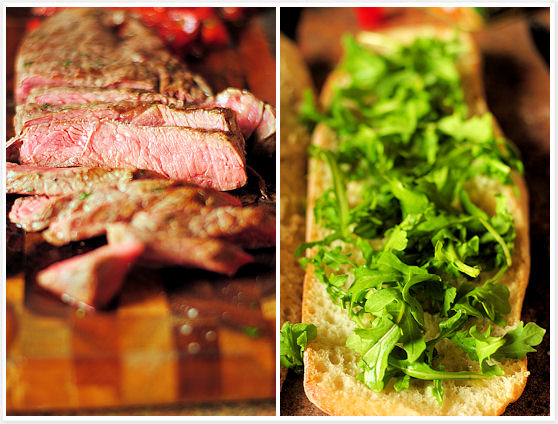 Lay the steak slices on top. Mix and scrape the peppers and juices from the board and scatter over the meat, then fold together and take to the table.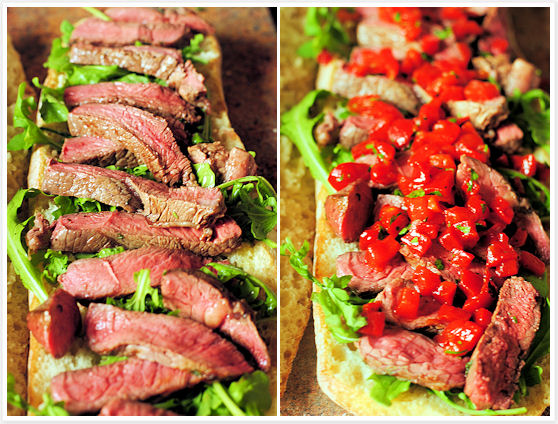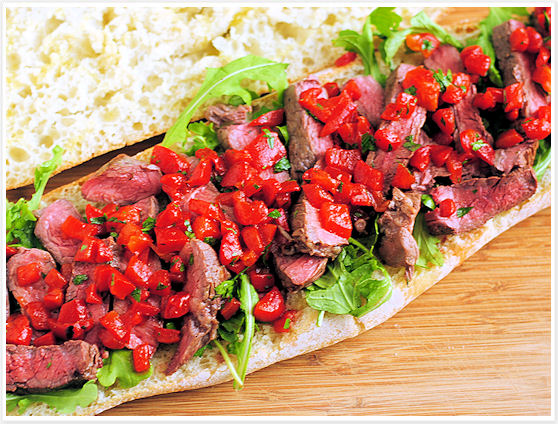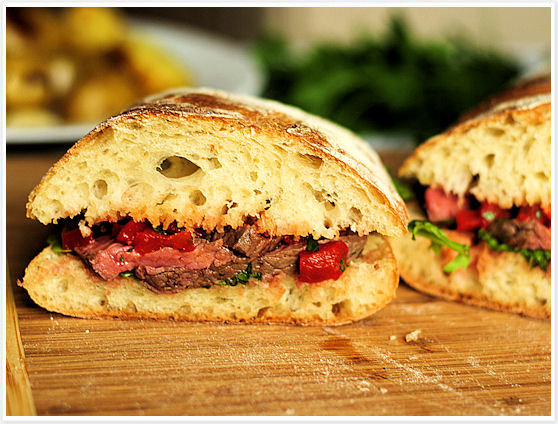 Print This Post