A dedication to two of my favorite things, champagne and cheese, could barely go unnoticed on my last trip to London. Sign that the area surrounding Covent Garden is slowly becoming a hip, foodie destination; a recent addition aptly called 'Champagne + Fromage' is bringing quality bubbles and superior French grub to the neighbourhood.
The shop/bistro seems right out of a tiny village in the French countryside and lures you right in with its gorgeous display of dry saucisson, terrines, and Champagne bottles gracing the front window. Once inside, you can't help but fall in love with the rustic aesthetic and inviting atmosphere of the mismatched furniture, weathered wood cases and mouth-watering edible products lining up the walls. Everything here can be bought as gifts, to take-away or to eat in.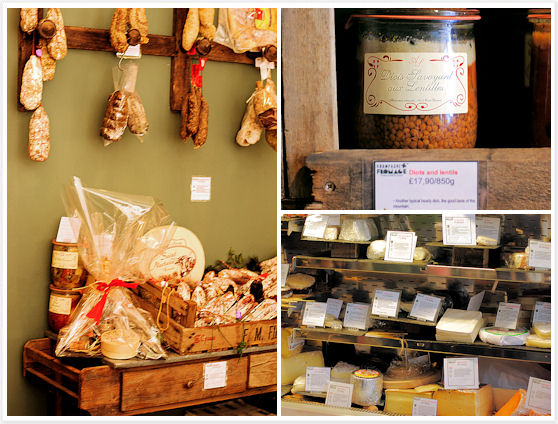 Though quite small, the place is filled with eye candy for the gourmands. Jars of terrine, rillettes, cassoulets, confits, soups and jams adorn the shelves – all sourced from tiny local French suppliers. You can pick from over 30 soft and hard cheeses, all from Une Normande à Londres, in addition to all the various charcuterie, jambons and saucissons, and of course some very fine champagne.
French Bubbles who owns the shop specializes in artisanal, limited production grower champagnes (i.e. made in small batches) and offers a range of champagnes to taste by the glass which I highly recommend you do. In such an authentic setting, pulling a stool for a bit of fizz and rustic fare seems like the only option, no reason for celebration needed!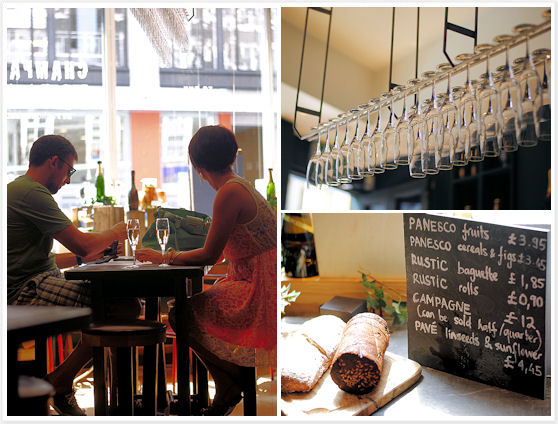 The very French and knowledgeable staff can help you pick and pair the champagnes with each dish, proving to many that bubbly does indeed improve the flavor of the food and wake up your taste buds in unexpected ways.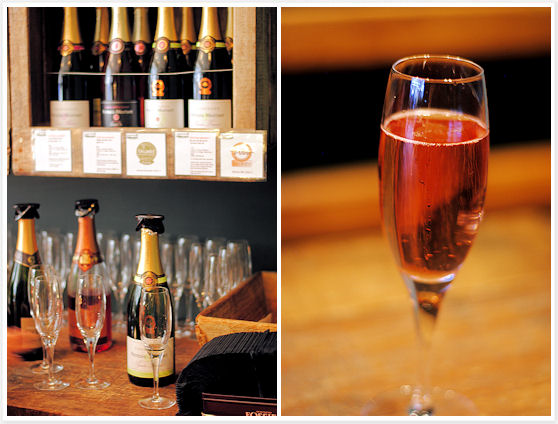 We sat down for lunch and opted for a glass of pink champagne to accompany their signature tartines (a single slice of homemade sourdough bread draped in slivers of cheese and charcuterie or fruit and drizzled with rich olive oil) along with some selected charcuterie.
Tartine Basque (Tomme de Brebis cheese with roasted peppers and mango chutney).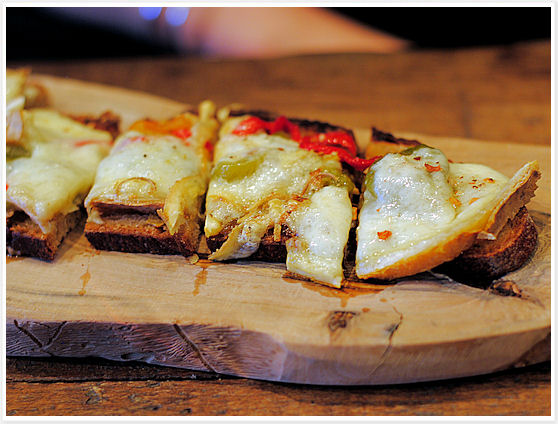 Tartine Champagne (sautéed pear with melted Langres cheese) with Corsican Cured Meat Selection Board.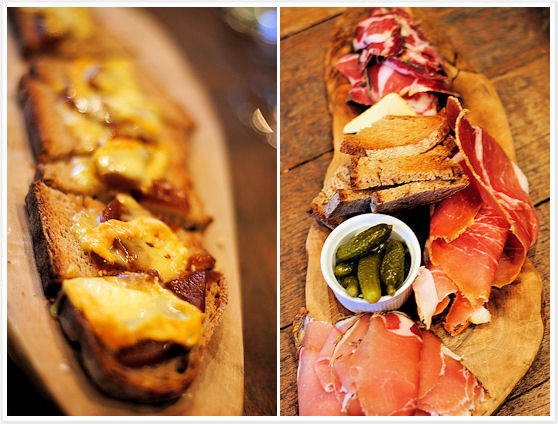 Whether you stop here for lunch, pre-theater snack or dinner (I reckon this is also a perfect date spot), I guarantee you'll leave with either a bag full of odorous goodies and fizzy liquid, or even better a wide grin after having feasted on the quintessential gastronomic pairing of champagne and fromage, the ideal dinner in my too frequent gluttonous dreams…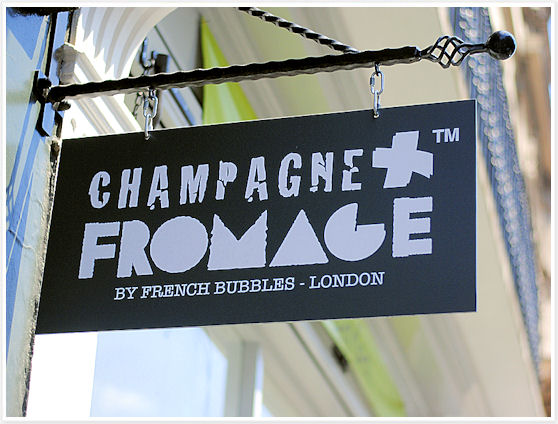 Champagne + Fromage
22 Wellington Street London  (Covent Garden) WC2E 7DD Tel: 0207 240 1604