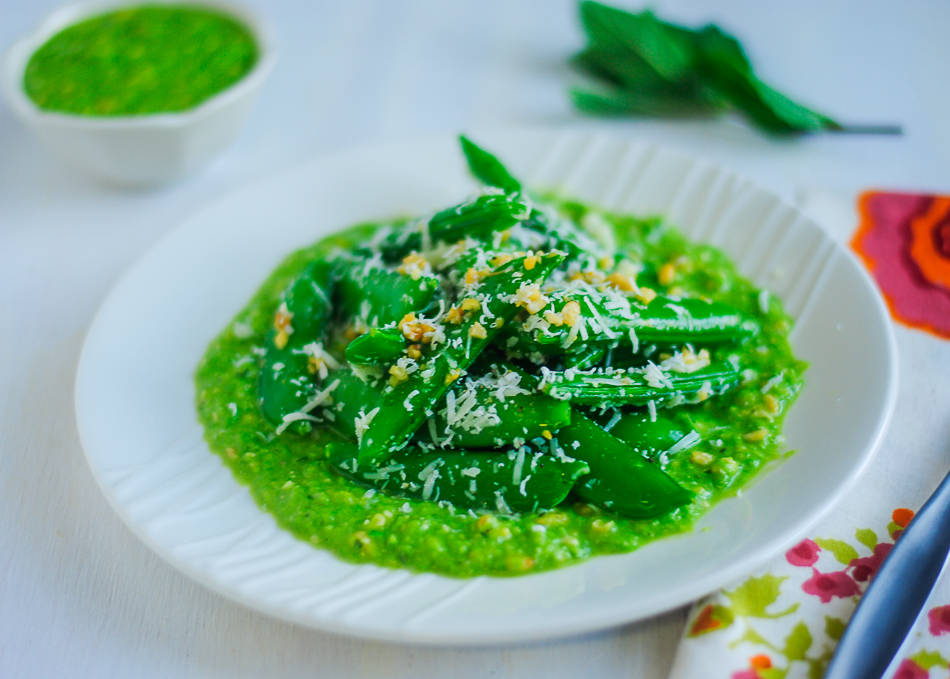 I must have tried so many different variations of pesto in my life and yet they always amaze me by their fresh taste and versatility. The combination of mint and peas has been popping up lately and is one of my favorite for the warmer months – incredibly bright and refreshing. Summer is definitely over now so this was probably my last taste before springtime! It's easier to find fresh peas in the Spring so I've replaced them with frozen ones in this recipe (which I somehow always have a bag of in my freezer) but bought some nice sugar snap peas at my local farmers market as they were still available.
I find that side dishes are too often relegated to second class status and requiring no more than throwing some pasta, potatoes or frozen vegetables in a pot of boiling water. When you have some extra time on your hand, these sugar snap peas over pesto make for a terrific accompaniment to a light Italian dinner and definitely brings a gorgeous pop of color to your table. The sugar snap peas stay nicely crisp and the pine nuts and Parmigiano-Reggiano add some crunchiness and depth to this super bright dish. This makes for a bit of leftover pesto which you can toss with some hot pasta for a quick lunch or spread on crostinis.

Sugar Snap Peas with Minty Pea Pesto
Adapted from The New Brooklyn Cookbook
Active time: 35 minutes
Total time: 45 minutes
Makes 4 servings (side dish)
3 tablespoons pine nuts
1 cup frozen peas
3 fresh mint leaves
1 garlic clove, chopped
Grated zest of ½ lemon
¼ cup plus 2 tablespoons extra-virgin olive oil
Coarse salt and freshly ground black pepper
1 lb sugar snap peas, trimmed and washed
2 tablespoons finely grated Parmigiano-Reggiano, plus more for garnish

Preheat the oven to 325°F. Place the pine nuts in a small ovenproof skillet and toast in the oven for 5 minutes, or until light brown. Transfer to a small bowl and allow to cool, then chop 1 tablespoon of the pine nuts. Set the chopped and whole pine nuts aside.
Prepare an ice bath. Bring a large pot of salted water to a boil. Add the peas and cook for 1 minute, or until tender. Using a slotted spoon, transfer the peas to the ice bath (keep the water boiling). Use the slotted spoon to transfer the peas from the ice bath to a food processor (reserve the ice bath).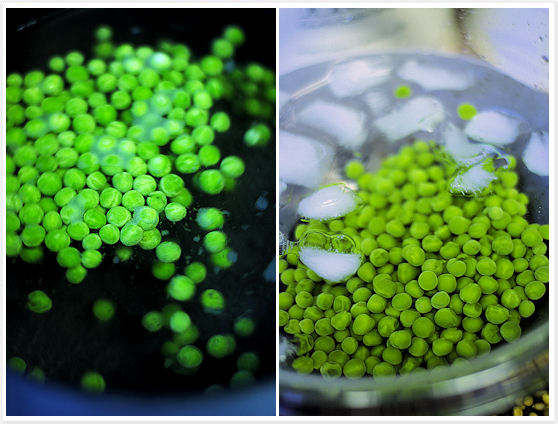 To the food processor, add the mint, garlic, lemon zest, the 2 tablespoons whole pine nuts, the ¼ cup olive oil, ¼ cup water, and salt and pepper to taste. Process until well combined but not completely smooth. Adjust the seasonings and reserve.
Add the snap peas to the boiling water and cook for 1 minute. Transfer to the ice bath.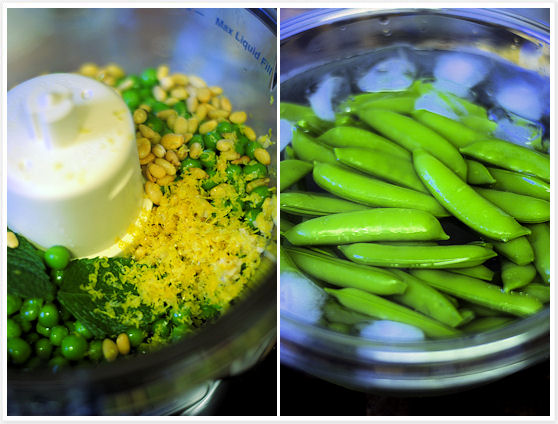 Drain and place in a medium bowl with the remaining 2 tablespoons olive oil, the Parmigiano-Reggiano, and the reserved chopped pine nuts. Season with salt and pepper.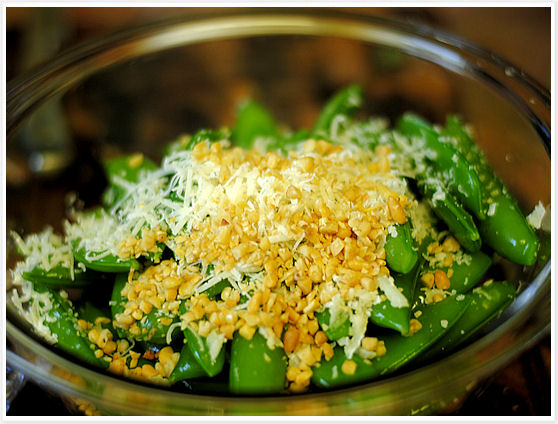 Spread ¼ cup of the minty pea pesto on the center of each plate. Place the snap pea mixture on top. Garnish with additional grated cheese.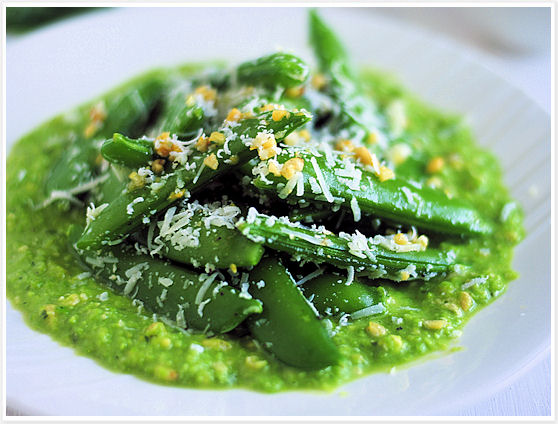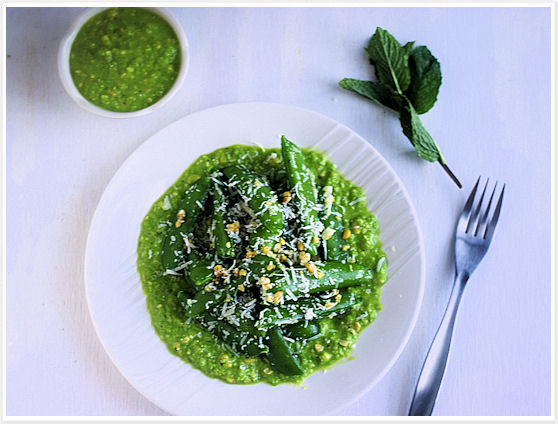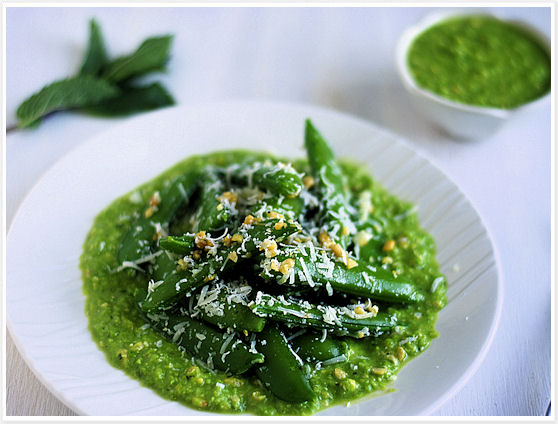 Print This Post