When it comes to having a light meal of freshly cooked fish, simplicity is key and most people will reach out for the usual dash of lemon juice and minimal seasonings, which is perfectly fine on most days. Sometimes though, I want a bit more personality and texture and that's where this addictive cauliflower duo comes in. Mild cauliflower is often overlooked in favor of more colorful side vegetables and I suspect it's largely because we tend to eat it either raw or steamed, not bad methods per se but definitely not what will make it shine.
Roasted cauliflower is pretty good, but try deep-frying it like this recipe calls for and you'll wish you had done this before! It truly is the star in this recipe and frying the cauliflower florets not only brings out an unexpected and addictive nuttiness, it also adds a little crunch to the dish, perfect texture contrast to the bass's delicate and tender flesh. The nuttiness really enhances the fish and the little morsels with the cauliflower shavings look so elegant on the plate it's hard to believe how easy it is to make. Serve with a side of green salad for a very good and light meal with a bit of panache!

Seared Bass with Cauliflower Duo
Adapted from Gourmet Magazine
Active time: 30 min
Total time: 45 min
Makes 4 servings
  1 small head cauliflower (1 to 1 1/2 pounds), leaves discarded
1/2 cup vegetable oil
1/4 cup plus 3 tablespoons olive oil, divided
4 (1-inch-thick) pieces striped bass or mahi mahi fillet with skin (6 ounces each)
2 tablespoons fresh lemon juice  
Equipment:
an adjustable-blade slicer

Shave floret portion of cauliflower with a knife to create cauliflower "confetti" (3 to 4 cups). Set aside. With slicer, cut thin lengthwise slices from base and stem, dividing among 4 plates.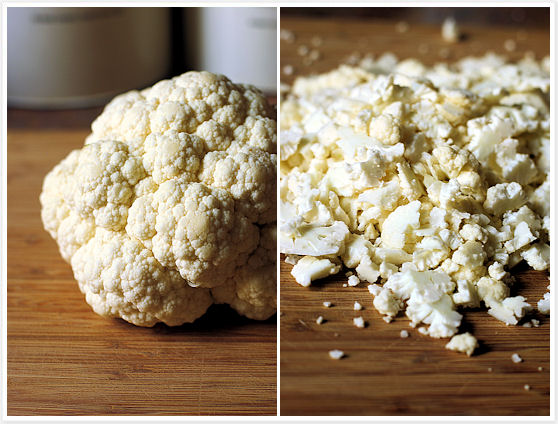 Heat vegetable oil and 1/4 cup olive oil in a 12- to 14-inch nonstick skillet over medium heat until oil shimmers, then fry cauliflower "confetti" in 4 batches, stirring occasionally, until golden brown, about 3 minutes per batch. Transfer with a slotted spoon to paper towels to drain, seasoning lightly with salt.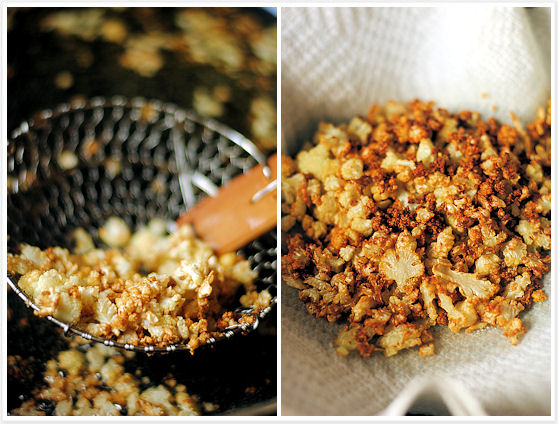 Discard oil and wipe out skillet. Heat 1 tablespoon olive oil in skillet over medium heat until it shimmers. Season fish with 1 tablespoon salt and 1/2 teaspoon pepper. Sear, skin side down, 8 minutes. Turn fish and cook until just cooked through, 3 to 4 minutes.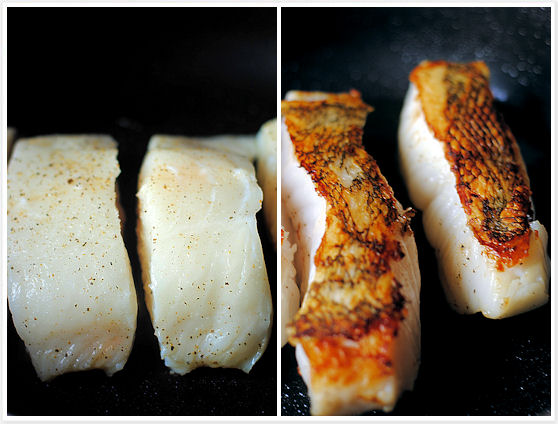 Whisk together remaining 2 tablespoons olive oil, lemon juice, and 1/2 teaspoon salt.
Place fish, skin side up, on top of cauliflower slices. Top with cauliflower confetti and drizzle with vinaigrette.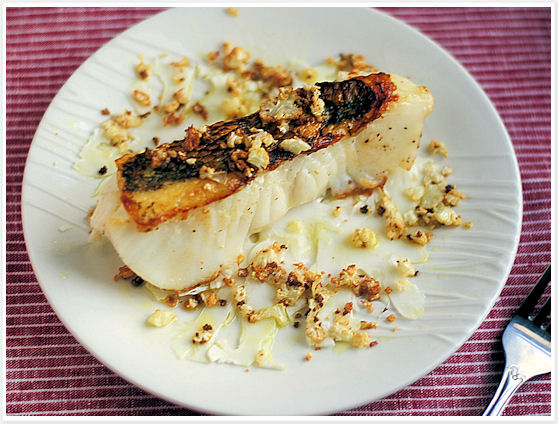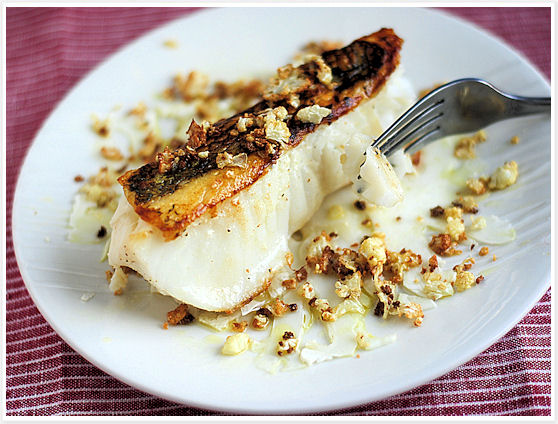 Print This Post