Tall, thin and hot…for most guys this describes the ultimate girlfriend fantasy… for me; one of my favorite snacks and breakfast hangover cure: churros! Having completely fallen in love with them on my first trip to Spain 10 years ago, I never quite found their equivalent stateside, the dried up versions sold by subway vendors here resembling nothing like the fresh and fluffy originals. I had abandoned all hopes when I heard rumors of a Spanish 'churreria' opening in busy Nolita. .. It was almost a year ago and it has since diverted a lot of my shopping towards that hip neighborhood just to get a fix!
La Churreria occupies a small and narrow storefront on Mulberry Street and although the surrounding blocks are packed with cute eateries, this is one you really shouldn't miss. While like me you'll probably be dragged in by the prospect of biting into a long string of the delicious fried dough, I'd highly recommend you stop here for lunch as the rest of the menu is as much a success as their star attraction.
I don't think I've ever been to a Spanish restaurant where I didn't order pan con tomate, or here referred to as 'Tostada' with tomato and serrano. It's my go-to appetizer and this one didn't disappoint, though I could always do with a bit more of the crushed tomato…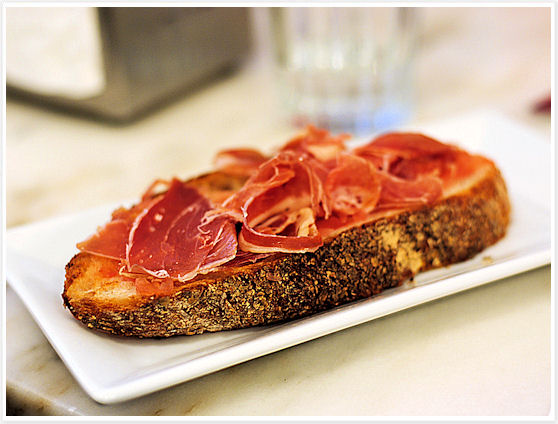 The traditional tapas are well represented on the short menu and the gazpacho was fantastic, drizzled with fruity olive oil and perfect as a dunk for the slice of crusty bread that accompanies it.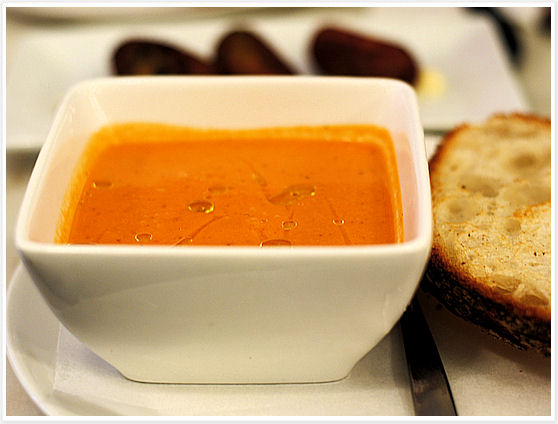 Crispy croquetas contain a creamy chicken filling, ready to be rolled in aioli.

For bigger appetites, the bocatas are delicious Spanish sandwiches on baguettes, served with homemade potato chips. We tried the Madrileño, packed with fried calamari rings and pimento-laced aioli – to be eaten right away while it's still crunchy!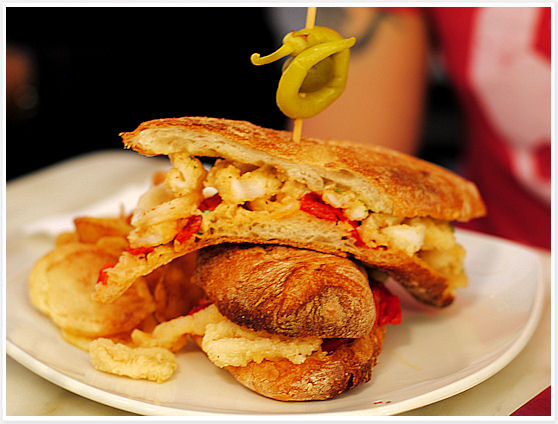 Saving the best for last,  the sexy churros, fried to order, arrived piping hot at our table, erasing all memories of the food we previously consumed as great as it was. One look at them and I knew we had been reunited once more… this was the real deal.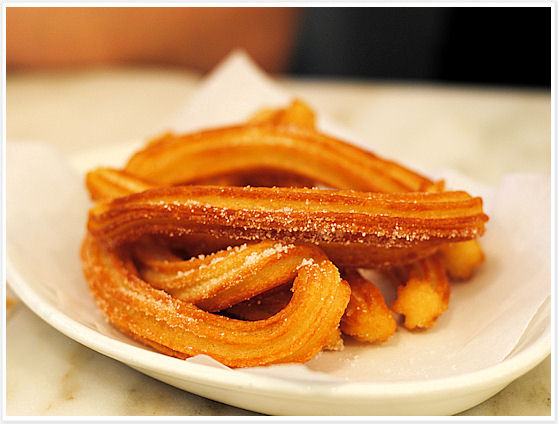 The first bite revealed the crispy exterior and moist interior with just the slightest hint of sweetness, begging to be dunk over and over again in the accompanying cup of hot chocolate. Thick, velvety and dark, the pudding-like chocolate enrobes the churros in a glossy coat worthy of the wildest (and twistiest!) imagination…food porn alert! 😉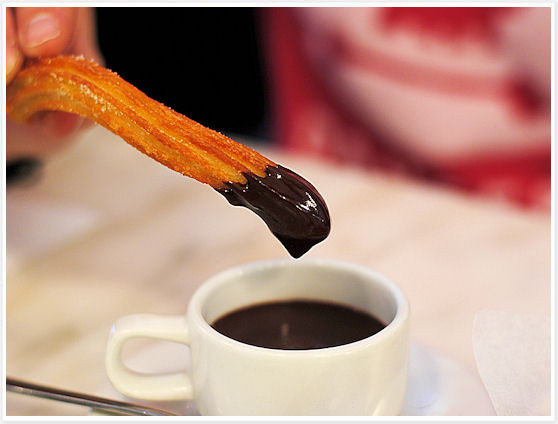 Leaving on the side the firework ending, the whole meal really felt true to what I've eaten in Barcelona and Madrid. La Churreria is an honest, simple, and totally addictive slice of Spain in a busy corner of Manhattan and I can't think of a better place right now to load up on carbs for the cold days ahead.
La Churreria
284 Mulberry Street New York, NY 10012 T: (212) 219-0400
Map