Flavor-packed and simple paste sauces are such a convenient thing to know how to do, especially when like me you're trying to avoid consuming out of cans and jars as much as possible. There's little introduction to be made when it comes to all'Amatriciana sauce since it's been around for centuries and considered one of the most celebrated dish in Italian cuisine. Its success is mainly due to its perfect balance of sweet, salty, and acidic which is accomplished by using only a few quality and complementary ingredients, all essential to the intense flavor combo.
Onions and tomatoes make up the base of the sauce but it's the addition of the pork that'll give it the depth it is known for. True all'Amatriciana sauce is made with guanciale, cured pork cheeks with a high fat content and luxurious taste, truly the star of the show here.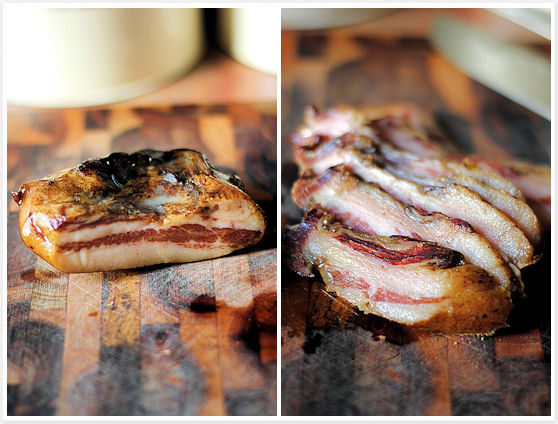 It can be hard to find if you don't have a good Italian market in your town. Pancetta is a fine substitute though it won't give as strong a flavor as guanciale would. The preferred cheese for this recipe is Pecorino for its sharp flavor, a nice contrast and salty kick to the porky sauce. And if you can get your hands on Bucatini (hollow pasta strands, sometimes referred to as 'spaghetti with a hole'), they're the original way to savor the sauce and you would then have yourself a traditional Roman pasta dish, quick and easy made out of a pan.  It's really an ode to simplicity the Italians are masters of and a classic sauce everyone should have in their repertoire.

Bucatini all'Amatriciana
Adapted from Food and Wine magazine
Active time: 20 minutes
Total time: 50 minutes
Makes 4 servings
  1/4 cup extra-virgin olive oil
1 medium onion, thinly sliced
1/4 pound
guanciale
* or pancetta, cut into 1/2-by- 1/4-inch strips (see Note)
1 1/2 tablespoons white wine vinegar
1 1/2 tablespoons dry white wine
One 14.5-ounce can whole peeled tomatoes with their juices, crushed
Salt
Freshly ground pepper
10 ounces bucatini
Freshly grated Pecorino Romano cheese  
*Guanciale is available at Italian markets.

In a large, deep skillet, heat the oil. Add the onion and cook over moderately low heat until very soft, 7 minutes. Add the guanciale and cook until translucent, 3 minutes.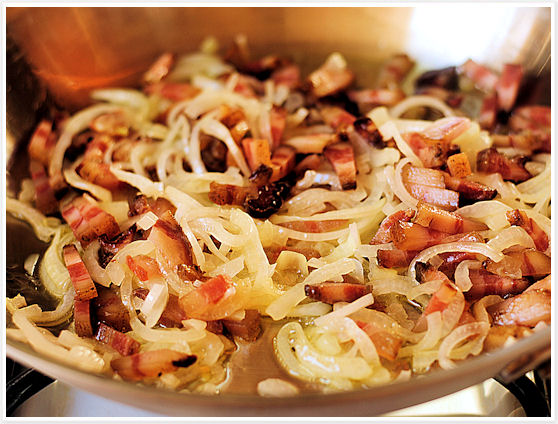 Add the vinegar, wine, tomatoes and 2 tablespoons of water and simmer until thick, 30 minutes. Season with salt and pepper.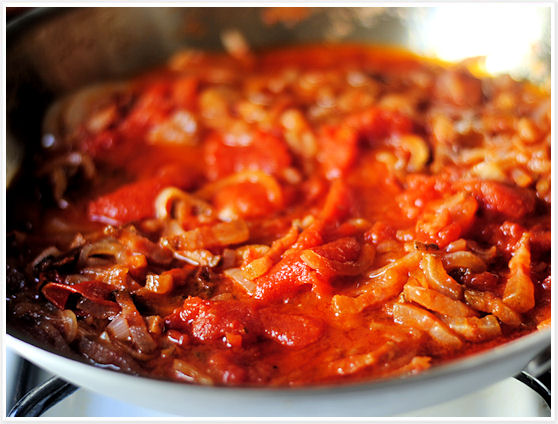 In a pot of salted boiling water, cook the bucatini until al dente; reserve 2 tablespoons of the cooking water.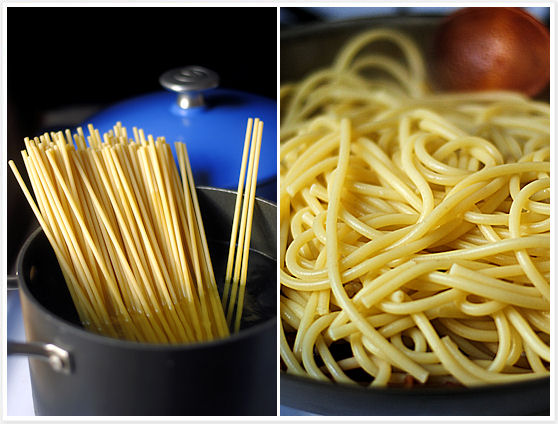 Drain the pasta, add it to the sauce along with the reserved cooking water and cook over moderate heat, stirring, for 1 minute.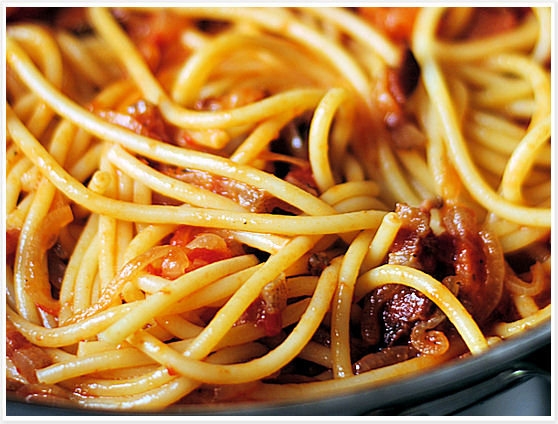 Remove the skillet from the heat and stir in 3 tablespoons of cheese. Serve right away, passing more cheese at the table.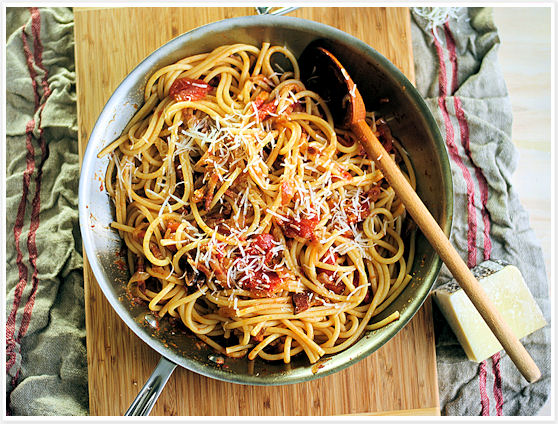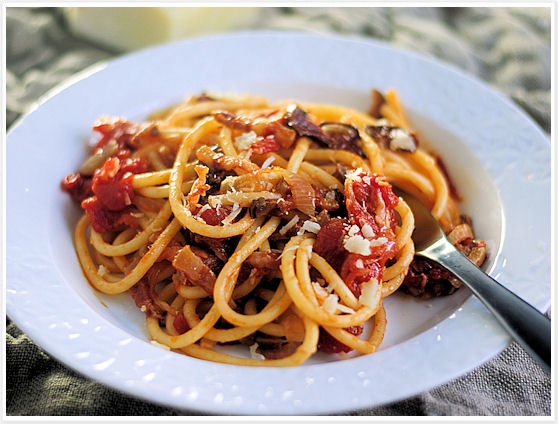 Print This Post