You can count on Ming Tsai, American fusion chef and restaurateur, to perk up some savory crackers with his East-Meets-West approach. He serves them at his famous Blue Ginger restaurant in Massachusetts instead of the usual breadsticks and the spice-spiked dough is so addictive it's a real treat he gave away the recipe.
This easily made dough will still require a fair amount of your time but its versatility makes it all worth it. You can make the dough by hand if you like, but it's way easier to use a standard mixer with a dough hook like I did. Besides the crackers below, you can use it to wrap frankfurters for some fancy pigs in a blanket, make a great pizza crust, or cut into sticks and fry to serve with your favorite dip. Ming also uses this dough to make scallion pancakes and Asian pocket burgers.
Same versatility with the crackers. They're great to accompany a meal, but you can also top them with curried shrimp salad, tapenade, smoked salmon, or flavored cream cheese, and serve them as an hors d'oeuvre as Ming suggests. I started eating them with a roasted vegetables tapenade but soon was experimenting with pretty much everything in my fridge and it all worked! Mine turned out thicker than the restaurant's version as I do not have the full baking sheet and used half sheets instead which doubled the thickness. They were nevertheless super tasty and able to stand a whole lot of toppings!

Blue Ginger Crackers
Adapted from Simply Ming: Easy Techniques for East-Meets-West-Meals
Active time: 1h30 minutes
Total time: 3h
Makes about forty 3 by 4-inch crackers
For the dough
1 tablespoon cumin seeds
1 tablespoon coriander seeds
1 tablespoon fennel seeds
1 teaspoon black peppercorns
1/2 ounce (2 packages) active dry yeast
6 1/2 cups bread flour
1 cup extra-virgin olive oil
2 tablespoons minced garlic
2 tablespoons kosher salt  
For the crackers
1 cup extra virgin olive oil, plus more for pan
1 egg white for brushing
Kosher salt to taste
1/4 cup toasted sesame seeds    

Make the cracker dough:
Using a mortar and pestle or a spice grinder, grind the cumin, coriander, fennel, and peppercorns and combine them in a medium bowl. Set aside.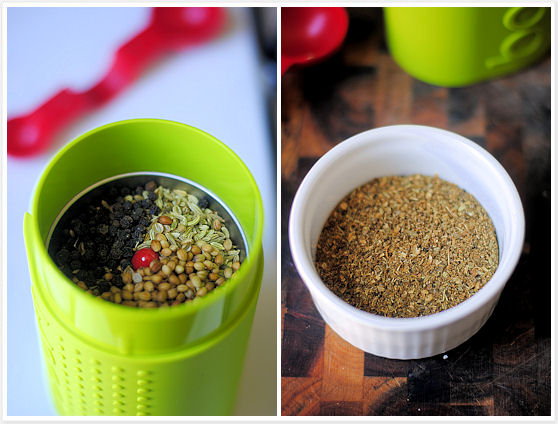 In a 5-quart mixer bowl, or very large bowl if working by hand, combine in this order the yeast, 2 1/2 cups cold water, the flour, oil, garlic, and salt. Using a dough hook, mix at low speed until the flour's gluten is fully developed and the dough is smooth and doesn't tear easily when stretched, about 15 minutes.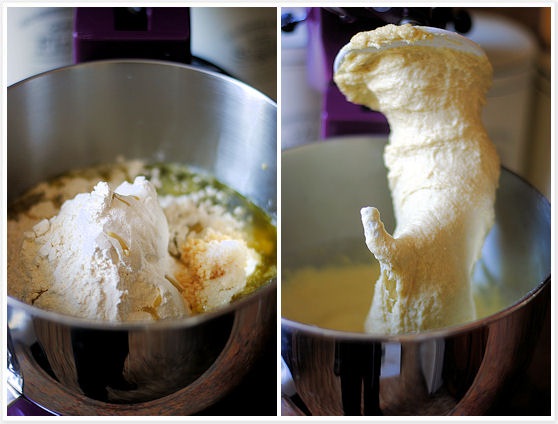 Remove the dough from the machine and knead in the spices. If working by hand, combine the yeast, flour, oil, and salt and mound the mixture on a work surface. With your fingers, make a well in the mixture. Add 2 1/2 cups cold water to the well and, working with a pastry scraper or large fork, gradually incorporate the flour into the water, as if you were making fresh pasta. Work the dough into a rough ball and then knead in the garlic and the spice mixture. Continue to knead until the dough becomes smooth, 10 to 12 minutes.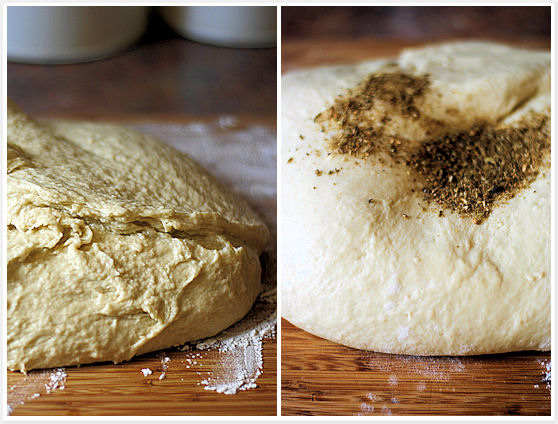 Cover the dough with plastic wrap. If using immediately, allow the dough to rise in a warm place until doubled in bulk, about 1 hour. Otherwise, refrigerate or freeze until ready to use.
Assembly:
Preheat the oven to 350°F. In a small bowl, whisk the 1 cup of olive oil and the egg white and set aside.
If using defrosted frozen dough, allow it to double at room temperature, about 1 hour. Flour a work surface generously. Place the dough on it and with your hands flatten the dough into a 1″ rectangle. Fold the dough in half and flatten it again into a similar rectangle. Wrap the dough in a damp cloth and allow it to rest for 15 minutes.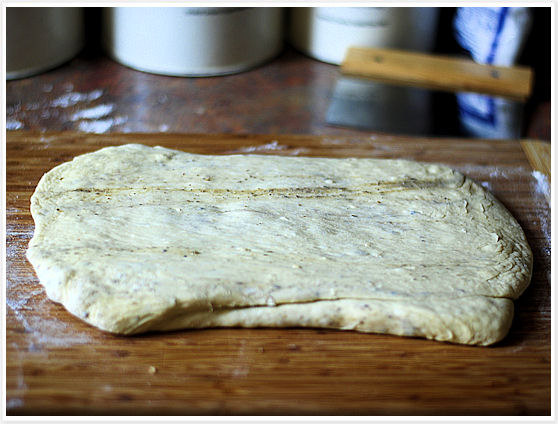 Grease 2 large baking sheets, preferable rimmed with olive oil and set aside.
Quarter the dough rectangle and roll each piece 1/4″ thick, keeping the rectangle shape. Transfer 1 rectangle carefully to each of the pans and, using your hands, stretch the rectangles to the sides of the pan, making them as thin as possible without tearing. Using a pizza cutter, trim the dough edges. Keep the trimmings, which can be combined and used to make more crackers.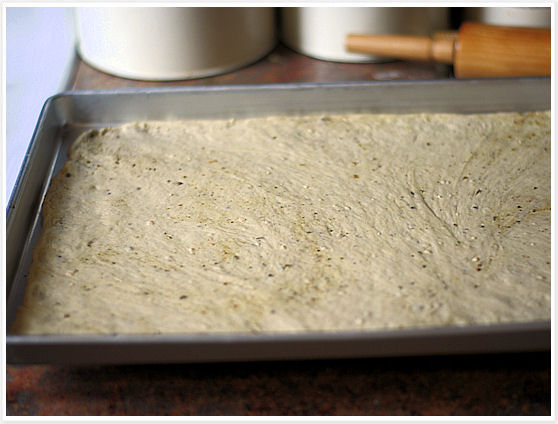 Brush the dough with the oil-egg white wash. Sprinkle the dough with salt and sesame seeds. Using a pizza cutter, cut the dough into rectangles of any size you like.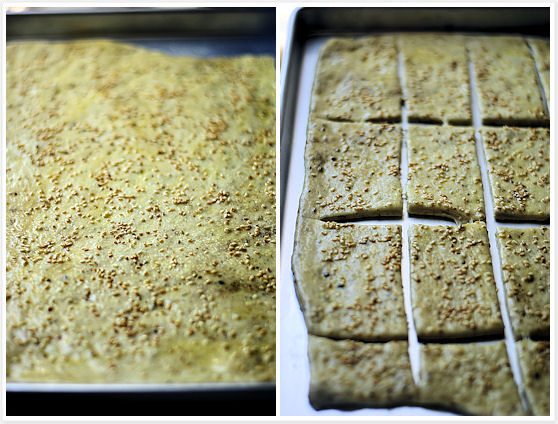 Bake the crackers until lightly golden, about 20 minutes. Remove the crackers with a spatula and cool on racks.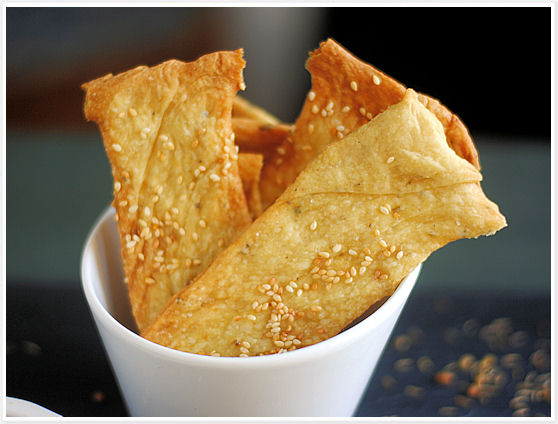 Print This Post