When friends are telling me they're going to Montreal for a weekend and would like a few restaurants recommendations, I have a long list of exquisite and charming neighborhood spots they can choose from depending on where they go, and then I'll add a most obligatory stop at Joe Beef. A tiny restaurant that has become notorious, it is the best place to go to discover how to eat 'Quebec-style': loud, at once rustic and refined, packed with red meat and even more booze and dishes that are so bold it's unlike anything you've had in North America. No wonder it's become a major dining destination, joining perennial heavyweight Au Pied de Cochon to shine in on French Canadian's more-is-more passion for simple but amazing good food and wine. That being said, I believe everyone should eat at Joe Beef at least once.
Coinciding with the restaurant's burgeoning popularity came the launch at the end of 2011 of their acclaimed book The Art of Living According to Joe Beef: A Cookbook of Sorts, which has been on almost every top cookbook lists of 2012. I say book because it is a lot more than just a collection of recipes and I think everyone should buy it for pure enjoyment. It is a beautiful and fun read and includes a guide to Montreal, a history of the city, a chapter on trains, a guide to building a smoker, a chapter on booze and obviously tons of recipes heavy on foie gras, offal, red meat, and bacon.
The cacophony that envelops the dimly lit restaurant on a Friday evening is testament to the success of the chefs' daily changing menu, happy eaters clamoring over their foie gras parfait, pasta with lobster, or giant côte de boeuf for the table and asking for yet more wine to down it all. Here's a sample of what we had, which was only a tiny fraction of the large chalkboard menu flanking the restaurant's wall.
Oeuf en gelee, chanterelle et poulet (jellied egg with chanterelle mushrooms and chicken)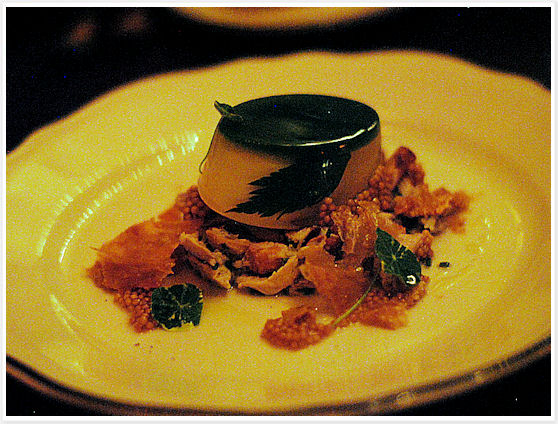 Side of crispy, garlicky French fries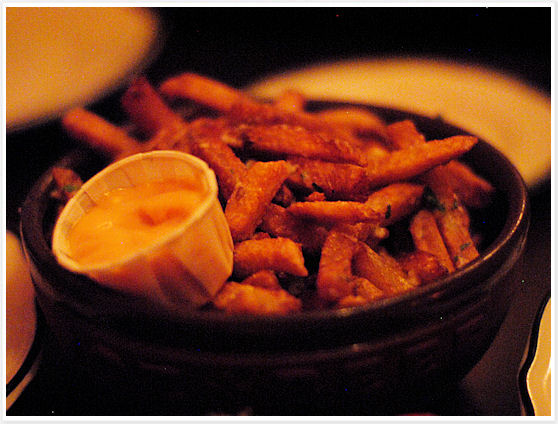 A dessert called 'Baked Potato' is in fact frozen meringue topped with soft serve vanilla ice cream and drizzle at the table with hot chocolate sauce..hmmm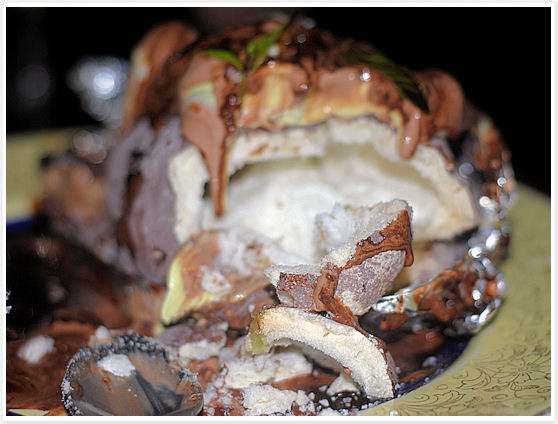 The restaurant is filled with a woodsman's aesthetic, lending it a cozy vibe as if you were having dinner at an old friend's chalet. The theme goes all the way to the toilet where a life size bison bust greets (or frightens!) you in.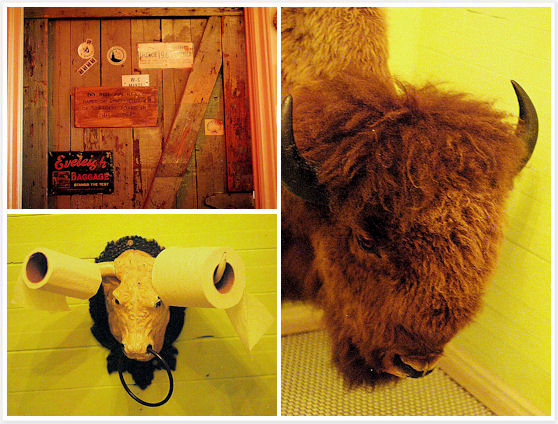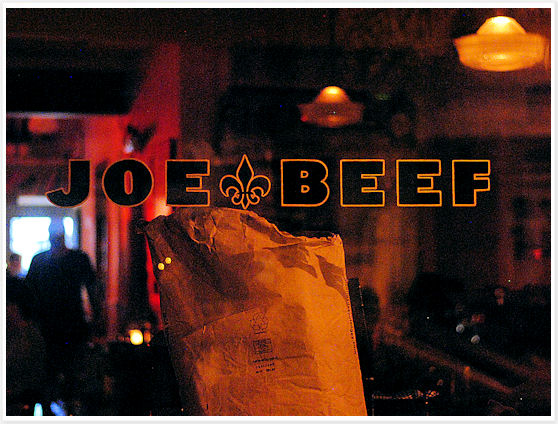 Joe Beef
2491 Rue Notre-Dame Ouest Montreal, QC H3J 1N6 T: (514) 935-6504
map